Imagine Dragons raises a record $2 million at Las Vegas gala
Updated September 15, 2018 - 9:39 pm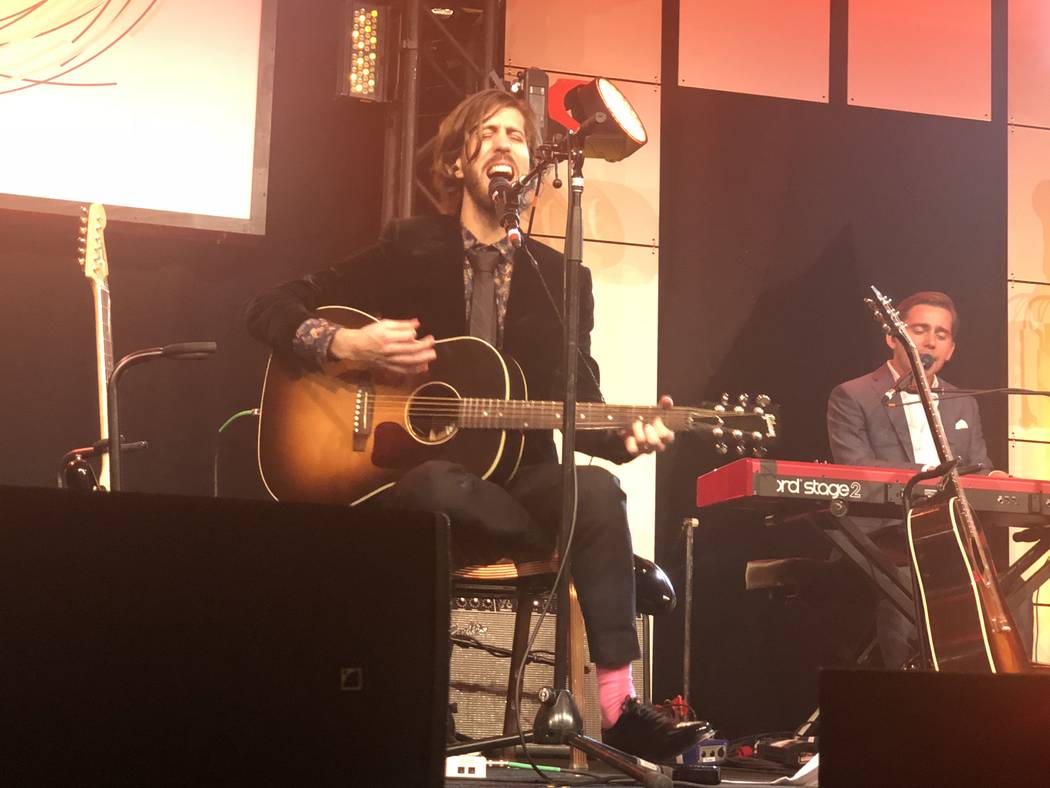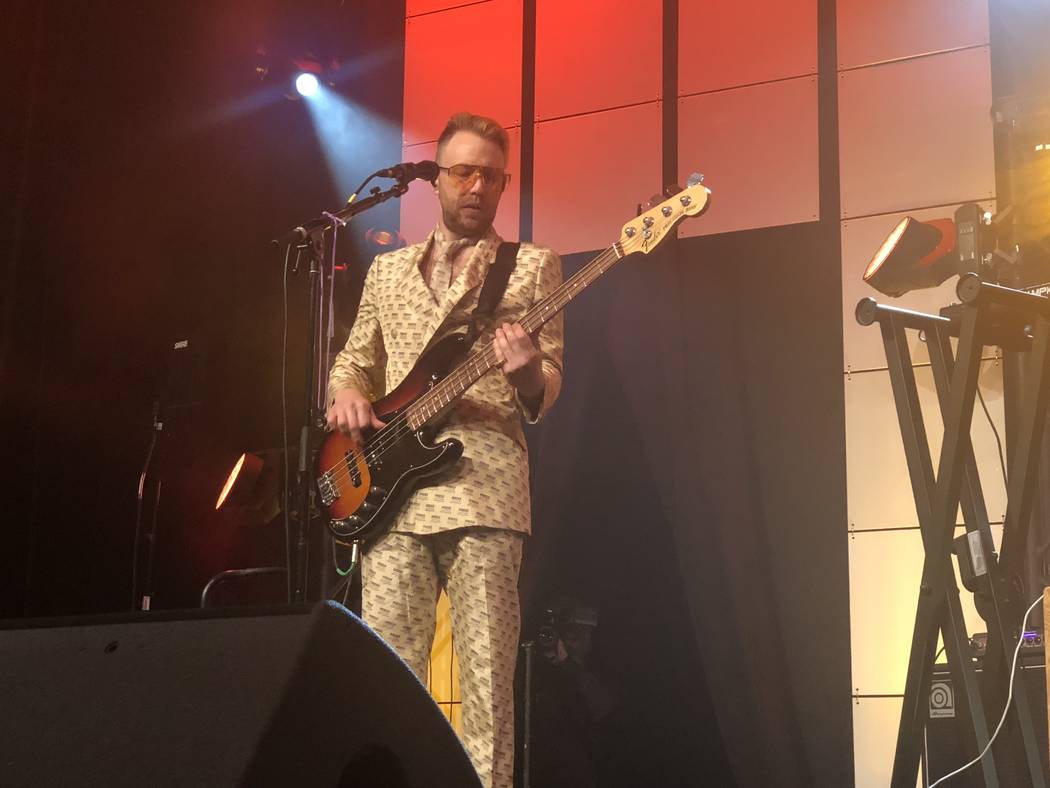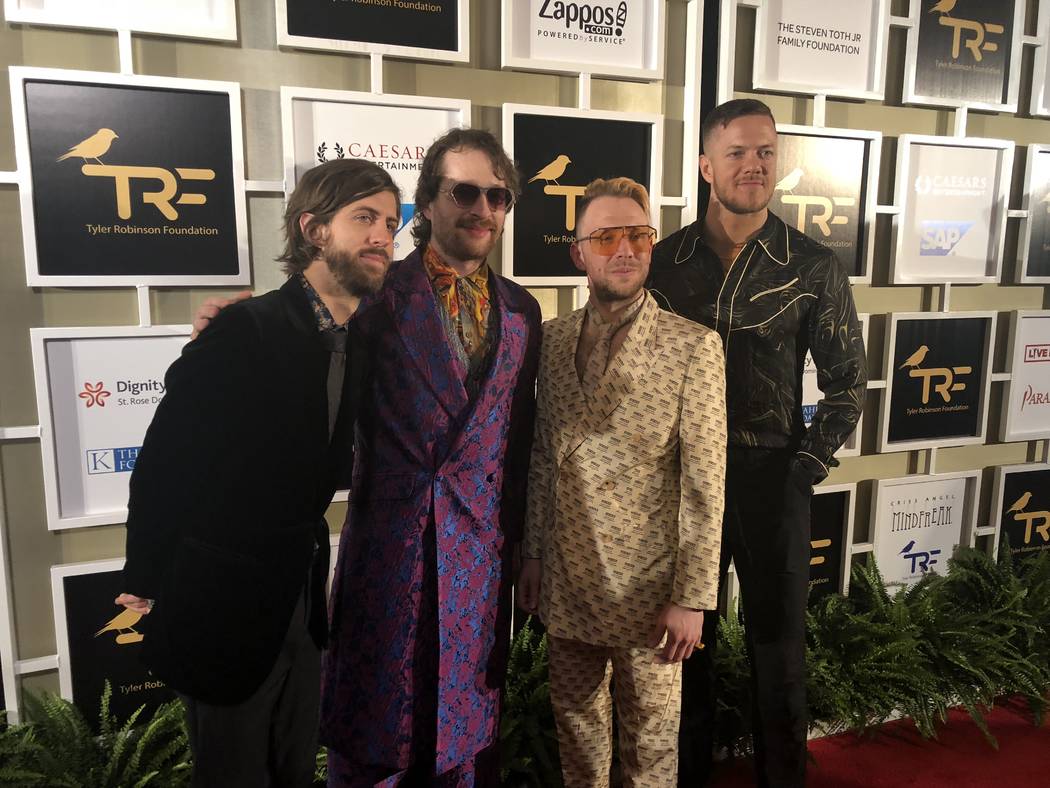 The annual Tyler Robinson Foundation gala is much like Imagine Dragons, the band that founded the charity: Start small, work hard and blow up.
The fifth TRF Foundation Rise Up Gala drew 800 supporters to Palace Ballroom at Caesars Palace on Friday night, raising about $2 million. That number nearly doubles the take from the 2017 event, bringing the all-time total to about $6.5 million to provide assistance to those suffering from pediatric cancer and their families.
Time well spent w/ @Imaginedragons @CaesarsPalace #slaycancerwithdragons pic.twitter.com/y1HaTXsPuK

— John Katsilometes (@johnnykats) September 15, 2018
TRF's rapid growth, ignited by Imagine Dragons' international fame (the band just capped a yearlong world tour) and support from Las Vegas power players, is nothing less than staggering. The event was launched in 2014, in a small event space at Hard Rock Hotel's convention center.
About 250 guests participated in the inaugural event, which raised $315,000.
Even those in the band's inner-circle say they never envisioned TRF's swift evolution.
"If you'd told me five years ago that within a few years we'd raise $2 million in one night, I would have had a hard time believing it," the band's manager and TRF Vice Chairman Mac Reynolds said Saturday morning. "But it's like when you have a small band, you never imagine playing the Grammys, but it happens. It's the same thing."
TRF is named for the the late Tyler Robinson, the teenager from Provo, Utah, who found solace and inspiration from the band's music, especially the song, "It's Time." Robinson died of a brain tumor at age 17 in March 2013.
"I think Tyler would have been amazed at this," Imagine Dragons guitarist Wayne Sermon said on the red carpet before the event. "He would have had his mind blown."
During the band's performance that capped the night, Dan Reynolds' voice quivered as he recalled Robinson's impact on the band.
"Tyler touched me very deeply," Reynolds said from the stage. "I have struggled with my religion, my faith, but tonight I feel he is here with us."
Saturday, a bevy of Vegas Golden Knights and soon-to-be Planet Hollywood headliner Criss Angel enlivened the gala's live auction.
Catching up with these lovebirds … @EHaula @Kboege @GoldenKnights @CaesarsPalace @Imaginedragons #SlayCancerWithDragons pic.twitter.com/BbyDk8X1Kg

— John Katsilometes (@johnnykats) September 15, 2018
The Golden Knights offered two auction prizes: A package of 14 signed jerseys, 14 VIP suite tickets to the team's next home game against the Anaheim Ducks at T-Mobile Arena (with all food and beverage supplied) and a ride on the Zamboni (it was not specified if everyone rides the Zamboni, or just one guest). The other was a four tickets to a Golden Knights game and another four VIP tickets to the team's official gala in January.
Two packages of 14 signed jerseys 14 @GoldenKnights @AnaheimDucks suite tickets w/ F&B package and goes for (seriously) $88k & three packages of 4 tickets & 4 tix to #VGK gala for $60K. @Imaginedragons #slaycancerwithdragons pic.twitter.com/4T7v2N28vV

— John Katsilometes (@johnnykats) September 15, 2018
Two bidders spent $44,000 apiece on the Ducks' package. Two spent $30,000 each on the game/gala package. The total take from just those two Golden Knights auction lots was nearly $150,000.
Meantime, Angel had donated $50,000 before the event and won a silent-auction bid for $9,000 for a trip to Fashion Week in New York in February. From his table during the live auction, Angel pledged another $50,000 to TRF — provided Imagine Dragons makes a return appearance at Angel's next H.E.L.P. (Heal Every Life Possible) cancer charity fundraiser, tentatively planned for next September at Planet Hollywood.
Gala action: @CrissAngel has donated a total of $109,000 to @TRFdotORG, $50K before gala, another $50K if @Imaginedragons appear at his HELP pediatric cancer charity, & $9K on Fashion Week auction package. Here he is w/ his son, Johnny Crisstopher. #SlayCancerWithDragons pic.twitter.com/yi4GXleOgZ

— John Katsilometes (@johnnykats) September 15, 2018
Angel's organization supports pediatric care, and is named for Angel's 4-year-old Johnny Crisstopher, who is being treated for acute lymphoblastic leukemia. Johnny and Shaunyl Benson, the boy's mother and Angel's ex-wife, joined Angel at Saturday's event.
Stylish, musically and otherwise … @Imaginedragons @CaesarsPalace #slaycancerwithdragons pic.twitter.com/lvpgIlqpjV

— John Katsilometes (@johnnykats) September 15, 2018
Actor and comedian Joel McHale hosted the event for the second time. He was suitably sarcastic, and consistently funny, once again jabbing at Mac Reynolds, who used to wear his hair tied in a ponytail.
"It's good to see you've finally cut the ponytail," McHale said. "I'm sure it was getting caught in revolving doors."
Intense stage-rush-position action … @Imaginedragons @CaesarsPalace #SlayCancerWithDragons pic.twitter.com/WZlrd9xKjE

— John Katsilometes (@johnnykats) September 15, 2018
Bassist Ben McKee later took on McHale from the stage. McHale noted McKee's suit — a mustard-colored three-piece splashed with GUCCI logos, which the musician wore with a matching tie — but without a shirt.
"What did the folks at Gucci say when you bought that suit?" McHale pressed.
"They popped champagne!" McKee said, then referred to the suit as, "The 'Spy Kids 4' of suits," bringing up one of McHale's critically panned movies.
The band dealt several awards during the night. The Golden Knights accepted the Community Impact Award, Live Nation was presented the Corporate Humanitarian Award, 17-year-old Florida singer/songwriter and pediatric fundraiser Tris Weeks was presented the TRF Ambassador Award, business executive/Imagine Dragons business manager Jeff Schwartz was honored with the TRF Legacy Award.
How we land it: Total of $2 million raised @Imaginedragons #SlayCancerWithDragons @CaesarsPalace … pic.twitter.com/MZvSYEJXzf

— John Katsilometes (@johnnykats) September 15, 2018
Just as the program was about to conclude with an auction of guitars, Live Nation Vice President of Touring Omar Al-Joulani pledged another $100,000 to ensure the gala hit the $2 million mark. That conversation was at the side of the stage, outside of the formal fundraising effort just a few feet away.
The night ended with the Dragons' live performance, many songs just called out by the band as if they were playing at the Pub at Monte Carlo or Beauty Bar on Fremont East. They closed with their lone cover, Bill Withers' "Lean On Me."
The song is a favorite of Reynolds, who soulfully sang, "Lean on me, when you're not strong. And I'll be your friend. I'll help you carry on." You felt that friend, the young man whose bravery started it all, was singing along.
John Katsilometes' column runs daily in the A section. Contact him at jkatsilometes@reviewjournal.com. Follow @johnnykats on Twitter.