Keely Smith was the ice to Louis Prima's fire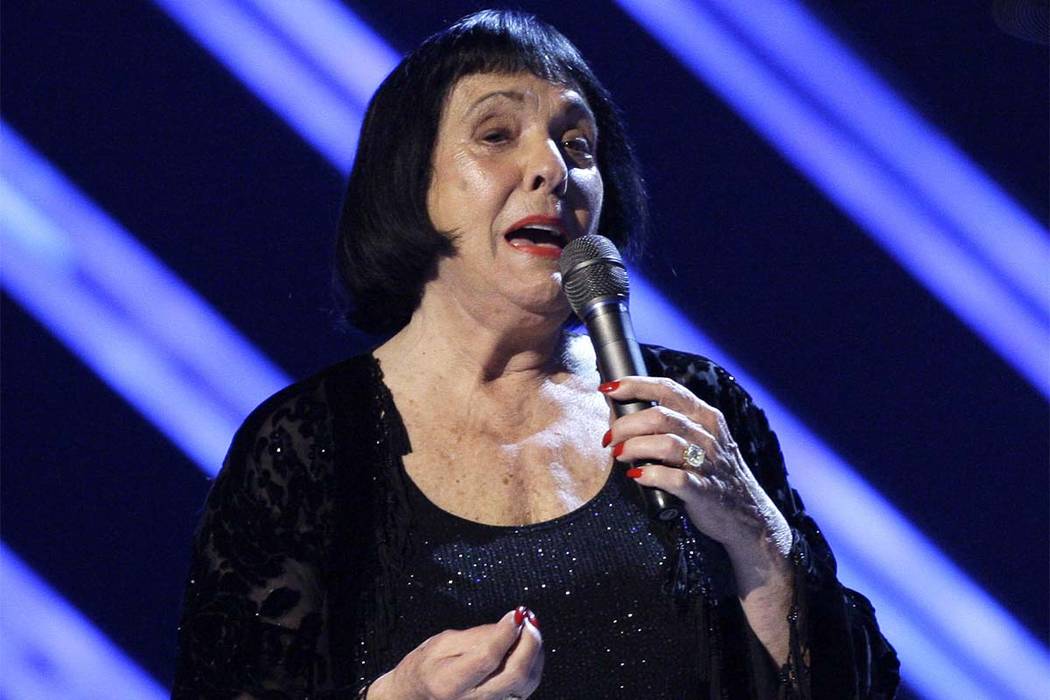 Keely Smith was an overnight success.
Meaning, much of her success was achieved overnight.
"Seeing Louis Prima and Keely Smith was an event — I'm talking about a show where they started serving a breakfast buffet at the side of the lounge at 2:15 in the morning," says estimable Las Vegas comic Pete Barbutti.
Now 83, Barbutti was among the fortunate Strip night crawlers who caught some of the early shows at the Sahara's Casbar Lounge starring Prima, Smith and a burning backing band known as The Witnesses, led by Sam Butera.
"Louis and Keely came in with this small band, in this little lounge, and it just took off," Barbutti says. "It was packed. Jam-packed. You couldn't get in."
A trailblazer in the live-entertainment scene that made Las Vegas a tourist destination, Smith died Sunday at age 89 in Palm Springs.
Drummer Bobby Morris joined The Witnesses in 1954. He still lives in Las Vegas, and was a friend of Smith's for 63 years. Morris backed the band through its eight-year run at the Sahara and also on all of the Prima-Smith Capitol Records recordings.
Morris recalls the night Prima and Smith played at President John F. Kennedy's inagural ball in 1961. Morris had met then-Senator Kennedy with Peter Lawford at the Sahara a few years earlier. "Peter introduces me and says, 'Call me Jack, Bobby!' Those two were like swingers in those days. They loved hanging out together, and absolutely loved Louis and Keely."
Frank Sinatra was the star of the inaugural show, which also featured Ethel Merman, Harry Belafonte, Ella Fitzgerald, Nat King Cole, Gene Kelly and many other top performers. But the gig almost didn't come off. Smith had left her driver's license, her only form of ID, back at the hotel. The Secret Service was not going to allow her into the event — until Morris stepped in.
"In the most authoritative voice I could muster, I intervened and said, 'Don't you know who this is? This is Keely Smith! Now let her through!' " Morris recalls. "They said, 'Oh, yes sir!' and they all separated and let her in! They must have thought I was some kind of government official or something. Keely and I always talked about that incident through the years."
The Las Vegas lounge scene percolated in the early 1950s as the Mary Kaye Trio — with lounge pioneer Frank Ross the comic lead — held court at the original Frontier. Prima, just married to Smith and seeking a career resurgence, moved into the then-new Sahara Casbar Lounge in 1954.
Prima's firebrand vocals, trumpet playing and indefatigable showmanship were offset by Smith's stoically beautiful stage manner. The spot swiftly became a late-night/early morning destination for Sinatra, Dean Martin, Sammy Davis Jr., Jerry Lewis, and many other superstars that built the city's reputation as an entertainment mecca.
"I got to go into the Casbar when I was just a teenager, I was allowed in by the maître d', I ordered a cherry Coke and sat in the back," says Lorraine Hunt-Bono, owner of Bootlegger Bistro and herself a lounge performer around town who is best-known for her time at the Landmark. "My gosh, you'd have the main acts start at midnight, and that was Louis and Keely, and you could really feel what great entertainment was about.
"Keely would just roll her eyes at Louis as he was bouncing around, working the room, and then they'd weave and create a duet, right on the spot."
The Casbar Lounge stage was a long, skinny platform behind the bar. In her later years, Smith recalled room's capacity as 60-70. But others who frequented the Casbar remember twice as many lounge dwellers cramming into the space to see these legendary acts. Don Rickles, Shecky Greene, the Mary Kaye Trio, Butera and The Witnesses were among those who rose out of Vegas lounge scene in the mid-1950s.
"Stars were made in the lounges, and you worked for it. You would play 45 minutes, off 15 minutes 45 minutes again, like that," Hunt-Bono says. "Six sets a night, six nights a week. Now I hear entertainers talking about how hard it is to do two shows in a night. Gimme a break — these guys weren't off stage until 6 a.m., and they were headliners."
The hits in the Prima-Smith shows in those days included such classics as "Just a Gigolo/I Ain't Got Nobody," "That Old Black Magic" and "I'm In The Mood For Love."
Greene was headliner a bit south of the Sahara, at the Desert Inn as Prima and Smith broke through at the Casbar.
"They were as big as anything in this town," the 91-year-old Greene says. "They were big stars, in the days when Las Vegas was a small town. They could have played anywhere — Louis was just an animal onstage, and Keely was a wonderful singer. I can't tell you how great that act was. They could do anything they wanted to do."
On any night, the Casbar often drew as many patrons as the Sahara's main showroom, with its fluid audiences filling in and out of the lounge. The service staff also became famous in the Casbar performances.
"There was this bartender, Ramsey, who never smiled," Barbutti recalls. "So he became part of the act. Louis, the comedians who came in, all trying to get Ramsey to crack a smile."
Barbutti was a featured act on Smith's final tour. Her last show was Feb. 13, 2011, at the Cerritos Performing Arts Center.
"On that tour, she did a tribute to Sinatra with a full orchestra, and it was great," Barbutti says. "Then she came back with a smaller band, singing from the Louis Prima book, and the place would just go absolutely crazy. It was just like the old days."
Contact John Katsilometes at jkatsilometes@reviewjournal.com. Follow @johnnykats on Twitter, @JohnnyKats1 on Instagram.