Killers, Imagine Dragons are independent operators
Updated July 31, 2017 - 10:31 am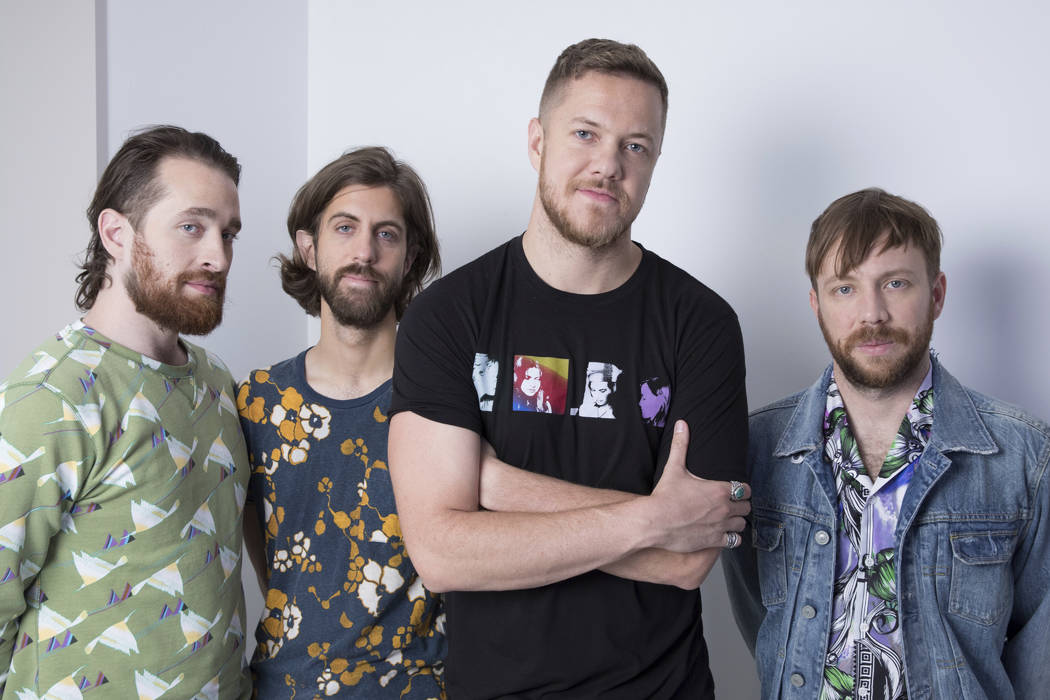 The Kats! Bureau has been blasting The Killers and Imagine Dragons lately, alternating "Hot Fuss" by the former and "Evolve" by the latter.
The Las Vegas rock bands are uncommonly, and concurrently, active this summer.
The Killers are performing a pop-up show of five songs on Monday night at Caesars Palace, the highlights to be aired Monday night on "Jimmy Kimmel Live," the 11:35 p.m. ABC talk show starring yet another entertainer from Vegas. On Thursday, the Killers announced a Feb. 3 show at MGM Grand Garden Arena.
Meantime, Imagine Dragons tore through their own live performance at a famed outdoor location on Friday morning, performing "Believer," "Thunder" from "Evolve," and "Radioactive" from "Night Visions" in New York City's Central Park on ABC's "Good Morning America."
Imagine Dragons' new album was released June 23. The Killers' latest release, "Wonderful Wonderful," their first full album of new music since "Battle Born" five years ago, is due Sept. 22.
Both The Killers and Imagine Dragons will be busy touring in the coming months. Imagine Dragons will be on the road this fall (including the show at T-Mobile) and the Killers playing their first North American tour since 2013 (including the show at the Grand Garden Arena) beginning in January.
The Vegas-rooted bands are managed by brothers Robert Reynolds and Mac Reynolds of Las Vegas – who are also brothers of Imagine Dragons frontman Dan Reynolds. The respective bands have ascended to similar worldwide fame and appeal, and their simultaneous performances and close album release dates could conceivably dilute their audiences.
On Saturday, I asked Robert and Mac Reynolds whether they at all coordinated the bands' schedules — either in the studio or on the road – to maximize their impact and to avoid crossing into each other's fan base.
"We don't coordinate. Good question, though," Robert Reynolds said. "There are so many bands out there right now."
Mac Reynolds added, "Never. If anything, we are excited if the guys are crossing paths. We are pretty insular in terms of scheduling, et cetera."
But the bands did coordinate one significant appearance; The Killers' performance opening T-Mobile Arena, when The Killers' Brandon Flowers summoned Dan Reynolds to the stage on The Killers' "Jenny Was a Friend of Mine," which led to the memorable Twitter post from Reynolds: "Was lovely singing with @TheKillers tonight. They paved the way for bands in Las Vegas."
Joe's out
Unexpectedly, House of Blues at Mandalay Bay announced Friday that Joe Walsh's return to the music hall in September was canceled. "Scheduling conflicts" was the official reason the ex-Eagle will not return to HoB, where he headlined six shows in January. He was scheduled to play three shows, Sept. 27, 29 and 30, in his return.
Also, Billy Idol said on his Twitter feed that his October dates would "wrap up" his two-year residency at House of Blues. There are no dates on the books for 2018 for Idol.
From the "Pawn" outpost
"Pawn Stars" mainstay Austin "Chumlee" Russell is selling his five-bedroom, six-bathroom Las Vegas estate for $1.85 million, as first reported by TMZ. Russell bought the home in 2012 for $1.1 million. The 6,200-square-foot home is outfitted with a stripper pole in what is known as the Chum Chum Room. Russell has reportedly purchased a new home in Vegas and has no plans to leave town.
On Monday, Marie Osmond made her first appearance on the History channel series. Osmond's hair and makeup man at the Flamingo, Kim Goodwin, owns an exceedingly rare 1959 No. 1-edition Barbie doll in its original box and with its original accessories and outfits. Goodwin and Rick Harrison haggled over the price of the artifact, with Harrison paying $5,500 for a doll appraised as high as $8,500.
How to tell an original No. 1 Barbie from a fake: Her irises are painted white, and she smells like crayons.
Note: This version of the column corrects the name of The Killers' 2012 album, "Battle Born."
John Katsilometes' column runs daily in the A section, and Fridays in Neon. He also hosts "Kats! On The Radio" Wednesdays at 8 p.m. on KUNV 91.5-FM and appears Wednesdays at 11 a.m. with Dayna Roselli on KTNV Channel 13. Contact him at jkatsilometes@reviewjournal.com. Follow @johnnykats on Twitter, @JohnnyKats1 on Instagram.