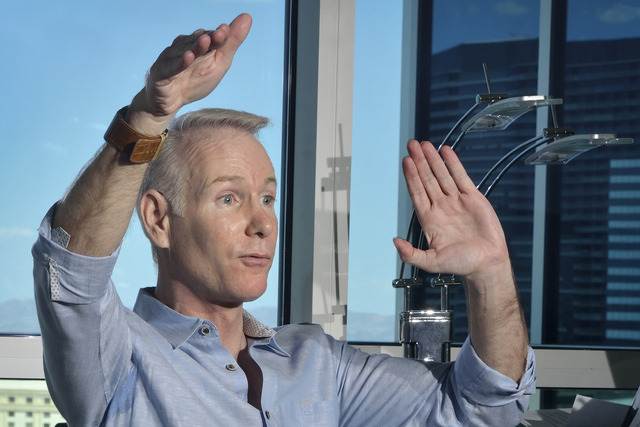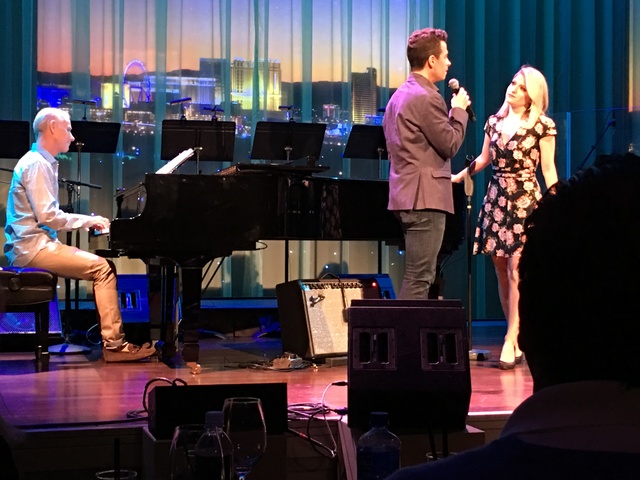 A wheel around the scene in VegasVille, where the rare Las Vegas-to-Broadway musical "Bandstand" locks in an opening date, Britney hits a male revue; and Iron Mike finishes off a knockout at MGM Grand:
THE LADDER TO JACOBS
Las Vegas composer, musician and director Richard Oberacker reports that his musical "Bandstand" has secured a theater and an opening date for previews: Bernard B. Jacobs Theater in Manhattan is the venue, with previews set for March 31. The world premiere, as reported by my colleague Mike Weatherford, is April 26. Rehearsals begin in February.
Joining the cast of "Bandstand" is a favorite musician around the Las Vegas entertainment scene, trumpet virtuoso Joey Pero, who trained as an actor specifically for this project. Pero has since been hired to play in the orchestra for the revival of "Cinderella."
"Bandstand" was created by Oberacker, music director of "Ka" at MGM Grand, and his longtime writing partner, violinist Robert Taylor. The readings of the show began at Cockroach Theater in the Arts District, and also at the Composers Showcase of Las Vegas, in the spring of 2013. The musical was later showcased at Paper Mill Playhouse in October 2015, and last November, Oberacker announced it would indeed open on Broadway by the end of 2017.
On Wednesday night, Oberacker unveiled the latest number in the show, titled "This is Life," a duet performed by the couple Oberacker announced as "Las Vegas's power singing couple," Nicole Kaplan of "Steve Wynn's Showstoppers" and Graham Fenton, late of "Jersey Boys." The audience, filled with Vegas entertainers, loved it. That's been the response to "Bandstand" for three years.
WHERE SHE WAS
The woman who looked like Britney Spears at Thursday's "Thunder from Down Under" show at Excalibur, was in fact Britney Spears. Joined by her mother, Lynne Spears, it was the first time she'd attended the show, and I'm told she was clapping, smiling from ear to ear and (I expect) grooving. In four weeks or so, Spears is to add a number from her new single, "Slumber Party," to her show at Axis theater at Planet Hollywood.
FINAL BELL FOR 'TRUTH'
Mike Tyson's "Undisputed Truth" ended its sold-out run at Brad Garrett's Comedy Club at MGM Grand. The autobiographical stage show hauled out Friday after completing a seven-week run. Tyson, who routinely filled the 250-seat club, has no return dates on the books.
MAGIC TO THE FOUR
The star-crossed Tropicana Theater formally welcomed "Band of Magicians" to the hotel on Thursday night. The show's premiere night nearly filled the theater, a sign that the show has at least drawn the interest of local media and several Vegas magicians.James Galea, Brett Loudermilk, Stuart MacLeod and Joel Ward have buoyant perrsonalities. They are funny. They will appeal to families. Producers and the hotel, needing to allay production costs for a single show at the Trop Theater, would be wise to play up the guys' inherent affability.
Taking in the performance were magic practitioners Johnny Thompson (aka "The Great Tomsoni") Amazing Johnathan and his wife, Anastasia Synn, still tan from a recent trip to Mexico; Planet Hollywood headliner Murray Sawchuck and his sidekick, Doug "Lefty" Leferovich; the illusionist team of Jarret & Raja; Justin Flom (who was part of the "Band of Magicians"); and cruise-line headliner Mark Bennick This was the kind of night where, whenever you shook someone's hand, you checked to make sure your watch hadn't been taken.
'PIN UP' TIMING OUT?
It's read-the-tea-leaves time for a show facing an uncertain future: "Pin Up" at the Stratosphere. The calendar-flipping musical opened in March 2013 with Claire Sinclair at the front. The bouncy adult revue is the rare production that is fully backed by its host hotel. As such, "Pin Up" has been insulated from the economic concerns that have undercut many shows in Vegas, especially those that fully lease their venues and are forced close if they can't hit the bottom line. "Pin Up" has always enjoyed a financial safety net of sorts because of the Strat's investment.
But news that Jeff Timmons' male revue, "Men of the Strip," is all but certain to move into the Stratosphere Showroom next spring throws the future of "Pin Up" in jeopardy. Timmons' production would lease the showroom and, certainly, step into the 9:30 p.m. (or, maybe 10 p.m.) slot occupied by "Pin Up."
Succinctly, if "Men of the Strip" does take that slot, "Pin Up" has to vacate. Those would be the rules.
MCCARTNEY GOES TRIBAL
Tom McCartney has presided over the Luxor, Planet Hollywood, Tropicana and Cosmopolitan of Las Vegas over the past decade. His next move takes him off the Strip. McCartney, who was also on the executive team that opened New York-New York in 1996, has moved to Viejas Casino and Resort just east of San Diego. The resort is operated by the Veijas band of the Kumeyaay Indian Nation. The hotel plans a new luxury tower, restaurant and an expanded gaming floor to be finished by the end of 2018.
John Katsilometes' column runs Saturday, Sunday, Tuesday and Thursday in the A section, and Fridays in Neon. He also hosts "Kats! On The Radio" Wednesdays at 8 p.m. on KUNV 91.5-FM and appears Wednesdays at 11 a.m. with Dayna Roselli on KTNV Channel 13. Contact him at jkatsilometes@reviewjournal.com. Follow @johnnykats on Twitter, @JohnnyKats1 on Instagram.