Las Vegas mayor makes Golden Knights bet with Winnipeg leader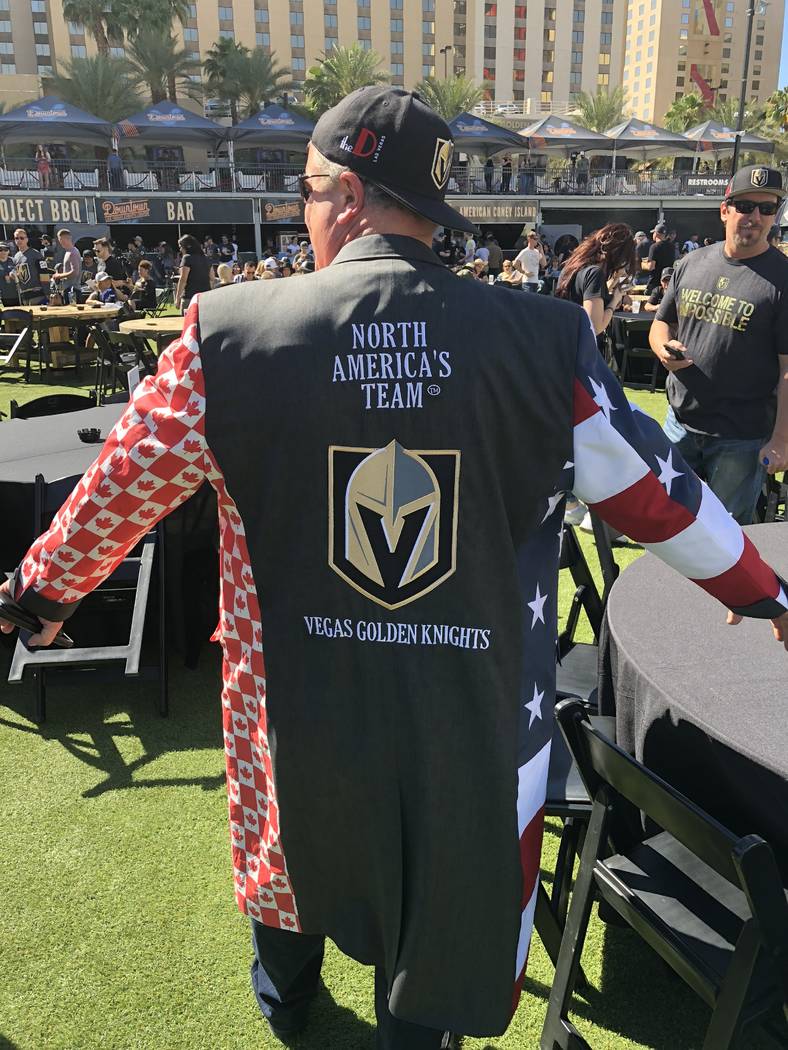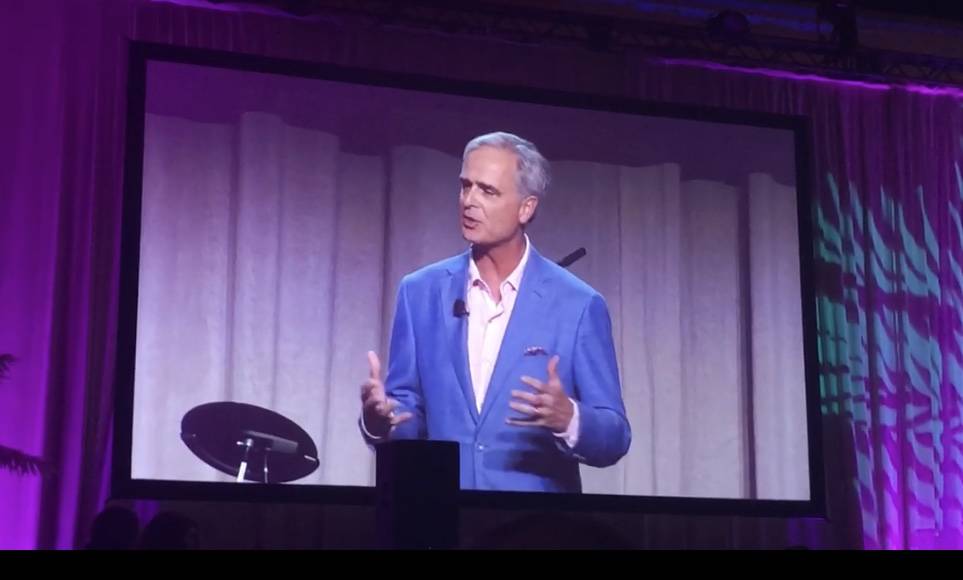 The Kats! Bureau at this writing is a round, black-draped table in the middle of the action at Downtown Las Vegas Events Center for the Vegas Golden Knights watch party for Game 1 of the Western Conference Finals.
The D Las Vegas co-owner Derek Stevens is working the scene while wearing a trench coat with the stars and stripes on one side, Canadian maple leaves on the other, and the Golden Knights' logo on the back. "NORTH AMERICA'S TEAM" is the Stevens-scripted, none-too-subtle message.
Las Vegas Mayor Carolyn Goodman is at the next table. She's made a traditional bet with her counterpart in the rival city, in this case Winnipeg Mayor Brian Bowman. The loser is to wear the winning team's sweater to a City Council meeting or public event of equal relevance, AND post the shot to social media.
"Our people have been in contact, but we don't know each other," Goodman said. "So I've made a bet with someone I don't even know."
Bowman seems a congenial sort. He's all grins in his Twitter profile photo, pumping a fist while wearing a Jets' road jersey. You sort of wanna fire a puck at him — in a competitive context, of course.
Oscar Goodman, who might also have a wager on this series (ahem), is not around. "He's performing a wedding somewhere," the mayor explained. Yep, Oscar is an ordained minister through the Universal Life Church Monastery. It's wedding Knight for someone out there.
The visiting Knights lost to the Jets, 4-2, in the best-of-7 series.
Bowling at center stage
Mandalay Bay President Chuck Bowling and his wife, Claire, were honored at Saturday night's JDRF Southern Nevada Hope Gala at Mandalay Bay. More than $1.3 million was raised for the event benefiting juvenile diabetes research and ably hosted by Clint Holmes inside South Pacific Ballroom.
Bowling took the stage to start the night and delivered an optimistic, moving speech about his adopted hometown and the immediate aftermath of Oct. 1.
"My family has had the opportunity to live in many cities, and when we came to Las Vegas 20 years ago, it was a lot different than it is now," said Bowling, who earned his bachelor's degree at Georgia State University in Atlanta. "It has literally transformed to the ultimate hospitality destination. We see so many exciting things on the horizon — the Las Vegas Raiders, the WNBA Las Vegas Aces, and we are certainly riding the success of the soon-to-be Stanley Cup champion Vegas Golden Knights!"
Bowling was drowned out by a roar from the crowd of 600 as he announced the team's name.
The veteran resort executive then recalled the night of Oct. 1 inside his hotel.
"I remember that night, being literally by myself in the hotel lobby," Bowling said. "All my employees and customers were in the basement, in closets, in hotel rooms, locked in the arena or in restaurants for shelter and safety. As the sun came up, when people were moving around again, their faces were confused, they were scared, they were broken. People saw, heard and felt things they never should've have seen."
Bowling continued, "From that point on, every waking moment I spent being with them, walking with them, crying with them, praying with them. We found comfort in providing comfort. I hugged more people in 90 days after than I've ever hugged in my life, and I listened to their stories. Little by little, that loneliness began to fade, and we found comfort in their comfort."
Bowling also praised the more than 500 employees from MGM Resorts International hotels and his fellow MGM Resorts executives, who joined the relief efforts beginning Oct. 2 at Mandalay Bay. That community ranged from front-of-house staffers to the very top, including Executive Officer Jim Murren, President Bill Hornbuckle and Chief Operating Officer Corey Sanders.
"Everyone simply showed up to pour coffee, answer questions and help wherever needed," Bowling said. "The strength of our support system was tremendous … It was a time when grief was overwhelmed by kindness."
Making the 'Cut'
Penn Jillette's inspired indie film "Director's Cut" celebrated its Hollywood premiere at TCL Chinese Theater on Friday night. The film's cast, which includes Teller, Missi Pyle, Harry Hamlin and Lisa Rinna, were joined by director Adam Rifkin during the ceremony. The film next screens at 8 p.m. Wednesday at Eclipse Theaters in downtown Las Vegas.
Jillette, who portrays the disquieting filmmaker Herbert Blount, will introduce the film.
A time to groove
Nigel Lythgoe hosts The Capezio Dance Foundation World of Dance Awards show at 7:30 p.m. Monday at Reynolds Hall at the Smith Center. One of the most prestigious awards ceremonies in the dance culture, Capezio Awards is honoring Debbie Allen for Lifetime Achievement, Wendy Whelan for Ballet, David Parsons for Modern Dance, Michelle Dorrance for Tap, and Steve "Mr. Wiggles" Clemente for Hip Hop.
The show benefits The Actors Fund and Future Dance, which is sponsored by Nevada Ballet Theatre. Savion Glover is among the presenters and performers. Artists from NBT, Cirque du Soleil, Jennifer Lopez's dance troupe and many other performances are also on the bill. The Capezio Foundation is marking its 130th year celebrating dance.
John Katsilometes' column runs daily in the A section. Contact him at jkatsilometes@reviewjournal.com. Follow @johnnykats on Twitter.