Las Vegas performers Piff, Tape Face, Billy & Emily returning to 'AGT'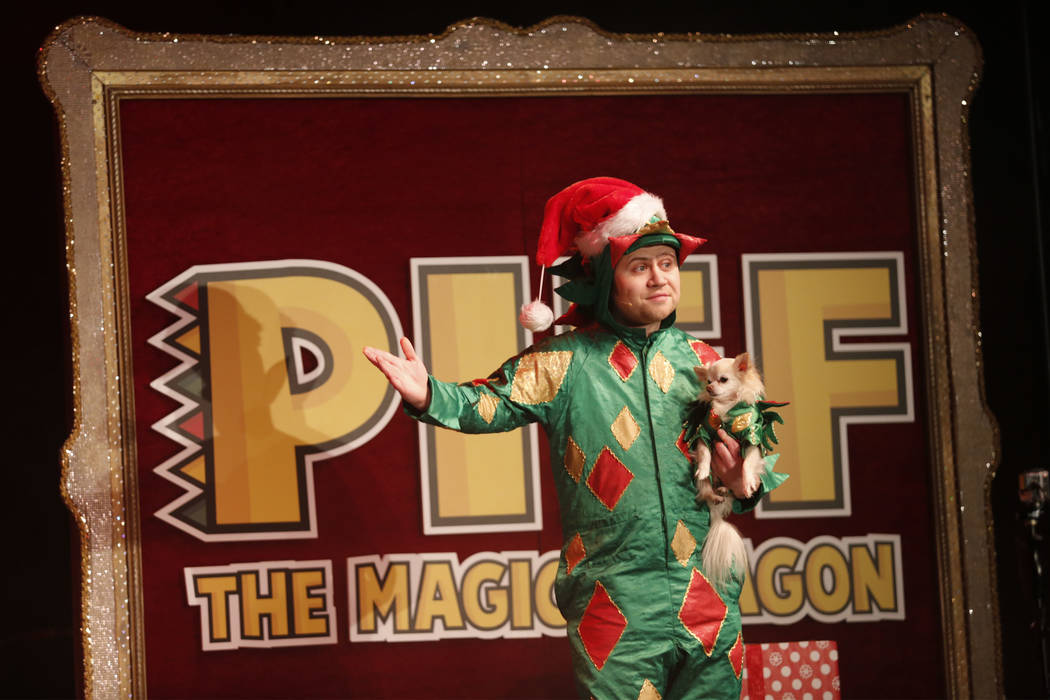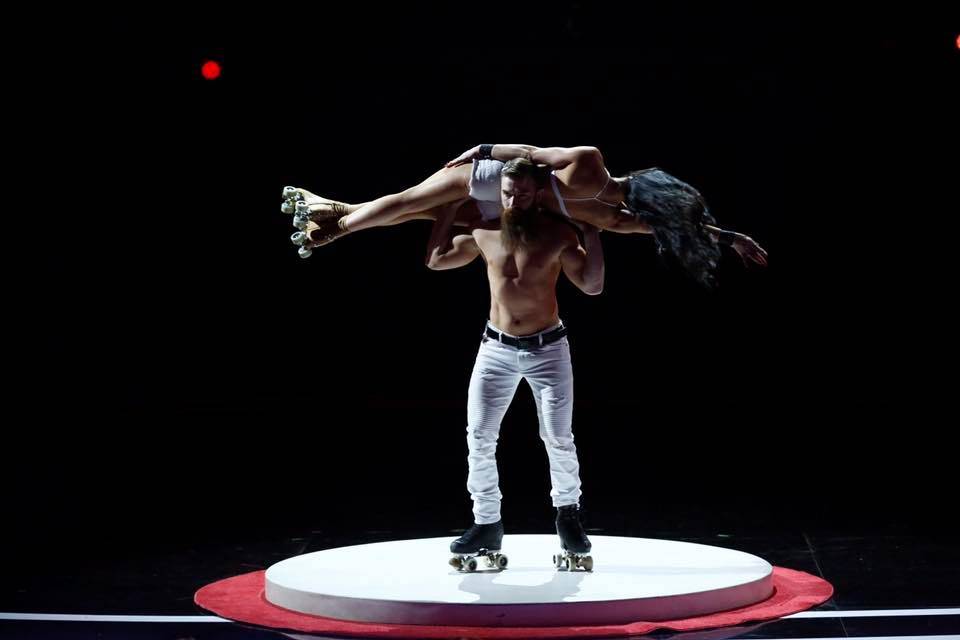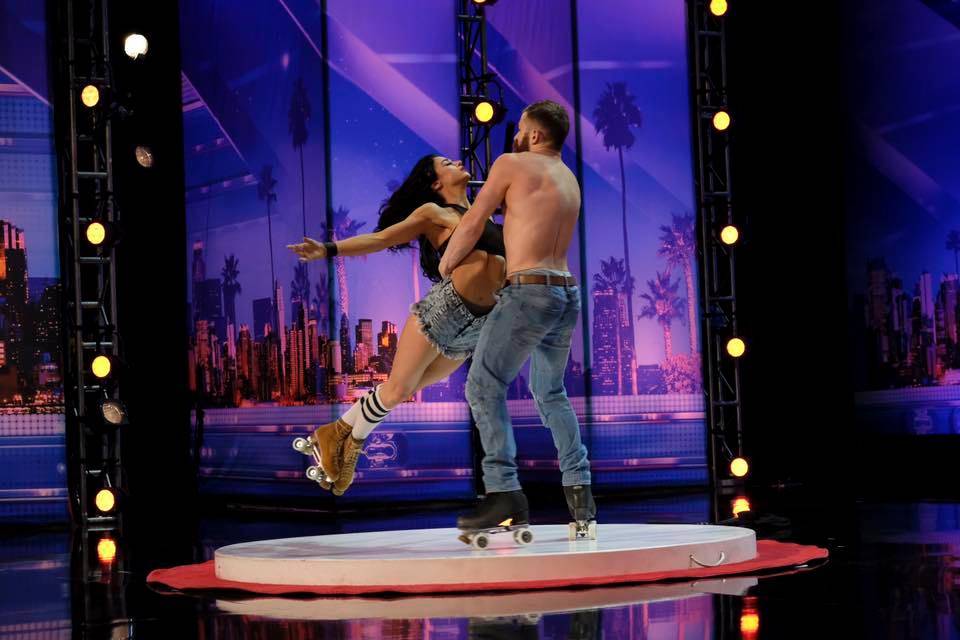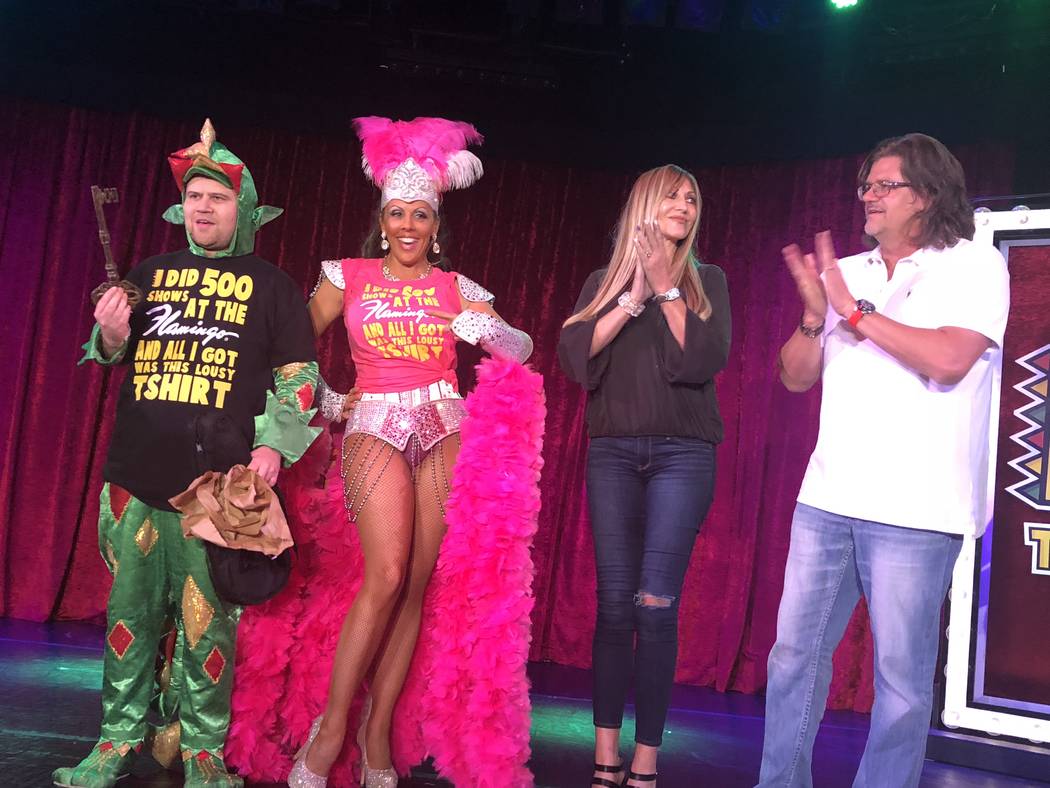 The serpent-suited magician who brags of being "The loser of America's Got Talent" is joining a spinning skating act and a self-muted mime on AGT's upcoming all-star show.
The Las Vegas performers announced Friday for "America's Got Talent: The Champions" are familiar to anyone who follows entertainment on the Strip: Piff The Magic Dragon of Flamingo's Bugsy's Cabaret; the sibling skating act from "Absinthe" at Caesars Palace, Billy and Emily England; and Tape Face of his own House of Tape.
That group has been plucked from the Strip to compete in the series, which launches Jan. 7 and will run for seven weeks on NBC, slotted between "The Voice" finale and the next run of "AGT."
Action actor Terry Crews is the new host, with a returning lineup of judges Simon Cowell, Mel B., Heidi Klum and Howie Mandel.
On Friday, NBC announced the first 25 acts of the field of 50 former finalists. Those who reached the finals of the BBC show "Britain's Got Talent" are also returning (go to the show's website for updates).
Though the "AGT" spinoff is promoted as a "Champions" contest, none of those who appear full-time in Vegas have won the show. Two Strip acts lost to ventriloquists who are also on the "Champions" roster: Piff (legal name John Van Der Put) was a finalist in 2015, losing out to eventual titlist Paul Zerdin. The skating Englands raced to the final 10 in 2017, losing to the young puppet master Darci Lynne Farmer.
Tape Face (legal name Sam Wills) was a finalist in 2016, when young vocalist Grace VanderWaal captured the championship. VanderWaal is now 14 and not on the first batch of announced contestants.
As Piff, of course, Van Der Put has turned his "failure" on the show — when he actually outlasted several thousand entertainers who auditioned — to full advantage on the Strip. He's often said that winning the championship would not have fit with his character's self-defeating personality.
But now, Van Der Put says, "This time, I'm in it to win it."
Not for himself, but for his tiny canine sidekick, Mr. Piffles. "He's 11 years old. Halfway there. And let me tell you, he's not happy," Van Der Put texted Friday. "You see, 'AGT' changed my life. Success beyond my wildest dreams, my own show in Vegas now extended through 2019, a lovely two-bedroom cave out in Henderson. But Mr. Piffles? He was born to win. He's got champion written all over him, and do you think he likes seeing Loser plastered all over his face on the I-15? Forget it."
Other "Champions" with Vegas connections include the consistently funny Zerdin, who headlined for about five weeks in 2015 at what is now Criss Angel Theater at Planet Hollywood; spellbinding magician Shin Lim, the 2018 champ who just headlined the "AGT Live" show at Paris Theater this month and who has said he is in talks for a residency on the Strip; Farmer, for whom fellow ventriloquial champ and Mirage headliner Terry Fator has written material; and British singer Susan Boyle.
Why Boyle? She guest-starred in Donny & Marie's show at Flamingo in October 2012, so overcome with stage fright she was barely able to sing. But the audience cheered, and also cried.
Moreno's flurry
Frankie Moreno has released his third CD since September, the Christmas album, "Frankie's Christmas Party." It's a holiday buffet of rearranged classics and Moreno originals. A killer release, this might be Moreno's best work yet.
In a burst to close the year, Moreno has issued four full albums since August: "Broke Down in Paradise" the brazenly titled, "Future Greatest Hits, Vol. 1," and "Whiskey, Women & Song" are the others. Up next is the single "Beautiful Girl" and another album, "The Remix Project," a DJ album of previously issued Moreno songs due for release Dec. 28.
That's five albums and a single, a show at Carnegie Hall in New York in October, a full house Thursday to close this year's run at South Point Showroom (though he's performing on New Year's Eve), and a regular schedule at Myron's Cabaret Jazz since the beginning of August. As Moreno said Friday after listing all this stuff, "It sounds insane to look at that after the fact."
'Renegades' returning
That's what I'm hearing. Or, at least producer Rich Lenkov of Chicago is attempting to bring back the stage show that originally starred Jose Canseco, Jim McMahon and Terrell Owens and was hosted by Martin Montana at Cleopatra's Barge at Caesars Palace. Montana posted a photo of himself with Lenkov, Canseco and an unnamed individual Friday on his Instagram page. The show is reportedly securing additional funding and targeting a return to a Caesars Entertainment venue early next year.
Griffin gets down
A devastatingly funny man, Eddie Griffin, is moving from The Sayers Club at SLS Las Vegas to Mandalay Bay Events Center for one performance. Griffin, George Lopez, Cedric "The Entertainer" and D.L. Hughley are performing a stage version of the BET series "The Comedy Get Down" at Mandalay Bay Events Center on Friday.
Griffin is also cast in the recently released remake of "A Star is Born." During the L.A. premiere of the film in October, Griffin told the Los Angeles times, "It looks like the pigeon-hole days are over," said Griffin, who plays a pastor in the film… "Comedians don't have to just stay in comedy clubs. Actors don't have to just stay acting. They can actually get behind the camera"
The latter reference was related to Bradley Cooper's dual roles as co-lead with Lady Gaga, and the film's director. And, on the topic of blending sensibilities: Griffin has shown he doesn't pigeon-hole his cocktails, either, mixing tequila and champagne onstage during his shows at SLS.
'Sugar Sugar' for Shaffer
Joe Walsh cannot join Paul Shaffer's show at Caesars Palace as both had hoped on Nov. 30 (Walsh had a previous commitment on the East Coast). Instead, Shaffer is bringing in Ron Dante to join the Shaf-Shifters' performance at Cleopatra's Barge. Dante is known as the founder of the cartoon band The Archies, and singer of the 1969 No. 1 hit, "Sugar Sugar."He's also a prominent producer, having worked on Barry Manilow's first nine albums.
And, "Sugar, Sugar" is on the set list for the Nov. 30 show, with Shaffer sure to master Veronica's keyboard licks.
John Katsilometes' column runs daily in the A section. Contact him at jkatsilometes@reviewjournal.com. Follow @johnnykats on Twitter, @JohnnyKats1 on Instagram.