Las Vegas readying for 'the Super Bowl of debates'
October 18, 2016 - 12:03 am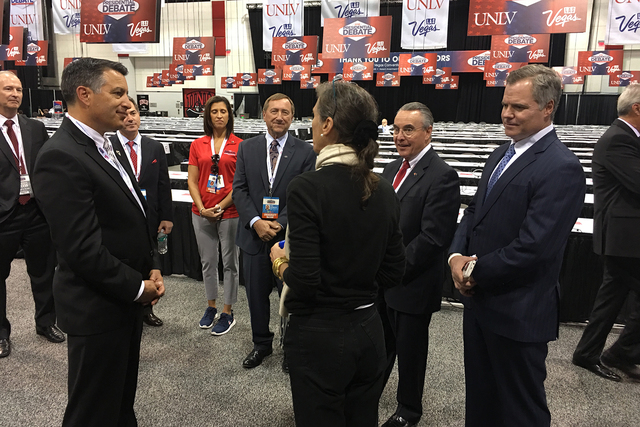 Monday morning, Gov. Brian Sandoval signed off on a domed stadium that could one day be home to the Raiders football team and a $1.4-billion expansion of the Las Vegas Convention Center on the Strip. A couple of hours later, he walked onstage at UNLV's Thomas & Mack Center to check out the set of tomorrow's third and final presidential debate between Donald Trump and Hillary Clinton.
A big day for anyone.
"I think it's one of the biggest days in the city's history, I really do," Sandoval said. "I'm just really proud. If you look at how great a city Las Vegas is, we are now showing the world what we are capable of doing, with our growth, and how capable we are of hosting an event like this."
Las Vegas Convention & Visitors Authority President and CEO Rossi Ralenkotter,a Las Vegas native, agreed. "This is one of the most important weeks we've ever had, and a real milestone for Las Vegas. It positions us for future presidential conventions, either on the 'R' side or 'D' side, now that we have T-Mobile Arena, where they would be able to hold a convention for either party."
The excitement of those in attendance Wednesday was not debatable. That group included Sandoval, Ralenkotter, County Commission Chairman Steve Sisolak, UNLV President Len Jessup, UNLV Board of Trustees member (and former president) Don Snyder, MGM Resorts CEO Jim Murren, and Commission on Presidential Debates Executive Director Janet Brown.
WHO'S IN, WHO'S OUT
Ralenkotter said more than 7,000 media reps, domestic and international, have been credentialed for the event (similar to the other presidential debates). About 1,000 tickets will be distributed, with the vast majority going to the respective campaigns. Jessup said between 75 and 100 tickets have been assigned to UNLV, and "the lion's share" would be available in an open lottery for UNLV students.
"Here we are, in what is still one of the greatest basketball arenas in the NCAA, which holds about 18,000 seats," Jessup said, gesturing to the several thousands of seats that will go unused in Wednesday's debate. "When we were announced as a host school, I can't tell you how many calls I got from season-ticket holders asking if they could sit in their seats for the debate. I told them, sadly, 'No.' "
As event co-hosts, Ralenkotter and Jessup will appear onstage first, and havethree minutes to welcome those in attendance and introduce moderator Chris Wallace of Fox News Channel. These opening remarks are usually not broadcast by the major networks and cable channels, though CNN has aired this segment in previous debates during this cycle. "Who knows? We might make CNN," Jessup said with a laugh.
THE FORMAT
Clinton and Trump will stand at podiums for this meeting, rather than sitting as previous presidential candidates have done when meeting for the third debate in recent election cycles.
"Basically, the candidates decided that they wanted to stand," Brown said. "But the commission is fond of the seated format. We started using it in 2000 at the (vice presidential) debate, the (Joe) Lieberman-(Dick) Cheney debate, with Bernard Shaw moderating, and it was great. … It has a totally different feel. It's more civil when you are seated. It just changes the physical dynamic. We used it in the VP debate this year, too, and it was a positive piece of how that debate went."
The production of the show is a "pool" crew from Fox News, though all networks airing the debate receive the individual camera shots. So, the cutaways and use of the split-screen effects can (and likely will) vary from Fox's crew and, say, CNN. "A specific network can make its own decisions about who they choose to show during the debate," Brown said. As for what plays out onstage, "The moderator is in charge once the debate starts."
CAMPAIGNING FOR THE BRAND
Ralenkotter estimates between 80 million and 120 million viewers will tune in nationwide (the latter figure is close to a Super Bowl telecast) for what he calls "the Super Bowl of debates." The city will once more be used as a backdrop for crews from the major networks and cable outlets. CNN and MSNBC are broadcasting live all day Wednesday, and CNN is airing "Anderson Cooper 360" live from UNLV on Tuesday night. The cumulative value of the free media is about $90 million, Ralenkotter said.
"Our brand is out there, in datelines and in the 'bumps' the networks use to get in and out of commercials, showing the entire valley," Ralenkotter said. "There have been reports about Las Vegas as a destination, a report even about Boulder City (on CNN). If we had to pay for all that mainstream media and even social media, it would be several millions."
Although Wednesday will be the first time Las Vegas hosts a presidential debate, UNLV's Cox Pavilion was the site of a Democratic Party primary debate in November 2007, just prior to the annual Jefferson-Jackson Day fundraising dinner at Paris Las Vegas. Both Clinton and not-yet-President Barack Obama spoke that night, and I can still recall the impressive volume of Obama supporters filling the hallway and shouting, "Fired up! Ready to go!"
John Katsilometes' column runs Saturday, Sunday, Tuesday and Thursday in the A section, and Fridays in Neon. He also hosts "Kats! On The Radio" Wednesdays at 8 p.m. on KUNV 91.5-FM and appears Wednesdays at 11 a.m. with Dayna Roselli on KTNV Channel 13. Contact him at jkatsilometes@reviewjournal.com. Follow @johnnykats on Twitter, @JohnnyKats1 on Instagram.