Legendary Tempest Storm says she's done with Burlesque Hall of Fame event
November 21, 2016 - 11:59 pm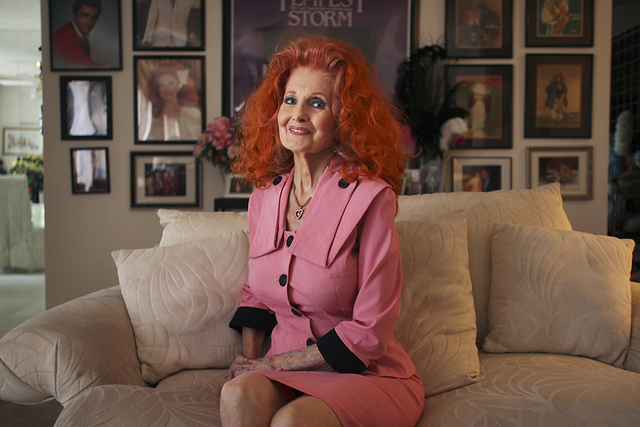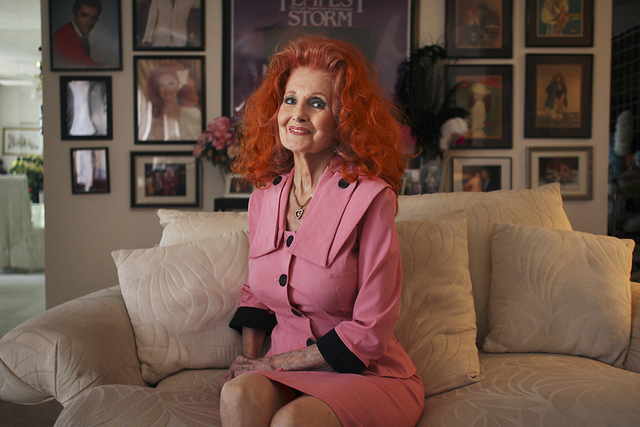 A political dispute has stripped next year's Burlesque Hall of Fame festival of its greatest living legend.
Tempest Storm says she's done with the BHOF event, held each June at the Orleans hotel-casino. The groundbreaking superstar, whose stage career spanned more than 60 years, remains a fan favorite and has been spotlighted each year at the event's "Legends" tribute show.
But recently the fiery redhead said flatly: "I am not going. It's final."
The first woman in burlesque to command a six-figure contract (in 1956, no less), Storm says she is refusing to attend the festival, nor will she authorize an in-the-works screening of her new documentary, "Tempest Storm," as part of the BHOF festivities. She has been busy crisscrossing the country promoting the film, much of which was shot in Las Vegas.
Still active in the burlesque community at age 88, Storm unwittingly unleashed a storm on her Facebook page with a Nov. 1 pro-Donald Trump post. Taking the lead from her influential manager and chief confidant, Harvey Robbins, Storm unequivocally supported Trump's presidential candidacy, stating, "I enthusiastically support the presidential candidacy of Donald Trump and hope that all of my friends and followers will give strong support to him and vote for Donald on November 8."
The post ended with a link to Robbins' own blog page, where he has posted several pro-Trump missives. Storm followed with a second post Nov. 2, which replaced the original, and was written in her own words through her FB manager (she and Robbins had collaborated on the first post).
Storm's support of Trump drew a cascade of angry comments — many of which have since been removed — arguing that Trump's positions have not reflected the all-inclusive spirit of burlesque. But several fans and performers jumped in to support Storm, too.
Among those concerned with Storm's posts was Burlesque Hall of Fame Director Dustin Wax, who quickly contacted Kaitlyn Regehr, one of the producers of Storm's documentary. Wax said he was worried about the response Storm would receive at next year's BHOF events for backing Trump. Word of that conversation reached Robbins, then Storm, who took Wax's concerns to mean she had actually been banned from the event.
Not so. Wax, who strongly supported Hillary Clinton during the election, clarifies: "Tempest is welcome at the show. The endorsement on her page didn't make her very popular, though and I don't know what kind of reception she can look forward to from the largely feminist, anti-racist, pro-LGBTQ and decidedly anti-Trump burlesque community.
"But bottom line, we don't invite our Legends for their politics, we invite them for their contribution to the art, and nobody disputes Tempest's contribution."
Storm's absence is a significant, and unfortunate, turn of events for the Burlesque Hall of Fame as it plans to move into a new space next year at Arts Square in the Las Vegas Arts District. Storm herself is a Hall of Fame inductee and a leading supporter of the organization since moving to Las Vegas in 2006, when then-BHOF museum curator Dixie Evans relocated the collection from its ranch property near Helendale, California, to downtown.
Each year during the four-day Burlesque Hall of Fame event, Storm has welcomed fans at the entrance of the 600-seat Orleans Showroom, signing memorabilia and posing for photos. The release of her documentary and new BHOF display space have made next year's festival a particularly important moment for both parties.
Now, the public politicking has soured Storm's relationship with the Hall of Fame in her own home city.
"I have always tried to present myself with integrity and class and represent burlesque in a very positive way," she said Sunday. "This has all gotten crazy. I've never seen anything like it, and I'm not standing for it."
The verdict, she says, is final.
'53X' BUTTONS UP
The stage show at Chateau at Paris Las Vegas packed up after Sunday's performance. It is continuing to refer to the closing as a "hiatus," and co-producer Kevin Denberg of the Chippendales hierarchy is confident the show can sell tickets elsewhere. "We're looking for a proper theater that has the right vibe for this show," he said during a quick chat at the Paris Beer Park after Sunday's performance. "It's not easy to find that, but we have a show that can work."
He and artistic director Bryan Cheatham, the former front man of "Chippendales" at the Rio, both noted the superior cast of dancers (no argument there), inventive format of using men and women concurrently in an adult revue, and the strong Chippendales brand. Fortunately, or not, there are plenty of rooms available in VegasVille.
CASTING A LINE
This, from Eric Idle, Saturday night at the opening of "Together Again at Last … For the Very First Time" with John Cleese: "It's great to be here in Las Vegas. Can't wait for it to be finished." The duo sold out both Friday and Saturday night's shows.
SPEAKING OF SELLOUTS
Without much, or any, advance fanfare, REO Speedwagon filled Orleans Showroom on Sunday night. Guitarist Dave Amato has Vegas ties; he was in the "Raiding the Rock Vault" lineup when that show closed at Tropicana Theater on Aug. 1.
NO 'DAREDEVIL' FOR STABILES
The new production at Hooters has lost its producer: Stabile Productions has split from the stunt-comedy show "Comedy Daredevil," turning the show over to hotel operators. Angela Stabile confirmed Sunday that she and her husband, Matt, have dropped the show from their stable of productions, which includes "X Burlesque" at Flamingo Las Vegas and "X Country" at Harrah's. This decision was rendered two weeks ago because, as Angela Stabile says, "It just didn't make sense for us to be involved there and Hooters took it over."
COOL HANG ALERT
The ever-rocking Franky Perez and the Truth are debuting at the Red Velvet Stage at Downtown Grand's casino at 9:30 p.m. Friday and Saturday. "Work off that gravy!" is the call from Perez, who never leaves anything onstage. Following that show, at 11:30, are the Porch Hounds, featuring Aaron Benward and Travis Howard of "Nashville Unplugged" at Mizuya Lounge at Mandalay Bay. No cover for any of it.
John Katsilometes' column runs Saturday, Sunday, Tuesday and Thursday in the A section, and Fridays in Neon. He also hosts "Kats! On The Radio" Wednesdays at 8 p.m. on KUNV 91.5-FM and appears Wednesdays at 11 a.m. with Dayna Roselli on KTNV Channel 13. Contact him at jkatsilometes@reviewjournal.com. Follow @johnnykats on Twitter, @JohnnyKats1 on Instagram.