Live from Las Vegas Strip here are our Billboard Music Awards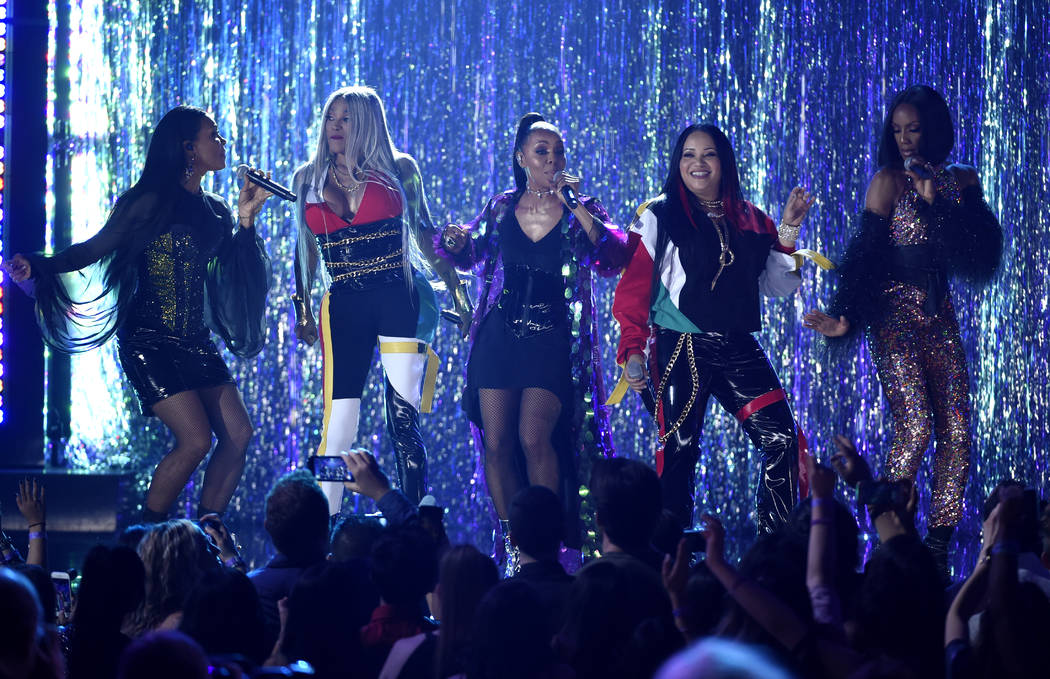 You know how a nightclub DJ routinely calls to the crowd, "Everybody screeeeeaaaaam!"
Maybe you don't know that, but it happens. Fortuitously, no such exhorting was needed Sunday night during the Billboard Music Awards at MGM Grand Garden Arena. The crowd was in full shriek most of the night, especially when BTS — the social-media phenomenon, seven-member boy band from South Korea — was mentioned.
The guys ring the bell on Twitter; their fans ring your ears in the arena.
The BMAs, as they are known, is actually an all-star concert masquerading as an awards show. The trophies often seem incidental, a handy excuse to lure such superstars as Janet Jackson, Jennifer Lopez, John Legend and — yes — Salt-N-Pepa with En Vogue to share the same show.
The production, which for the first time aired live on NBC, was peppered with memorable moments. Our own awards from the BMA spectacular:
Warm, Cold-Open Award: To host Kelly Clarkson, who seemed to veer off script during the "cold" opening. Expected to call for a moment of silence for the students and teacher killed in Friday's mass shooting in Santa Fe, Texas, instead she said: I'm so sick of moments of silence. It's not working, obviously. So, why don't we not do a moment of silence? Why don't we do a moment of action? Why don't we do a moment of change? Why don't we change what's happening, because it's horrible." By the end, Clarkson was in tears, and she wasn't alone.
Credibility Award: To unbilled presenter Bruno Mars, who drew a standing ovation just by walking out in shades, an untucked shirt and long-looped gold necklace. Then he introduced Jackson with the Billboard Icon Award.
Best Prep Choir: A dozen members of the Marjory Stoneman Douglas High School student choir joined Shawn Mendes and Klahid for "Youth," honoring the victims of the Santa Fe shooting.
Amazing Clip of the Night: Jackson during her teenage days as a recurring character on Diff'rent Strokes."
Best Use of Counterfeit Money: Lopez made it rain faux "JLo" currency during the debut of "Dinero," a collaboration (er, "collab") with DJ Khaled and Cardi B.
Bangs Award: To presenter Mila Kunis, with fine hair and a chirpy attitude, "Guys! This show is so fun!" before awarding Top Selling Album to Taylor Swift for "Reputation."
Time Machine Award: Kesha and Macklemore's duet on "Good Old Days," presented as being performed live from T-Mobile Arena, was actually recorded Saturday night.
Best Nod to Old Vegas: Clarkson summoned the feathered showgirls in her show-opening medley of nominees' hits.
Best Hair at the Grand Garden Arena's Floor-Level Entrance: DJ Pauly D. Sadly, he was not at all onstage.
Muscular Dude In Tight-Fitting Fuchsia Shirt Award: Presenter Nick Jonas, clearly hitting the gym these days. He's also planning his brother Joe's bachelor party, so he'll be back in VegasVille this year — if he knows how to plan a bachelor party.
Best Reunion: Presenter Simon Cowell hugged Clarkson after Clarkson opened up with "Whole Lotta Woman" and said, "That was bloody fantastic! So proud of you!" Cowell, of course was among the judges — along with Randy Jackson and Paula Abdul — who helped propel Clarkson to fame on "American Idol."
Swift Response Award: To Swift, who rolled her eyes and checked her fingernails as Clarkson covered Swift's "Look What You Made Me Do" in the medley at the top of the broadcast.
Moment-Capturing Award: During her acceptance speech, Jackson seized on the me-too movement: "I believe that for all the challenges, for all our challenges, we live at a glorious moment in history," she said. "It's a moment where at long last, women have made it clear that we will no longer be controlled, manipulated or abused. I stand with those women and with those men equally outraged by discrimination who support us in heart and mind." Place went nuts with chants of "Janet! Janet!"
Remote Upset Special Award: With Mars and Swift in the house, Sheeran was given the Pop Artist of the Year Award. I felt the moment Mars walked onstage to introduce Jackson he would win the night's top prize.
Retro Grooving Award: Salt-N-Pepa, with help from En Vogue, destroyed the place with "Whatta Man," "Push It," "Shoop" and "Let's Talk About Sex." As an epilogue, later at the red carpet at Lopez's after-party at Spago at Bellagio, I asked Salt-N-Pepa's Cheryl "Salt" James and Sandra "Pepa" Denton if the hip-hop duo were moving into Tropicana Theater this year, as expected.
James laughed and said, "It's a secret!" Not a confirmation, nor a denial. We'll see when the billboards are up.
Contact John Katsilometes at jkatsilometes@reviewjournal.com. Follow @johnnykats on Twitter, @JohnnyKats1 on Instagram.