Mr. Las Vegas cranks up the passion for Golden Knights
Updated May 19, 2018 - 10:21 am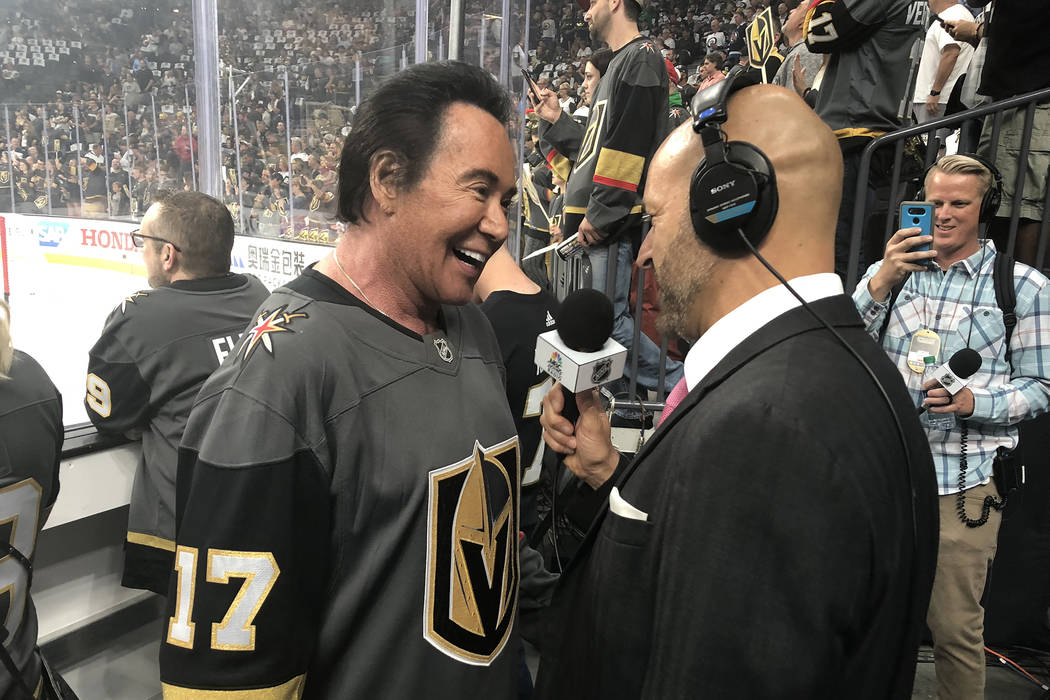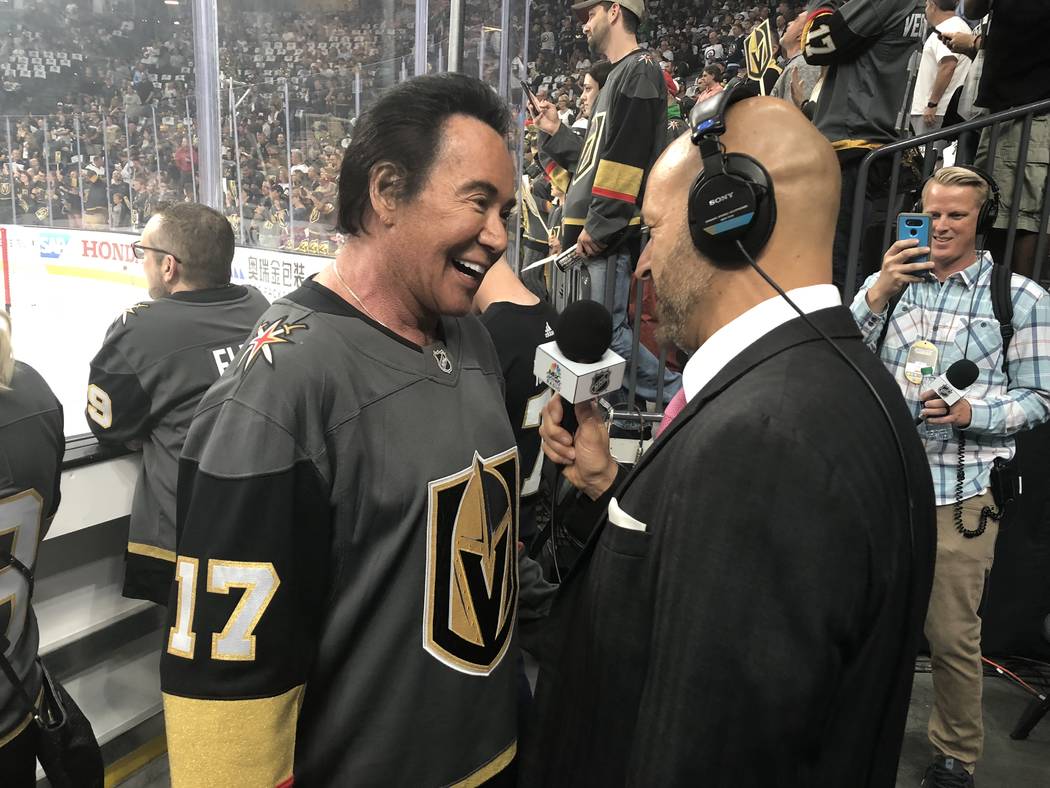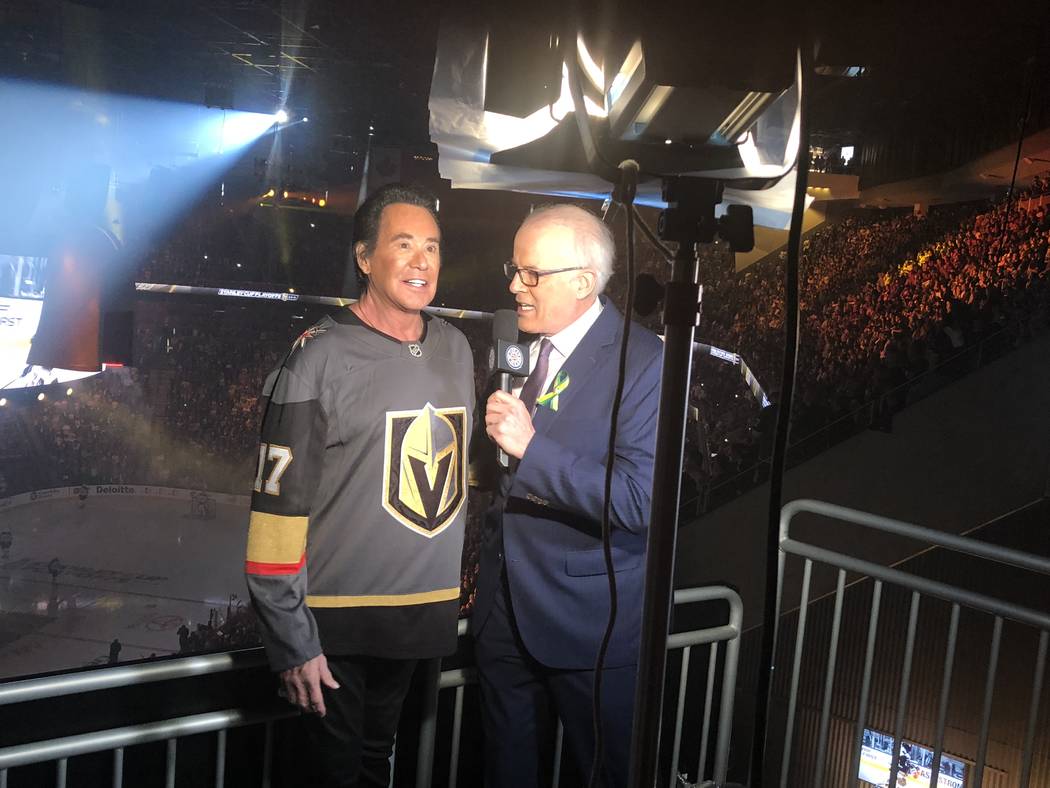 In his 60 years as a Las Vegas resident, Wayne Newton has seen it all.
Or so he thought.
"I've never seen anything like this," Newton said just before watching the Vegas Golden Knights beat the Winnipeg Jets 3-2 in a Western Conference Final game Friday at T-Mobile Arena. "Everywhere I go, people are talking about this team. I never thought, in all the years I've lived in Las Vegas, we'd see an ice hockey team take over this city."
Wearing a No. 17 Golden Knights home jersey with "NEWTON" stitched to the back, the Wayner had a blast in his first NHL game at T-Mobile Arena. He and his wife, Kathleen, ventured to the glass during warm-ups and waved at Golden Knights players, many of them nonplussed to see Mr. Las Vegas hanging around the ice.
Newton, who headlines at Windows Showroom at Bally's was interviewed by NBC Sports Radio and Hockey Night in Canada. He posed for pics with fans, team reps and (naturally) the mascot Chance the gila monster. Even fans wearing Jets jerseys had to stop and shake his hand and move in for selfies.
And, with NBC Sports Network broadcasting the moment live, Newton cranked the siren as the crowd of 18,000-plus shrieked and waved VGK battle towels.
Newton came away shaking his head, while noting the powerful role the team has played in the city's recovery from the tragedy of Oct. 1.
"It's been unbelievable, the timing of all this," Newton said. "I've said, ever since we had the tragedy on October First, that if anything positive can come from that event, it is that the world can see the passion Las Vegas has. This has always been a very passionate community, and we're seeing it with this team."
A man and his Lambo
During a session with media at City National Arena on Friday morning, Golden Knights forward Jonathan Marchessault talked of what has become a fabled vehicle in the city: The 2017 Lamborghini Aventador Roadster Convertible loaned to the team by Findlay Automotive Group's Lamborghini Las Vegas.
Marchessault has become the Knights player assigned to the car, though he does not seem certain why. He has driven it to T-Mobile Arena before three playoff games games: Friday's, Game 5 of the Western Conference Semifinals against the San Jose Sharks and Game 3 against the Jets. The team is now 3-0 when Marchessault drives the Lambo to T-Mobile.
Asked if other players wanted to drive the car, too, Marchessault said, "Some guys wanted to drive it. Obviously, I don't mind if they want to do it. I'm a pretty generous guy.
Asked how long the car had been loaned to him, Marchessault said, "I don't know. They drive it to my driveway in the morning. I take it to the game. Next morning, they come and get it."
It was suggested the car was delivered each morning along with the daily newspaper.
"Not necessarily like that. The dealership wanted me to have it for a few days," Marchessault said. "But there was an event yesterday (the unveiling of new clubs and restaurants at the Palms). They requested the car there. So that's fine. I don't need it, necessarily (laughs). I have two cars already. But it's pretty fun to dress in a suit and go in a nice car like that and go to the game."
Marchessault said his first car, when he played in the minors, was a Hyundai Elantra. He then traded up. "It was a Range Rover. I did a pretty good upgrade there (laughs). It was a big jump."
Who sings?
Without tipping the hand too much here, the Golden Knights have been working on major stars to sing the national anthem at T-Mobile Arena for this year's playoffs.
Three of the five members of the Backstreet Boys — Nick Carter, Brian Littrell and Howie Dorough — turned the crank to open the third period of Game 4 (AJ McLeanand Kevin Richardson could not make it).
The Carrie Underwood saga notwithstanding, several headliners with Strip residencies have been attempting to adjust their schedules to appear at the arena since the open auditions last fall. But in this series, Carnell "Golden Pipes" Johnson has handled all anthem duties.
Still, it is not a stretch to say that among entertainers in Vegas, that role has become a choice gig. Everyone wants a shot.
Aces land an ace
Away from the ice — and a team I'm eager to see in action, too — the Las Vegas Aces WNBA team has hired KLUC-FM, 98.5, morning host Chet Buchanan as its public-address announcer. Buchanan is a seasoned pro and host of myriad charity shows in VegasVille over the years.
Buchanan is especially well-known for the annual KLUC Toys for Tots holiday toy drive. And if you ever need someone to lead a live auction at halftime, Buchanan is your man.
Contact John Katsilometes at jkatsilometes@reviewjournal.com. Follow @johnnykats on Twitter, @JohnnyKats1 on Instagram.