Nitro Circus production roaring to Las Vegas Strip in 2019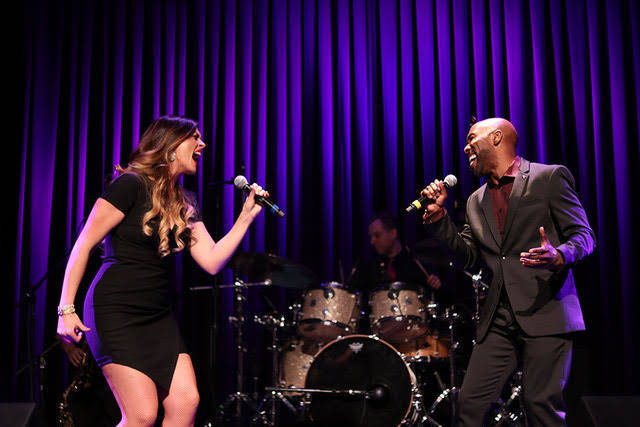 Sunday's Travis Pastrana jump-fest also represents a leap of faith for a new show on the Strip.
Set to be announced, likely as early as Sunday as part of Pastrana's spectacle, is a Nitro Circus production at a Caesars Entertainment hotel in spring 2019.
Nitro Circus and History channel are co-producing Pastrama's triumvirate of motorcycle jumps on the Strip on Sunday. Tickets are expected to go on sale in October for the yet-to-be-titled Nitro Circus show, a co-production of Base Entertainment.
The most likely venue for this exhausting production is Jubilee Theater, not only for its great "fly" space but because that venue's current show, "Masters of Illusion," will close Sept. 3. Expect that announcement Monday.
Pastrana is a creative partner in the Nitro Circus project, but won't star in the production. Instead, he'll promote the show and make recurring appearances to generate to the buzz. The motorcycle star is to this show as Channing Tatum is to "Magic Mike Live," also a Base production, at Hard Rock Hotel.
Pastrana's triple-jump spectacular is an attempt to surpass Evel Knievel's leap of 50 crushed cars, 14 buses (a total of 16 in line behind Planet Hollywood, Paris and Bally's) and a shot at clearing the Caesars Palace fountains. The jumps are set to air live on Sunday on History channel at 5 p.m.; a viewing party for the event is set for Evel Pie on Fremont Street, where Evel's son Kelly Knievel is a licensing partner — and where his father's daredevil spirit is still sky-high.
Our shows of shows
Ruby Lewis is planning to audition for stage roles in New York.
Ian Ward is in the upcoming Broadway musical "Gettin' The Band Back Together."
There is a connection.
Lewis and Ward are a couple of performers (and an actual couple in real life) who just lost their shows on the Strip. Lewis starred in the lead role in "Marilyn — The New Musical" at Paris Theater; Ward played Romeo in "Baz" at Palazzo Theater.
"Marilyn" has announced its closing through Sept. 4 and plans to return to the a Strip venue, though not at Paris, where the fire spectacular "Inferno" remains the theater's primary tenant and where a second production is all but signed to open by the end of the year.
Meantime, "Baz" closes, permanently, on July 29.
Lewis and Ward met when Lewis was still portraying Daisy in "Baz" and Ward had just joined the show. Soon after word came down that "Baz" was finished, Ward took a swing role in "Gettin' The Band Back Together," the new rock musical that opens July 19 at Belasco Theatre.
"It's hard to see 'Baz' closing, but this is such a great opportunity," Ward said last week from New York. "The cast is great and it will be a really fun show."
Ward is in the mix with a couple of former Strip stage performers. Mitch Jarvis, who originated the role of Lonnnie in "Rock of Ages" on Broadway and played the role at the Rio, plays lead character Mitch Papadopoulos. And ex-"Jersey Boys" cast member Rob Marnell is in the ensemble. Marilu Henner, of "Taxi" fame (and who also appeared as Roxie Hart in"Chicago" at Mandalay Bay for six weeks in 1999), is Mitch's mom.
Lewis starred in the Cirque du Soleil Broadway production "Paramour" for a year and a half ending in April 2017. She has not signed for a return to "Marilyn" but says she's "standing by."
Creatively driven, Lewis is also developing an avant-garde, black-box theater production for Las Vegas.
"It would be a gamble," she says. "But I think Vegas needs a serious theater scene."
Cool Hang Alert
Ex-"Jubilee" and current "Alice" front woman Ashley Fuller sets up her "Standards and Soul" show at Piazza Lounge at Tuscany Suites at 7:30 p.m. Tuesday. Fuller throws it down for a four-hour showcase in this no-cover-charge gem. The first two sets are standards, second two sets are soul.
Fuller's husband, Aaron Fuller, is on guitar; Dan Ellis on keys and Aaron "Device" Carrol on drums. The show returns to Piazza Aug. 7, Aug. 14 and Oct. 16.
Gotta make this right
Fixing a fact from Thursday's column: The Pastrana jump and viewing party at Evel Pie are both scheduled for Sunday.
John Katsilometes' column runs daily in the A section. Contact him at jkatsilometes@reviewjournal.com. Follow @johnnykats on Twitter, @JohnnyKats1 on Instagram.