Original 'Absinthe' performer Sweets launches web series
Updated February 7, 2023 - 5:41 pm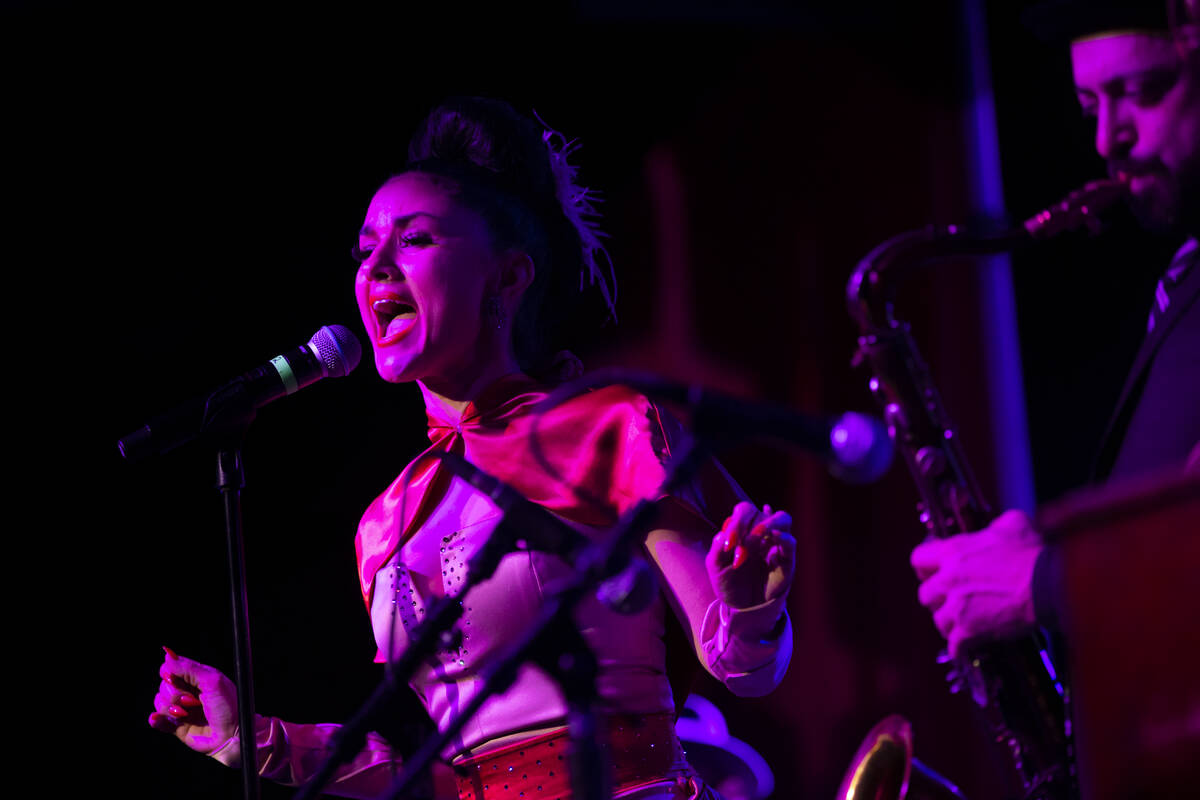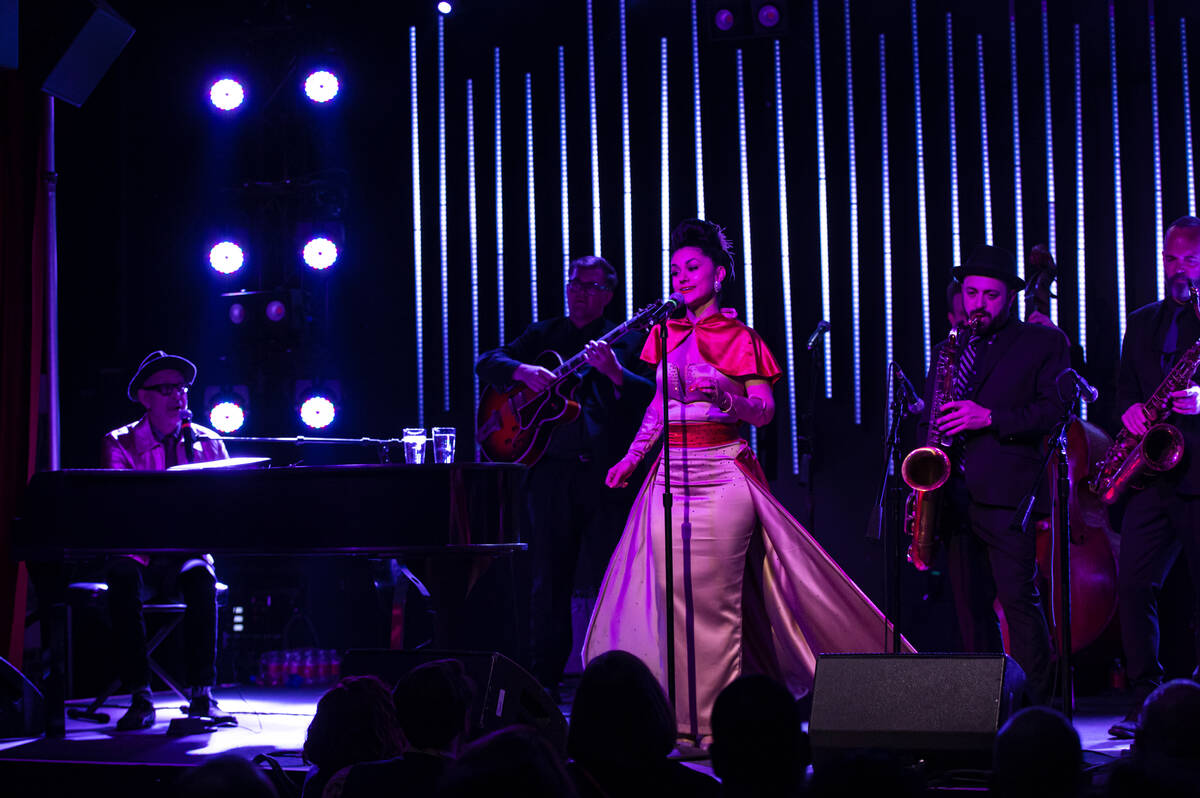 This ain't exactly Julia's child.
We speak of Melody Sweets, the former Green Fairy of the Strip hit "Absinthe." Sweets is hosting a Burlesque-ian baking show that won't be panned (ka-pow!), where Buttercup fills cups o' butter and and tantalizing tarts abound.
"Sweets' Spot" is the name of this confection. The timer is set for Feb. 14 (Valentine's Day, to you and me). Find it on YouTube.com/@SweetsSpotTV. The series runs six episodes. More to come, depending on the audience's appetite.
Sweets became popular around VegasVille after originating the Green Fairy character prior to "Absinthe's" April 2011 premiere on the Strip. She starred in the role through October 2017.
Sweets has since been mixing ingredients for a live show with the "Sweets' Spot" concept, and redoubled her baking efforts during the pandemic shutdown.
"It was my birthday, and I was pouting, by myself, so I thought, 'I'll make my own cake!' " Sweets says "So I made one for myself, and it made me feel good. That sparked this whole idea I had during lock down, to combine my newfound love of baking with my one true love of entertaining."
Turns out the chanteuse is pretty handy with the spatula. Sweets artistic confections have been a focal point on her social-media channels, as she'e created such edible designs as a vintage record player, a Wonder Woman costume and the Super Mario Brothers' video game.
Sweets has been passionate about baking since she was a child in foster care. She made goodies and meals for her friends.
"I would bake for everyone, and not just baking, but I would have taco nights, things like that," Sweets says. "And I started making these little, I guess you'd call them cake pops now. But as a kid, I would just throw coconut on them and then put little eyeballs on them. It would make everyone happy."
As the show's creator, Sweets has tapped into her impressive cadre of talented friends in the Vegas entertainment community. Melissa King-Jules (MsTickle, as her stage name) is co-creator, and Anaïs Thomassian (Penny Pibbets in "Absinthe") is producer. All three write the series. Flamingo headlining comic-magician Piff the Magic Dragon, Voki Kalfayan (the original Gazillionaire in "Absinthe') and "Miss Behave Gameshow" creator Amy Saunders (the voice of the house) are all in Sweets' playhouse.
In the premiere, titled "Girls Just Want to Have Sweets," Sweets is joined by pin-up sensation Sabina Kelley, Hazel Honeysuckle (the current Green Fairy in "Absinthe"), Skye Dee Miles ("Midnight Skye" at the Palms), Kasey Wilson ("Absinthe") the aforementioned Buttercup and Darby Fox (both of the Burlesque Hall of Fame), Heather Holiday ("Absinthe"), and burlesque performer Michelle L'Amour (Lost Spirits at Area15).
New York performance artist Bradford Scobie is cast as the evil villain Dr. Donut, with Thomassian as his sidekick, Hole.
Down the line, Sean and John Scott of "Absinthe" tap dance on Sweets' kitchen counter. Former Blue Man Group member and Gazillionaire performer Marc Roberts uses a ventriloquist figure to portray a reporter (who, we expect, accepts payola). Thomassian, whose raunchy puppet-monologue number in "Absinthe" has become truly iconic, introduced more puppetry to the show.
"At first I was like, 'No puppets!' but Anaïs snuck one in," Sweets says. "Of course, it was great."
The music collective of vocalist/keyboardist Joshua Danger of Mosaic, trumpet great Isaac Tubb of "Mad Apple", drummer Mike "Beans" Benigno of Bronx Wanderers and fashion photographer/bassist Robert John Kley of Hypnotiques are the house band.
"The band lives in the fridge," Sweets says with a laugh."They're called the Frigid Heirs, h-e-i-r-s, get it?"
Yep! There are baking tips sprinkled throughout this frivolity, and Sweets will also sing a bit. She's finishing up the show's theme song. She, MsTickle and Thomassian want to grow beyond these six episodes, to get their just desserts. As it were.
"The people that we have involved, they're all great Las Vegas people," Sweets says. "It just felt good to be surrounded by my friends, these creative, inspiring people. I loved every minute of it."
Cool Hang Alert
She says she would be the love child of Bette Midler and Elton John, and we agree. She is Vita Drew, an Emmy Award-winner three times over and co-star of "Menopause The Musical" at Harrah's. Drew is hosting "Love And Other Four-Letter Words" at 12:30-1:30 Sunday at Coop's Cabaret & Hot Spot at Commercial Center.
Drew is essentially the opening act for the Super Bowl. Doors and brunch at 11 a.m., show to follow. Go to coopscabaret.com for tickets, intel and a little love.
John Katsilometes' column runs daily in the A section. His "PodKats!" podcast can be found at reviewjournal.com/podcasts. Contact him at jkatsilometes@reviewjournal.com. Follow @johnnykats on Twitter, @JohnnyKats1 on Instagram.