'Outlaws' reunite at Trop's Laugh Factory
Updated July 12, 2017 - 12:47 am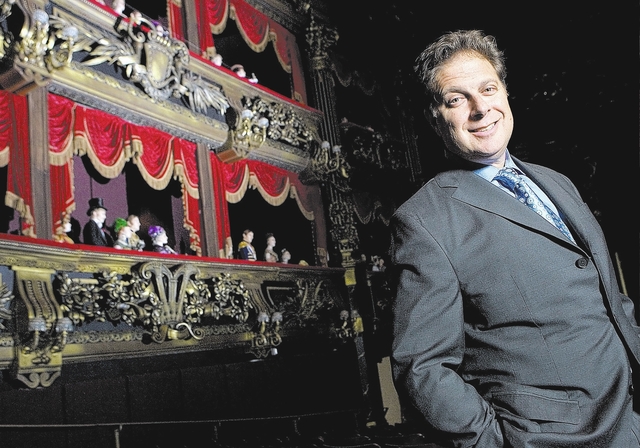 The Kats! Bureau at this writing is Chill'm Bar & Frozen Cocktails at the Tropicana Las Vegas. The resort is hosting the upcoming U.S. Darts Masters tournament, which runs Thursday through Saturday.
I feel I am in the presence of greatness as Pat "The Game" Gallagher just wedged up to the bar. I know he is a person of some fame, because he's wearing a shirt that says "PAT THE GAME GALLAGHER" on the back. He reps the Dart Players of New York, surrounded by fellow players, and is holding court as only a superstar can.
Elsewhere, and the reason for my trip, is the Original Outlaws of Comedy show at Laugh Factory. The lineup of Carl LaBove, Allan Stephan and Mitchell Walters toured with Sam Kinison in the Texas Outlaw Comics tours in the mid-to-late-1980s. This is the first time they have performed on the same bill since Kinison's death in an auto accident on April 10, 1992, on U.S. 95 near Needles, California.
Laugh Factory operator and veteran stand-up Harry Basil convinced the guys to reunite this week. They headline the room through Sunday.
LaBove describes the week as "a celebration of survival and friendship, and a great way to hug your buddies." LaBove is the creator of "The Cop Walk," the strut of a police officer while issuing a traffic ticket. It must be seen to be appreciated.
More from the scene:
Cirque outta Broadway
Cirque du Soleil's merger with Blue Man Group, announced on Thursday, has sharpened the focus on Cirque's commitment to expanding its brand around the world. But in the wake of Cirque's acquisition of the Blue Men, it has become apparent the company is de-emphasizing its development of Broadway-style production shows under its Cirque Theatricals division.
The musical "Paramour" was the first such production. The show blended commonplace Cirque elements as the Korean plank and multiple trampolines with traditional musical theater. "Paramour" opened in March 2016 and did solid business before closing in April. But the production at Lyric Theatre was not the trend-setting show Cirque had envisioned when it hired former Base Entertainment exec Scott Zeiger away from that company in January 2014.
Zeiger has since left Cirque as his three-year contract expired earlier this year. As Zeiger said in a phone conversation this week, he was hired by Cirque founder Guy Laliberte to develop traditional Broadway shows. When Laliberte sold his interest in the company to TPG Capital in 2015, the emphasis shifted on touring shows.
"'Paramour' was making good money, and it was a very rewarding experience, but it wasn't the sort of ground-breaking achievement Cirque would have hoped for, and there are a lot of reasons for that," Zeiger said. "There is the unpredictability of critics, of ticket-buyers who are different than the people Cirque counts on to sell tickets when it tours in places like Houston, New Orleans, San Diego, Atlanta."
As Cirque Chief Executive Officer Daniel Lamarre said last week, as the company announced its purchase of BMG, "We are in full negotiations to bring 'Paramour' to Europe, and we expect to know about its future in September," Lamarre said. "We also hope to bring the show back to New York City, eventually, but right now our focus needs to be on Blue Man Group and our new partnership."
Zeiger had headed up the talks to send "Paramour" overseas, and was also heavily involved in development of Cirque's NFL Experience, opening in November in Times Square. He remains a board member of Base Entertainment and has several consulting contracts for production concepts, including a few that might make it to the Strip.
Grand move
As anticipated, Ice Cube's Big3 basketball championships have moved to MGM Grand Garden Arena from T-Mobile Arena on Aug. 26 to make room for Floyd Mayweather vs. Conor McGregor on that date. Cube was made a fair offer to shift across the Strip, and the Big3 Twitter page announced "everybody's a winner in Vegas!" in this deal.
The title game is set for 1 p.m., and the fight that night, so you can make both events if so inclined. By the end of this week or early next, MGM Resorts is announcing updated ticket protocol for the Big3 event at the Grand Garden Arena. Those who bought seats for T-Mobile will be placed in a similar location at the Grand Garden.
Also, MGM Resorts sports books will post odds on the Big3 title game. This is worth a wager, if only to frame the ticket.
Water woes
The restaurant Planet Dailies is due for extensive repair work after Saturday's flooding of the casino floor at Planet Hollywood. The 24-hour eatery was badly damaged; restaurant owner Robert Earl might not have been considering renovations before the weekend, but he is now. Planet Dailies is expected to re-open in October.
Also, the opening party for Rock & Reilly's on the Strip and Harmon Avenue, scheduled for today, has been canceled. The event had been postponed from June 1, too. A spokeswoman for the Rock & Reilly's explained that the flooding of the Chili's at the Hawaiian Marketplace above Rock & Reilly's, caused considerable damage to the restaurant's ceiling and has needed extensive repair work. The opening has thus been rescheduled, again.
Shack of Blues?
The B-52s filled House of Blues for three rowdy shows over the weekend. After the closer on Sunday night, co-founder Kate Pierson said she liked the idea of pairing the great party band — celebrating its 40th anniversary — with a similarly styled act for an extended engagement on the Strip. Fellow B52 founder Fred Schneider has also said the band is very interested in performing more often in Las Vegas.
As Pierson looked over the House of Blues music hall during Sunday's meet-and-greet, she said, "I think coming in with someone like Berlin, into this place, would be great. It has a great feel, like a Love Shack. We could call it the Shack of Blues and have a great time."
'Alice' storms in return
The re-launch of "Alice" filled Rocks Lounge at Red Rock Resort, and it was a killer of a performance. Big ups to co-directors Anne Martinez and Ryan Kelsey for helping sharpen an already edgy production. The costumes, the use of aerial (at one point, five dancers performed on a single hoop were terrific. The band, under the direction of birthday boy Aaron Fuller, was solid and kudos, too to sound man John Meanor (they never get enough credit) for his effective balance of all that happy noise.
The return of the "indestructible" (Martinez's term) singer Ashley Fuller and the appearance of the Red Queen Lora Kelsey, performing her signature pole dance while wearing stilts, were among the many highlights. The show returns Aug. 14 and runs monthly through December. See it, I advise.
John Katsilometes' column runs daily in the A section. Contact him at jkatsilometes@reviewjournal.com. Follow @johnnykats on Twitter, @JohnnyKats1 on Instagram.