Paul Shaffer, David Letterman celebrate reunion on Las Vegas Strip
Updated February 5, 2019 - 1:21 pm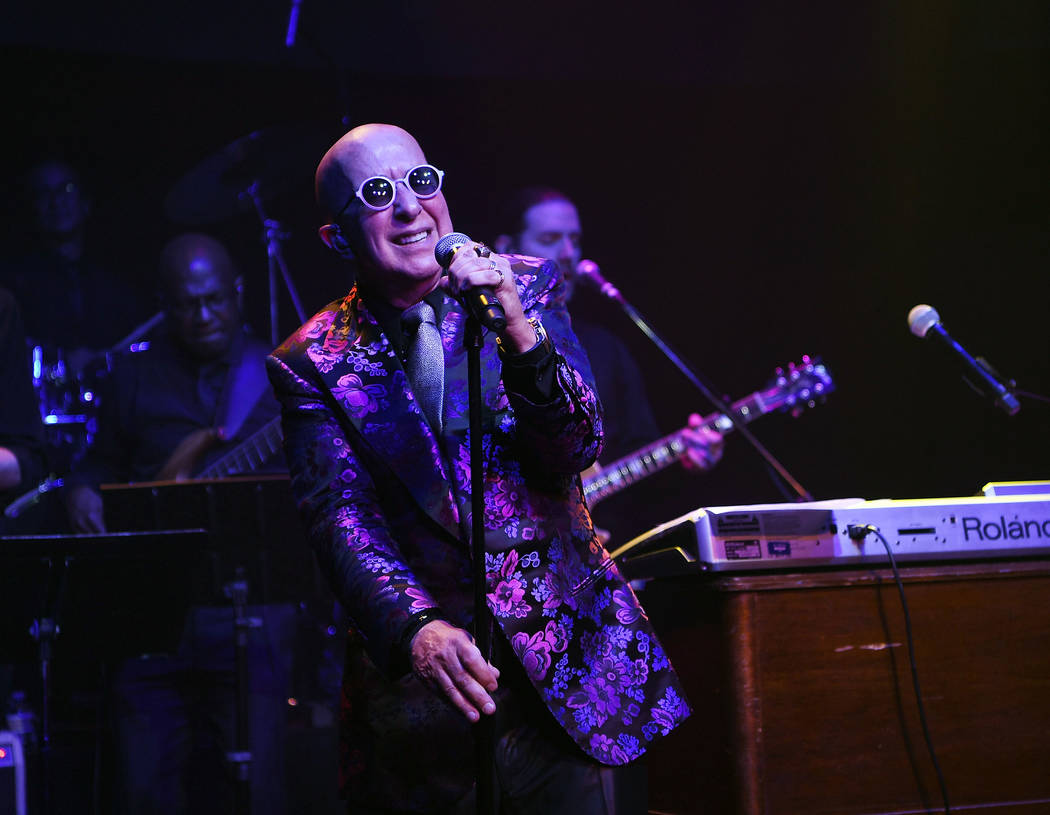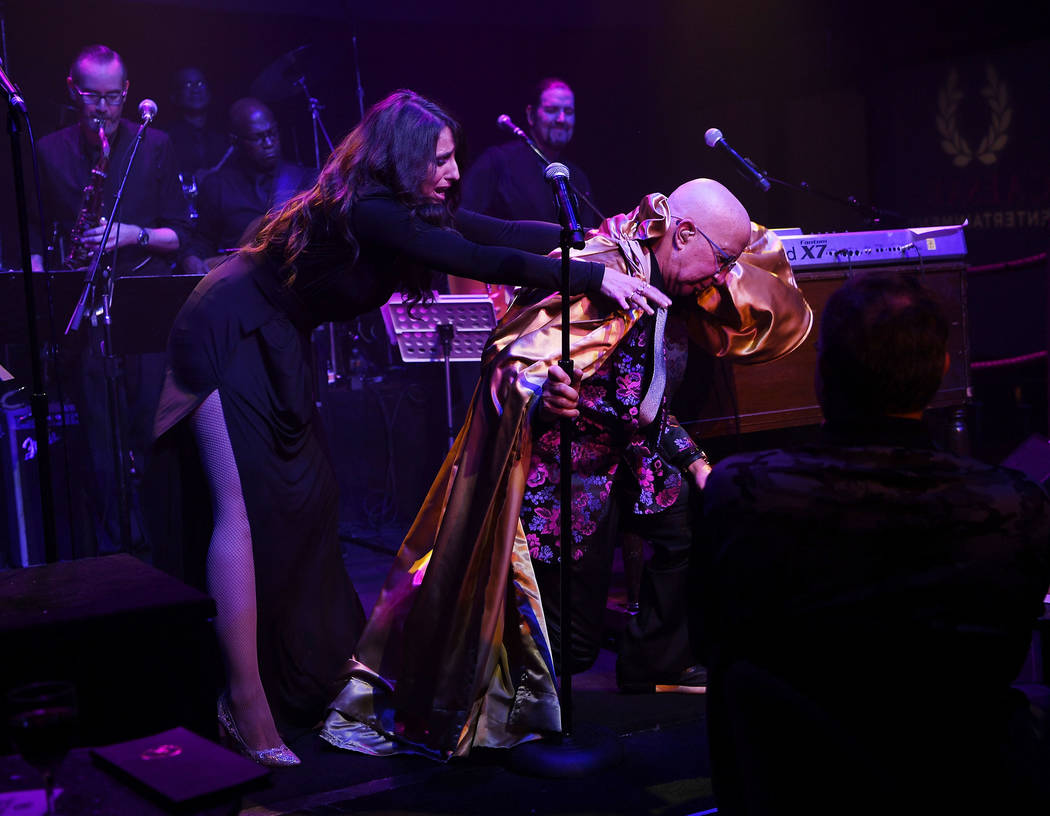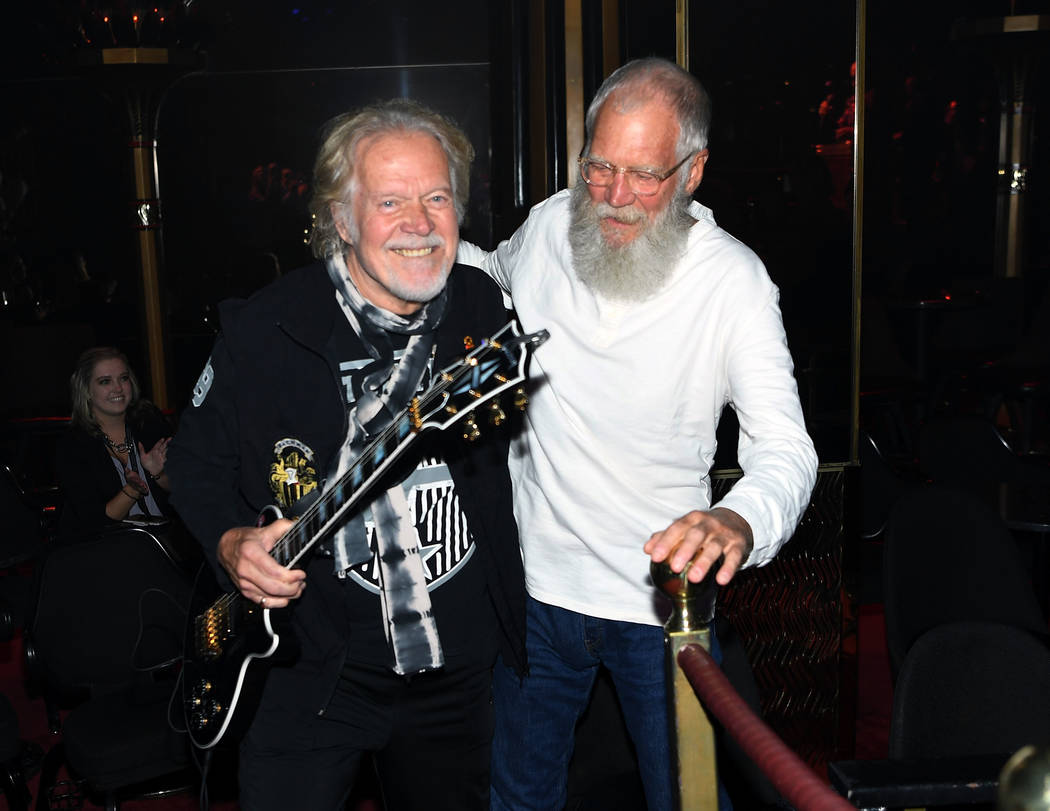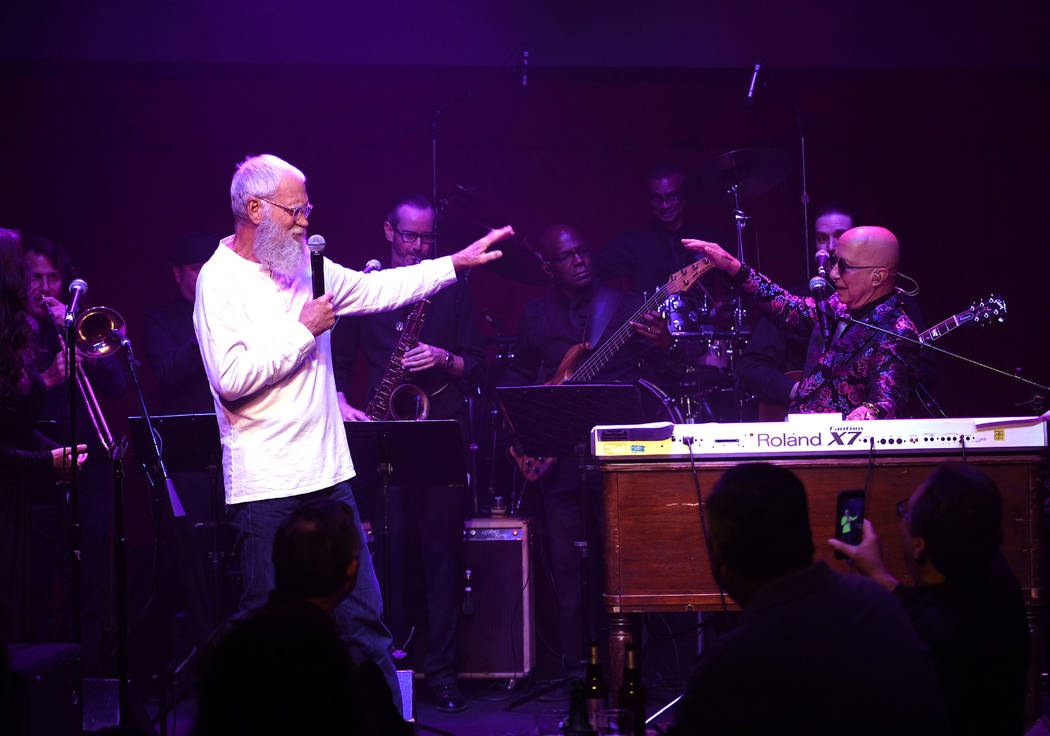 On this rare evening on the Strip, David Letterman is hidden, behind his now-famous beard, and in the back room of a cigar bar at Caesars Palace.
It's in this unlikely enclave, Montecristo Cigar Lounge, where Letterman is seated at a wooden conference table. He's across from his friend and sidekick for 33 years, Paul Shaffer. Both are to appear onstage within the hour, but only Shaffer — in his color-splashed, floral-patterned jacket, black shirt and silver tie — seems prepped for Vegas.
Met #DavidLetterman tonight. "You know how you felt when you interviewed Obama? That's how I feel right now." "Thank you. I appreciate the hyperbole." Here he's introduced by @paulshaffer @CaesarsPalace pic.twitter.com/VbqqmnMPOl

— John Katsilometes (@johnnykats) September 7, 2018
Letterman, conversely, wears a white, long-sleeved shirt, jeans and cowboy boots fashioned from a onetime snake.
But Letterman makes me anxious, because he happens to be a genuine hero, dating to the days when he recited "Small Town News" and introduced Chris Elliott as "The Guy From Under the Seats." I told him that I'd watched his interview with Barack Obama and, "I feel like you felt when you interviewed Obama."
He answered, "Thank you. I appreciate the hyperbolic flattery."
Letterman is in town, one night only, helping Shaffer open his series at Cleopatra's Barge, which continues through Saturday night, with dates Oct. 11-13 and Nov. 29 to Dec. 1. The two have not appeared together onstage since Letterman closed his "Late Night" show in May 2015.
"How many people here have had emergency heart surgery?" #DavidLetterman @CaesarsPalace @paulshaffer pic.twitter.com/sELGxQe4U1

— John Katsilometes (@johnnykats) September 7, 2018
Before the opening performance, Letterman recalls he had "no choices" for a bandleader when "Late Night With David Letterman" was in development in 1981. The bandleader for his daytime show, Frank Owens, was not available. "I'd only known Paul from 'Saturday Night Live,' and I remember when he walked into that meeting he was unencumbered and frail — he'd been in a terrible crash in Hawaii."
"Major car accident," Shaffer calls from across the table. "Nine broken ribs, broken collarbone, collapsed lung, I was in the hospital for 12 days and only working one hour at a time on jingles before going back to bed. But when I got this call, I had to make it."
"Thank you, Pete Barbutti!" #DavidLetterman, in his #Vegas lounge act, w/ a boost from #DavidPerrico … @CaesarsPalace @paulshaffer pic.twitter.com/YLSXDPwYuI

— John Katsilometes (@johnnykats) September 7, 2018
"He was decrepit!" Letterman says. "But I will say, Lorne Michaels had done the screening work for us when he hired Paul as one of the originals on 'Saturday Night Live.' I knew, if he came from there, he had to be two things: Funny, and really, very musically great. And he is a genius musically, and as funny as anybody."
Unlike many late-night talk show hosts — including his idol, Johnny Carson, and the man who took Carson's "Tonight Show" spot, Jay Leno — Letterman says he never had a serious offer to perform onstage himself in Las Vegas.
"There has been an opportunity, but the town council got together and said, 'Naaaaah, I don't think so!' "Letterman says, as Shaffer laughs at the reference. "The closest I got to a big showroom, other than when we brought the show to Bally's (in 1987) was Reno-Tahoe. I played there."
But to play Vegas?
"Never. I could not have done what those guys have done," Letterman says. "I have no material. I have no act. I would be eviscerated, taken out to the desert where only Melvin Dumar would find me. It would be awful."
Letterman did visit the city in the mid-1970s, when he was a worked with Jimmie "J.J." Walker, appearing on the same bill as Petula Clark at the Riviera.
"Jimmie was a big star, with 'Good Times,' and I had been writing for him," Letterman says. "I got off the plane, got to the hotel and I was so nervous about being here that I dumped my stuff in my room and ran out to a vacant lot near the hotel. I ran around, settled down, took a shower and watched the show.
"It was strange, I was strange, the whole experience was strange."
Letterman had hoped to join Shaffer during Shaffer's run at the Barge in December, but couldn't make it to Vegas because of a family commitment. He was in town just for the day Thursday, flying in that morning and high-tailing it to the airport just after the show closed.
Shaffer's torrid performance with the Shaf-Shifters was otherwise filled with the unexpected and uncommon. Kenny Loggins (who had meet Shaffer the previous night at his own show at Encore Theater, which continues Saturday night) and country great T.G. Sheppard were in the audience. After about 30 minutes, Shaffer called Letterman to the stage with, "This is a show-business friendship of the highest order. It actually goes beyond a show-business friendship. It goes into actual friendship."
Letterman recited a very old, yet effective, gambling joke, (look it up; the punchline is, "Oh, I've got gambling money!"). He also recalled that his bandleader often said he wanted to play Vegas.
"He'd say this every year, and I always thought he was kidding," Letterman said. "But here he is, tonight. Paul, what was that schedule going to be?"
"I always dreamed of playing the lounge, and I thought my sets would be 1 a.m., 3 a.m., 5 a.m., and a breakfast show at 7:30," Shaffer said. "But they told us here, we have to be on at 8 p.m."
This really was a surprise: @Letterman favorite @RandysVinylTap of #BachmanTurnerOverdrive @CaesarsPalace @paulshaffer #ShafShifters pic.twitter.com/b8hR9tjy3V

— John Katsilometes (@johnnykats) September 7, 2018
Shaffer had a final, sly surprise. Letterman joked by inaccurately listing all the performers who had played the Cleopatra's Barge stage, calling out, "Sinatra! Right here! Celine! Right here! Michael Jackson, Judy Garland! Right here!" Letterman reached. "Elvis! Right here." Letterman then recalled Presley's "TCB," or "Takin' Care of Business" slogan, and said he'd asked Shaffer and the band to perform Bachman Turner Overdrive's song of that name.
Second part of the @RandysVinylTap @Letterman @CaesarsPalace @paulshaffer #ShafShifters pic.twitter.com/6LNocTYMKM

— John Katsilometes (@johnnykats) September 7, 2018
At that point, Shaffer called up BTO front man Randy Bachman, who appeared seemingly out of nowhere as applause erupted. Bachman hugged Letterman, then tore through BTO's classic-rock anthem.
Letterman took a seat on on the side of the Barge, just beyond the moat, and grinned. He'd earlier joked that if he'd ever played Vegas, "They'll be hearing the boos all the way to the casino."
You could hear the noise outside the lounge, yes. But boos? Nope. As the famed host used to say, "They're not booing. They're chanting, 'Daaaaaaave!' " For 15 minutes, he was a Vegas lounge sensation.
John Katsilometes' column runs daily in the A section. Contact him at jkatsilometes@reviewjournal.com. Follow @johnnykats on Twitter, @JohnnyKats1 on Instagram.