'Power of Love' felt at Strip gala; Agassi donates $1 million
April 27, 2017 - 10:06 pm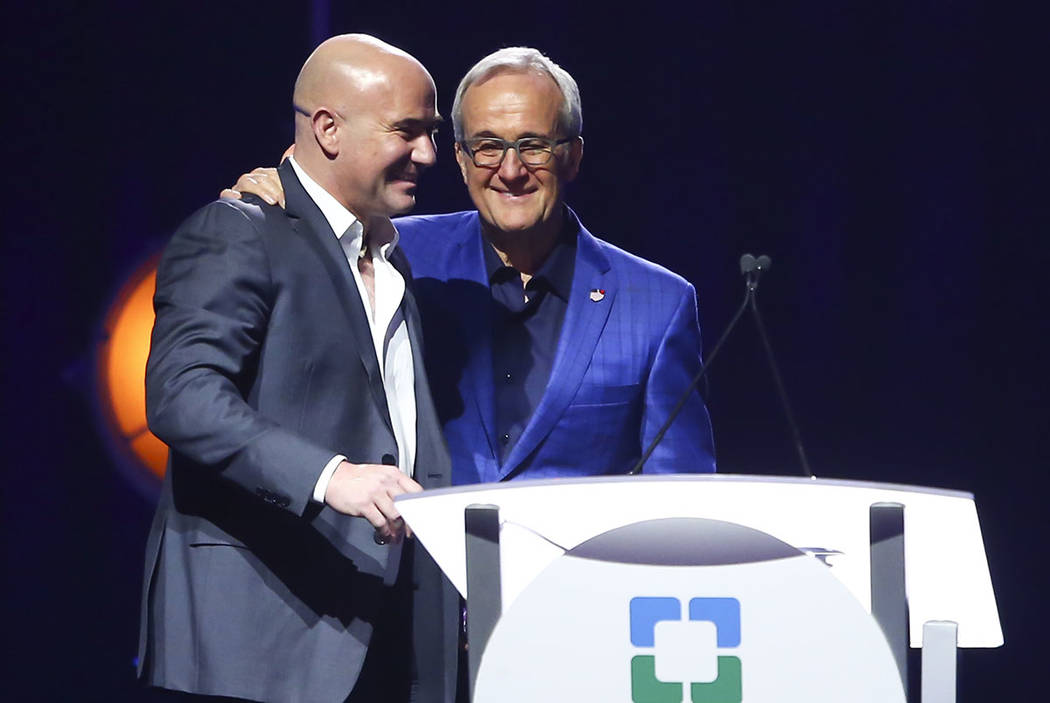 Andre Agassi has long considered Larry Ruvo his hero in the world of philanthropy.
Thursday night, Agassi gave his hero's chosen charity $1 million.
"I have been thinking about it for a while, but tonight seemed the right time to show my support," said Agassi, who was honored with the Community Leadership Award at the 21st Keep Memory Alive Power of Love gala at the MGM Grand Garden Arena. "I spent a lot of years realizing my dreams and goals. It's now time for me to help Larry make his dreams my goals, too."
Agassi announced the donation from the podium, drawing a gasp and applause from the crowd of about 1,550. Asked when he realized Agassi had committed $1 million to the Cleveland Clinic Lou Ruvo Center for Brain Health, Ruvo said: "From the stage."
Siegfried & Roy in the house
The famed performing duo welcomed a stream of well-wishers to their table, including longtime manager Bernie Yuman, who signed the lifetime contract that was in effect when Horn was dragged off-stage by the big cat Mantecore in October 2003. Siegfried still works out with Roy in his ongoing rehabilitation and the duo also visit the Secret Garden at Mirage.
"He keeps me busy, still," said Siegfried, honored with the inaugural Caregiver Award for his dedicated work with his partner of 56 years. "It will always be that way with us, you know." Roy then cut in with, "I have a gift!" And handed over a tiny, stuffed white tiger.
Hello, gents! #SiegfriedandRoy #PowerOfLove @MGMGrand pic.twitter.com/UqGHQfgnyC

— John Katsilometes (@johnnykats) April 28, 2017
Wynn lauds Perelman
Ron Perelman, the chairman of MacAndrews & Forbes Incorporated who has donate millions to universities and medical facilities across the country, was introduced by Steve Wynn.
"I have always said that Larry Ruvo represents the best of citizens in Nevada," Wynn said. "In the same way, Ron Perelman represents the best of citizens in the country."
Perelman's donations to the New York University Medical Center that bears his name allowed the facility to triple the size of its emergency department.
From the stage … #RonPerelman is lauded by #SteveWynn #PowerOfLove @MGMGrand pic.twitter.com/HwKa1PvfAp

— John Katsilometes (@johnnykats) April 28, 2017
Hudson with the save
Gwen Stefani was a late scratch from the program, having suffered a ruptured eardrum in a flight Tuesday. Ruvo heard Tuesday from entertainment manager Irving Azoff that Stefani had been admitted into Cedars-Sinai Hospital and was under doctor's orders not to fly or sing.
"So Irving called Jennifer Hudson, and she is here right now," Ruvo said before theperformances started. "Thank you, thank you, thank you Irving!"
Ruvo said that when Hudson arrived, he thanked her for filling in. Her message back: "Thank you for all you do." Hudson also took part in the 2015 event honoring Quincy Jones and Michael Caine.
Another highly anticipated performer, EDM superstar Steve Aoki, had bowed out earlier due to scheduling conflicts.
Plunkett and the Raiders
Former Oakland Raiders great Jim Plunkett, among the former Raiders at the event, has been critical of the team's move to Las Vegas and reiterated that opinion. "I firmly believe that the Raiders belong in the Bay Area … But they tried for 25 years for a stadium. They tried when Al Davis owned the team, and they tried when Mark Davis took over. We have the only baseball-football stadium left. They had to make a move."
But Plunkett said the lure of the Raiders brand and Las Vegas would fill the new stadium.
"People will come here to see the Raiders," he said. "The team is on the upswing, there are a lot of fans out there — I have even seen it when we played in Mexico — and people like coming to Las Vegas. I think the hotels here will offer a lot of packages and that stadium will be full, yes."
Schirripa! The Musical
Steve Schirripa turned up, as he does every year at Power of Love to support Ruvo. Schirripa was hired as entertainment director at Riviera in May 1986 and worked in either a full- or part-time capacity until 2010, through his run on "The Sopranos." He is continuing his role as Anthony Abetemarco in the CBS series "Blue Bloods."
Schirripa's upcoming film is "Wonder Wheel."
Who else is in it?
"Oh, no one you've heard of," Schirripa said, laughing. "Kate Winslet, Justin Timberlake."
Schirripa lives in New York but says he still misses Las Vegas. "I have not been there in too long, since last year at this event," he said. "Being back here for this event makes me miss Vegas, absolutely."
John Katsilometes' column runs daily in the A section. Follow @johnnykats on Twitter, @JohnnyKats1 on Instagram.