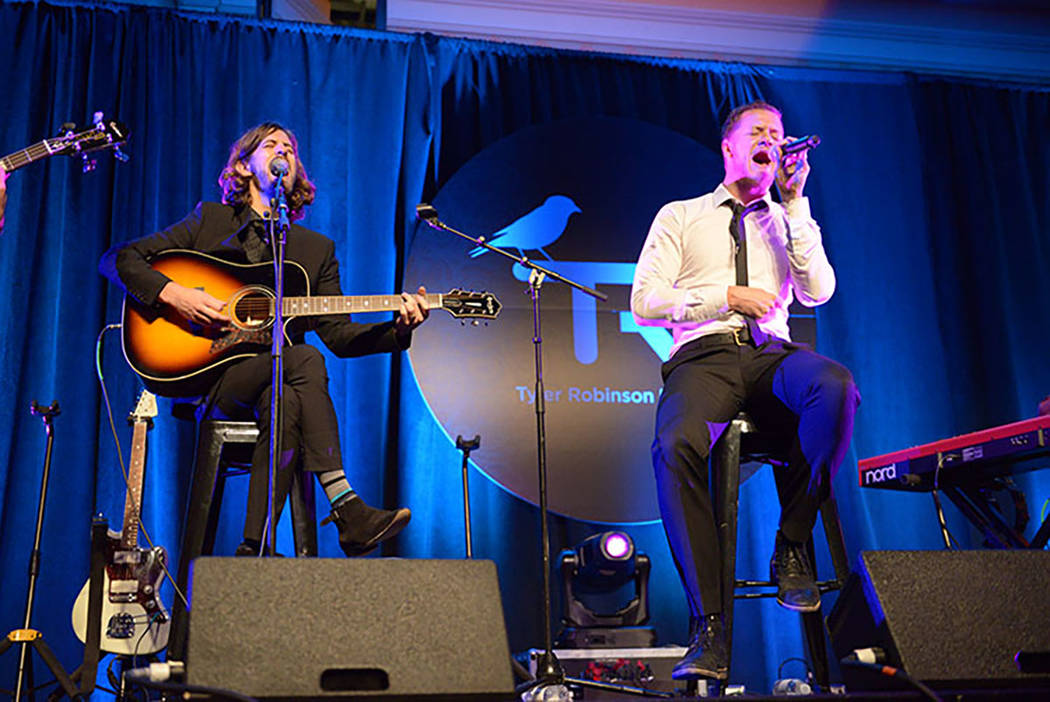 Dan Reynolds recalls the request for a photo with Steven Tyler — made by Steven Tyler.
"He said 'I'd love to take a picture with you guys,' " says Reynolds, frontman for the "you guys" in this instance, also known as Imagine Dragons. "I was like, 'What!' I was incredibly blown away."
Imagine Dragons is among the performers at Sunday's Billboard Music Awards Show at T-Mobile Arena. The live show is at 5 p.m., airing tape-delayed at 8 p.m. on the West Coast on ABC. Imagine Dragons is performing "Believer" from the upcoming album "Evolve," set for release June 23. They stop at T-Mobile Arena on Sept. 29 during their "Evolve" tour.
At the Billboards, the band is nominated for Top Rock Song for "Sucker For Pain," with Lil Wayne and Wiz Khalifa, and featuring Logic, Ty Dolla Sign and X Ambassadors. The song is from the film "Suicide Squad."
By now, awards-shows appearances are rote for the Las Vegas-based rock band. It wasn't always so, though, and Reynolds recalls when the band seemed to formally reach rock stardom. It was the night Tyler asked for a photo in January 2014, at the Grammy Awards at the Staples Center in L.A. Imagine Dragons won the Grammy for Best Rock Performance for "Radioactive," and had performed a medley of that song and "m.A.A.d city" with Kendrick Lamar.
The performance was slotted between Ringo Starr singing "Photograph," and Starr teaming with Paul McCartney on "Little Queenie." Also in the lineup of performers that night: Katy Perry, Chicago, Robin Thicke, Keith Urban, John Legend, Metallica, Stevie Wonder, Merle Haggard, Carole Kind, Dave Grohl, Lindsay Buckingham and Metallica.
Backstage, the members of Imagine Dragons — Reynolds, Wayne Sermon, Ben McKee and Daniel Platzman — were attempting to take it all in.
"We were thinking, this might be when we arrived in pop culture," Reynolds says. "I don't know if you ever feel like you've really 'made it,' at least we don't, because you always want to keep creating as if you still want to make it. But that was when we felt safe, as in, our band has a career. We can do this to make a living, and it is what we do in our lives."
Capturing the magnitude of the moment was like trying to bottle a vapor, as Reynolds' heroes all seemed to descend on the band.
"Jay-Z, Paul McCartney, Daft Punk, Beyonce — they were all coming up to us saying, 'We really like your record,' Reynolds says. "We were getting high-fives. I really think they saw what was going on, that this was a special time for these young artists. Some of them were conscious to go out of their way to make us feel welcome."
Reynolds chuckled and said, "When Steven Tyler asks for a photo, or James Hetfield of Metallica walks across the room to talk to you, I don't know … It had a very powerful impact." Imagine Dragons even named an album for that type of power.
John Katsilometes' column runs daily in the A section. Contact him at jkatsilometes@reviewjournal.com. Follow @johnnykats on Twitter, @JohnnyKats1 on Instagram.