Sammy Hagar tribute band plays with Van Halen legend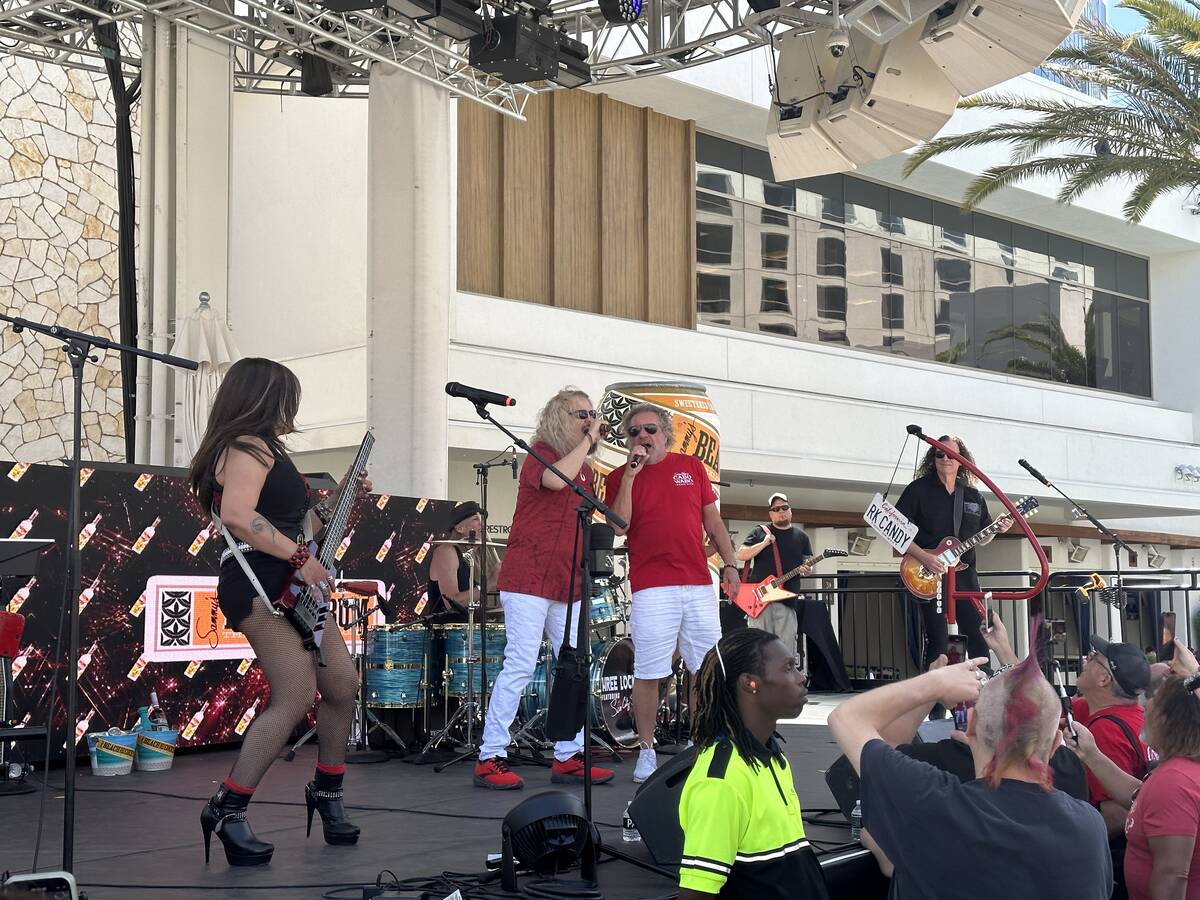 Sammy Hagar is a lifelong vocalist and musician. He's also something of a superhero, the seemingly ageless Red Rocker, using his party powers only for good.
Summoned to action by the Palms' Sammy Signal on Sunday afternoon, Hagar joined the tribute band Three Lock Box for two songs at SOAK Pool. He came armed with a utility belt (figuratively speaking) of his Santo Tequila margaritas, Beach Bar Rum mojitos, and Sammy's Beach Bar Cocktail Co.'s sparkling rum canned cocktails.
We're trying to get the Red Rocker to add mocktails, and have been … Mocked, really.
This one from '83 … @sammyhagar @Palms #RJNow @reviewjournal #RJNow @reviewjournal pic.twitter.com/15TWhhmMSr

— John Katsilometes (@johnnykats) May 7, 2023
As longtime Vegas entertainment followers know, Three Lock Box is a tribute to Hagar himself. This was the rare instance where the tribute band is joined by the actual artist for whom it is paying homage. It would be akin to Rod Stewart sidling up to Rob Hanna at the Italian American Club Showroom (and this is a way to plug my upcoming interview with Sir Rod this week).
Three Lock Box front man JC Martinez, known to fans as Sin City Sammy, was of course thrilled at Hagar's participation. "How often does this happen?" he called to the crowd, which was in the right place at the right time. Hagar's arrival was only hinted at, not confirmed until the morning of the show.
Both Sin City Sammys jammed through the 1972 Montrose classic "Rock Candy," and the 1983 hit "Your Love Is Driving Me Crazy."
Hagar has a one-off at Pearl at the Palms on July 15. We'd love to see him return to residency, something like his Cabo-themed shows at The Strat Theater. But we're vibing more toward an extensive tour, at once a party and a production.
As the 74-year-old, non-caped crusader says, "I gotta do it while I still can."
They kicked it up
So this happened as I was walking into Delilah at the Wynn on Sunday night. I incidentally moved into a brace of young guys, quite sturdy, speaking in an accent I felt was Welsh. For a moment, I was part of this big entourage.
I asked the gent next to me, "You seem a team, is that right?"
"We are Wrexham," he said.
"I've read about you!" I said.
The team took in the scene in a private, VIP dining room in their fourth straight night of revelry on the Strip. Saturday night, the champion footballers joined The Chainsmokers at XS Nightclub. The Red Dragons arrived at about 12:15 a.m and departed the scene at 3:30 a.m.
The team had previously graced Wet Republic at MGM Grand and Omnia Nightclub at Caesars Palace on Friday. Thursday, it was Hakkasan Restaurant and Nightclub at MGM Grand.
Co-owned by Hollywood stars Ryan Reynolds and Rob McElhenney, Wrexham was in town to celebrate its promotion to the English Football League after a 15-year absence. Reynolds (of the "Deadpool" franchise) and McElhenney ("It's Always Sunny In Philadelphia") bought the team in 2021, reversing its fortunes and turning them loose on VegasVille.
Drawing the walk
The 33rd annual Aid for Aids of Nevada (AFAN) Aids Walk was held at Sunset Park on Sunday morning. I arrived in a Penn & Teller hoodie, Wynn Nightlife shades and a Brad Garrett's Comedy Club cap.
From Sunday, the group start of the 33rd annual @AFANLV AIDS walk at Sunset Park. A total of $115,000 raised. #RJNow @reviewjournal pic.twitter.com/yBXjRQ42rI

— John Katsilometes (@johnnykats) May 9, 2023
This prompted Penn Jillette to crack, "I'm surprised your pants aren't branded, too."
Hey, be lucky I'm wearing pants at all on a Sunday morning. I barely made it out of my kimono.
Anyhow, I support the cause and P&T every year, as the star headliners at the Rio have served as the event's grand marshals for the past 22 years.
Norma Llyaman and Sean VanGorder hosted the pre-walk performances. Norma + Las Vegas Theatre Co., Las Vegas Men's Chorus, Vegas vocalist Chadwick Johnson, the crew from Piranha Nightclub, "The Sweets' Spot" YouTube series creator and star Melody Sweets, Vegas! The Show, Chippendales, and "GLAM: The Fabulous Rooftop Party" at Palms all performed. Cast members from "Chippendales" at the Rio and "Rouge" at The Strat led a group warm up, during which I avoided pulling a hammy.
From Sunday, the group start of the 33rd annual @AFANLV AIDS walk at Sunset Park. A total of $115,000 raised. #RJNow @reviewjournal pic.twitter.com/yBXjRQ42rI

— John Katsilometes (@johnnykats) May 9, 2023
From the stage, Jillette said, "We hope that we can keep raising money and keep doing well until it's no longer a need. Of course, the goal of every charity is to put itself out of business." The event raised $115,000, and I came out of it in high spirits, carrying a new — and branded — Team Penn & Teller T-shirt.
Your VegasVille Moment
You know who else I ran into at Delilah? If you said, "The Weasel himself, Pauly Shore!" you are correct. He's still kicking around VegasVille, in between touring comedy clubs around the country, and his rock-cover band The Crustys has a new album, "Crustopolis Vol. 1," recorded at his home in Vegas. Go to PaulyShore.com for info on all things Shore.
What Worked in Vegas
The planned closing of The Dorsey in favor of The Juliet Cocktail Room at The Venetian (as reported Monday by my colleague Jonathan Wright) reminds of a concept at the hotel that was a rare draw for locals at a high-end Strip resort.
We speak of The Bourbon Room, which bounced from November 2012 through February 2016, only to be replaced by The Dorsey. The '80s-themed club tapped into the hotel's "Rock of Ages" production, though not formally affiliated.
Nonetheless, a lot of local residents hung at the place, which played videos from such '80s icons as Prince, ZZ Top, Journey, Michael Jackson and Motley Crue. Given the surge in short-shot residencies from 1980s acts along the Strip (including, currently, The B-52's at The Venetian Theatre), that era seems ripe for a club concept.
Cool Hang Alert
My buddy Michael Grimm's tribute to Ray Charles is Saturday night at Italian American Club. The Season 4 "America's Got Talent" champ is dedicating the night to one of his music idols. Dinner at 6:30 p.m., show at 8 p.m. Go to IACVegas.com for intel.
John Katsilometes' column runs daily in the A section. His "PodKats!" podcast can be found at reviewjournal.com/podcasts. Contact him at jkatsilometes@reviewjournal.com. Follow @johnnykats on Twitter, @JohnnyKats1 on Instagram.