Terry Fator's success at The Mirage is the real deal
September 5, 2017 - 7:13 pm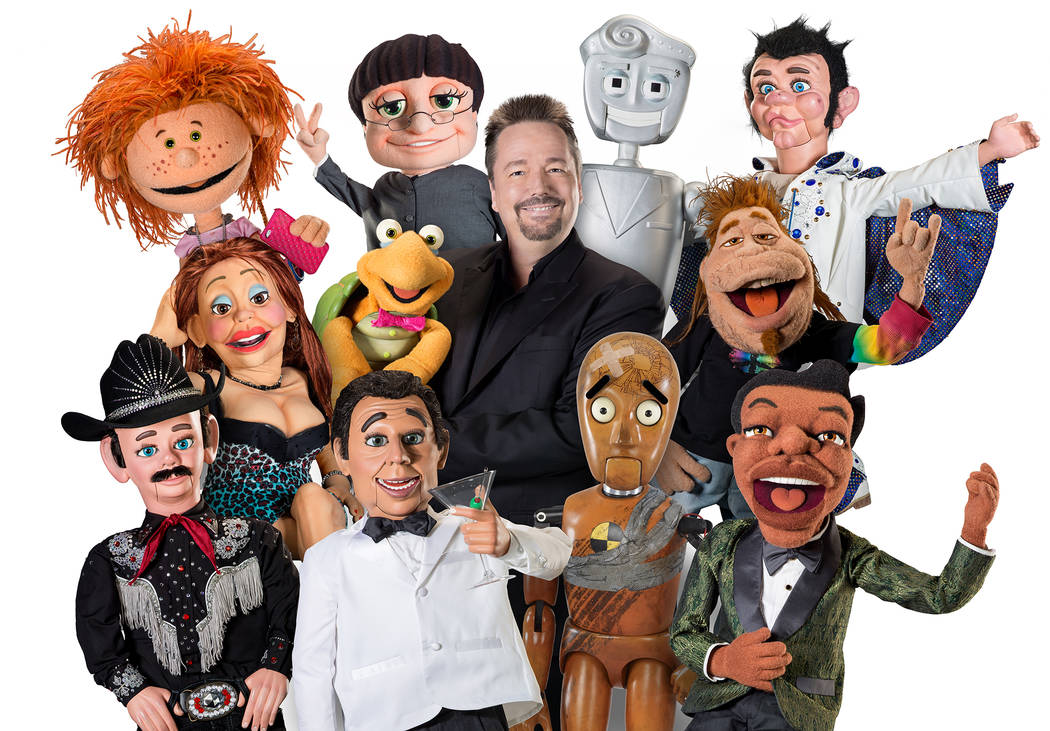 Terry Fator is a master of bringing life to inanimate objects, but that's a mere sample of his wizardry. The Mirage headliner has achieved the improbable: He's performed a 10-year run as a Vegas showroom headliner, grown a puppet fiefdom into a multimillion-dollar empire, and developed a President Trump puppet with mass appeal.
"My first shows were at the Las Vegas Hilton. That should tell you something," says Fator, as if to remind himself that he has outlasted two previous owners and a pair of name changes to what is now Westgate Las Vegas. "It's amazing, and I actually have to take a step back to realize what has happened in my career the past 10 years."
Fator is celebrating the dual anniversaries of his triumph on "America's Got Talent" and his opening at the L.V. Hilton showroom, both in the latter half of 2007. Fator claimed the "AGT" title in August of that year, winning with a rendition of Roy Orbison's "Crying" with Winston The Impersonating Turtle.
The following October, Fator and his assortment of puppets (including such mainstays country singer Walter T. Airdale, Elvis impressionist Maynard Thompkinsand the sultry Vikki the Cougar) sold out two shows at the Hilton. That success led to a lucrative, long-running contract at The Mirage, which named the showroom for Fator.
Fator recently reflected on his unlikely run. Takeaways from our chat:
The Trump/Fator ticket : Fator added a hair-raising (for real, the puppet's hair rises from its head) Donald Trump puppet to his repertoire in May 2016. Fator knew he was toying with a potentially divisive prop, but stresses that he has written material that audiences of any political persuasion can enjoy.
"It's the most popular character in my show," says Fator, who uses Little Donald for about three minutes in each performance. "It's all about his personality, which is very big. We don't discuss politics, just the bigness of his character, and we have fun with it. If you like him, or hate him, you will be amused by the routine." Fator uses Trump so frequently he's actually added a second Trump puppet — one for the road, and one that stays home at The Mirage.
He is very rich: Forbes lists Fator as No. 8 among the top 10 top-earning comics between June 2016 and June of this year, registering $18 million in sales and salary. Jerry Seinfeld is No. 1 at $69 million. Fator has been as high as No. 2 in 2013, and No. 3 last year.
Even so, Fator says, "I've never sought out to be wealthy. I've never wanted to sit on piles and piles of cash. I just want myself and my wife, Angie, to be able to live comfortably when I retire — if I ever decide to retire."
He was not always very rich: "When I auditioned for 'AGT,' I was basically living off credit," says Fator, who at one point was making as little as $2,000 a year while fronting a rock band called Freedom Jam in the late-1980s. "If I hadn't won, I would have been in a lot of trouble. To get that check, get those cards paid, changed my whole life."
Fator has been writing material for 12-year-old "AGT" ventriloquist phenom Darci Lynne Farmer: "I've written some jokes, and I've gotta say, we've had some really funny jokes on the show," Fator says. "When she does one of my jokes and it kills and the crowd goes crazy, it feels really, really good. I want other people to have success in ventriloquism, no matter who it is."
Even he struggles to explain his longevity: "Tons of shows have come and gone in Las Vegas since I started." His secret to success? "Who knows?" Fator says. "If there is a formula, I would share it with other performers, I really would. But my show is a variety show, it's not just ventriloquism and comedy. There are lot of characters, impressions, music. You get to hear classic artists. If you want musical act, a comedy act, even a magic show when you think of making these objects come alive, it's all wrapped up in one show."
Fator says he has but one mission: "I'm not a political guy," he says. We have Bill Maher, Dennis Miller, who do that, and we need them to do that. But it's not my job. My job is to make everybody laugh."
John Katsilometes' column runs daily in the A section. Contact him at jkatsilometes@reviewjournal.com. Follow @johnnykats on Twitter, @JohnnyKats1 on Instagram.