The Killers' Brandon Flowers uprooting from Las Vegas to Park City
Updated August 5, 2017 - 9:33 pm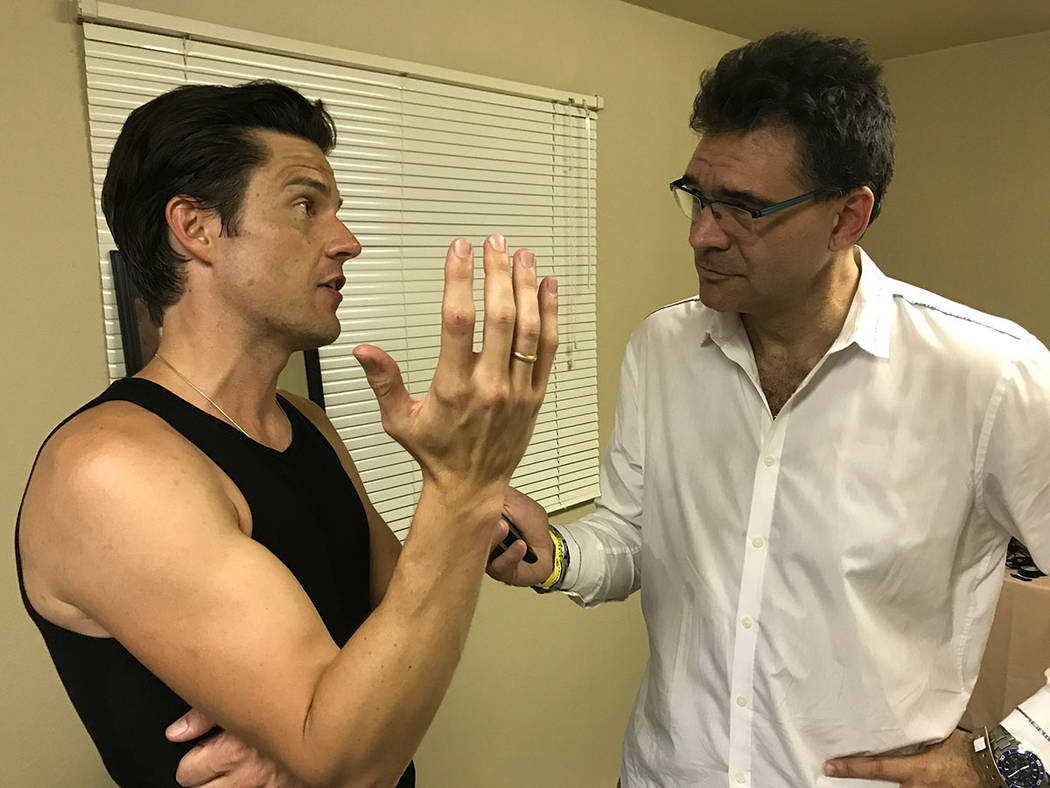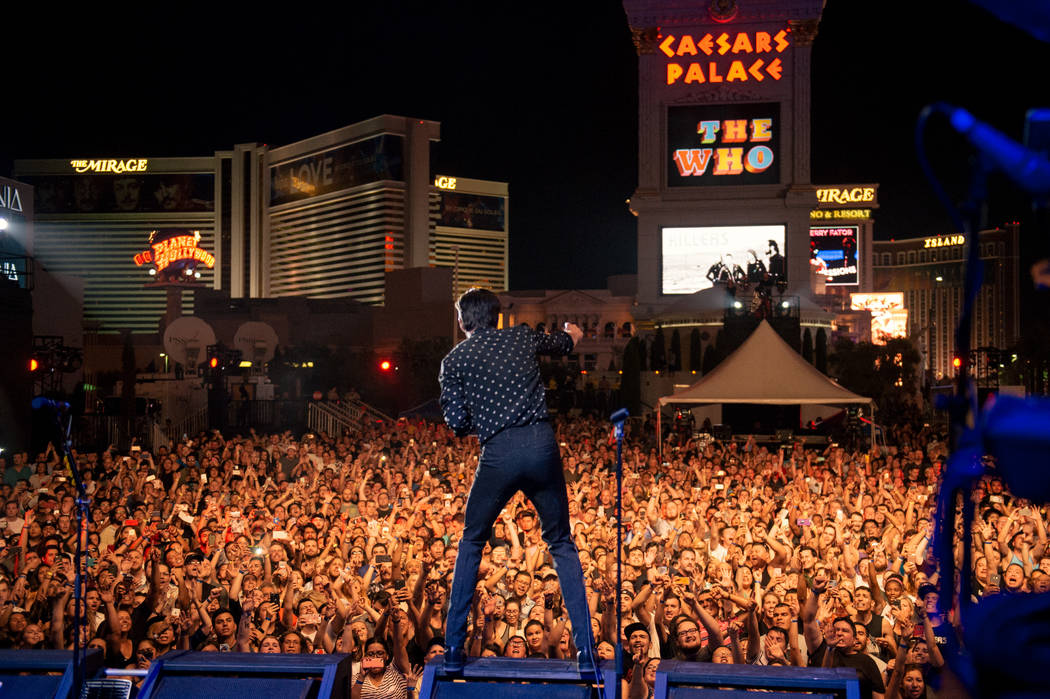 Brandon Flowers has just starred in a full-blast Las Vegas event. His band, The Killers, are from Las Vegas. The concert they just performed was on the Las Vegas Strip in front of one of the city's most famous resorts, Caesars Palace.
The 10-song performance for about 5,000 fans was captured for broadcast on the late-night ABC talk show hosted by Jimmy Kimmel, who grew up in Las Vegas. It was Kimmel's idea to feature the band performing on the Strip; he and Killers drummer Ronnie Vannucci are both Clark High grads, further augmenting the night's Las Vegas vibe.
Yet Flowers, moments after singing under Strip marquees trumpeting The Who (at Caesars) and Donny & Marie (at Flamingo), is talking of leaving Las Vegas. Soon. Not just talking of it, either. The Flowers family is headed to Utah – specifically, Park City — as soon as he sells his famous estate in Las Vegas' Rancho Circle historic district.
Flowers decided to move to Utah to honor the wishes of his wife, Tana. The couple are members of the Church of Jesus Christ of Latter-day Saints and have three young sons, Ammon, Gunnar, and Henry. Flowers spent much of his childhood in Henderson, but also spent a few years as a kid in the Utah towns of Payson and Nephi before moving back to Southern Nevada to graduate from Chaparral High.
Flowers says he never planned to uproot the family from Vegas.
"No, it was never like that," says Flowers, who turned 36 in June. "It's just that my wife just has to get out of Las Vegas. It's nothing against this town, specifically, it's just that her experience here with her family is the opposite of mine."
Flowers has written extensively, and nostalgically, of his youth in Las Vegas. The album "Sam's Town," the 2006 follow-up to the band's 2004 blockbuster debut "Hot Fuss," is an ode to his time growing up in Vegas.
"You can get a lot from this city, but a lot of different things can happen in Las Vegas," Flowers says. "I came from a family where parents stayed together, and I say my upbringing was kind of a Rockwellian scene in the desert. Tana had the exact opposite, everything that you can kind of imagine, and I need to respect that, too."
The band's upcoming album, "Wonderful Wonderful," due Sept. 22, reflects Flowers' more complex life as a husband and father. Its first single, "The Man," was released with a video featuring Flowers flying solo, with no other band members performing in the clip.
"The new album is the first time I've turned the pen on myself," Flowers says. "I've always been lurking in the songs. But on these songs, I'm front and center. I'm there. I've been protective of my family and my wife and my kids, but now I've just delved into what's happening in my personal life.
"I've given myself permission to explain to people, in some of these songs, why I am moving."
Flowers says he regrets parting with his 8,300-square-foot mansion and two-story guest house, which carry a $4.95 million sales price. The property is steeped in Las Vegas history: It was built in 1961, and its owners have included Howard Hughes and Andre Agassi and Stefanie Graf.
"It's such a cool place," says Flowers, who purchased the estate in 2010 for $3.99 million. "I mean, Howard Hughes? And I'm such a big tennis fan, it's strange to be living in that house."
He says he'll eventually keep a place in or near Las Vegas.
Flowers considers what he'd be doing if he were not a rock star.
"My goal was to be a valet parker," he says. "My uncles who made the most money were valet parkers, so that was the top thing for me.
"I don't think I would have done great in college. I wasn't exactly cut out for that," he said with a laugh.
No matter where he keeps the family home, Flowers says he will always value his affiliation with Las Vegas.
"There are so many great things about it. I love the service industry," says Flowers, who worked as bellman at Caesars and Gold Coast and also a busser at Spago at the Forum Shops at Caesars, among other service-industry jobs. "I love that people come here and have high hopes to win (laughs), to beat the odds — I love that. I think I still feed off that energy."
Is Flowers the rare player who has beaten the house?
"I think so," he says. "I think we beat it, when you look at everything that has happened since 'Hot Fuss.' It's been kind of incredible."
John Katsilometes' column runs daily in the A section. Contact him at jkatsilometes@reviewjournal.com. Follow @johnnykats on Twitter, @JohnnyKats1 on Instagram.