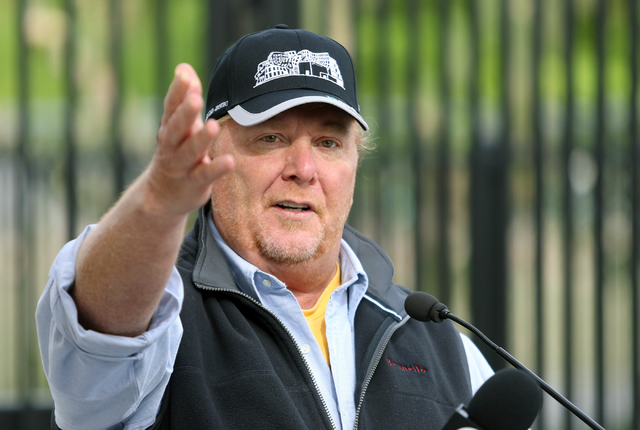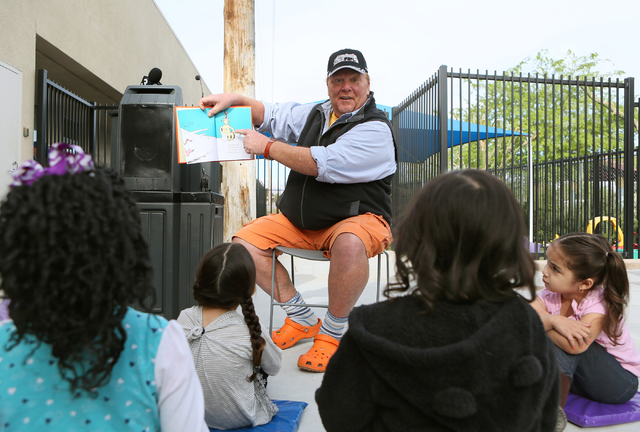 In his restaurants and on television, he's known as a fun-loving Italian celebrity chef who wears orange Crocs and orange shorts. As one of America's most recognized and respected chefs, ginger-haired Mario Batali has built an amazing restaurant-and-food empire across the country. On Friday, Mario celebrates his first decade here in Las Vegas.
The culinary king launches a monthlong celebration at his restaurants B&B Ristorante and Otto Enoteca e Pizzeria at The Venetian. He hosts the start of festivities on The St. Mark's Square patio of Otto with eight appetizers and signature pizzas, plus his favorite Venetian Spritz cocktail of Aperol liqueur, orange slice, olive and business partner Joe Bastianich's Flor Prosecco.
Then he moves the party to B&B for a four-course meal showcasing dishes from when he opened the eatery 10 years ago. "They are the distillation of our philosophy on Italian food: Cook using local and sometimes unpredictable ingredients with the spirit of the Italian peninsula. This is all in service of creating an exciting but familiar and delicious bite each and every time."
His antipasti served family style includes grilled octopus and three bruschetta. His primi course features "Mint Love Letters" with merguez sausage; his secondi course has a choice of crispy striped bass, short rib al Barola with polenta or grilled quail. He finishes with a duo of pistachio semifredo and Bruciato balsamico with strawberries.
"Dishes like the Mint Love Letters have been favorites since we opened Babbo in New York in 1998. It was the inspiration for B&B at The Venetian. I think that I'd be banned from Greenwich Village if we ever removed them from the menu. The same can now be said for Las Vegas and B&B," he laughed.
Mario, who is bringing his Eataly to the transforming Monte Carlo this year, is co-host of ABC daytime's "The Chew" and has his own YouTube channel to teach his recipes.
I talked with Mario in New York about his decade of success in Las Vegas:
Ten years is a remarkable achievement. What's the secret of 10 years of success in Las Vegas?
Las Vegas was my first location outside New York. Then and now what's important is making sure our best talent — longtime veterans of our restaurants — are in place to ensure the level of food and hospitality to which Joe and I aspire.
Zach Allen now oversees all of our restaurants in Las Vegas. Zach started as a line cook at Lupa in the early 2000s. He's worked at Lupa, Del Posto, La Sirena, Mozza and Eataly. With him in place, we could continue to operate at this level for another decade.
What do you love about having four restaurants at The Venetian and The Palazzo?
Our teams at Otto, Carnevino, B&B Burger and B&B Ristorante — many of whom are transplants to Las Vegas — have grown into a family. Having everyone under a single roof fosters that sense of community.
What have you come to love about Las Vegas over the past decade?
What I love about your town is its commitment to community. The Mario Batali Foundation has granted two Books for Kids libraries in Las Vegas, and when we have our ribbon-cutting ceremonies, we get the support of the community. We feel like we can really make a difference. It's a beautiful thing!
What do you think of the Las Vegas food scene today 10 years after you first tasted it?
There's a move toward less-formal, tasting-menu dining and more casual dining. I get it. People want to enjoy good food, but they also want to go see a show or visit the casino.
What are your favorite menu items at B&B and OTTO Enoteca?
At B&B, I love the classics: the Spicy Two-Minute Calamari and Orecchiette with Spicy Pork Sausage. At Otto, I start every meal with my dad's salumi, then continue on to seasonal vegetables — in spring, I love sugar snap peas — then the vongole pizza.
How do juggle your schedule to keep Las Vegas in the picture while you have hit restaurants in NYC and Los Angeles and the TV show?
The success of our restaurants depends entirely on the training and investment of our local teams, but technology makes it easy for me to keep close tabs on our businesses in Las Vegas, L.A. and Singapore. I see the numbers for our restaurants each night after close and am often on the phone with the local teams the following morning.
What's next for Mario Batali? In Las Vegas, L.A., New York and elsewhere? Could you/would you do another Las Vegas restaurant? Do you ever rest?
My partners in Eataly and I are opening a store in L.A. in September. Then comes Las Vegas, Toronto and Washington, D.C.
Why is Italian food simply the best?
We like to say that our food at B&B "captures the soul of an Italian grandmother dancing the tango with pop-rock hipsters." That's not a bad description of the beauty of Italian food at-large. Italian cooking is classic in its ingredients and method, but Italians serve food with flourish and joy, and there's no stuffiness or snootiness to it even in the fanciest of restaurants.
I go to Italy every July — is Italy the best place to vacation? Do you go to Italy at least once a year?
I love to vacation in Italy. It's my retirement plan: a house on the Amalfi Coast, an ice-cold glass of vermentino and linguine alla vongole every day. Not bad, right?
New Italian food trends? Current and future state of food in Las Vegas?
I'm not a fan of trends in food, so if there's a trend, I'm probably actively trying to avoid it. Las Vegas, however, is always evolving to be a No. 1 culinary destination, and I have to say, it's a pretty damn delicious town.
Saluti — I'll drink to that. Congratulations!