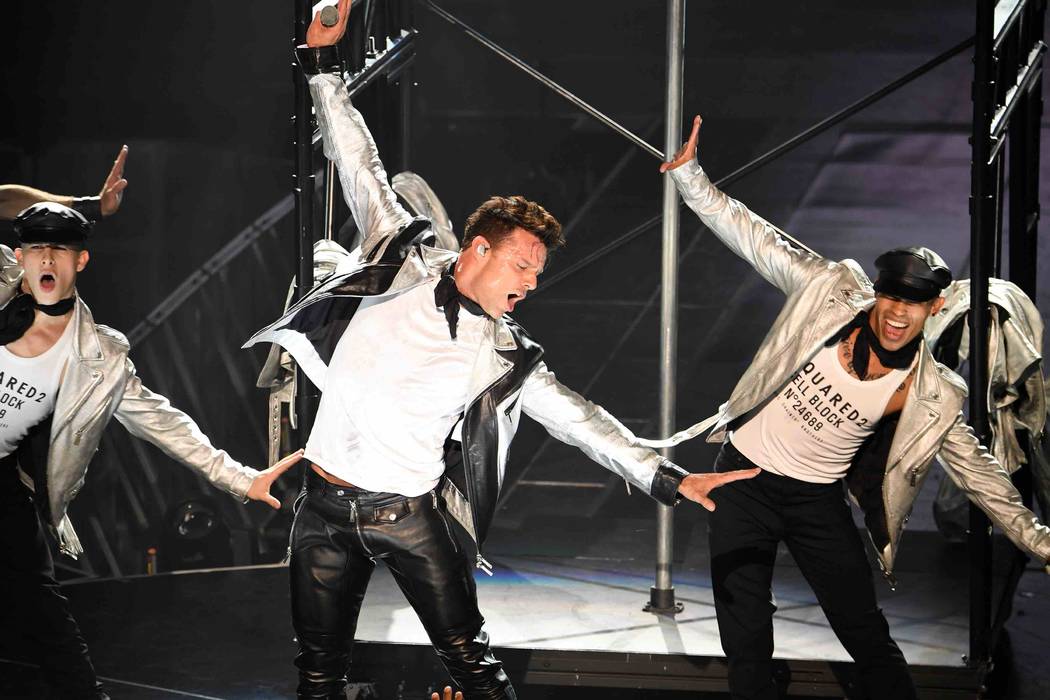 Madonna said of him, "No one knows more about music and movement than Jamie King." And she should know because the man who is known in the industry as "The Billion Dollar Tour Director" has created six of her world tours dating back to 2001. Jamie also directed the 2008 "Taking Chances Tour" for Celine Dion, three Britney Spears tours, plus others for Christina Aguilera, Pink, Rihanna and Jennifer Lopez.
Now Jamie is back in Las Vegas again after successes here with Cirque du Soleil's "Michael Jackson's Immortal Tour" and resident show "One" at Mandalay Bay and "The Black & White Tour" and "Livin' La Vida Loca Tour" for Ricky Martin. Once again, it's for the Latin superstar that Jamie has created "All In," which premiered last Wednesday to great acclaim at the new Park Theater at Monte Carlo.
In an unusual turn of circumstances, Jamie asked himself the first question in our Q+A:
"How do we not only top what we've already executed, but how have we matured? How is Ricky now?"
With my experience with Cirque and all my other artists, what I can bring to the pot and create is the next chapter, the next generation of what Ricky Martin should be and can be on a stage in Las Vegas. That's what we've started, then built from there.
Is it fair to say that you wanted to capture Old Vegas?
For sure. When I think of Ricky, he's one of the greatest entertainers of all time. I think of Old Hollywood or Old Vegas, Old School Sinatra, Elvis. These kind of things come to mind for me. He is that showman, and Las Vegas is all about show and production. So the two worlds, Ricky Martin and Las Vegas, work so well together. I definitely wanted to capture Old Vegas.
When I met with Ricky early on in November, I said that we have to do a nod to Las Vegas because you are the only guy who can really pull that off. You are like a Sinatra, you are like an Elvis, you can be part of The Rat Pack. He's an actor, singer and dancer, a triple threat, so he can do all those characters. We do a nod to Old School Vegas in our way, in Ricky's way.
Is there anything that he wouldn't do? He starts out coming down 80 feet from the sky.
The good thing about Ricky is he's pretty open to do anything, and because of our long history and creative working relationship, he's a great muse in the way that he's open and willing and gets it. And he's hungry.
Even after all the success, all this time and traveling the world and doing what he does, he's still so hungry and so excited about this Las Vegas show and what's next for him. His next chapter and performing and giving everything that he is. That's why I named the show "All In." It represents Ricky and who he is — he gives everything.
You had eight weeks of rehearsals in Los Angeles before you moved into Park Theater? What do you think of it as a performing venue?
I went to Park Theater last year just to get a gauge of what it would look like. It's a beautiful theater; it's vast, the stage itself is vast. So from a production standpoint and director's standpoint, my view is, "Holy Moly!" Like how am I gonna fill this stage because it's so large, so wide. A normal touring stage for any one of my artists or another Ricky show is around 60 feet max wide. This is about 120, about double, way wider than we're used to.
When I first saw the theater, Robin, it was intimidating. It is vast. And not only that, in terms of production, to have all of that video mapping and video around the stage, which is already so wide, it can be very intimidating. But you know me, I think of it left of center. I always want to look at it all. My brain works that way. I can see it all working together, and I was really excited about that challenge of how can this all be an extension.
This entire theater and everything technically that works in and around it, how can it all be an extension from Ricky? Ricky has a huge performance personality, so I already know that he can stand out. But how could I make all of his electricity and energy fill that vast space in that room? That was my goal from the beginning.
Then because of the way it was laid out, I felt like for Ricky that he wouldn't be close enough to the people, so I immediately built out into the room. So unlike any other artist who performs there, Bruno Mars or Cher, they don't have what we have. We have a three-runway setup that culminates and connects to a stage right in the house. The audience feels like they're not only close to Ricky, but also they're immersed in the big production.
The two center circles of the B runways become a mosh pit?
We can have them full, and they are meant to be mosh pits where the audience can be that close to Ricky. He hasn't tried yet to jump into them as he connects with the fans, but it does provide a great exchange between him and the fans. This is the first time the fans in the audience will ever be that close to Ricky. Coming to a touring show, it's built so high off the ground, everyone's very low. Here his stage is 4 feet high.
You have a moving walkway — a long, flat treadmill — that goes back and forth on the center part of the B.
I may have even had it on "Livin' La Vida Loca." He had them on "The Black & White Tour" that I directed and other performances before that. I always liken Ricky to like an Elvis or a Michael Jackson. There are very few artists who just by the way they stand or position their body or the way they move, like if you put them in silhouette, you would know it's Ricky. You get that with an Elvis. You get that with a Michael. They have an iconic stature.
So for me, outside choreography, how do I make Ricky hit a pose, then just be transported? That's why the treadmill works so well because he can literally hit one pose, like Michael Jackson would or Elvis would, then he can move from stage A to stage B in that same pose without having to walk. It's become our signature, and we had to bring it to Las Vegas.
Everyone can watch him move. It's pretty cool. It goes forward and backward because the whole show is cued basically from my cue script, right? The show runs basically off the computer and show callers calling my cues all set and choreographed into what we call the creative script.
How many cues are there in the show — it must be monstrous?
There are a lot of cues. There are over 100 at the moment, but there will be more because there are intricacies in the show, and especially in regard to what you said with the audience pits. Because of access and fire codes, we have passerelles, those long runways that curve. We need access in and out.
A little fun fact here is those parts of our stage that connect from the B stage to the runway on the side, a cube, a piece of that stage that goes in and out during the show that hopefully you never notice, we'll have guys who live there and they're on headset. During the show when those are not being used, they're going in and out so that people can have access in and out.
That's big! When you put the three parts of the mosh pits together, that's the largest group I've ever seen of what I'll call a freestanding area for people to watch a show.
It's large, but a lot of Ricky's fans love to stand. They love to dance. We wanted to make sure that they can party, and we wanted to make sure that we have that box checked. Ricky likes to create a party. We wanted to create a really fun, festive dance party. We want to make sure people come and have a good time and can dance.
How long did it take you to put the show together from start to finish?
We started conceptualizing in November, then it was meeting with the production team. You probably have my process memorized by now after all these shows. Meeting with the production team, lighting departments, bringing in all my key people, then I presented last year to Ricky the creative idea — the script to him and the vision board for it. He gives his notes. It became a fun collaboration from then. We jumped into castings, then eight weeks of production rehearsals.
It was challenging because of the limited amount of time that we had. We created a really big-feeling show in a short amount of time with a lot of layers and levels. That was mandated from Day 1. Ricky and I wanted to make sure that even when he's offstage, the audience is entertained.
That means teaching our 16 dancers how to drum, how to fly, how to tango. We wanted to make sure that it's full-on, nonstop energy in each show and just theatricality with the raw experience when Ricky's onstage. It comes across from start to finish as completely immersive. So to do all those layers in only eight-ish weeks was definitely challenging. Judging by the audiences' reaction, we pulled it off. I'm very excited.
There's a somewhat controversial moment in the second video where he's arrested by a male cop and a female cop, and you don't know which one he is going away with in handcuffs. Risque?
I proposed the idea early on to him because he is like the Latin Elvis, right? Your moves are scandalous. The hips are famous. I wanted to do a nod to Elvis, but I needed to re-create our version. A nod to Elvis is a song; Ricky's song is called "It's Alright." It has a feel of Elvis. I needed something that would set that up. The idea was OK with him when three or four numbers later, he is arrested by Las Vegas cops. Male and female because equal opportunity, right?
Ricky loves anything that happens in Vegas stays in Vegas. We have girl and guy police who both arrest him, and what we call tension wise the sexual arrest, right? It's not just do you think he's getting arrested or the sexual act. We had fun and just bet on the idea of let's not take it too seriously. It's more about fun, anything goes, and it's sexy because there's Las Vegas.
Whoever he'd gone off with, it would've been definitely a what happens in Vegas stays in Vegas moment.
That's the choice anyone can make here, so we left it open. Everyone can make the choice, that ultimate ending for anyone for everyone. But again a nod to Las Vegas, we throw him behind bars, and that leads to our segue into our "Jailhouse Rock."
My question is not a negative, so don't react as if it is a negative, but why in the opening number, why weren't the headdresses bigger and palm trees bigger?
I love that question. Although we love Old School Vegas, what we realized is that a lot of that stuff just cannot be worn unless you're walking. The showgirls from back in the day, we give them lots of credit because for our female dancers, those headdresses are extremely heavy.
Back in the day, they didn't do the type of dancing that we do. We're modern dancing; we need to be able to move much more. The showgirls back in the day did kind of walking so that you can balance a heavy headdress on your head. So, Robin, it's really about finding that balance of what can work and what the dancers can work with — they would've been too heavy when they're dancing.
The opening number look was always going to be a nod to Las Vegas but with our modern interpretations. My friends at Dsquared2, who did all of our costumes, always knew that it had to be a runway version of Old Vegas. When you put all those elements and ideas together, that's what you end up with.
Our closing is far more runway oriented. In Las Vegas, there's been individuality, freedom, be your own tribe, be who you want to be. That's a big message from Ricky: Empowering people to just be and live in the way that you want as long as you're a good person. That's what it's about: Not judging, just living free and being happy.
You began this by asking yourself how do you top this, so I'll ask you how do you top "All In"? Do you regard it as a building block onto bigger and better?
It's a piece of the puzzle and definitely a piece of the next chapter. Ricky and I started in 1999 together, so it's more personal to me working with him and creating new magic with him. It's a full-circle event. We started something many years ago that was huge, and the world came to know Ricky Martin, so I'm excited about what's next, the next chapter, this piece of the puzzle for us.
As soon as I can get home to Los Angeles, I just go straight back into more production meetings on another new, top-secret project. You'll be the first to know! I haven't crossed the bridge yet of constructing a show that I've thought of that I haven't yet been able to do. Everything that I've dreamed of or wished for, I've been able to do with great collaborators.
After opening night, it's just a release and relief. We're happy — we're happy in general with the audience response. That's what matters. As long as the audience had a great time, we've done our job. I love that people said we hit the jackpot.