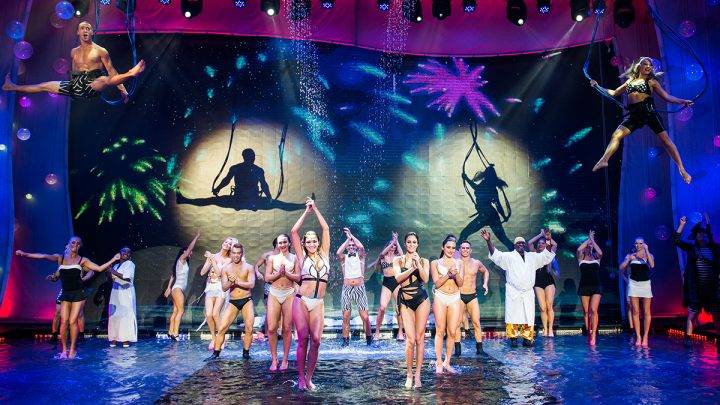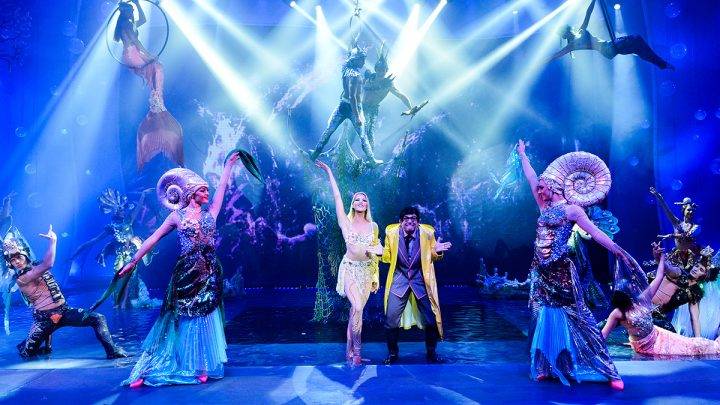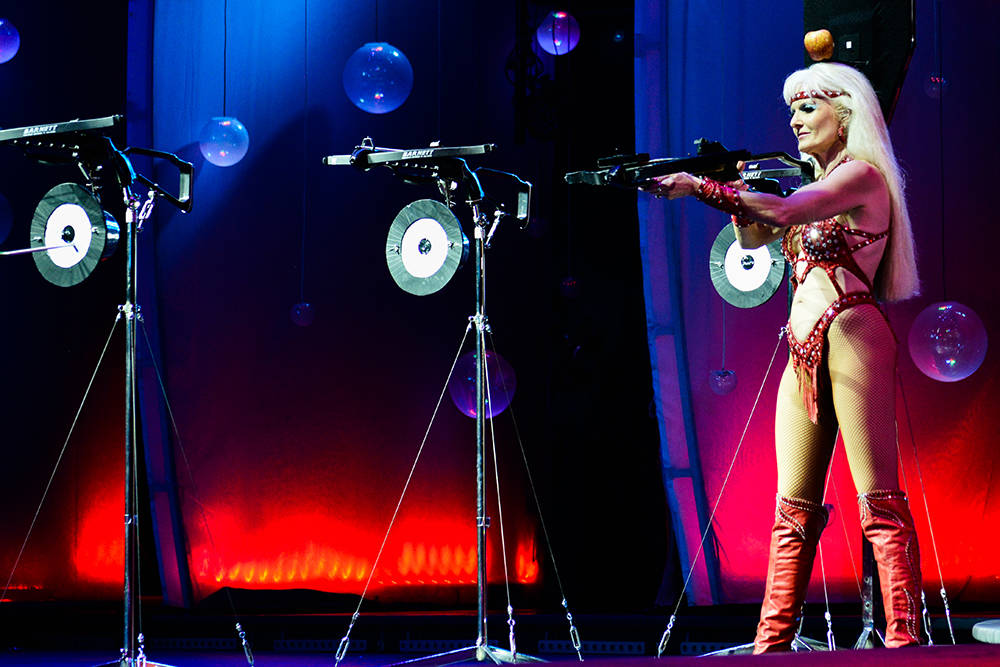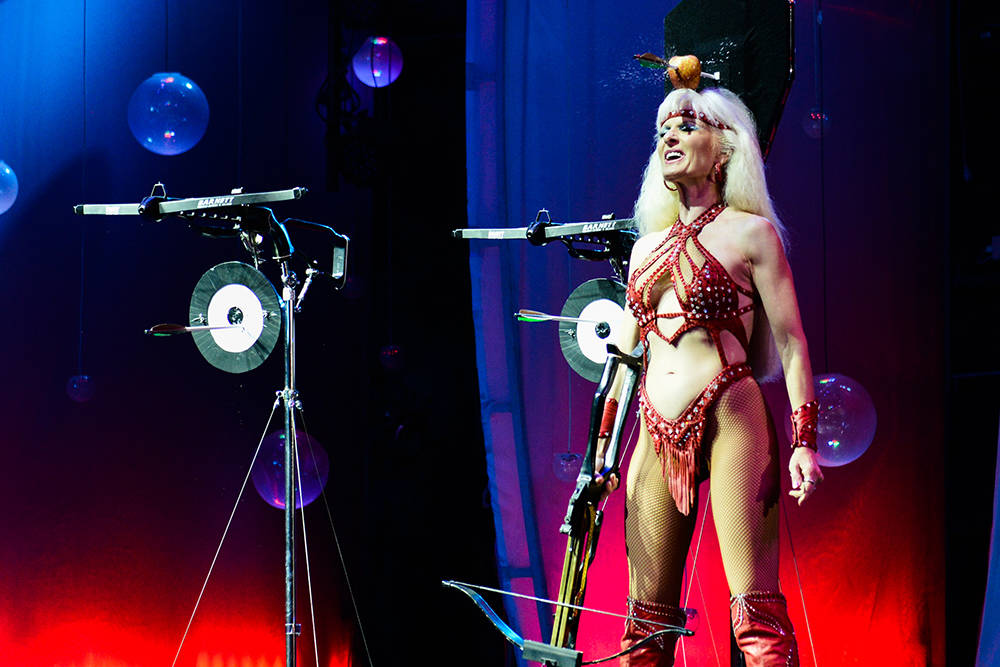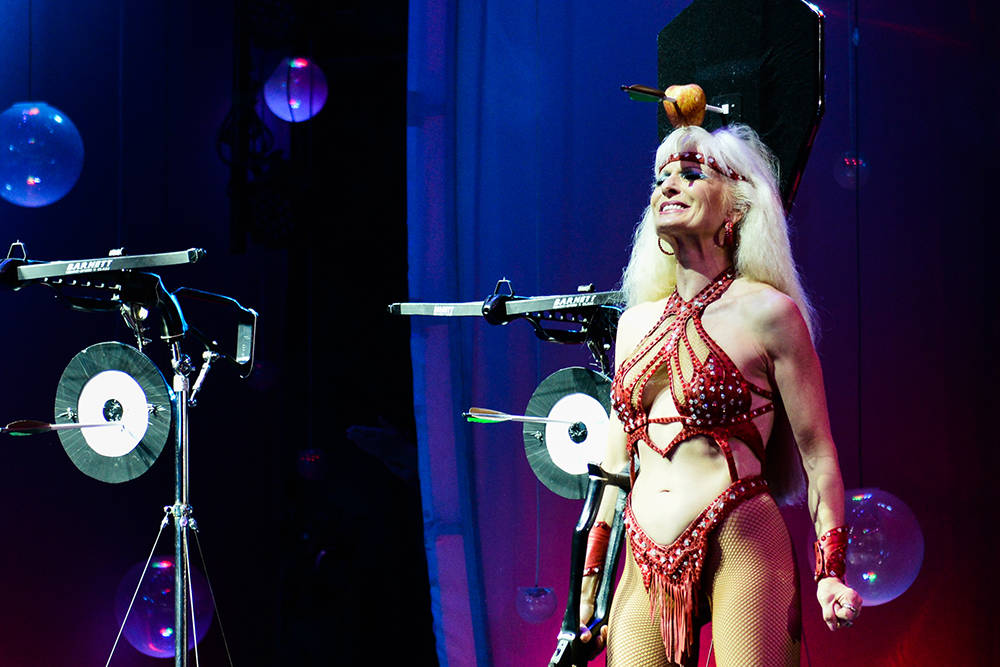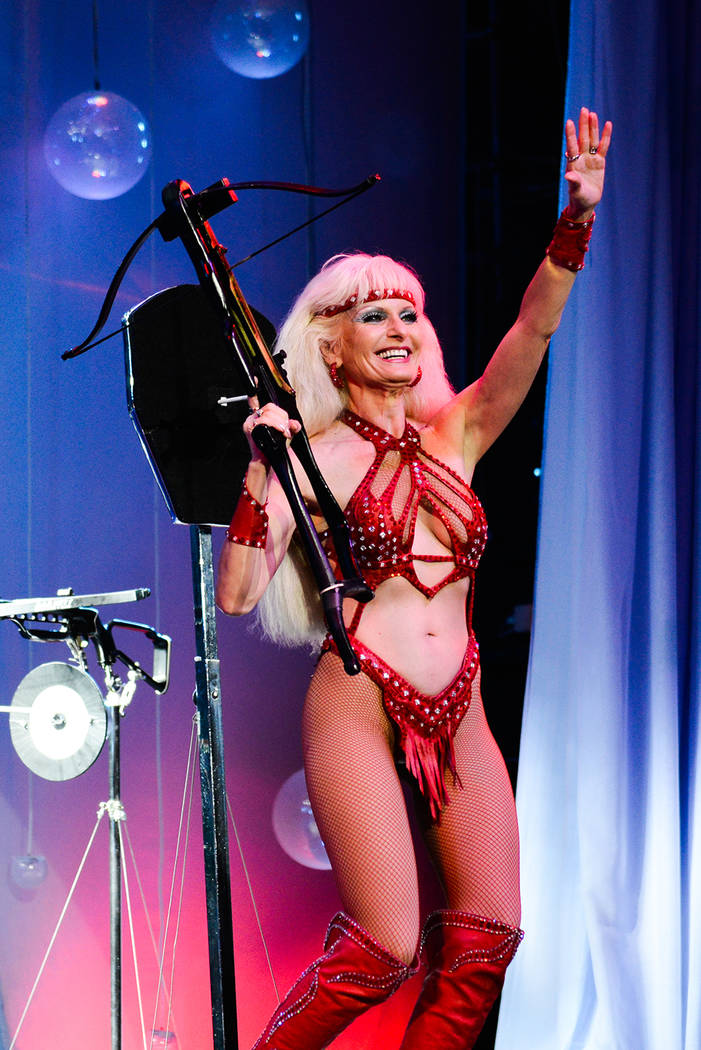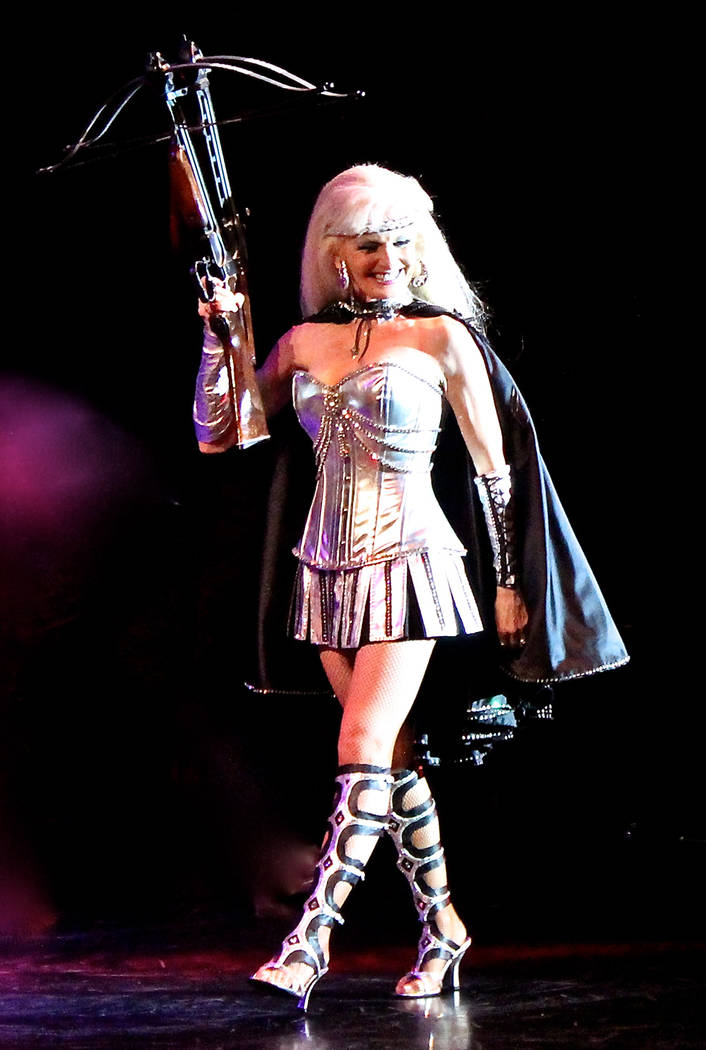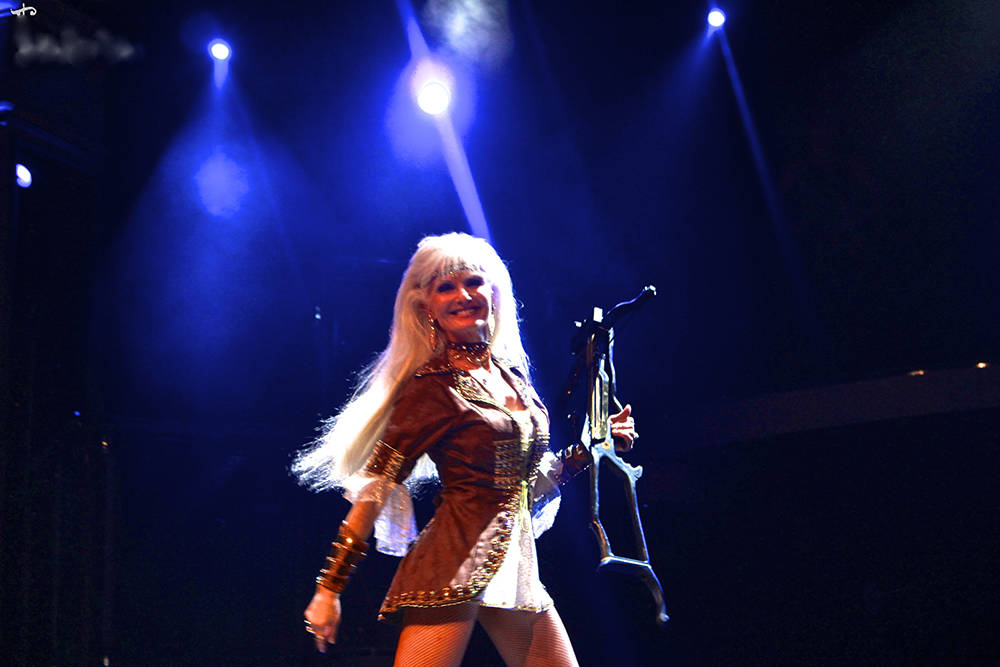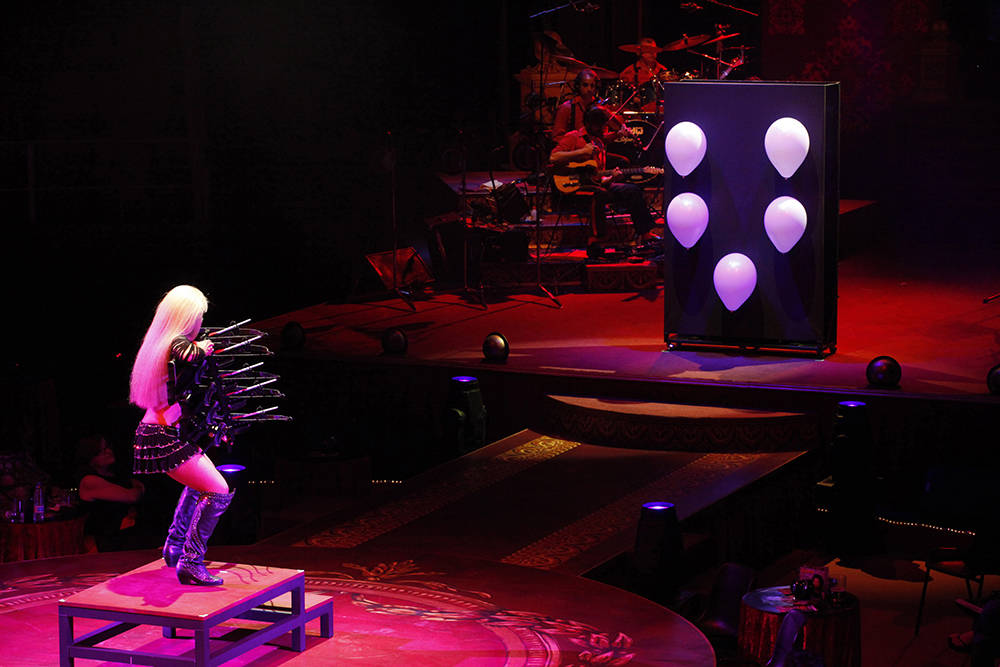 She's a tiny glamorous grandmother who will only admit her age is past the 60-year mark! Yet, in the brand new "WOW" show, which premiered at the Rio last night (Oct. 7) Silvia Silvia faces death at every performance.
Incredibly, she shoots an apple balanced on her head with a crossbow on the other side of the stage that she triggers by firing another metal arrow at its mechanism. In another near-lethal crossbow stunt, she fires an arrow at a balloon held in the mouth of her husband which balances a bottle of wine!
Here's the YouTube of her "America's Got Talent" appearance shooting the balloon and the apple. Warning: Do not repeat this at home and don't click the link if you are squeamish:
"It's dangerous — very dangerous," she told me. "When I put an apple up on my head before I go on stage, I pray to God for my show to him. I say, 'God, I'm doing it to you. Thank you for giving me the opportunity to do this.' But I like it. This is one of the things. … I like the stress. I like the adrenaline. I like to do this because it's unique and it's giving me a push up to keep going on. It's a very good shooting, but we have everything set perfectly.
"I do this act for thirty-something years and thank God it's been good. We are very careful. I and my husband prepare everything before the show. We check every prop, and the guns are good and the whole show is good. I work with many crossbows. Not only the apple. I do another shooting also with five crossbows together, and this one is very heavy. I like my act. I enjoy doing it.
"World of Wonder," affectionately known as "WOW," is the brainchild of Israeli producer Hanoch Rosenn, a former mime who signed "Wonder Woman" actress Gal Gadot for her first show business run. He said. "For more than 15 years we have been presenting 'WOW' with a new incarnation of the show every year. I have always felt the show was perfect for Las Vegas so I am thrilled to bring 'WOW' to North American audiences with the premiere at Rio."
My shows are intended to engage each audience member personally and individually. From the music to the lighting to the sets, choreography and costumes. … The experience is designed to evoke childhood memories as well as provide a peek into the future you imagine for yourself.
"We had to build a water-filled pool that could drain dry and fill up as needed and build LED panels that integrate the real and imagined scenery and action. By doing this in a 180-degree setting we also incorporate sound and light to create an environment that wraps around the audience, making them a part of the show's magic."
The additional construction at the Rio theater caused a one-week delay in unveiling last night's (Oct. 7) premiere. Damian Costa of Caesars Entertainment acknowledged: " 'WOW' is unlike any production Las Vegas has experienced before. Audiences will be captivated by the splendor of standout visual elements, water effects and a breathtaking cast of performers."
I talked with Silvia about the show and her incredible act:
"We are so excited for this show. It's amazing. We are working very hard to do a great show. We are very happy to be at the Rio, the hotel is amazing, great. The people here are great; they're helping us so much. We feel very welcome.
"I'm a grandmother of five. I'm a normal grandmother, I like to cook. I am a housewife. Believe me, I love to cook. I love to take care of my grandchildren. They missing me because they're now in Mexico. They're working in one hotel in Cancun, the Moon Palace. They work there, and they say, 'Grandma, when are you coming here?' And, I say, 'No, I am in Las Vegas; you must come here!' So, I'm a housewife, really. I do everything at home. I never have help. I clean, I wash, I cook, and yes, it's true. It's a normal life.
"I'm already over 60 but I keep doing this act because I feel like a 15-year old. When I shoot the apple on my head I am the only one shooting. And it's eight crossbows, and the eight goes on a stand in a triple. Like a tripod, you know? And they have a precise set to shoot to each other. I'm No. 8, and then I shoot the No. 7, and the No.7 to No. 6, and like that until No. 1 shoots through the apple. And it's a very fast shooting, but it's really amazing because the audience sees it live, and people go "Ah!" it's really nice to see it live. Believe me.
"I pray not only for me, I pray for everybody in the show. I have an apple on my head, but there are some girls going on the trapeze. There are some acts going aerial, and we are all in the show. When I pray, I pray for the whole show.
"I also shoot at my husband, when he's standing inside one box and I have the five crossbows, and he has arrows all over his body. It's also good shooting. I shoot the targets, then I have to shoot from far away, I have to shoot to a newspaper and cut it in half. I shoot through balloons. I shoot through targets, and it's like a 12-minute act.
Q: I pray you never have an argument with your husband before you do this.
A: He's very good, you know? He never complains. I have to tell you, I've been married for 45 years with the same man, so that means we are very good. We have two sons, and we have five grandchildren. We are a very close family and we understand each other very well. That's good.
Q: What is the closest it's come to going wrong?
A: Only one time, I hit the pants on my husband between the legs. Because when I shoot with the five crossbows, his pants hung in the middle, so we hit the pants. I had to do the sewing of the hole I was very upset because we broke the pants. We have some close moments. You know, I work with guns and they are props, so everything has to be set good and nobody can touch them. Here at the Hotel Rio, they gave me a good place to put my working equipment, so everything is, set — OK. Really. But closest, closest, maybe I hit the apple a little lower. I don't know, maybe.
Q: So how do you shoot at your husband?
A: There are five arrows: two on each side of my husband and one between the legs, so that one is the one who broke the pants. I come from a family in Colombia. They have a circus. I grew up in a circus family. My children are fifth generation of circus family. In the circus of the family, you learn many acts. I learn flying trapeze. I learn to walk the high wire. I learn to hang from my teeth and many acts. And I was very good with shooting with bow and arrow. So we have a production in the circus, like an Indian production and we come and do some tradition of shooting with bow and arrow. And since I was a child, I was very good in that, so like 35 years ago, I start shooting with crossbows and go all over the world.
I work in many places. I work in front of the queen of England. I work in Sweden. I work for the international community. That was very funny because I had to do my act in front of (Harry) Kissinger, (Mikhail) Gorbachev, Angela Merkel. … And they are all watching me shooting, seeing a woman shooting. That was in Berlin. Then everywhere in the world I go, I have the exhibition of my act because it's unique and it's different. It's a woman shooting, and I'm the first one to do this. People like it. And I like it, too, so I keep doing it.
Q: Even though it's so dangerous?
A: That makes it more … tasty! I don't know how to say it in English, but it makes it more fun because if I do something everybody is doing. … My personality doesn't allow me to do something simple. I'm a very little woman. A blonde woman, and my height, I don't know how you say it here. My height is only 5 feet and my weight is 100 pounds, so I'm not very big.
But I have my big guns with me, so I come on stage, and I show my show to the people. We are very excited about this show because this production is amazing. The producers come from Israel and I worked with this company in Israel. It was amazing. Everybody who comes to see the show said, "This show should be in Vegas!" We started in Israel, and now we are in Vegas after two years. We are very, very happy to do it.
Q: Has it changed from when you started?
A: Oh, very much. I'm more experienced. When I first started, I was younger, so I feel now I am really experienced. I know all my guns like my babies because they know. … How can I say? They are like babies. I know this one likes to shoot one way, so I know that one I had to put it the other way. It's changed a lot. I got more experienced controlling my nerves, my system.
Today, I enjoy working in my act more than when I was younger. When I was younger, I was more excited, but not as controlled, no? You have more control now. As much as you can. But you know, I think it's a dangerous act, but at the same time, it's a good act to see because it's a special act. You can see a trapeze, you can see handstand, acrobat, but this act is different. I am happy to do it. I don't want to talk about me because I don't want people to think, "Oh this lady." … No, no. Just ask me questions not about me.
My two sons, when they come to see my show, I have one son who's also a juggler. He's very famous. He and his wife give me five grandchildren; and I love it. Every time he comes to see me working in a show, he sees my whole act, but when the apple thing comes, he doesn't look! He turns away. He doesn't want to look. He only looks when it is finished. My other son is a rock singer in Barcelona, Spain — my youngest son. He looks more like me, but he's a rebel. He likes to go on tour with his group, and now they're making his new CD in Slovakia. He's very excited about it.
Q: You face death nightly but sum up how you feel.
A: I am very happy with my life. I am blessed, you know? God blessed me with my family, with my work, with the people I know and meet, and being here in Las Vegas is another blessing. One of my dreams was always to come to Las Vegas. Finishing my career doing this in Las Vegas, because I think I'm closer to finishing. Being in Las Vegas for us is one of our dreams for my husband and me, so we are very happy.
Q: So, Vegas might be the end of your shows?
A: Yeah, I don't know. Even now I receive offers to go to Macau, to go to Japan. They ask and I say "No, no. I'm now engaged in Las Vegas." So, I have offers to go many places. It's a nice feeling to know that people want to see your act all over the world. And in India, in China. They call me from everywhere. So I don't know when I'm going to finish. Maybe I need to make another life!
Q: Do you even think it's a little crazy to fire arrows at your head night after night?
A: Well, it's crazy, but this is life. Life is like that. Life is crazy. We never know what's going to happen tomorrow so we try to enjoy every moment of our life every day. So we give 100 percent every day because it's very important and with God's will, we always be there for doing a crazy life, you know? I am a believer. I go to church on Sundays, and so, for us it's very important to have a nice life, believing my faith. My faith is very important for me. For me, being out of God is no meaning, so my meaning is: Everything I do is thanking God for the blessing to do it.
Q: From the photos I've seen, the most arrows you use in the crossbow is five at one time?
A: Yes, five together at the one time. Yes. I put one crossbow over the other one, and I sit them all together, and I have to shoot the five at the same time.
Q: How old were you when you started doing circus acts?
A: I grew up in the circus. When it's school time, my mother sent us to school, boarding school. So I did my school, and every time I come for holidays, like the three months of holidays, I learned a new act, and I show my mom. I'd say, "I want to stay in the circus," and she'd say, "No, no. You finish school. You come to the circus."
And every time I learned a new act. … I grew up. … Since I remember, I remember my mother doing foot juggling, working with the little ponies, with horses and so I always go on holidays. I was in the circus, then I go back to school, boarding school, with the nuns. Then I came back again to the circus until I got married. I was 15 years old when we married but I'd met my husband, Victor, when we were boyfriend and girlfriend since the age of 11. Can you believe that? That's another story, huh?
Q: You know I can't resist uncovering the fun acts and figures behind Vegas spectaculars and "WOW" is no different. "WOW" features 30 performers that hail from 10 different countries. There are over 400 lighting pieces in the show and the light-emitting diode light wall is made with 24 million LED lamps, it is 3,300 square feet with 3,842 feet of fiber optics cable. Its total weight is 15.432 pounds of LED screens.
The cast wears 240 costumes during the show and 10,000 shells and over 100,000 beads were hand-sewn into the costumes. Each cast member has eight costume changes during the production.
Show director Hanoch Rossen keeps a magician on site to continually create special effects for the show. Hanoch insists that all the cast members who take part in the water acts were trained in scuba diving.
Keep your eyes open for Waterman Dickson, who has four Guinness records, drinks gallons of water live on stage and turns into a human fountain.
But over it all, reigns the diminutive Silvia Silvia and her crossbow-and-arrow act that is now finally thrilling Vegas audiences and keeping them on the edge of their seats.
World of Wonder is performed nightly except Monday's in its own customized showroom at the Rio at 7 p.m. and 9 p.m.