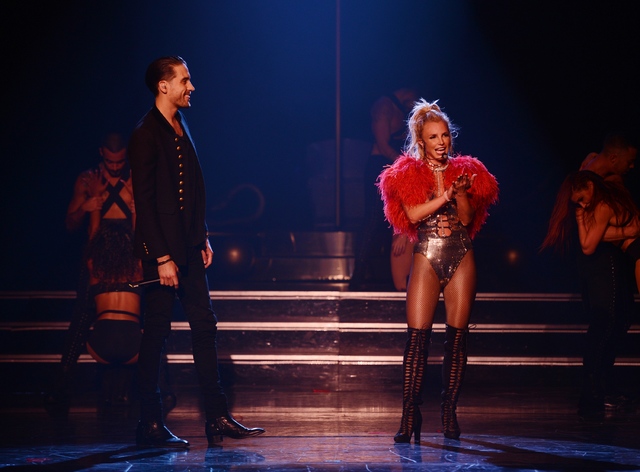 Headlines screamed Monday morning that a wardrobe malfunction almost totally exposed Britney Spears during her "Piece of Me" show Saturday night at Axis at Planet Hollywood. A piece of Britney's hair got caught in one of the buckles holding the straps to her bondage-inspired bra top, and it unfastened.
Britney continued to sing her cover of Joan Jett and The Blackhearts' "I Love Rock 'n' Roll" and clasped her hand to her chest to keep her modesty intact and from being overly exposed. Fans captured videos posted on YouTube and marveled at her ability to continue the show while two of her dancers tried twice to secure the errant straps.
Once reattached, Britney still struggled with its loose fitting until one of her backup dancers took his shirt off and covered her so that she could button it up correctly. "She handled it like a pro," said one observer. The remainder of her performance was completed without further problems.
But it was the second time in a week that the pop princess tackled a wardrobe malfunction. Earlier, her sheer black bodysuit unraveled at the back zipper, exposing her G-string. Once again, the show went on without interruption.
It was with much less nudity but still headline worthy: The previous evening, Britney's "Make Me Move" collaborator, rapper G-Eazy, surprised fans onstage in their hit duet. G-Eazy, who also performed with Britney on Night 2 of the 2016 iHeartRadio Music Festival at T-Mobile Arena last month, headlined the next night at Drai's Nightclub atop The Cromwell.
Earlier over the weekend, Britney presented the young patients of Nevada Childhood Cancer Foundation with a check for $200,000. Since starting her Strip residency, $1 of every ticket purchased to Britney's hit resident show has been donated to the foundation as part of her partnership with the organization.
With this donation, Britney has reached $500,000, halfway to her goal of raising $1 million to build a new permanent facility. On Thursday, she's hosting a charity ride at X Cycle in Boca Park to raise more funds. High-rollers have bid thousands to ride alongside her during a specially choreographed class featuring songs handpicked by Britney.