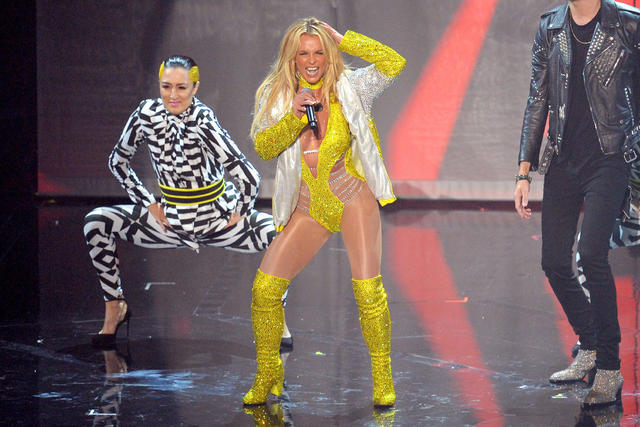 Pop princess Britney Spears set herself a nearly impossible goal of $1 million to raise for our Nevada Childhood Cancer Foundation about a year ago.
As her deadline approaches, she's singlehandedly raised $500,000 and another $352,000 as sponsors for a 10K bike-run challenge to be announced this morning at sports facility X Cycle, 750 S. Rampart Blvd. in Boca Park, on Thursday, Oct. 27, at noon.
Her manager, Larry Rudolph, whose partners at Maverick management have just signed on Shania Twain and Andrea Bocelli as clients alongside Britney, Miley Cyrus and Madonna, recruited Zappos king Tony Hsieh for a $100,000 contribution — along with Live Nation and two others at $50,000 apiece for the cycling challenge.
The "Piece of Me" charity ride will go directly to 45 services provided by the Nevada foundation's One Year One Home Capital campaign to enable pediatric and adult clients to be served at one convenient Valley location.
It now leaves Britney about $150,000 to reach her goal, and you can donate everything from $50 for a Britney ride T-shirt to $10,000 to ride alongside her and supporter Mario Lopez of EXTRA. There are 25 bicycle seats available to ride alongside Britney during the choreographed 45-minute, high-energy class that features songs she'll handpick.
Britney is determined to exceed her goal — and the 45-minute workout — and this morning announces the fundraising platform to top her target. She said: "The Nevada Childhood Cancer Foundation does incredible things supporting kids battling the devastating effects of the awful medical problems of cancer and other life-threatening illnesses.
"Doing this charity ride with my friends at X Cycle is a rewarding and fun way to raise money for Nevada Childhood Cancer Foundation, an amazing organization that supports children and their families in need."
Britney asks that you visit Prizeo.com/Britney to make your donations and become eligible to win a trip for two to her hit residency BRITNEY: PIECE OF ME at Axis at Planet Hollywood.
"We are so close to the $1 million. I am determined not to fail. We will do whatever it takes to surpass the target we've set."
Since her record-breaking residency opened, Britney has been a major supporter of Nevada Childhood Cancer Foundation with donations from her ticket sales, T-shirt sales and paid appearances totaling more than $450,000.
These funds are part of the capital campaign driven by Britney to build one convenient and expanded location of support services for critically ill children and adults facing cancer living in Southern Nevada.
"We are thrilled that Britney Spears has chosen to partner with Nevada Childhood Cancer Foundation," said Jeff Gordon, president and CEO of NCCF. "Britney brings with her so much passion for our cause, and we feel privileged and honored to have her in our community and now as a member of the NCCF Family."
For additional information, go to NVCCF.org.