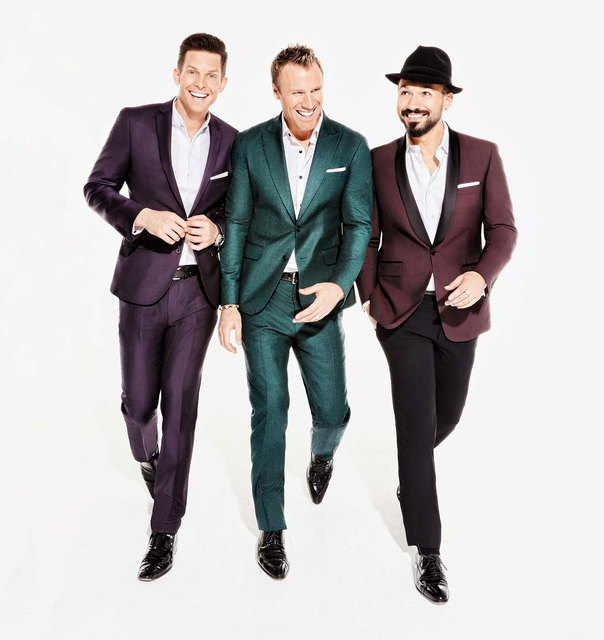 The Tenors are Las Vegas regulars. The award-winning Canadian vocal group first appeared in Cirque du Soleil's annual "One Night for One Drop" at "Michael Jackson One" Theater at Mandalay Bay in 2014, and they're back for the fifth installment Friday at "Zumanity" Theater at New York-New York.
I also have seen The Tenors, now Clifton Murray, Victor Micallef and Fraser Walters after Remigio Pereira and The Tenors parted ways in July, perform during Andre Agassi's Grand Slam fundraiser at Wynn Las Vegas, a David Foster & Friends concert at Mandalay Bay, and one year ago at The Smith Center, where I first met The Tenors post-performance.
Murray, a fan of Cirque du Soleil and Las Vegas, answered questions over the phone Feb. 9 ahead of Friday's "One Night for One Drop":
You've performed in "One Night for One Drop" before. I watched your performance at Mandalay Bay in 2014. What brings you back to the benefit performance at New York-New York on March 3?
"One Night for One Drop" is a highlight of the year and an incredible cause. The experience three years ago was incredible. We were moved by the show and Cirque du Soleil's awe-inspiring artists and jumped at the opportunity to return. This time around, we get to sink our teeth into the creative aspect more and make it even more special and unique.
Can you give us a hint as to what your role will be in the performance and what guests and your fans can expect?
We are helping to carry the story forward as 18th century horseman acting along the lines of "The Three Musketeers" mixed with "Interview With the Vampire" (laughs). We have a small role in the plot to carry the storyline.
Why is being involved in One Drop Foundation so important to you?
For myself, I grew up in a fish resort in the middle of nowhere in British Columbia, and we were isolated and relied heavily on clean water. As we've traveled the world, the importance of clean water has really struck us. I have always had a strong respect for the environment and water growing up in British Columbia.
We've seen in our charity work in Africa, in South Africa and Kenya, how clean water, a simple water well can transform a community and give them hope and cure disease. Fresh water can change the lives of so many people around the world. We're honored to share the stage with Cirque and also use our voices and talents to give back.
Have you seen many Cirque du Soleil shows, and, if so, what is your favorite?
I have seen a number of them, and I have loved every one. The power of Cirque is that no matter how you go into the show, you walk way being in awe of the miraculous ability to create a magical world. You ask yourself, "Did that really happen? Was it a dream of some kind?"
"O" at Bellagio was my first Cirque show. It's a magical show, and it stands out because of the water element. I also love "Love" at The Mirage. I am a big Beatles fan, and "Love" captured the comedy of the music and the era so beautifully.
Cirque transforms from set to set and production to production, and I'm in awe of the creative abilities of the performers who devote their lives to blowing our minds.
What is new with you since I watched The Tenors at The Smith Center here in Las Vegas last Feb. 20, almost exactly a year ago, and met you for the first time post-show?
It's been a busy one (laughs). After the roster change and trials and tribulations, we are stronger and more convinced than ever of a positive, hopeful future. It hasn't slowed us down; in fact, it has been a very busy seven months. We're in the studio working on a new album.
We have two tours lined up this year and gigs in Europe and Southeast Asia. We'll be in L.A. this week for The Grammy Awards. The last year has put things in perspective for us. We realize that everything can go away overnight, so we don't take anything for granted.
It has been a new lease for us and reminded us not to rest on our laurels. We are reinventing ourselves and taking new opportunities like with Cirque and the stage acting this year.
There were four of you in The Tenors for many years, and now there are three. How has that changed the dynamic and your live performances?
Three is obviously different than four. We rearranged a few things, it's a different experience, but the power is still there, the passion and the power are still there. There is more space and new opportunities. It was a difficult time, but we have taken the positives and grown with them. We are feeling grateful for everything right now.
Are there plans to add a fourth member again?
We'll never say never, but right now we're comfortable in three. We are arranging music in three. We've performed some 60 shows in the last few months, and the response is very strong. We don't feel like we are missing anything based on the reaction from the audience. That is the litmus test.
What else are The Tenors working on right now?
We have a couple tours in North America, a lot of moving parts with a lot of people. We have new dates listed on our website. It takes a lot of time to create a magical experience, and Cirque inspires us to come up with new ideas for our show. We're inspired to take their ideas and run with them. This is an exciting time, so come see Cirque and us!
What is on your to-do list when you're in Las Vegas when you're not working on "One Night for One Drop"?
"One Night for One Drop" is going to be a big family event — Mom and Dad, my sister and aunts and uncles and friends are coming to Las Vegas. We're foodies. We love the restaurants and the sites. We're staying a few days after to take it all in.
And it will be great to reunite with William Shatner, too! I appeared in "Boston Legal" many years ago with the stars of the show, William Shatner and James Spader. I spent seven days on the set … my dad and William Shatner look a lot alike! It's weird.
The fifth-annual "One Night for One Drop," featuring The Tenors, William Shatner, Grace VanderWaal and more, is at "Zumanity" Theater at New York-New York on Friday night.