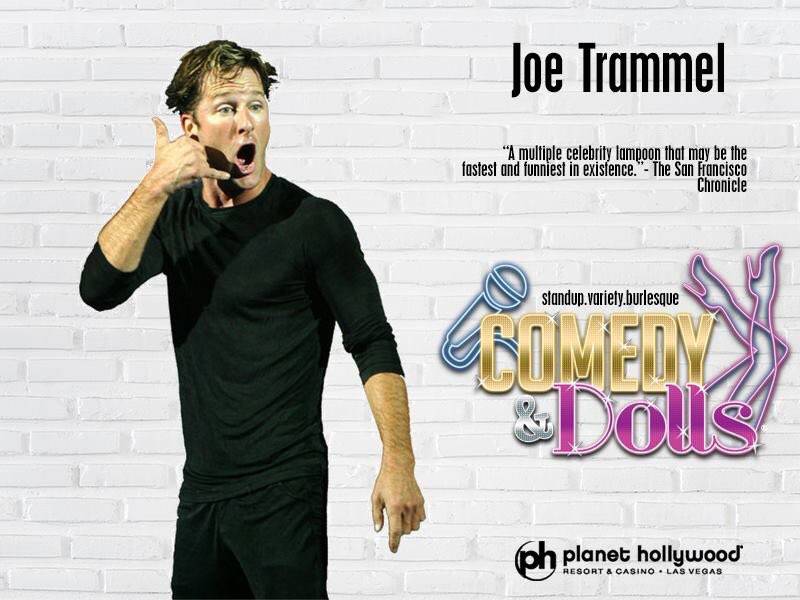 Funny-faced comedian Joe Trammel, aka "The TV Guy," has teamed with acrobatic comedian Uber Macaggi Rossi to join the recurring cast of Comedy & Dolls at Planet Hollywood's Cabaret Show Lounge (Uber has nothing to do with the ride-share company!).
For 10 years, Joe was the closing act in "V — The Ultimate Variety Show" and for three years was the marquee star of "Crazy Girls" when it was based at The Riviera. Andy Williams signed him for a two-year headline stint at The Moon River Theater in Branson, Missouri.
Joe is currently finishing his autobiography, "Break a Leg," and will be filming the documentary "Stripped" this summer. Uber's stage strengths rely on physical comedy, as his crazy antics include balancing on one arm on a basketball.
British comedian Paul Scally now travels across the pond to host Comedy & Dolls every Friday night with a laugh escape from current events. The lineup of Dolls includes burlesque performer Tana the Tattooed Lady and contortionist AcroBritt, who David Letterman featured on his late-night talk show.
NEW RESTAURANT
Hospitality veterans from the Strip have joined forces with chef Jamie Tran to open an off-Strip restaurant that promises Strip-quality offerings at approachable neighborhood dining values and experiences.
The Black Sheep is at 8680 W. Warm Springs Road. It's described as new Vietnamese fusion with traditional Vietnamese flavors served in a western presentation. Check out the bao sliders as a starter and the braised duroc pork belly as an entree.
'ALIEN VISITORS ARE HERE'
Billionaire aerospace entrepreneur Robert Bigelow, whose Bigelow Aerospace is headquartered here, has told a "60 Minutes" that he is "absolutely convinced" that "alien visitors are here living on Earth." Robert works with NASA and has built expandable space habitats for astronauts onboard The International Space Station.
Robert has admitted that he has invested "millions into UFO research," more than anybody else in the USA. He told interviewer Lara Logan: "I'm absolutely convinced that there are aliens. There has been and is an existing presence, an E.T. presence on Earth."
FIRST TV PRODUCTION
Three weeks ago, I reported the story of Caesars Entertainment erecting a TV studio facility on the land behind Bally's. Now I can report the first production: the inaugural Gears Pro Circuit Las Vegas Open this Friday through Sunday. Major League Gaming, Xbox and The Coalition say it sets the stage for the city's most intense Xbox ESports competition.
Teams will compete in Gears of War 4, an interactive video game developed by The Coalition and published by Microsoft Studios for a prize pool of $300,000. Fans ages 18 and older and parents can attend with a three-day $24.99 Spectator Pass, and it's Live.GearsofWar.com online. Las Vegas battles follow Season 1 events in Mexico City, London and Paris.
NEW CASINO MOVIE
Italian investor Fabrizio Boccardi has signed Chuck Russell, director of Jim Carrey's "The Mask," and other films, to helm and write the screenplay for a film about a Las Vegas-based superhero. The film is set to be shot here in 2019, and the hero will be the owner of Seven Sins Casino, the brand that Fabrizio plans for a real-life casino here.
Twice in recent years, he has lost out on last-minute purchases of shuttered Strip hotels. In this story of money, power and superheroes, he tells me that it will replicate elements of his life mixed with a new type of fantasy film franchise.
NEW ANTI-AGING SERVICE
Hollywood's secret weapon in the fight against age is coming here, with two venues opening by summer. The Beverly Hills Rejuvenation Center is a med spa run by Devin Haman, who starred in E! Entertainment's reality-TV series "Sunset Tan" at The Palms. Clients include Shanna Moakler, our Miss Nevada USA Pageant director, Joanna Krupa, Mel Gibson and Dean Cain.
STAR SURVEILLANCE
2017 Billboard Music Award winners Korean pop stars BTS attended Cirque du Soleil's "Ka" at MGM Grand, where they met with cast members and posed for photographs.
Fashion expert and "The Real" host Jeannie Mai attended Cirque's "O" at Bellagio.
Singer, fashion designer and "Spider-Man: Homecoming" actress Zendaya treated her family to Cirque's "Michael Jackson One" and a meet-and-greet at Mandalay Bay.
Denver Broncos players Von Miller and Aqib Talib spent an evening with a large group of friends in the fourth-level Chairman's Suite at Topgolf at MGM Grand.