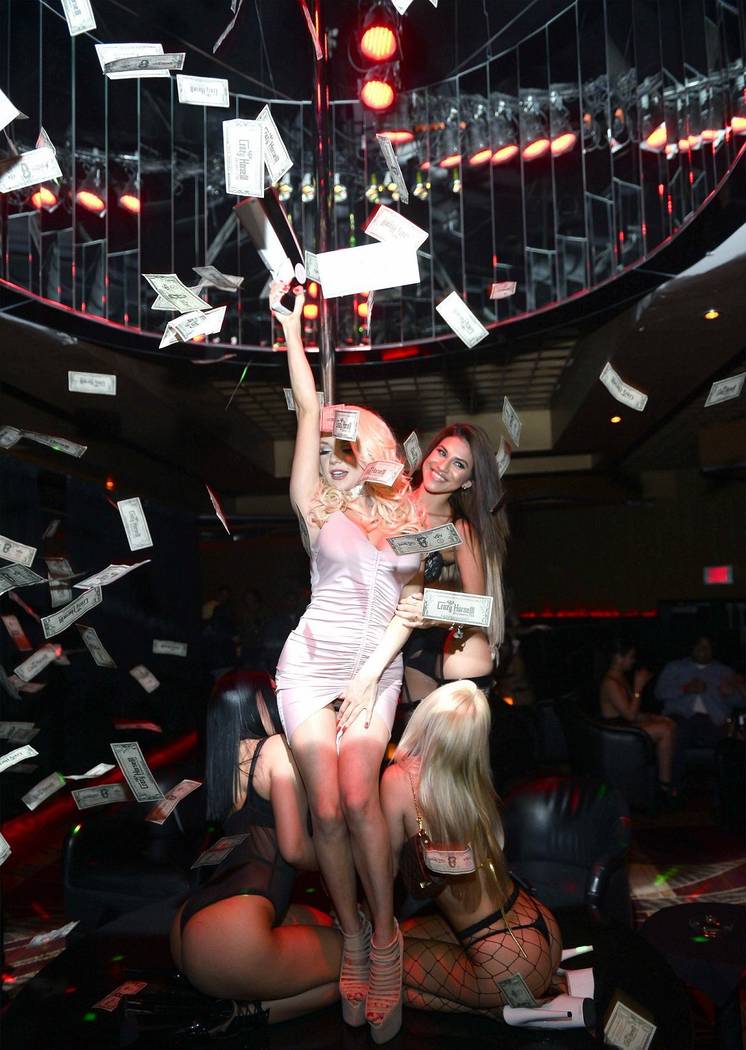 Blonde bombshell Courtney Stodden was 16 when she wed 51-year-old actor Doug Hutchinson in Las Vegas. The marriage made global headlines, and it lasted only one year before the seven-year itch set in.
Courtney returned here for a "Divorce Party" on April 28 at Crazy Horse III Gentlemen's Club with her friends Bravo reality-TV starlet Heather Marianna and Playboy Playmate of the Month Shauna Sand, who was married to Lorenzo Lamas.
Courtney wore a form-fitting, blush-colored dress with nude platform heels on the red carpet, then set up camp in the VIP room where she received multiple lap dances. Nothing toasts divorce like a groom-shaped piñata, and Courtney took only a few swings to smash it to smithereens. She grabbed half of it to wear as a hat as dancers covered in confetti grabbed CH3 dollars.
Afterward, the club presented her with a two-tier divorce cake split in half to recognize her newfound independence. One lookalike figurine wore a two-piece bridal ensemble and hung from a stripper pole, while an older groom figurine was on the other half. Courtney sampled bites from both sides, then made her way to the stage.
She danced on a pole waving a loaded money gun, which she used to shower her favorite dancers and herself with dollar bills. Our thanks to contributing videographer Richard Corey for his video posted on YouTube. It was a long, boisterous night that didn't end until sunrise, but she did take a break to talk with me about her new single life:
Where did the idea of a divorce party originate?
I've been really miserable lately because of the split. No split's easy. My friends were like, "You really need to get out and party and be single and know how." I was 16 when I got married. I'm 22 now.
It's making up for lost years of partying, so what better way to celebrate at Crazy Horse and have amazing friends to celebrate with — I've always respected Crazy Horse, so it was perfect for my friends to throw a party.
You got married in Las Vegas?
At The Little Chapel of Flowers. It lasted six years. Depending on what the occasion was, it felt like six years, or, as they say in Hollywood, that's 60 years.
Is an older man better than a younger man?
I've always been attracted to older men, but I don't seek out 50-, 60-year old men. That's not my M.O., but there's a part of me that does like to be taken care of. I like success, I like someone who's intelligent and knows what they're doing. I think that's important in any relationship.
An older man doesn't have to be 50, but there's nothing wrong with that. He could be 80. There are no bounds of age or gender. I've always seemed to like a little older men. I've never really connected with somebody my age. Not yet, not ruling it out, but I really haven't yet.
Now that you're single again, what's on the horizon for Courtney?
There's a lot. I'm really diving deep into my career in this new chapter and my brand. I'm really excited about my clothing line, my lingerie line, my book. Lot of reality-TV shows. Movies, music. Personally, a lot — growth as a woman and making up for lost years.
I feel like those six precious years that I did sink into a marriage like an older woman would. That's important, from 16 to 22, for growth. Usually you go to college and figure out what you like, what you don't like, and that progresses. I never had the chance to do that, so there's a lot that's going to progress and happen in this new chapter.
I'm really excited to let my hair down and be single and learn and grow. And my brand, to be immersed in that. We parted more as frenemies than friends. We're still trying to part, I guess you could say. It takes a long time to break up a six-year relationship, and it wasn't a conventional relationship.
I was 16, so I put a lot into the union. I've put a lot into him. I've put a lot of importance, not only as a husband, but as a rock, a best friend, family, father figure. It's hard to believe that it's over. It's emotional draining and straining on both ends.
Divorce may be pretty final, but that's a technical term, not an emotional one. The bond is still there — not in the sense that you would think, but there is depth to it, and it's hard. It's complicated.
What was the best part of being married to an older man? What was the worst part?
I think the best part about being married to that specific older man, because I haven't been married to another older man, so I can only speak for my experience, but I think just being taken care of so well.
He took such good care of me, and that was part of the problem — becoming handicapped. I don't even know how to write a check. I know how to spend the money; I just don't know how to write the check.
So you're going to be a comedienne, too? That's a classic line!
Oh, am I funny?
A classic line: "I don't know how to write a check, but I know how to spend the money."
I think that was the best part, but the worst part about being separated is the heartbreak. I feel like if I would sit on the illusion that I'm OK with being in a marriage when I don't know myself, it would affect our friendship down the line. It would build into resentment on both ends. I wasn't a prisoner in love, but in a sense now I'm free again.
I think independently growing as a woman, I feel guilty because he's such an incredible person. It's hard, and I think I need to say it, but if there was a problem of any kind, an emergency, he would still be the first person I would turn to. I feel wrong for that because we're heartbroken, and it was me who needed to find independence. I just feel bad for that.
Are you going to stay single for a while?
I think that this is the whole reason for a need for independence. To jump back into a relationship right away doesn't make sense. I am a very sensitive, vulnerable person. I've always been that way. Very childlike in a lot of ways, so I am susceptible to being in a relationship right away, but I don't think it's the right thing for me right now.
I need to focus on myself, and that's scary. It's scary, so it would be easy to fall back into another relationship, someone protecting me, but I need to stay away from that. I need to really focus on myself, for my own health, mental health and growth. … Tonight I'm going to let the misery deplete and have fun. I'm excited to do that.