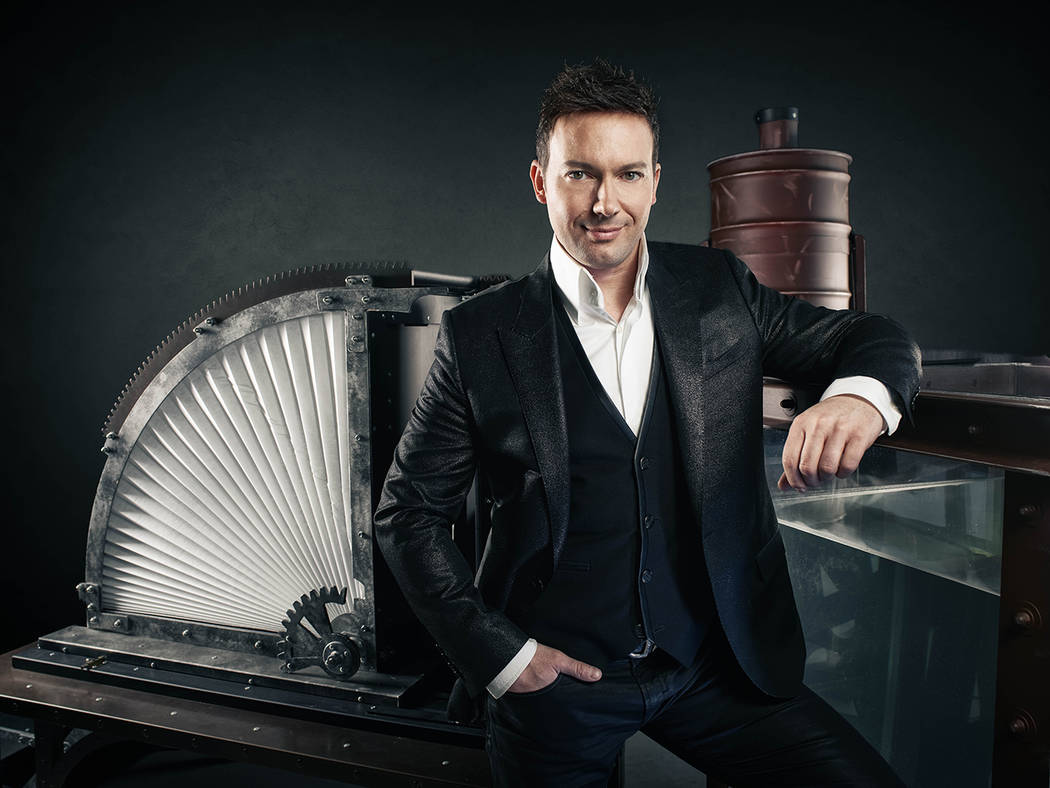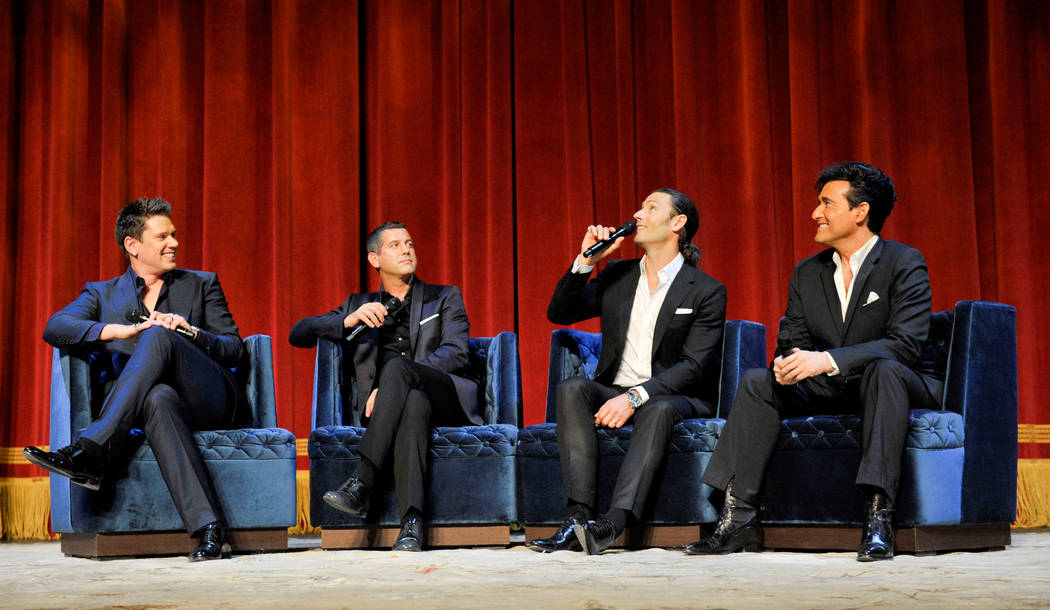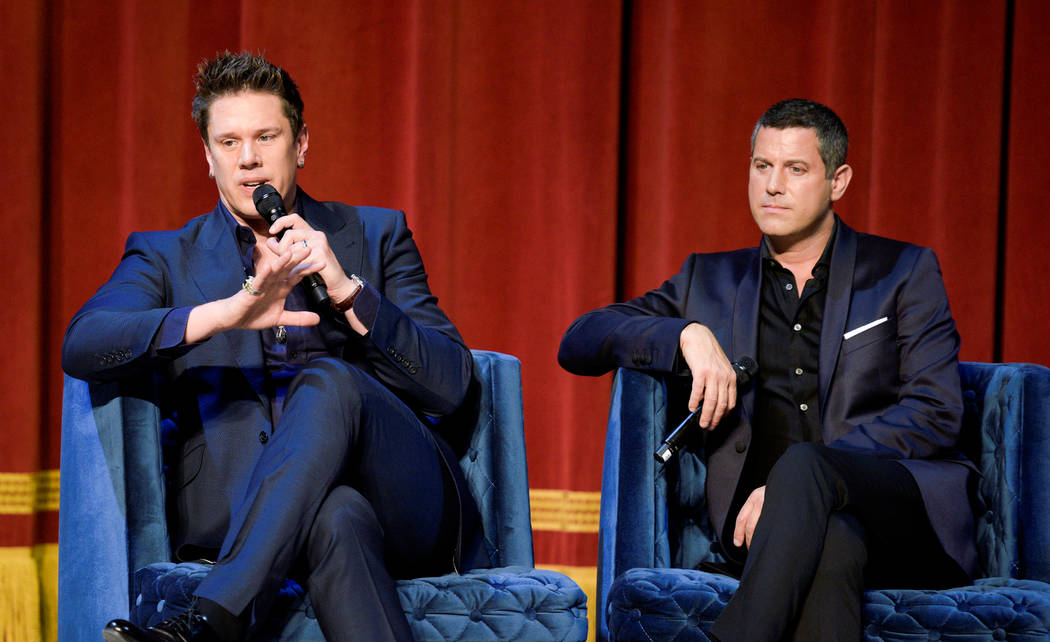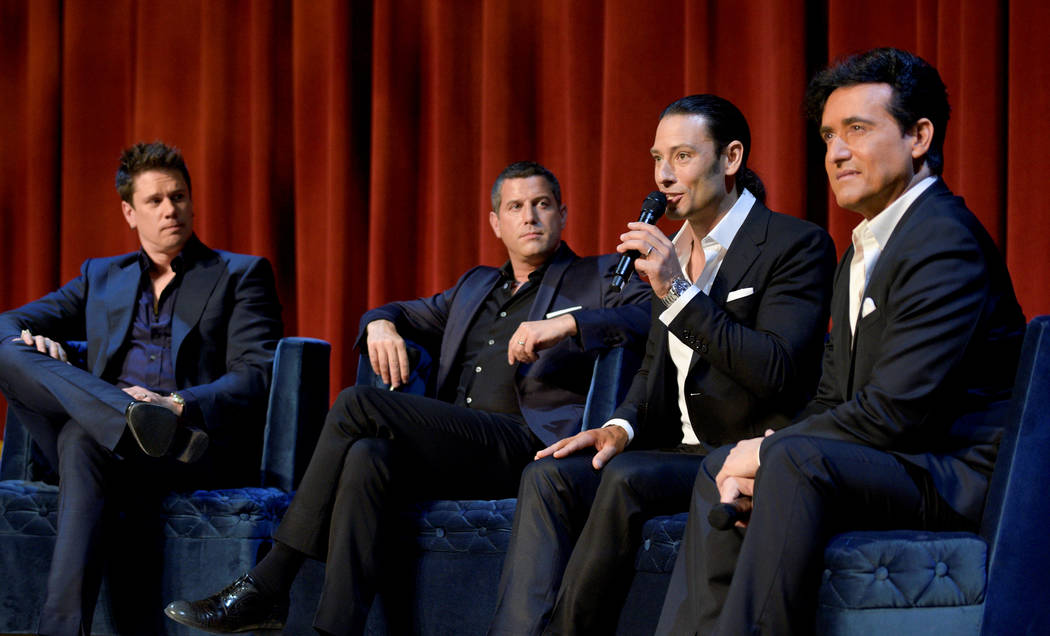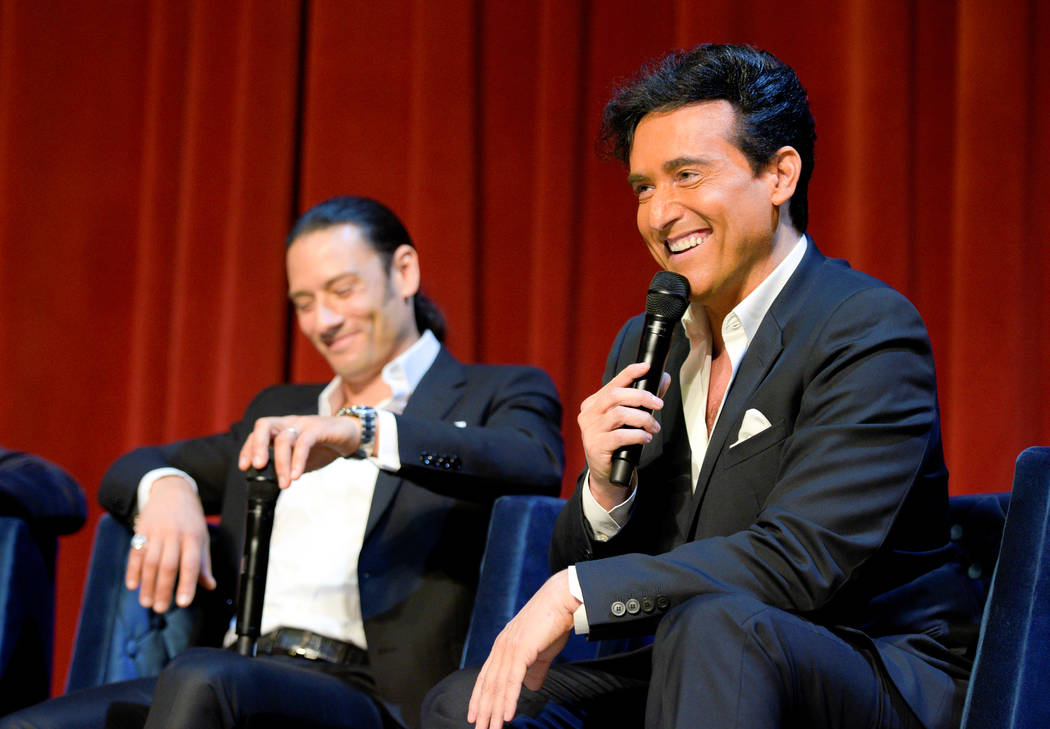 One newcomer is headed to the Strip, and one well-established international act has landed a limited-engagement run — and both plan to make a lasting impression on our entertainment scene.
On Tuesday, Il Divo announced a run of shows at The Venetian, and today European magician David Goldrake revealed that he's starting a full-time resident show at Tropicana Theater with his production, "Imaginarium," due to debut this summer.
Il Divo, the world's first and most successful classical crossover group, announced that they will headline a Las Vegas engagement, "Il Divo — This Is Your Night: Live in Las Vegas," at The Venetian Theater from Sept. 20-30.
The international quartet is tenor Urs Buhler of Switzerland, baritone Carlos Marin of Spain, pop artist Sebastien Izambard of France and tenor David Miller from the United States. David talked with our esteemed editor Don Chareunsy when Il Divo headlined at The Palms in November (Don also chatted with David when Il Divo headlined at Caesars Palace in 2012).
Known as the "Renaissance Man of Mystery" (not to be confused with "International Man of Mystery" Austin Powers), David Goldrake, who hails from Luxembourg, is an illusionist who speaks seven languages and promises to defy the laws of time and physics in front of audiences.
"It's a new dimension to entertainment," said Tropicana General Manager Aaron Rosenthal. "He's played to more than 20 million people with standing ovations in over 20 countries." There is no question that Las Vegas is home to magicians — perhaps more live and work here than anywhere else in America.
We have Criss Angel at The Luxor, Penn & Teller at The Rio, David Copperfield at MGM Grand, Jarrett & Raja at Hooters Casino, Mac King at Harrah's, Murray Sawchuck and Xavier Mortimer at Planet Hollywood and Nathan Burton at Saxe Theater at Miracle Mile Shops at Planet Hollywood.
Is one more one too many? I asked David why he would want to come here and face a highly competitive roster. "Probably because it is the home of every magician in the world. It's a great place. It's always been considered the Mecca of magic. It is every magician's dream or goal to at one point in their career work in Las Vegas and make it.
"I have seen the competition. I know some of the competition personally. But I see them more as colleagues than competition. We all have the same goals, which is to make the audience happy. To enchant them. To make them wonder. I am excited to be a part of that group."
What is different about "Imaginarium" than David Copperfield's show?
"Imaginarium" is a full story. It has a theme. It has a story. It is immersive. David Copperfield's show is about living the impossible, but it is very much about his path, his life story. My show is more about the audience than about myself. I will talk about subjects that touch spectators on a daily basis.
At the end of this show, I want them to leave with a different feeling about life. A different sense about life. It's not just about seeing a nice show. It's thinking about everything that has been presented. That's what concerns this team.
We also have 3-D projection. In magic very little has been done with that, so it's going to be a complete, immersive experience as opposed to a passive experience where spectators sit and just watch a magician do tricks.
* * *
David has been hailed as part of a new generation of illusionists. He asks audiences to lose all sense of reality as he creates a surreal scene somewhere between reality and a dream full of fantasies.
From the classics of magical history to modern experiences, he presents an interactive show of mentalism, escapology, music and choreography blended with modern 3D-mapping technology. He describes it as a journey through time that will challenge the laws of nature.
* * *
When you boil it down, there are seven pieces of magic art — disappear, reappear, cut in two, etc. Have you found No. 8?
Opinions vary on that one. There are different schools that think there are only seven. There's one that thinks there are 19. It all depends on how you dissect things. I think that the eighth, if you want to call it that, is to dissect the audience.
To incorporate the audience in the show. To make them part of the magic. To transcend just basic physical principles. It's about touching them, creating the same heartbeat. I think that's what magic is about more than just tricks.
When did you first take up magic?
I discovered magic when I was 8 years old. It was all about making something disappear and reappear I discovered in a children's magazine. That's what sparked my interest to continue and become a professional magician.
I'm from one of the smallest countries in the world: Luxembourg. I have performed mostly all over Europe, but I have done regular shows at The Magic Castle in Hollywood. I have toured the world with my illusion show. My corporate show has been mostly based in Europe until now.
Do you have worries about coming to Las Vegas?
The main worry is to leave too early. I want to stay as long as I can and make audiences happy and share my magic with the Las Vegas and international communities who are coming to your city. My worry is to deliver the best possible show I can. To do it in such a way that it will keep me in Las Vegas for as long as I want.
We have 10 magicians within a square mile of one another in Las Vegas. How many are there in Luxembourg?
I am the only professional magician in my country. It's been about 17 years that I have been the only professional magician in my country — since 1999.
Why does one become a magician?
It is an individual choice. Everyone has a different motive for choosing that path. I had a complex, difficult childhood. Magic gave me an escape from reality. It allowed me to be safe. To have a perfect world where everything was harmonious and beautiful. Not like the reality I was living at home. I think the feeling this gave me is something, to this day, I want to convey to my audiences. I know we all have our worries, issues, our everyday concerns.
I want to convey that emotion that magic gave me to my spectators. I know there are people in the audience who will forget everything for 2 hours or 75 minutes. Just go, "Wow, the world is beautiful" and can be happy for a short time. That's what motivates me. It's about sharing this feeling of beauty, harmony, of wonder. That's what makes me the happiest, actually.
Is there a piece of magic or illusion you're doing that hasn't been seen in Las Vegas before?
My ending piece, "Tree of Life," I think has never been seen before. I talk about the pace of life and different beings who surround us. I pluck all the leaves from the tree and collect them. Then they fall down with a quote for the audience to take home. I think that is something that has not been done. It is something happening in the audience.
What is different about my show is that we have a whole team of people putting it together. Our director and choreographer is Doriana Sanchez, who was Cher's director for more than 20 years. Our 3-D designers are Drop the Spoon, who have worked for Celine Dion, Franco Dragone and "Le Reve — The Dream" at The Wynn.
For our costumes, we have Topaz, who has done the costumes for Katy Perry, Michael Jackson and Madonna. The lighting has been created by Jeff Johnson, who did Siegfried & Roy's lighting. Our writer is Jim Steinmeyer, who worked with Lance Burton.
I think we have a fantastic team of people who are working on this show to make this the most beautiful experience you can have in Las Vegas. It's not about being spectacular. It's about being beautiful and touching people. I think these people on my team will make it happen with me.
Is Las Vegas the ultimate place to perform magic in the world?
I don't know … yet. I haven't seen enough of the world to answer that question. I think it's a great place to do magic. I think people come to Las Vegas to see magic. It's not my ultimate goal.
For me, Las Vegas is a big part of the big picture. I intend to stay there as long as I can. I intend to come back, but I also intend to continue to lead the world. Share the magic with as many cultures as I can but still come back to Las Vegas regularly until the end of my days.
Is Las Vegas the ultimate challenge for a magician?
I think it is because the audiences who come to Las Vegas are so different. They are coming from all the countries around the world: Different cultures, different mentalities, different walks of life, from poor to rich. It's a really fine line that you have to walk to appeal to everybody.
I want to appeal to the people who want to take something home. To have a gift out of the show. I think that is a great challenge, yes. I hope I will deliver. I hope I will make as many people happy as I can. It's a new chapter in my life, and I am excited to start. I have performed all over the world, and I couldn't be more thrilled to set up my first residency in Las Vegas.
I am starting at The Tropicana, one of the oldest hotels in Las Vegas. Two other illusionists started their Las Vegas careers there. I'm very honored to be able to start my American career in that room. I will combine the American culture with the European culture, so, from a purely historical point-of-view, I think it is a very interesting start for me.
Tickets for David Goldrake's "Imaginarium" at Tropicana Theater go on sale Monday.