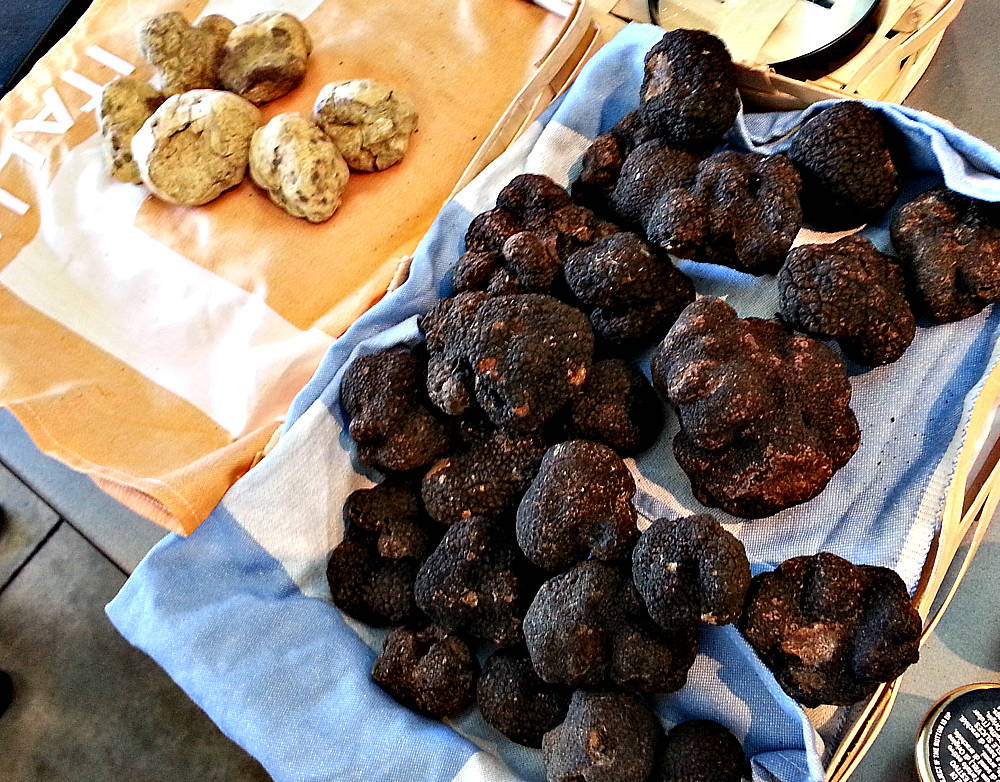 This is no ordinary weekly shopping trip through the aisles of your neighborhood supermarket searching for discount-priced cans of chili and freezer bundles of burgers.
Top gourmet food authority Brett Ottolenghi has long supplied top restaurants of our city with truffles, foie gras and caviar, and now he's organized the first-ever Vegas Food Expo that opens Thursday for two days at Gold Coast to promote unusual, unexpected and unique foods.
Vegas Food Expo is designed to be the launching pad for innovative American food companies, and the 100-plus exhibit space is sold out. I took an advance peek and quickly discovered some surprises:
At Nettle Meadow (NettleMeadow.com), a group of ladies make Kunik, one of the most-addictive cheeses you will ever taste.
Tsar Nicoulai (TsarNicoulai.com) is an American caviar farm with operations surprisingly in Idaho and California.
Check out matcha green tea from Marin County's Breakaway Matcha at BreakawayMatcha.com. Here's a YouTube video of how to make the perfect cuppa:
If you travel in Europe, everybody knows that Piedmontese beef is the best, but did you know that we can get it now from Nebraska? And there is grass-fed beef from Nevada at Bently Ranch.
I thought honey was just a topping on fruit or toast, but Round Rock Honey (RoundRockHoney.com), which has become the largest beekeeping school in America, produces beeswax candles, soap, lip balm and of course fresh raw honey.
Former Mayor Oscar Goodman will open Vegas Food Expo on Thursday morning with a keynote speech about the history of food here.
The Zingerman's Experience is now passing its 35-year mark and shipping $40 million in gourmet foods annually. During the holidays, it employs 500 people to meet demand. Co-owner Paul Saginaw will talk about his products and company.
Chefs and foodies alike know that for all the new, fresh trends in produce, they only need turn to Frieda's specialty produce. Karen Caplan, its president, will talk about the newest in produce that was first popularized by her mother with the introduction of kiwi here in the 1960s.
On Friday morning, I'll play MC and tell the story of how we started The Food Network and its early struggles before finding success in 80 million homes. Scott Norton, co-founder of Sir Kensington's (SirKensingtons.com), will speak on his company's spices, sauces and produce.
Truffles were always thought to be a prized possession of Alba in Italy and Perigord in France. Not so anymore because we have The American Truffle Co. and its chief truffle officer, Robert Chang.
Truffle growers are hunting them in Tennessee, Virginia, Idaho and Oregon. Robert will tell how science is used to cultivate European truffles in America and how the traditional truffle industry is being revolutionized.
Two ladies who are queens of the boutique food industry close out the expo Friday. Katrina Markoff, CEO at Vosges (VosgesChocolates.com), will tell how she built her dream into a multimillion-dollar chocolate business headquartered on Las Vegas Boulevard.
And Ariane Daguin built D'Artagnan (Dartagnan.com) into America's largest distributor of gourmet foods, the best premium-quality products raised in stress-free environments.
Brett realizes that this first Vegas Food Expo will probably cost him money, but he's all about sharing the best and most unique food stuffs with a new audience. "We're here for the long haul with this," he said. "I'm convinced that it's going to grow bigger every year."