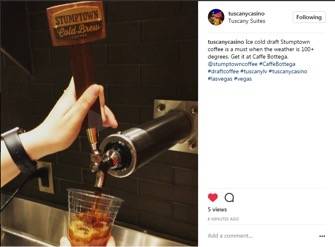 It's Chef's Week here at Celebrity Insider: our salute to some of the culinary kings and queens of the kitchen who have helped make Las Vegas a major dining destination with worldwide recognition. Each day this week we'll have two or three star chefs of the Vegas Valley put down their pots and pans to pick up pen and paper to reflect on their profession and why it plays such an important role in our Vegas success story.
Not every dining delicacy is to be found right on the Strip. There are culinary charms just steps away from Las Vegas Boulevard. Chef Adil Slassi is the executive chef of the PUB 365 at the Tuscany Suites, and here's his rundown of the dining gems there.
……
Las Vegas has been, and hopefully always will be, known as an over-the-top destination and the food and beverage options of the city are no different. Five minutes from the hustle and bustle of the Las Vegas Strip is a culinary hideaway, Tuscany Suites. With unique, sophisticated flavors and exceptional customer service, Tuscany is winning over the hearts and taste buds of locals and tourists.
The resort features five dining establishments and lounges, each different from the next, catering to a range of tastes and foodie desires, delectable enough to keep even the most discriminating palettes satisfied throughout the day.
Start your morning at Caffé Bottega, a casual Italian-style café that features fresh-baked pastries, tasty breakfast sandwiches and Stumptown Coffee Roasters coffee. For lunch, kick back and grab a beer at PUB 365, known for its collection of more than 365 beers and a menu of traditional pub fare with a modern spin. Lavish in the luxury of Las Vegas with dinner at Tuscany Gardens, an award-winning fine dining Italian restaurant. Grab a drink at Piazza Lounge before a night out on the town, and when you return, Marilyn's Café will be open, serving late-night specials.
Between these food and drink options, Tuscany Suites offers hundreds of menu items. It was difficult narrowing it down, but below are my top five must-try food and drink gems.
1.) Stumptown Cold Brew at Caffé Bottega
Stumptown Coffee Co. hails from Oregon, but luckily, you can find it right here inside Tuscany Suites. Smooth and flavorful, Stumptown knows how to roast coffee beans to perfection. Looking for a nice, crisp cold brew to cool you down in the summer months? Look no further than Caffé Bottega featuring nitro cold brew on tap.
2.) Unicorn Burger at PUB 365
Unicorns are on trend in the food industry, many of them featuring sweet treats with rainbow colors. Our Unicorn Burger isn't rainbow colored, but it is still Instagram-worthy. Packed full of flavor between the Tabasco pickles and beer-battered onion rings, this is a unicorn desperate to be found.
3.) All-you-can-eat crab legs at Marilyn's Café
Las Vegas can be known for over-the-top extravagance, but it is also known for a destination with great deals. One of the best deals in town happens every Friday night at Marilyn's Café, all-you-can-eat crab legs.
4.) Osso Bucco at Tuscany Gardens
Osso Bucco is the house specialty at Tuscany Gardens that translates from Italian to "bone with a hole." The meaty, bone-in veal shanks are accompanied by fettuccine with a rich sauce created by the hourslong red wine braise. The meal gets its name from the best part of the dish, the luscious marrow inside the bone.
5.) Tuscan Mule at Piazza Lounge
Piazza Lounge puts an Italian twist on a traditional Moscow Mule by adding limoncello. The result is bold, crisp and refreshing. The Tuscan Mule is perfect to enjoy lounging by the pool or dancing to the nightly entertainment at Piazza Lounge.
Those five food and beverage gems are just a sampling of what Tuscany Suites offers. Day or night, causal or elegant, the resort has something for everyone.
Visit Tuscany Suites on 255 E. Flamingo Road and follow on Facebook, Twitter and Instagram to find more hidden food gems.