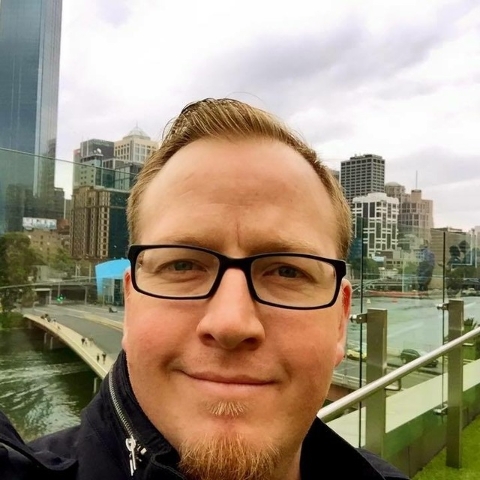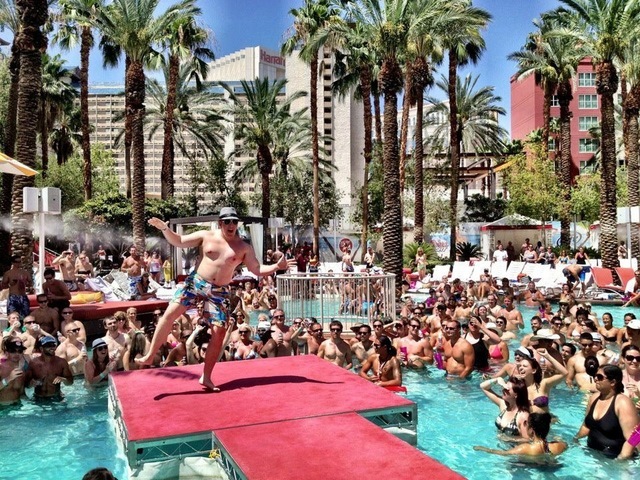 Editor's Note: Today, Robin Leach continues his Italian travels witnessing the still-exploding volcano on the island of Stromboli just off the north coast of Sicily, but two Las Vegas shows are making their own explosions nightly on the Strip. As ABSINTHE reportedly winds down its run at Caesars Palace before moving to a new home, it's normally The Gazillionaire who makes the outrageous headlines.
But Robin wanted to turn the spotlight on somebody in the show who is perhaps even wilder and more unpredictable: Meet Paul Lopez, who while overweight still shocks stripping down to his G-string after defying death on the high wire. We also have Tim Smith, the artistic director from Cirque du Soleil's first Las Vegas show, MYSTERE, still going strong after 23 years. Here's Paul to extol the virtues of his zany Fat Frank character:
By Paul Lopez
It's not easy being Fat Frank, the most desired male exotic dancer in the hit show ABSINTHE at Caesars Palace. When ABSINTHE's producer, The Gazillionaire, asked the boys and me to come to Las Vegas, how could I resist? As a founding member of The Frat Pack, it takes a lot of hard work, lots of drinking, partying, oh, and an ability to walk a high wire, literally.
After our fabulous opening here at Caesars five years ago, it was clear that I was the most-sought-after male exotic dancer in Las Vegas. I considered THUNDER FROM DOWN UNDER, CHIPPENDALES and most recently had to tell Channing Tatum to leave me alone about his new show, MAGIC MIKE. Nice guys, but none of those places let you drink while you work.
No, ABSINTHE, would be my forever home where we get to do shots and crazy frat tricks on the high wire while looking down at the abundance of cleavage Las Vegas has to offer. Heaven.
Now all the other dancers in town are great with their chiseled abs, large pectorals and tight buttocks, but they're a dime a dozen. Like my name says, I'm fat and know how to really wow the women and gents with my jiggle as I run around the ABSINTHE tent in my lime-green G-String.
So let's get Fat Frank fit! Mornings start at the break of noon, with eyes still red from last night. You will need to finish the drink you left on the nightstand. Coffee is advised, but only if you have enough Kahlua or Bailey's. Try to figure out what party you passed out at, and it's time to start the day.
Get the valet to bring up your black '67 Impala and head home in your dirty, half-open tux, but do the walk of shame in style. Drive like it's the opening to a movie or the triumphant end to THE HANGOVER. Get home, greet your dog, and, with or without removing clothing, hop in the pool, and you will be ready for the day.
After a shower and shave, the afternoon is young, and it's time to meet the rest of The Frat Pack for breakfast or lunch, or, as you would could call it, an early dinner. Call up our buddy Gordon Ramsay and have him fire up the grill for three hungry acrobats and try not to make him mad. Here's the real trick: Eat anything you want, and be sure to finish it. My father always said, "Take all you want, but eat all you take!"
When you're as full as full can be, you are ready, and those martinis won't drink themselves. It's time to head to The Gazillionaire's mansion with a view of the Strip to listen to him complain about everybody and everything and laugh a lot. Try not to let Joy Jenkins trap you in her guest room, and you'll be safe from being annoyed to death. Now thoroughly tipsy, we head back to Caesars to get ready for ABSINTHE.
After fielding another phone call from Mr. Channing Tatum begging to take over as Fat Frank (he just doesn't have the body or moves like I do), we arrive at Caesars properly sloshed. Then we hang in The Gazillionaire's extravagant dressing room listening to Sinatra and Sammy Davis Jr. albums while all the beauties of the Strip try to land this hot hunk. Occasionally, Elton or Celine will appear, but mostly it's celebs like Ms. Melody Sweets, journalists and Gaz Groupies, as I call them … Robin Leach, of course.
It's funny how a dare can make you do anything. Back in our college years, The Gazillionaire would dare The Frat Pack to do ridiculous stunts. One drunken night, he dared us to walk across a wire from his mansion to his guest house. We did it — and with style!
With that, The Frat Pack high-wire act was born. When he decided to move to Las Vegas and waste money on a show, well, I knew that he would need us to close the show with our wire antics. But I made him promise that we could keep drinking, even on the wire, to which he obliged with a, "Meh, who cares, do whatever you want."
Always having been a full-figured guy, I knew that the only way to make the show a success was to show off my goods and strip for the masses. I ordered G-Strings from Tom Gunn, had them bedazzled, and bam! Fat Frank became the most-sought-after male exotic dancer, who happens to walk a wire, on the Las Vegas Strip. And the rest is, as they say, ABSINTHE history!
Be sure to check out our other guest columnist today, Tim Smith from Cirque du Soleil's MYSTERE at Treasure Island. MYSTERE is the first Cirque headliner show on the Strip and is still going strong after an amazing 23 years.