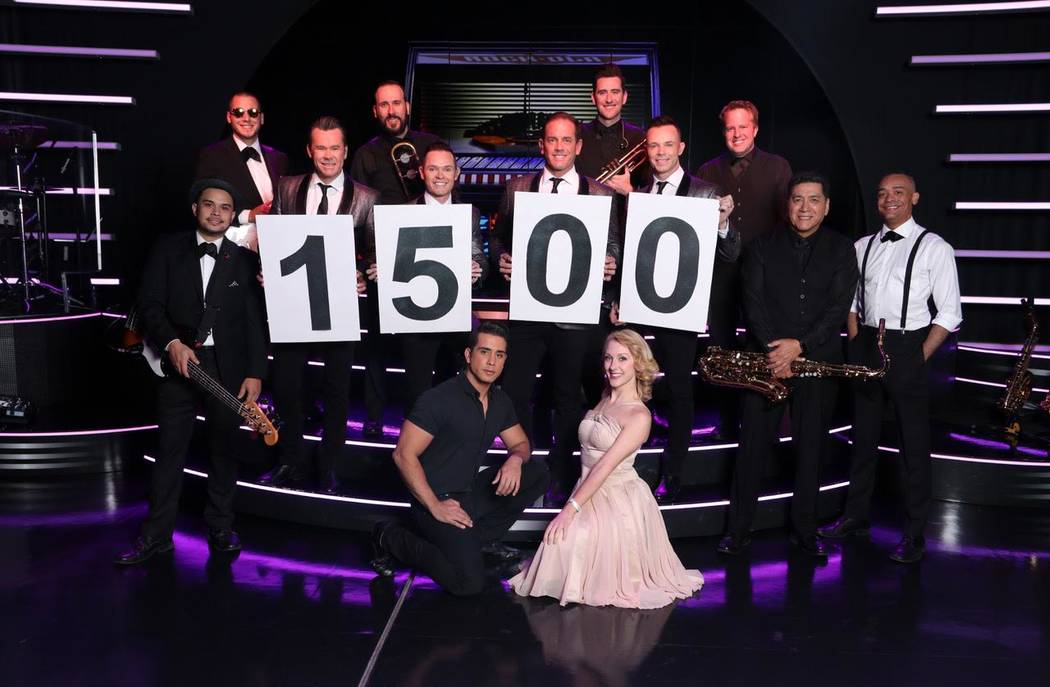 Take four schoolmates from nearly 8,000 miles away in Australia and set them down on the Las Vegas Strip as relative unknowns, and the odds are stacked against them in their bid of hoped-for showbiz stardom. Add the fact that they are Down Under exports who sing Motown-style music, and critics would say that they should have stayed in Sydney and not departed for Detroit.
But eight years and 1,500 shows later, the four men who make up Human Nature have proved everybody wrong and defied all the odds and are now about to make a leap forward to become household names in America. This week they tape their first U.S. TV special at The Venetian Theater steps away from their Sands Showroom home.
Show times are 8 p.m. Tuesday and 3 and 7 p.m. Wednesday. They would love their Las Vegas fans and supporters to attend the free taping as a thank you for their success as they share their favorite "Jukebox" songs. Email rsvp@spientertainment.com for seats, and you'll get a confirmation that sets an arrival time of 45 minutes before cameras roll.
Singer Michael Tierney sat down with me to talk candidly about their "impossible dream and journey" to sold-out performances and the dreadful opening night in Las Vegas when they sold just 15 tickets.
Did you ever think you would last for 1,500 shows?
No! At the time when we started eight years ago when we came over here to start at Imperial Palace, it was the middle of the financial crisis, the housing crisis, and everyone said, "It was probably the worst time you could choose to start a show." It was in the middle of summer. It started small. I think our first show, we had like 15 tickets sold.
We didn't come out of the gates with sold-out houses or anything like that. We just had a lot of belief in ourselves. We felt like we had a great show. We just stuck at it, and the biggest thing for us was great word-of-mouth on our show. Then it just built over that first year. We didn't know, when we moved from Australia, we thought we could be here for a couple of months.
We thought we'd give it a shot. That was our biggest gamble. We don't go out in the tables, but we definitely put it all out there, moving over here and putting our show on. It's pretty great to do 1,500 shows down the line. We really feel very, very lucky, and it's great to be a part of the Las Vegas community.
What made a group of boys from Australia dare think you could make it in Las Vegas? Why the heck did you decide to come to America in the first place?
We've been always very ambitious from kids, and we've set goals as we've gone along. It was just fun to begin with — we set ourselves a goal to get a record deal. That was the first thing. We got our deal and released a record that was a huge success for us with Motown songs. The Motown record was the biggest-selling record of our career in Australia.
Out of that, we put a show together. We modeled it on an old-school Motown revue. We wanted to dress how their male groups dressed in the tuxes and all that stuff in there. It became a show in and of itself. The shows we'd done before were just more pop culture, but this was a very different kind of show.
Billy Cross, who brought Thunder From Down Under to Las Vegas, saw the show and said, "You guys could really work in Las Vegas with this show." That put the seed in our heads, and we kept chasing that. Adam Steck looked for showrooms for us. It was literally a few years until something became available.
We just had a feeling that if we got that opportunity, then we should take it. If the room becomes available, and we get the chance, then we should go for it. We all met with our families, and they agreed with our decision. Finally, the room opened up at Imperial Palace.
We all sat down and said, "Look, is this something we all really want to do? Because it's a big commitment. Not just from us, but from our families and everyone involved." We thought, "You know, let's give it a shot."
We'd reached a level in Australia where we it felt like we were treading the same ground. We'd had hit records. We'd toured. We wanted something new to push us, and a new opportunity, and we just thought we'd give it a shot in Las Vegas.
What was the interval of time between jumping on a plane and finding stardom?
I think that we're still chasing stardom. We made back the money that we had to put up to start the show in about six months, and we thought, "OK, well there's something here that we've really got. We've got something special here." Only then did we feel it was worth sticking at it.
Then when we moved to The Venetian, it felt a lot like, "OK, we're headliners now." That cemented it for us. We're on one of the best properties on the Strip, and we have the opportunity to be in a major showroom. That's when, for the first time, we thought, "OK, we can call ourselves Las Vegas headliners."
Was there ever a point in that first six months that any of you said, "We've made the worst decision of our lives." What did you think that first night when you'd sold 15 tickets?
It was a little scary. There were often nights … I think everyone still has moments and days where they think, "Oh, am I doing the right thing here? Is this the … should we be doing something else?" I guess Las Vegas is a very up-and-down kind of town. Some days are great; some days are not so great.
You've just got to ride that wave and have a belief in yourself that, "OK, we are doing something great, and people are really enjoying what we're doing." So no matter if there are 15 tickets sold or 500 tickets sold, you've got to just dig deep and have that belief in yourself.
You were a known quantity in Australia. You were relative unknowns when you arrived here. Nobody knew who you were.
Definitely. We had no real name recognition. We owe a lot to Smokey Robinson, who after hearing us perform in a studio in Los Angeles agreed to put his name to the show. We felt that we needed something a bit more than just the Motown brand, or our name, because it didn't hold up, as you said — no recognition.
I think that having Smokey there, being a great spokesman for us, and also he loved what we were doing with that music, so it was really fantastic. That gave us a lot of credibility with people coming to town, saying, "Well, what are these Aussie guys doing Motown? Why do I want to see that?"
Then Smokey's name was attached to it, and they thought, "Well, if he thinks they're good, then I'll give it a shot." He's still a great supporter and a great, fantastic guy, as well.
You've defied all the odds — overcome them and won!
I guess so! In the time we've been here, we've seen a lot of shows open and close. The more time that goes by, it makes us look back when we started and how we built up the show here. Cirque du Soleil has even had shows that have opened and closed. Even when you've got an incredible amount of backing, it's not always guaranteed that things are going to work.
We definitely defied the odds by making something stick and being still here on the Strip eight years later and still having crowds up on their feet having a great time. We really pinch ourselves that we're able to have this opportunity of being on the Las Vegas Strip. It's fantastic.
What goals are left that you originally came with that you'd still like to achieve?
We're always striving to achieve just to become a bigger name in America. We're well known here in Las Vegas now, but in America it's such a big place, it's really hard to become one of those household names. We're always striving to try and get a bigger profile for ourselves across the country.
We want to go out and do some shows outside Las Vegas, as it brings people into town when you do shows outside Las Vegas. It's a great way to promote yourself outside the Strip. We'd like to get that done, and the new TV special will really help that new goal we've set.
We've still got a great fan base in Australia. We love going back there, and we're still selling music. We're still making records and releasing them in Australia. We've still got that side of what we do, as well, and we love that. We'd love to get a record that is released across America, as well. That's another goal.
Are you more American now than Australian? Or are you still Australian?
We'll always be Australian. You can't take that out of us, but I think we've come to appreciate moving here and the lifestyle that we've got here in America. We all enjoy our lives over here in America. That doesn't mean we don't miss Australia.
It'll always be home to us, but Las Vegas has definitely become our home away from home. We get a lot of love from locals here in Las Vegas who bring people who come to town to the show. It's great that we have support from the local community.
Did it turn out to be the best decision you ever made?
Yeah, I think so! For us, for our career and something that we look back on now. It actually has built our career even further in Australia. The fact that we moved out of the country and made a name for ourselves in Las Vegas is a great story back there.
Every time we go back, people are really happy to see us, and they love to come out and see the shows because they want to see what all the fuss is about, how we made a name for ourselves in America. On both sides of the pond, it's been great. It's given us a new lease on life, really I guess, for our careers, but it also has been a lot of hard work.
We've probably never done shows so regularly and so often. I think that was a big shock to us, when we first came over here, doing six nights a week, and it's like, "Wow, this is full on." But we've gotten into a rhythm now, and it's great.
We feel very proud of what we've achieved. It's great to have everyone's support, as well. We've just had a lot of great support from the Las Vegas community. We're very lucky.