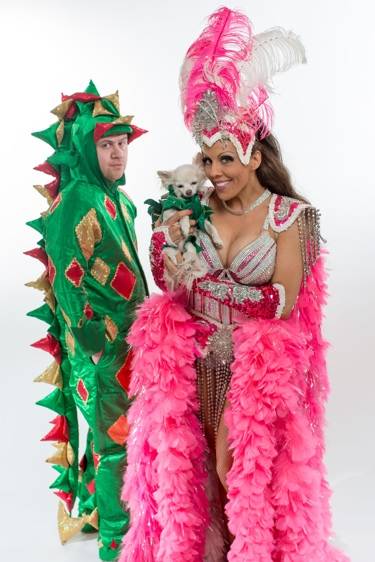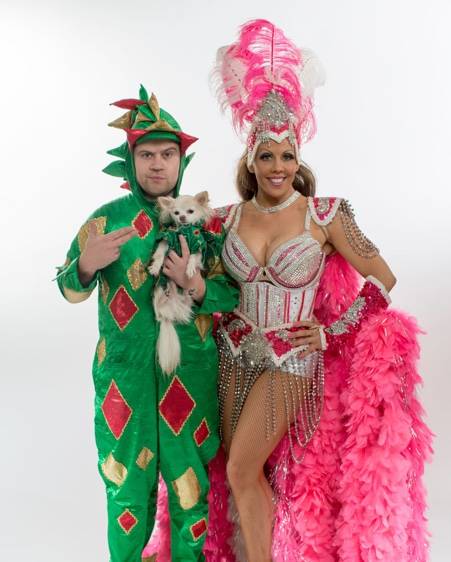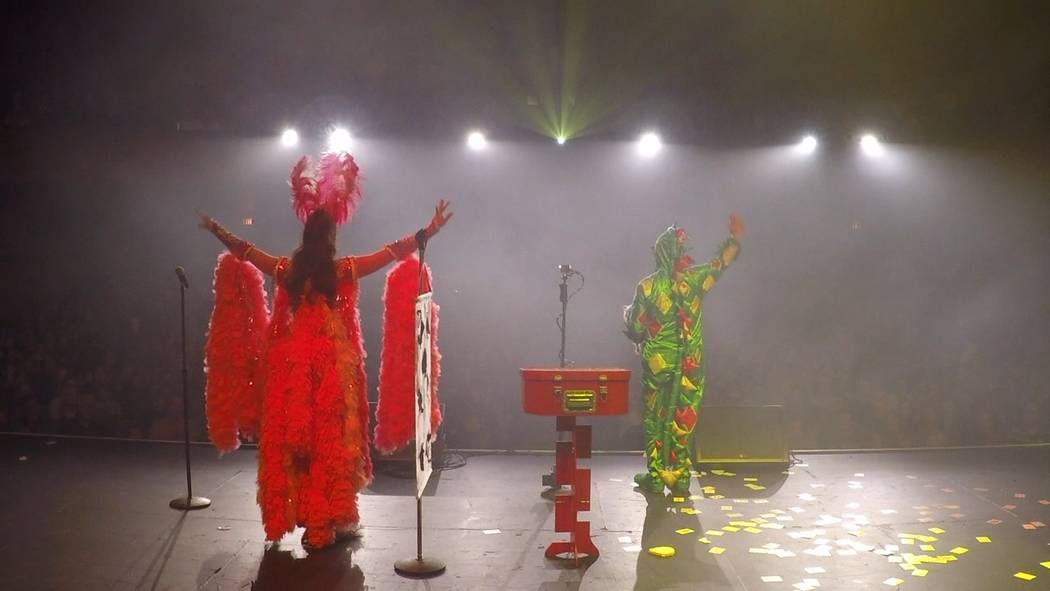 EDITOR'S NOTE: It's that time of the year again when Robin takes off for his monthlong family trip to Europe. He's already visited Athens and Santorini in Greece and has spent the week in the beautiful Cinque Terre area of Liguria, Italy Now, he's headed south to explore the delights of Tuscany from a tiny village between Cortona and Montepulciano where Frances Mayes wrote her best-selling book "Under the Tuscan Sun," which went on to become an all-time favorite movie starring Diane Lane.
In his absence, a great number of showbiz entertainers, celebrity VIPs, chefs, restaurateurs and our Vegas dignitaries have stepped forward to write their guest columns. Today, the spotlight falls on two entertainers with perhaps the most unusual approaches to entertainment on the Strip. Elsewhere you'll read about David O'Mer, known as the bathtub boy from Absinthe at Caesars Palace but now, we welcome Jade Simone who plays second fiddle nightly to Piff the Magic Dragon at his Flamingo show.
Jade is the showgirl sidekick who not only does the splits nightly but keeps a to-do list for the Dragon!
…….
"Miss Jade Simone! One of the last showgirls left in Las Vegas…" is how Piff the Magic Dragon describes me each night, as I leap into the air and land in the jump splits. "It looks like a chicken exploded," he adds, as I exit trailing feathers.
I have been the assistant to the grumpiest dragon in show business for nearly two years now, performing all over the world but, most importantly, at the Flamingo. Every night I glam up true showgirl style, with enough rhinestones to light up the whole of Las Vegas should there ever be a power cut, and glide out on a pair of fabulous Swarovski-covered, 6-inch heels. After all, Sin City deserves nothing less.
Assisting with the magic tricks onstage is the easy part. The real work is making sure the diva of the show is fed, happy and ready to dazzle. I'm talking about Mr. Piffles, of course, the World's First Magic Performing Chihuahua. My duties consist of petting, preening, and parading him on his daily walk in the dog park at the Flamingo (the most pet-friendly hotel on the Strip). Appearances are everything, of course, so even when I pick up his deposits I make sure I do so with nothing less than total elegance, grace and poise
My path to dragon duty was long and winding. My childhood was filled with music. My dad was a touring jazz drummer, playing Vegas and rolling in the circles of Buddy Rich and Charlie Parker. My own training began when I was accepted into Arts Magnet High School for the Performing Arts in Dallas, Texas. Four intense years of dance, music and theater, it was just like the movie "Fame," but I spent most of my time cleaning tables rather than dancing on them.
After that, I hit the world doing what I love most, performing onstage, until my life changed when a burlesque artist asked me to choreograph a dance number for a contest. As I watched her take home the trophy, a light bulb went off. Wait, I can take all my training, create my own costumes and be anyone I wanted? I dived in, found my calling and landed an agent.
During my career, I won numerous dance titles including the prestigious Miss Nude World. I toured the world and got to work with amazing artists like Tempest Storm, Dita Von Teese and Catherine Delish. But one dream remained unfulfilled throughout the years: to play Radio City Music Hall.
Cut to The Orleans hotel-casino. I was about to perform and waiting in the wings as a sarcastic English lizard teased and tormented the audience. Little did I know that just a few months later I would walk out on that historic New York stage in the finals of "America's Got Talent," and finally get to check it off my bucket list.
Piff didn't win, but America embraced him anyway, and if there is one thing Las Vegas loves more than a winner, it's a loser. He opened his own show at the Flamingo just two months later and asked me to combine my love of dance, comedy and dazzling costuming and be his assistant. I could never have predicted how things would turn out, but I guess that's what makes life great isn't it?