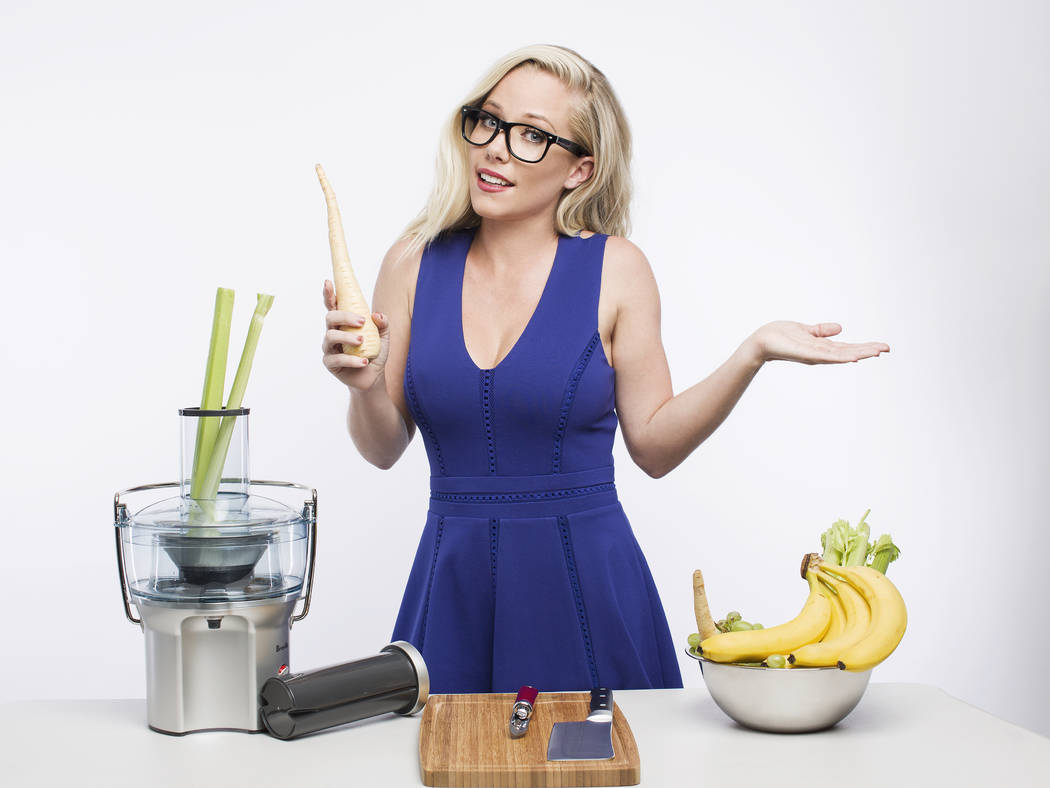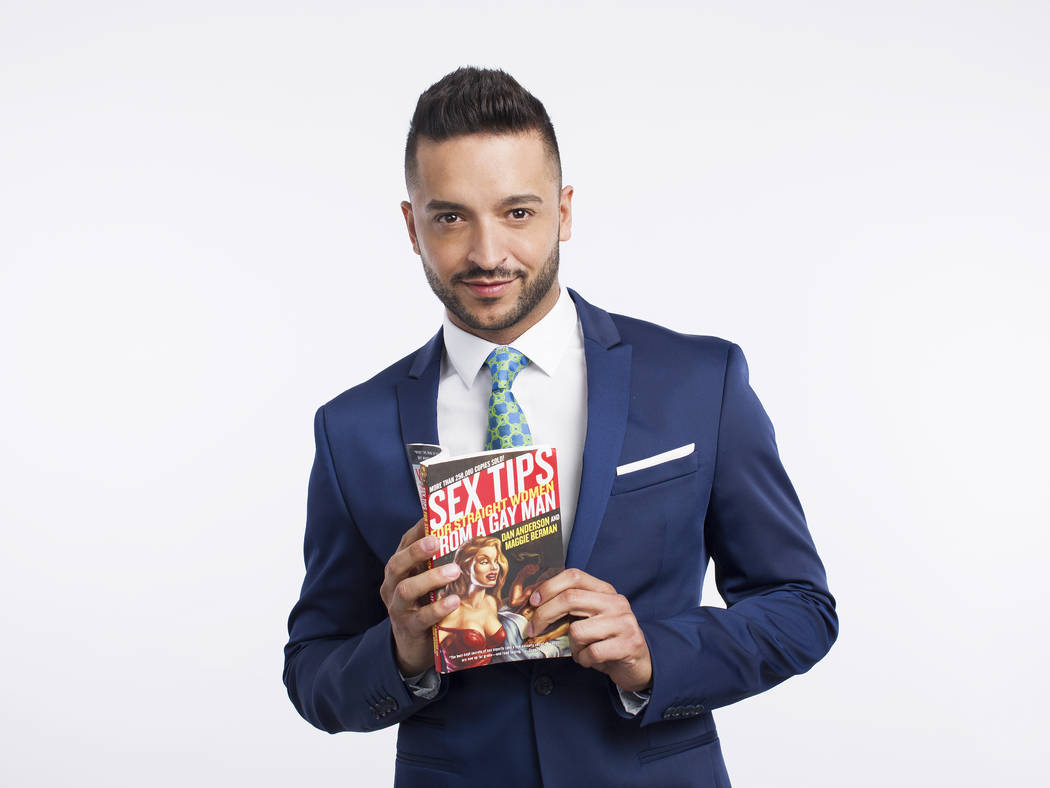 No topic is taboo when you learn about the "taint" spot in "Sex Tips for Straight Women From a Gay Man." The laugh-out-loud hilarious and wild show celebrated its official grand opening Thursday night at Paris Las Vegas.
Although it's a romantic comedy where former Playboy Playmate Kendra Wilkinson ("Kendra on Top") sheds her clothes in a speedy dance sequence at the end of the show, you can really learn a few bedroom secrets to make you blush.
These truly are insider tips for the sexual awakening for the librarian Robyn played brilliantly by Kendra in her live-acting debut. I talked with Kendra and onstage partner Jai Rodriguez ("Queer Eye for the Straight Guy") before curtain up on their first night of previews:
Kendra: I'm actually over my nerves, but there were still butterflies in my stomach. I thought I'd have to rush to the bathroom at least 15 times, and there were moments of being nauseous. I'm feeling very confident and having a lot of fun. The rehearsals took all the energy out of me for me to even feel nervous.
Jai: I think I even offered up "Nerve Tips." It's this live element, the element of the fourth character in the show being the audience. I have really no idea what is going to come out of people's mouths when they bring them up onstage and suddenly what they say dictates a bit of the course of the evening.
Kendra: We worked with Denise Faye. We had two days of coming up with a dance for the end. We just added a new dance to the end of the Las Vegas show, a surprise, because this is new to the brand of the show. We had two days of practice to put it all together, and that made me a little nervous because this is a full-on "Dancing With the Stars"-type of routine at the end.
Jai: We have a heartthrob, Michael Milton, in the show who plays Stefan. My character helps facilitate them getting together. In the New York company, at the end of the show, it's basically for the ladies. They get to see somewhat "The Full Monty" with Michael's character. But in this production, because we have the gorgeous Kendra … well, what an opportunity to seem them consummate their moment, if you will, in a really tasteful, beautiful way.
Kendra: It all comes off.
Jai: It's sexy burlesque-y. Not all, but most, enough for the audience to enjoy it. Kendra and I, this is our first time doing the show. That part, for sure, gives the audience … if you were walking in to see Kendra and you were sad you got Robyn, her character at the top of the show, then, by the end of the show, you're going to get the Kendra you came for, as she likes to say.
Kendra: Now that we have this sexy dance at the end, I wonder if he gets turned on?
Jai: My goal is to be turned on. Yes! We're doing method acting ourselves.
I want to ask two different viewpoints of the tips. I'm going to ask you if it's educational and informative, or is it more scandalous and shocking. Jai?
Jai: For me, I think the show is subversive in its education. I'm literally giving you tips on how to physicalize the sexual things I'm telling you about. Or improve let's say first base, second base and home-run skills.
It's done in such a funny way that even though I'm saying the literal way, it's done with this filter of comedy so that you're laughing through it. But to your neighbor, you're like, "Oh my God, that is so right." Because sex is the one thing everyone is doing but very few people are talking about as honestly as we do.
Kendra: It actually educated me with the whole … if you've been in a long-term relationship, these are ways to spice up your relationship. It actually is very educational for me to listen, it really is. Going into your question, it all flows together.
Jai: I blushed. I was embarrassed. Not embarrassed, but you're not used to hearing about this content sitting this close to someone you don't know in a theater.
Kendra: For long-term relationships, it's educational, but the tip that comes along with the long-term relationship advice, that's where it becomes uncomfortable a little bit to me. I'm like, "Wow, this is a little bit risque." That would be tickling the taint.
Jai: It's a male body part.
Kendra: So for me it's educational. I'm like, "What?"
Jai: The author of the book, not the playwright, he co-wrote this with his female best friend based on the number of times she'd come to him about a failed sexual encounter, and she was like, "Well, that didn't go well." As a man with that genitalia, he was like, "Oh, it's because X, Y and Z should have happened."
Together with a gay man's perspective and a straight woman's perspective, they came together to write this guide for straight women. I think that is the miracle of it all. Yes, it's from the gay man's point-of-view, but it could have as easily been done with a gay man and a straight woman.
For the play purpose, it's just the gay man, but I think that's what he knows about it. Just hearing about it. Also, don't forget, we had to go to prom with them. We lost our virginity to them. You know how it goes. Straight women, that is.
Kendra: For a straight woman, I think it would just be really, really weird if a straight man were to tell us these sex tips. They would just read as perverted versus a gay man.
Jai: We talk about sex all the time, and it's easier for us, I think.
Kendra: We do secretly need these tips, but to ask a straight man, it's like, "Yeah, just get on your knees and … right?" But with a gay man, he's very detailed, and what I really need to do to feel good about it while doing it. It is about the woman.
It's about the woman having a good experience with the man, not just all about the man. It's about the woman having fun with it and believing in herself and having the confidence to turn a straight guy on. We do have an undeniable sexual chemistry.
Kendra, did your husband, (former NFL player) Hank Baskett, you've been married nine years, come to see the show?
He'll be watching opening night. My goal is for them to show Hank what he needs to do to me, to spice things up. We're nine years in, I mean, so that's what I've been telling him. Show Hank what he needs to do.
Maybe they should put Kendra's notes in the program? The problem in relationships is that you become comfortable like an old pair of shoes. You are a mother of a baby, and all the courting is gone.
Kendra: It's still there in both, but you just lose touch together. But it's still there. It is just being able to wake it up again. It really is, it's about waking it up again and finding that connection again.
Jai: I think it's universal. Gay guys have the same problem. You can fall into any kind of sex death regardless of gender. The bigger issue is making sex a priority in a relationship and finding the time to find those sexual moments because you're always going to be tired. You'll always have the kids. You're always going to be overworked.
Do you use the headache tonight excuse?
Jai: What's our good one? I'm sore from the gym.
Kendra: Well now that we're all working closely together, we're all in the same cycle. At the end with the new dance, it's pretty much what you call the happy ending. I'm in my character of Robyn throughout the whole show. But at the happy ending, you will see Kendra, Playboy Kendra. There is a moment. It's evolution.
Jai: Kendra has been very open with showing her beautiful body and very sex positive, but her character maybe isn't so comfortable, right? It's interesting; you've just talked to me about how women are having their moment.
Kendra: You know in my eyes, gay men, when they come out of the close, it's a celebration. It's time to celebrate. It's time to live free, right? As a woman, do we ever really find that time in life, that feeling in life where we get to celebrate our sexuality and have fun with that ourselves? Without shame or judgment?
I don't think that we are there yet, but I think that we're getting there. I think most women who I know, who I'm around in my community, moms, they are Robyn to begin with in this play. They are Robyn, then we end with what should happen.
Jai: Straight men can be promiscuous, and we label them studs. He's a real Romeo or Casanova. We coin these really beautiful, romantic terms for them, right? Then for a woman, even her actions, the way she dresses, can dictate behavior that she may not even do.
Kendra: I give a lot of credit to my inspiration when it comes to all this: Amber Rose. Amber Rose is an inspiration to me. She's on TV, she is a feminist, she is strong, a woman in power, positive. She gave us Kanye West. She was the girl.
She has this Slut Walk that she does every year. I was a part of it last time around, and it was so beautiful and amazing. It's a message that needs to come across very strongly right now. The message behind it is so powerful. I think this movement with women, this Las Vegas show is perfect timing to add into the mix.
Does the show work better in Las Vegas because of what people perceive Las Vegas to be than it did in New York?
Jai: I think it will. How could this have not been a Las Vegas show? It's lighthearted. You can have a senior couple having just as a good a time as a couple in their 20s because it is a universal subject. The show thrives via the audience participation.
My character picks people from all different age groups because I think it's very unifying, the topics, whether it is love, relationships or just the messes between the two of them. It's funny. It's not scripted. I know what has to occur based on the responses.
I have to ad lib in the moment for it to be cute, much the way Wayne Brady is on the fly in those moments. I have to do that, then take that and bring it back to the script. I can't go too far away; the show is about 85 percent scripted.
Kendra, you're learning. Jai, you're teaching. Have you learned anything as a result of what she's learned?
Jai: Part of it would be she is, I think, a key demographic for the show. She's a beautiful woman, she's a wife, and she's a mother of two. She has a busy schedule. She's a working mom and trying to fit in that time.
When she started learning the script, she admitted that she would run the scenes with her husband, and they would make it a couple of pages before the clothes were off when you get to that comfortable pair of shoes place to remember what it was about your partner that you thought was sexy the first time.
Kendra: Yes. I'm literally when I am running this script with Hank, I'm thinking about, "Have I been doing it wrong with my hands this whole time? Hank, get over here, I need to see." So it makes it fun. It's a fun thing.
Jai: I would say 90 percent of the couples who see the show will make whoopee that night. That's our tagline! I love whoopee. Our mission is 90 percent success. Let Jai and Kendra take you to bed tonight. It's cheaper than Viagra.
I think its goal was meant to be educational, but something about it … the show itself stops for laughter because it's so wildly funny. The education is layered with so much comedy that it's subversive.
Kendra: It's funny, charming, all of it. If I were to rate it, I would rate it PG-13. It's not X-rated. There are no swear words. There's no bad language. We barely get naked. Everybody can enjoy it. Everybody. I'm so glad that I'm doing this. … I'm in love with the process, in love with acting, in love with the challenge. I'm not Kendra right now; I'm a character.
Other than going off to make whoopee, is there anything else that you want the audience to go away thinking or realizing or knowing?
Jai: For me you go and have this communal experience. You look around the room, and it's a really diverse group who maybe you wouldn't have been with that close talking about these intimate topics ever before. And the things we talk about, yes, they're funny. Yes, they're educational. But the underlying message is really about authenticity.
It is really about being yourself. At the core of that is what is most sexy, that's most true, that's generally what will get you the furthest in whatever you're pursuing. I think the show's real message is about staying true to who you are, embracing and loving that, and that being the sexiest piece of it all.
Kendra: I really hope people take Robyn's message home with them. Where covering up your feelings, covering up your true feelings and the way you feel and the passion that you feel, release that. Open yourself up, and don't be afraid to explore.
What have you learned from the show?
Kendra: I have learned that I have a whole other side to me that I have never explored before until now. That's being an actor, playing a character and having fun with it and just exploring the acting role. I actually have confidence right now, which I didn't have a week ago. I'm having a lot of fun with it.
Honestly, I never understood because I had never done this before. It is art; it's a form of art. It's a lot of hard work. I'm practicing my character so much, I'm actually becoming my character. And I'm actually believing in my character. I'm exploring a side of me that I never thought I had. I'm very, very, very blessed and thankful to have this opportunity to do that.
Jai: I feel being a man about the world, I feel pretty cultured. I feel like I've kind of seen and heard it all. I think that the thing about this show that I find most interesting, just watching it and being a part of it, is people are very bashful about certain subjects. The things we do behind closed doors tend to stay there. It's barbershop talk, salon talk when the ladies are by themselves.
But when you mix the sexes and you have these conversations in an open forum where they're forced to talk about these honest truths, sometimes educational and serious topics, there is such comedy to be had. You can say and do anything as long as you filter through comedy.
There is something really binding about that I think is more lasting than if I were to take all the comedy out and just tell you the tips. I think that comedy is the one thing that unites us all, removes all our differences, and, for that 75 minutes we spend with the audience, we all have found common ground.
You've told me now individually what you've learned from it. What is the audience going to learn?
Jai: I hope that they take away just getting out of their own way when it comes to things that challenge, frighten or scare them. Specifically the bedroom, but that they just let their defenses down and lean into the exploration of all things fun. Be their authentic self.
Kendra: I really hope the audience starts and ends this journey with me. I hope they become and feel who Robyn is to begin with and how she ends, where she ends. I hope that people understand and get to be on this magical journey with me because it's a very empowering journey.