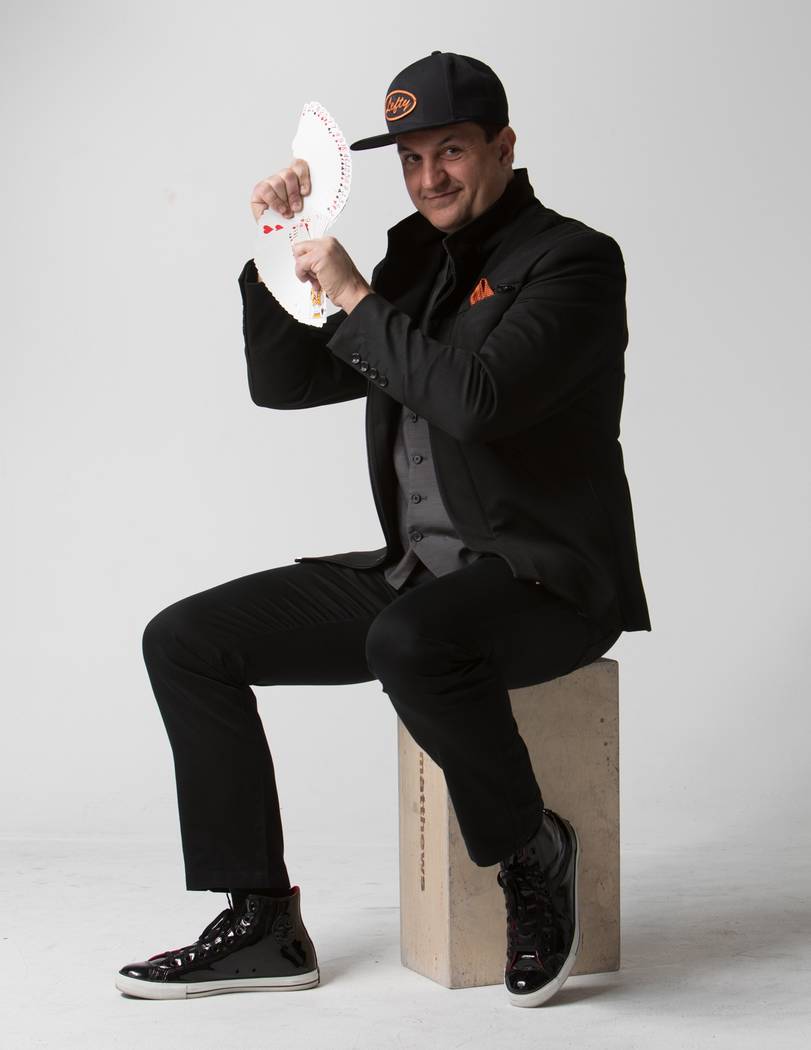 He's an unsung hero to the Las Vegas showbiz community — and often jokingly referred to as a production doctor. His eyes catch what others miss and he knows how to turn the negative into the positive.
Incredibly Doug Leferovich is also a performer in his own right. Not just appearing in one show as a co-star but simultaneously also as a guest star in another. He's as comfortable appearing as the comedian in the "Fantasy" topless revue at the Luxor as he is pulling strings (not G-strings) at the rival "Sexxy" burlesque production at the Westgate.
As a show doctor he stands out in Vegas as an executive in a suit while as a performer he's just as at ease in a workman's overall complete with broom in hand to sweep-up at celebrity magician Murray Sawchuck's Planet Hollywood residency.
Here. in his own words is how he juggles the demands of his unusual Vegas career.
……
For the past five years, I have had the opportunity to be the guest act in the "Murray: Celebrity Magician" show at Planet Hollywood. And, during the last six months, I have had the privilege of also being the fill-in for the comedian spot in "Fantasy" at Luxor.
Murray's afternoon show is family-friendly, and as he likes to say, "good for everyone between 8 and 80 years old." My character, Lefty, is very happy-go-lucky with facial expressions a bit over the top because he is a silent performer. I pull a young lady out of the audience for one of my routines, and my character innocently flirts with her and my character seems just as memorized by the magic as she is.
My signature card manipulation is similar in vein, while I make playing cards appear and disappear. Once again, my character, Lefty, seems to be equally in awe as is the audience. For my closing effect, I perform a routine in which I float a silver ball in and out of reach. At some points it looks as if the silver ball, rather than myself, is in control as I follow it around the stage.
Having the opportunity to fill in for the hilarious Sean E. Cooper on his day off in "Fantasy" has been a dream come true. I've always wanted to perform a spot in a late-night topless show, and Anita Mann, the producer of "Fantasy," has given me this chance. In our initial meeting, Anita Mann liked the fact that much of my comedy and magic was visual, which works particularly well for an international audience.
One requirement for the comedian spot is to give away a "Fantasy" calendar. This meant changing my audience participation trick to bringing up a guy on stage and talking and joking on the mic with him before performing the trick. Then I changed the song to a more up-beat vibe to keep the audience's energy high. While I am performing the trick, I focus on the guy as I fool him with my eyes saying, "not as easy as it looks."
Since the audience has come to see the beautiful showgirls, I need to be a bit more assertive in my approach and more in control on the way I present the magic as opposed to during the day performance when I can pretend to be equally in awe of the magic. For example, when I rip off my jumpsuit during the day, after I do a "Magic Mike-" type dance, I smile an almost embarrassed smile.
However, at night in Fantasy," after the dance, I point to a girl sitting in the front row and put my hand up to my mouth and ear and mime for her to "call me." I repeat this contrasting behavior with the floating ball routine. In "Fantasy" I am showcasing my talent as a sleight-of-hand artist showing that, after 30 years of performing this trick, the silver ball is under my control floating wherever I direct it.
It has been a fun challenge to do similar routines for all ages during the day and then for a crowd 18 and over at night. How cool it is to see that making small changes here and there can adapt a routine for both a show during the day and at night.
To the untrained eye, the performances might look very similar, but to a seasoned show business professional, the changes I have made are as different as night and day."