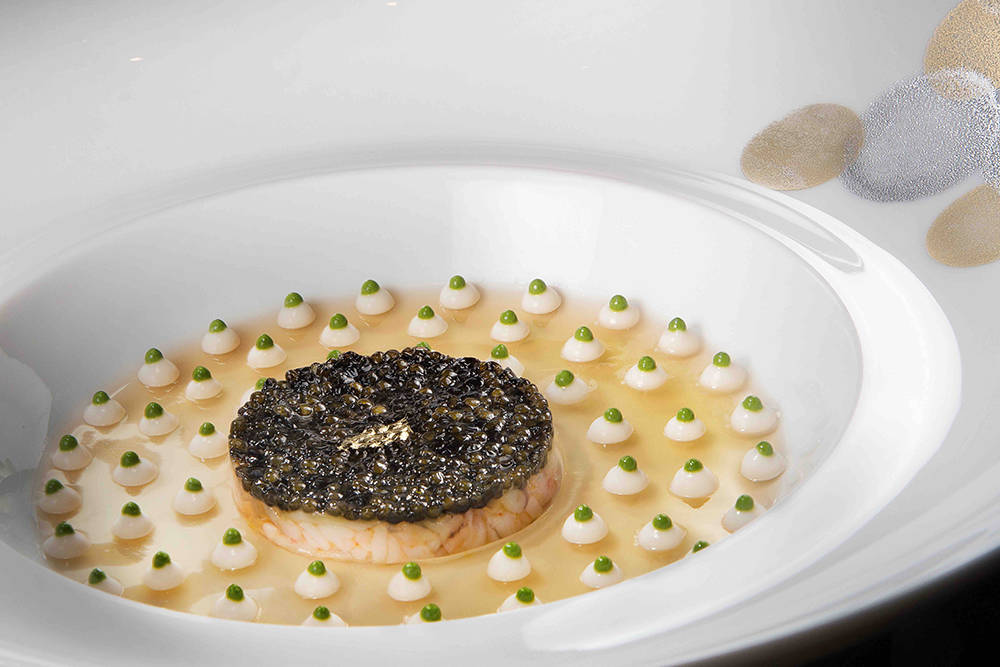 It's Chef's Week here at Celebrity Insider: our salute to some of the culinary kings and queens of the kitchen who have helped make Las Vegas a major dining destination with worldwide recognition. Each day this week we'll have two or three star chefs of the Vegas Valley put down their pots and pans to pick up pen and paper to reflect on their profession and why it plays such an important role in our Vegas success story.
There's no doubt that L'Atelier de Joël Robuchon restaurant in MGM Grand has set new standards for Las Vegas. The acclaimed chef of the century has won numerous Michelin stars and awards for his service, decor and, of course, his dishes.
Christophe De Lellis was one of the youngest chefs to ever come to Las Vegas from France and is now the new executive chef there since Claude Le-Tohic moved onto the new Waldorf Astoria Hotel in Beverly Hills. Here's his first introduction to our city. Welcome, Christophe.
……
Bonjour. At 21 years old, I moved from Paris to Las Vegas for the opportunity to work for Chef of the Century Joël Robuchon. I never imagined that seven years later I would have the privilege of running the coveted kitchen as the executive chef of his restaurant at MGM Grand.
I inherited my enthusiasm for food from my grandmother. Growing up in an Italian family, Sunday dinners were a ritual. Some of my fondest memories were helping my grandmother prepare huge feasts for all my relatives. At 18 years old, I decided to make my passion for cooking a career and was accepted to The French School of Culinary Arts, École Grégoire-Ferrandi.
Following graduation, I worked at a variety of restaurants in France such as Le Cardinale and Le Brasserie Renaissance at Marriott Hotel Champs-Elysees. In 2010, the executive chef of Le Brasserie Renaissance passed along my resume to fellow member of the Maîtres Cuisiniers de France Executive Chef Claude Le-Tohic of Joël Robuchon Restaurant in Las Vegas.
The rest was history. With hard work and dedication, I worked my way up the totem pole — starting as a cook and eventually becoming second in command alongside the executive chef. After Chef Le-Tohic's departure, I was offered the position as executive chef. It was a career highlight to be told by Mr. Robuchon that he believes in me as a chef and trusts me to lead his kitchen.
Every evening, I make time to visit each table and greet our guests. During these interactions, diners are always most impressed and surprised by my age. Coming from France where chefs are often established in their culinary careers when they are young, I never saw being a 28-year-old executive chef as anything extraordinary. The reaction from guests made me look around at my peers and discover a rising trend in millennial chefs leading top kitchens in the city.
This got me thinking about the qualities we bring to the fine-dining scene of Las Vegas.
I am always looking to learn new techniques, test unconventional methods and step out of my comfort zone to enhance my expertise. In addition to attending workshops, I work regularly with food scientist Dr. Bruno Goussault to learn contemporary skills and find the finest methods of preparing each ingredient. In my role at Joël Robuchon Restaurant, I work collaboratively with Mr. Robuchon to provide a modern touch to some of the restaurant's classic offerings.
While Mr. Robuchon is the mastermind behind each recipe, we work together to brainstorm innovative menu items using my latest practices. For example, I recently used my sous vide skills to help develop our newest entree — a hearty vegetarian dish featuring farro and mushrooms.
Social media plays a significant part in our daily lives. I try to use the impact of these social platforms to my advantage. When developing whimsical designs, I ensure that these dishes are just as appealing visually as they are tasty — regularly seeking the opinion of photographers.
Lastly, I believe that millennial chefs bring a new leadership style to the kitchen. My approach to management is to lead by example. I feel this method earns the desired respect from my team as I have learned my peers value hard work and dedication. Traditionally, chefs have been known for their strict style of management. Today, I work hard to acquire various leadership tactics and tailor my approach to each personality.
I believe the innovative nature of the millennial generation will shape the culinary industry for years to come. I'm proud to be a part of that movement.