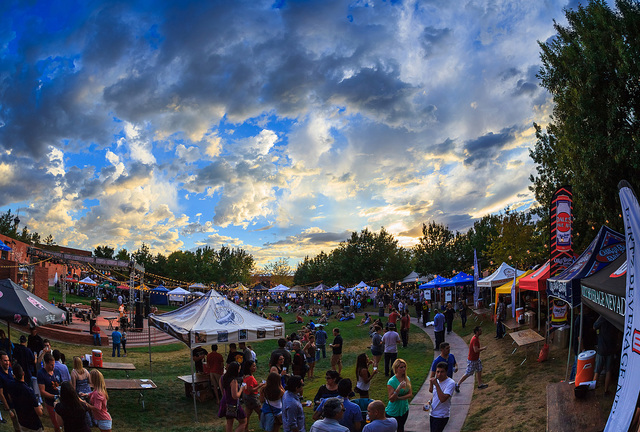 I'll be honest. I'm opening several bottles of Roger Daltrey's new Eminent Champagne this holiday weekend as I re-acclimatize myself back into the Vegas swim of things and prepare for the busy fall events schedule. Our city will be packed with visitors and our Las Vegas Convention and Visitors Authority is estimating the count nears the 325,000 level!
For many — if not most of them — it will be a three-four day weekend to hang by the pool for DJ parties, rap performances and beer by the barrel-load!
Who better to talk about beer on this Labor Day holiday than Brian Chapin, who founded the ultimate tribute to the brewed beverage, Motley Brews. Here's Brian:
……
I came to Las Vegas from Phoenix, where craft beer culture was a big part of my life. I didn't find that same culture here, and I missed how craft beer often reflected the flavor of a community. Necessity is the mother of invention, and my interest in craft beer and creating events for locals spurred the creation of Motley Brews.
Our first festival was in 2011 with the first Great Vegas Festival of Beer. Since then, we've expanded to Southern California, and I've also created an experiential events company — Production Theory, which produces events beyond beer.
With each year and every festival, we are constantly looking to innovate and improve how events are experienced. My aim is to create events without limits, and we are always challenging ourselves to find new, fun and interactive ways to make our festivals unlike anything else.
I was a singing waiter in high school and played football. I graduated from West Point, where I dabbled in rugby. I worked in real estate development during the boom, and the bust. These experiences helped to shape my passion for Motley Brews and Production Theory.
So, in the spirit of Motley Brews and the hot Las Vegas summer, I'm giving my top recommendations for beers to look out for locally and near enough to almost taste.
1. Windows Up by Alpine Brewing Co. – San Diego: This newer IPA by San Diego legends Alpine Brewing Co. is a much-welcomed supplement to the ever harder-to-find Nelson IPA.
2. Sunset Crush by Pure Project – San Diego: Hailing from San Diego and available now in Las Vegas, this refreshing summer cream ale has organic strawberry and vanilla notes.
3. SuperBloom by Crafthaus – Las Vegas: A harmony of citrus-driven hops, toasted coriander and fruity Belgian esters allow for a bright and flavorful white IPA. It's a rare, seasonal beer and is best enjoyed in their Henderson tap room.
4. Honey Dipped Stout by Able Baker – Las Vegas: The Madagascar vanilla and American oak aged flavor blends nicely to make you forget it's a big 11 percent. A must-have by a new, up-and-coming local Las Vegas brewery.
5. Hop Anatomy Pale Ale by Revision Brewery – Reno: Las Vegas' sister city is making waves with Jeremy Warren's newest Citra hopped pale ale. It teeters on the edge of both IPA and pale for an approachable, well-rounded brew.
The Great Vegas Festival of Beer, held every spring, continues to be the largest beer festival in Nevada. Our last event was our biggest, yet, with more than 10,000 people and a new, interactive component for all the serious beer explorers called Mad Craft.
Motley Brews has some great events to cool you off, too. We introduced a new festival, Hopped Taco Throwdown, at The Backyard at Zappos mid-August. Tacos and craft beer collided at this all-inclusive event, and the Backyard at Zappos is a venue that the public isn't often able to enjoy. We're also throwing our sixth annual Downtown Brew Festival on Oct. 21. Last year's event sold out, and this time we're looking to exceed our record-breaking crowd of 4,000 people.
Last weekend, we were in San Diego for our third annual Brew & Food Festival. We offered tastings of more than 200 craft beers from 70 brewers, beer-inspired dishes from more than 20 top chefs from San Diego, Tijuana's incredible food scene and throughout Baja. We had an extremely talented chef headlining our culinary offerings: Robin's pal Michelin-starred chef, Drew Deckman, whose Deckman's en el Mogor at the Valle de Guadalupe's Mogor Badan Winery has received worldwide acclaim.
So as you hoist a glass there's only one word to say : Cheers!
More information about Motley Brews is on Facebook, Twitter and Instagram @MotleyBrews, or on their website at http://motleybrews.com.