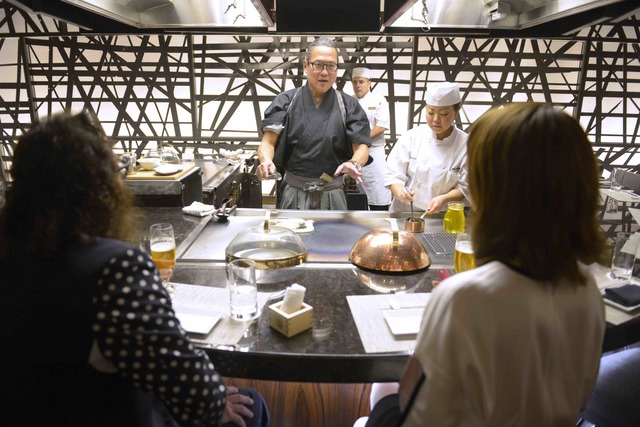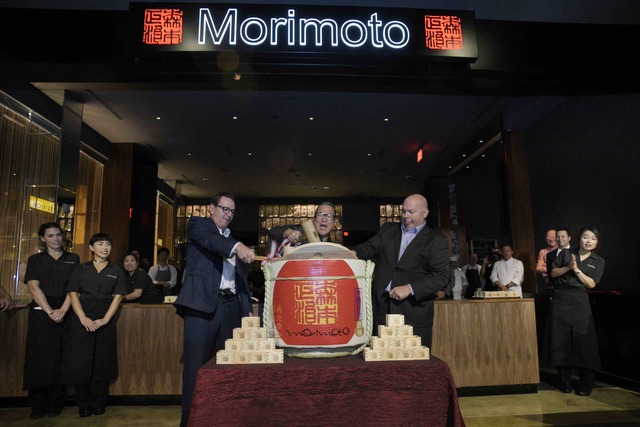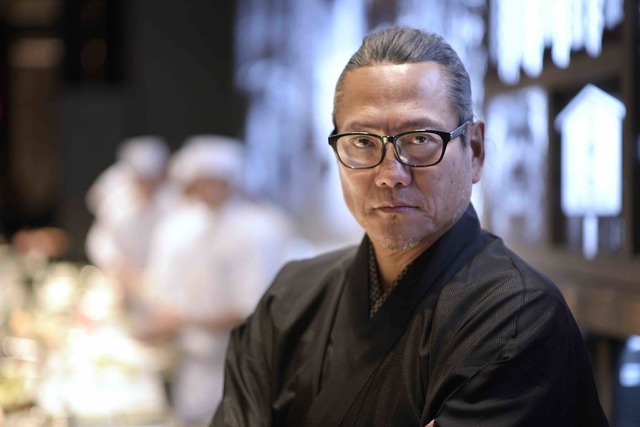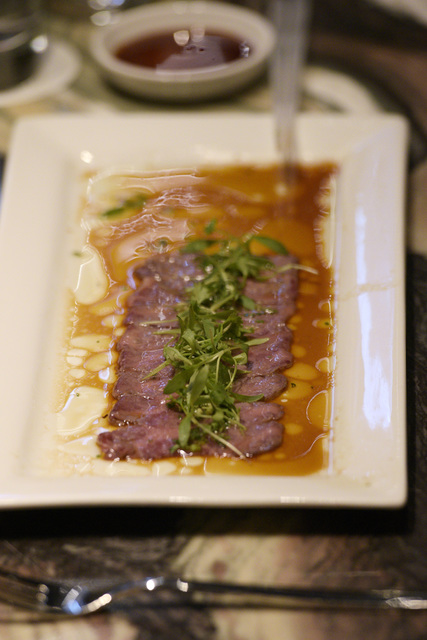 Outside of a high-priced nightclub, it's one of the most expensive bottles of bubbly I've ever seen in a restaurant. Las Vegas can now lay claim to that expensive privilege with $50,000 champagne at the new Japanese restaurant Morimoto at MGM Grand. There are two waiting there at the perfect cellar temperature in case you want to really blow the budget.
To be totally accurate, the actual cost of the 15-liter bottle, the equivalent of 20 regular bottles, is $49,999, and don't think that you'll get away with a "keep the change" tip. The bottle is a Nebuchadnezzar known as Armand de Brignac "Ace of Spades" gold label les roses.
To also be absolutely honest, I have not had a drop to drink from the "biggest, baddest bottle" on the planet, although some modest advice: You can get the same champagne taste from one regular bottle at $795.
It's a 40 percent blend of chardonnay, 40 percent pinot noir and 20 percent pinot Meunier, and the sommelier will religiously describe it as having a dry and creamy taste of flavors of red apple, white cherry, grapefruit, lemon peel, toasted bread and fresh cream.
The new 5,542-square-foot temple of teppanyaki is the Las Vegas home of The Food Network's "Iron Chef" superstar Masaharu Morimoto and features exotic photos by Yasumichi Morita of modern-day Hiroshima. The menu is a masterpiece of Morimoto's amazing creations. I cannot speak highly enough of his genius.
The two dishes I sampled that simply floored me with their brilliance are the pastrami-styled yellowtail Hamachi ($24). He collects aromatic vapors from firing up brown sugar and herbs (coriander, anise, hibiscus, pink peppercorns) in a wine glass he then uses to smoke the fish.
The glass becomes holder of his own Morimoto sake, and the dish and the drink are served simultaneously in one of the most delicious, ultimate taste-in-your-mouth experiences anywhere on Earth. This is food theater of the highest.
Morimoto also scores with his Toro Tartare ($31). The tuna is served on what appears to be a glass artist's palette accompanied by glass tray with nori paste, wasabi, sour cream, caviar, chives, guacamole and crispy rice cracklings set out as colors awaiting a painter's brush. Dip the miniature silver shovel into tuna, then your choice of spices and finally a secret sauce.
The entire Morimoto experience is fabulous in every sense of the word — and expensive, but you'll enjoy the meal so much that you won't give a moment's thought to the bill. Order the $120 prime tomahawk ribeye or teppan omakase menu that starts at $180. This is living the good life. Let's open the $50,000 bottle of bubbly to celebrate Morimoto's arrival on the Strip!