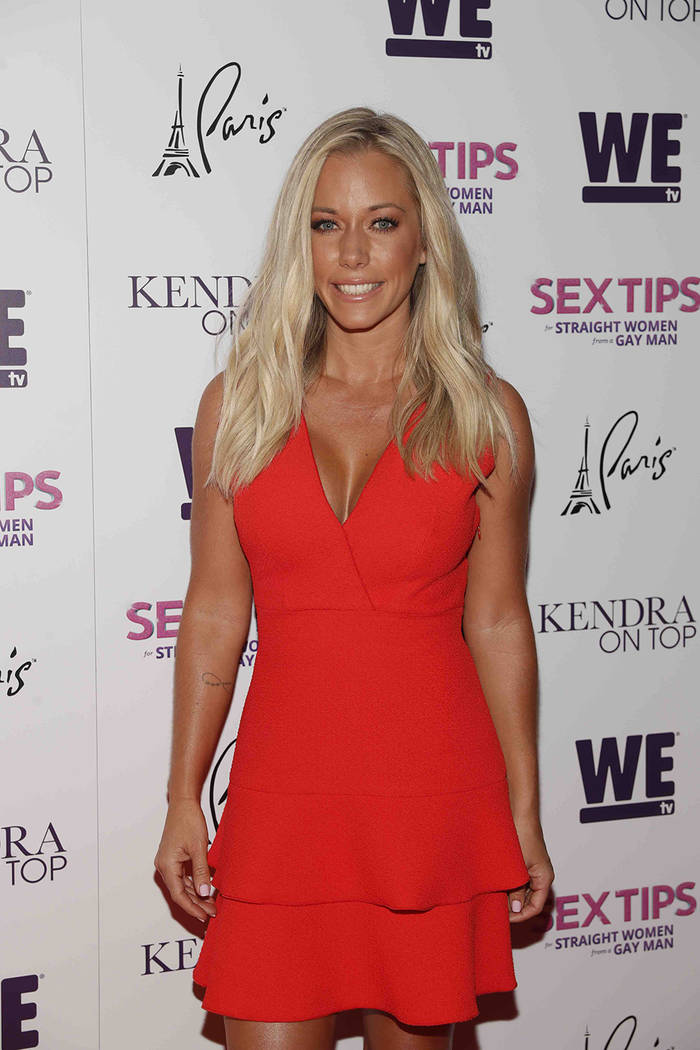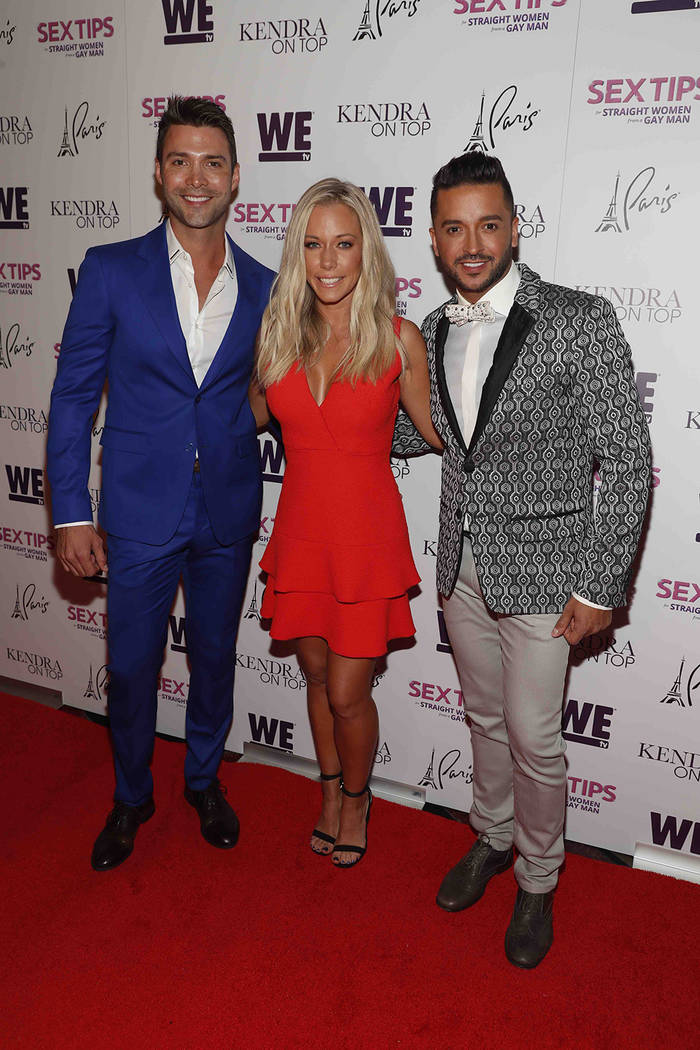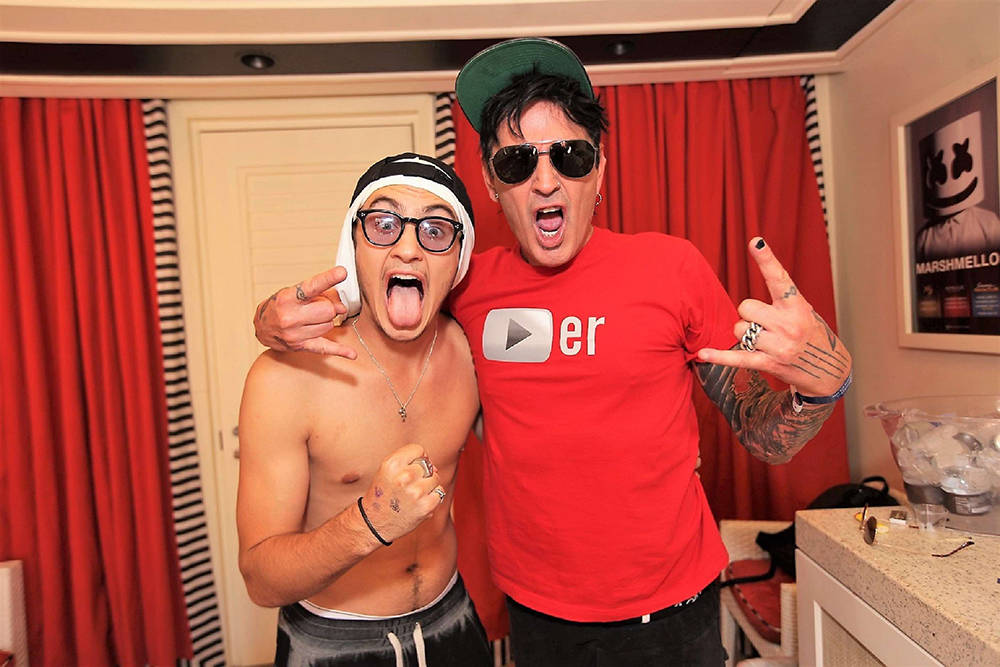 Kendra Wilkinson's new "Sex Tips" show at the Paris with co-star Jai Rodriguez is a conundrum of unabashed sexual facts all told — and demonstrated — without one bad word ever being spoken. But the body parts described in "Sex Tips for Straight Women from a Gay Man" will make the uninitiated blush. The actions demonstrated to maximum manual effect are explicit — who knew that a banana in a blender would serve so many purposes? Who knew that "taint" was the ultimate male pleasure body part?
Yet, none of this is dirty. It's a fun romp of sex advice that even sparked rekindled romance for Meryl Streep in the 2012 movie "Hope Springs." The laughter overshadows any sense of vulgarity: Not one swear word is ever uttered!
It's the chapter-by-chapter story of Kendra's blossoming from an ordinary Clark County community college librarian into an adventurous, maybe brazen, bombshell, who successfully sets out to seduce stagehand hunk Stefan played nearly nude by actor Michael Milton — all under the humorous tutelage of "Queer Eye for the Straight Guy" reality star Rodriguez. He goes off-script deliberately throughout the show while interacting with an audience that starts out as reticent and helpless but at his urging change into the bold and brazen!
If you enter thinking you'll be seeing Kendra as her Playboy magazine centerfold self you'll be disappointed — at first. She's a dowdy, uptight, awkward character in a very unexciting demure wardrobe. But as the comedy play continues she transforms into an empowered woman who winds up stripping down to her Victoria Secrets' lingerie for the closing dance created by Cher's choreographer Denise Faye.
"I'm having the time of my life," Kendra told me on opening night. Her husband, former NFL superstar Hank Baskett, added: " I'm so proud of her. She's aced it — and being honest she took a lot of material from the script, brought it home and spiced up our sex life."
Kendra and Jai shined at the premiere of "Sex Tips " at the Paris; and our thanks to Richard Corey for his YouTube video of opening night:
An exclusive group of celebrity and VIP guests walked the star-studded red carpet and enjoyed our local debut of New York City's longest-running Off-Broadway production. It was a double celebration for Kendra at the Chateau nightclub afterward; as "first night' also marked the premiere of the new season of WE TV's "Kendra on Top."
Among the celebrities who joined Kendra and Hank , Jai and co-star Michael on the red carpet were Jessica Hall ("Kendra On Top"), Carrot Top, Anthony Cools, Piff The Magic Dragon, celebrity magician Murray Sawchuck, Ricardo Laguna, Robert Sepulveda, Laith Ashley, Arisce Wanzer, Mikalah Gordon ("American Idol"), and cast members from "Thunder From Down Under," Human Nature, "Fantasy," X Burlesque, The Australian Bee Gees, "Comedy & Dolls," "Crazy Girls," "50 Shades! The Parody" and "Solid Gold Soul."
There were standing ovations for the reality stars from a full house of enthusiastic guests that also included Kendra's mom, Patti, who was dragged on stage by Jai to demonstrate her own sex tips! After the premiere show, they all headed up to the Paris rooftop and the Chateau Nightclub, where Kendra was surprised with a champagne bottle-shaped cake to mark her birthday on June 12. Reality television cameras recorded all the first night excitement for an upcoming episode of Kendra's TV show.
"I'm loving living in Las Vegas," Kendra told me. "Its already my second home." She's been spotted at Michael Boychuck's Color Salon in Caesars Palace and at the male burlesque show, " Thunder from Down Under" at the Excalibur where she was pulled on stage and treated to a special "Welcome to Vegas" lapdance
"Sex Tips for Straight Women from a Gay Man" is a sex-affirmative, coming-of-age show, in which Kendra stars as Robyn, the bookish and demure host of a college authors forum. Featured author Dan Anderson, played by Jai brings Robyn out of her professorial shell by encouraging her and audience members to embrace their naughtiest instincts with the help of her hunky stage assistant.
The 75-minute production of sexual awakening combines comedy, charisma and a lot of sass to create a memorable evening perfect for everyone from couples looking to spice up their routines to groups interested in a girls' — or guys' — night out. With eight performances a week the show is highly interactive and draws upon audience participation to demonstrate the most outrageous and hilarious sex techniques.
Producer Adam Steck commented: "When my wife and I saw the play in New York we went back three other times so we knew it would be perfect for Las Vegas. It takes the motto "practice makes perfect" to a whole new level becoming the ultimate adults-only party, promising to leave its audience with intimate bedroom insight that no doubt will be practiced nightly.
Jai summed up: "I love it when they leave the theater and go back to make whoopee. I think we have a 95 percent success rate with long-time couples."
The unique sex comedy is currently set to run for 12 weeks through the summer months with performances at 7 p.m. six nights a week Thursday through Tuesday — but the advance buzz already is that discussions are underway for it to be extended.