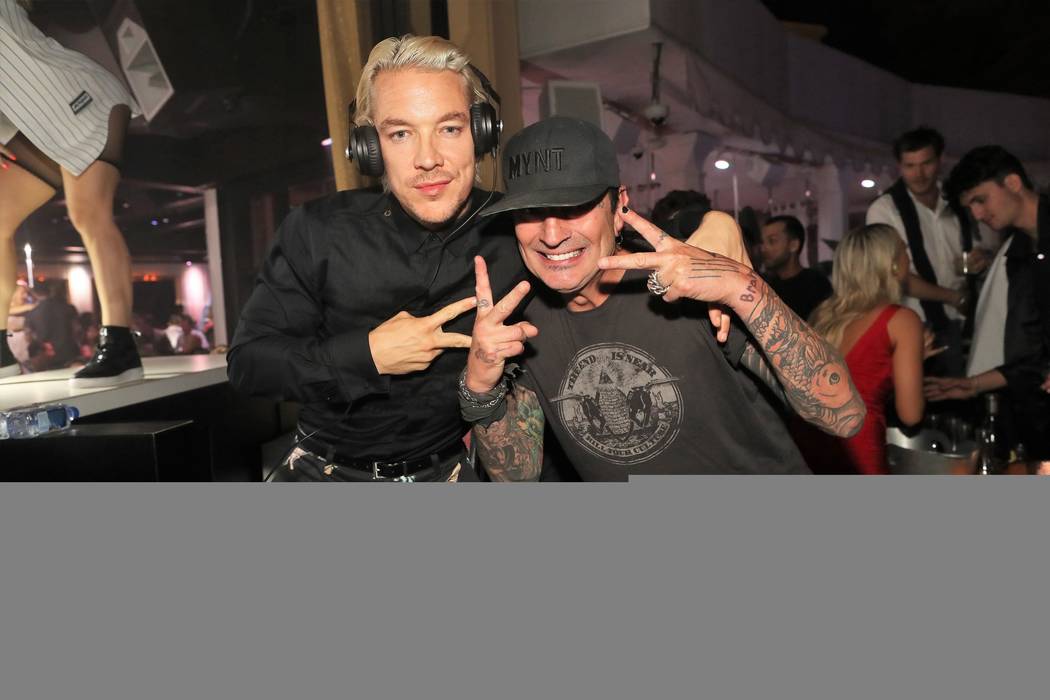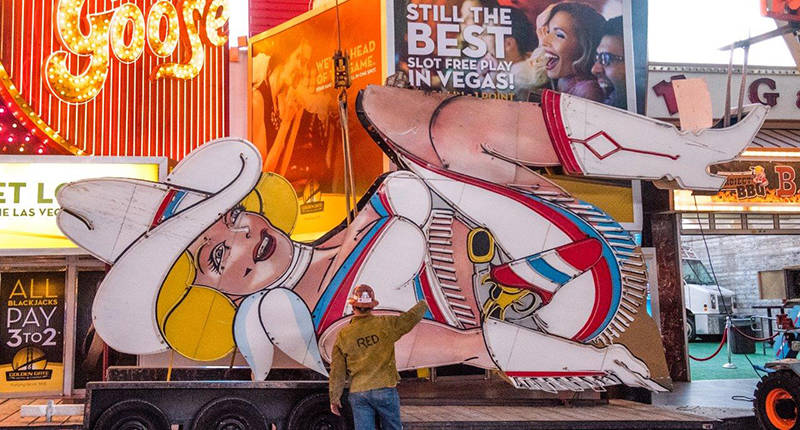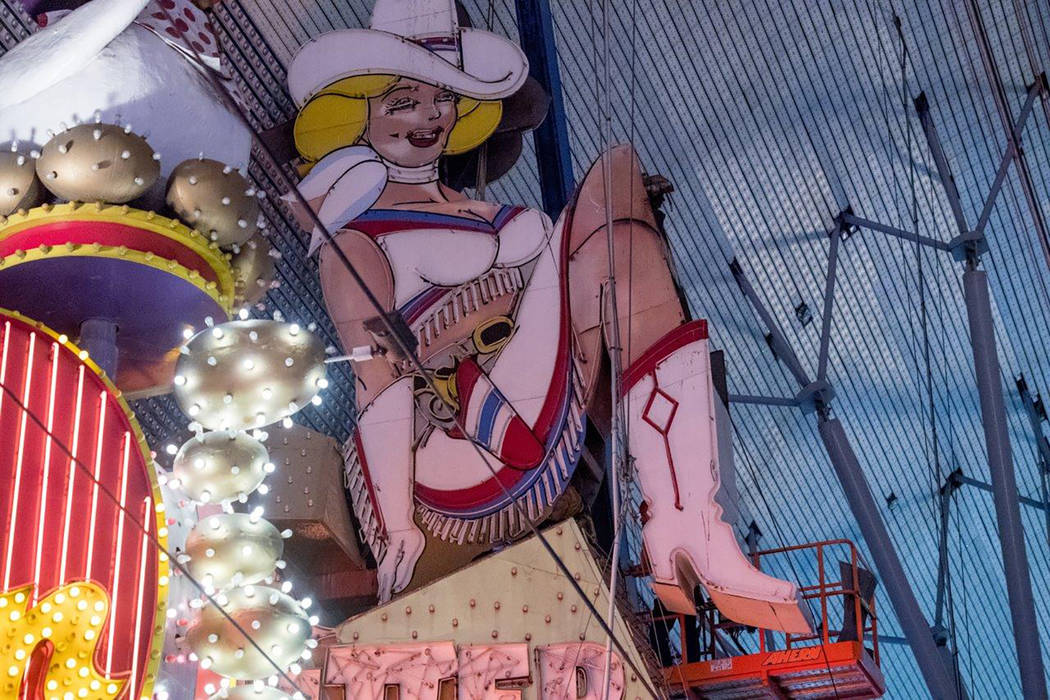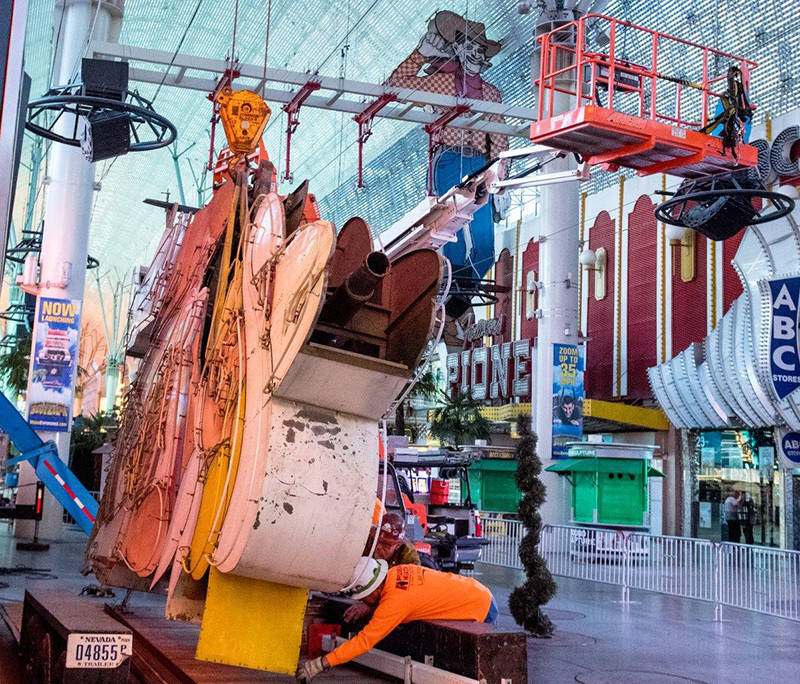 S&M KISSES: Pop princess Britney Spears produced a stunning opening Asia tour show in Taipei with the touring version of her Planet Hollywood "Piece of Me" production — and fans loved it especially when she dragged boyfriend Sam Asghari on stage for her S&M-themed Freakshow track. Instead of inviting somebody from the audience up on stage for the x-rated antics she introduced her bodybuilder beau to the audience as she danced alongside him. Then, the muscled hunk began to crawl on his hands and knees as Britney spanked him with a whip while she walked him on all fours tied down on a leather leash. At the end of the routine, she openly fondled him and they kissed on the lips to audience cheers!
21ST BIRTHDAY: Former Motley Crue rock drummer Tommy Lee helped his model son, Brandon, to celebrate his 21st birthday in high style all weekend long at Steve Wynn's nightlife and daylife venues. Tommy and Pamela Anderson's actor son brought along his girlfriend, model Pyper America Smith, for the four days of festivities that kicked off at the Intrigue nightclub. The group, including singer Lexy Panterra, partied at a stage table to watch their pal DJ Diplo spin his hits. Next day, they all partied at a luxury cabana at Encore Beach Club, which overlooked the pool action and DJ Chuckie. Bikini-clad servers poured shots for the birthday boy and his group. Night three, the celebrations continued at the resort's XS megaclub with Norwegian musician and producer Kygo behind the wheels of steel.
UNTOLD ROCK HISTORY STORY: One of the great untold tales of rock history has been finally revealed. The story of the incredible Johnny and Dorsey Burnette family goes back to the early days of Elvis Presley in Memphis. In 1956, Johnny and Dorsey loaded everything they owned (which wasn't much) into a 1949 Ford wagon in the middle of winter and drove to New York City to audition for the long-ago "Ted Mack Amateur Hour." They ended up winning three consecutive appearances and grabbed fame with their groundbreaking original songs "Tear it Up" and "Train Kept A Rollin." The fame led to friction which only ended with Johnny's early death in a tragic boating accident in 1964.
Johnny's son Rocky made his mark on their 1980 pop charts with the worldwide No. 1 hit " Tired of Toein' The Line." Dorsey's son, Billy, also followed in his dad's footsteps and found great success performing with Fleetwood Mac for a decade. But the fathers' competitive edge was passed down to the two sons and the 30-year-plus feud raged on.
Now "Raised on Rock" a film directed and narrated by Vegas Rock's magazine publisher Sally Steele is finishing production and lays bare the rift. On a chance visit here in 2016, Rocky performed his final show at the Viva Vegas Rockabilly Festival and met Sally. The filmmaker found herself in a genuine love triangle while trying to heal the two sides of the family and bringing all the members for one final moving Las Vegas performance, which will conclude her film. "United by blood but divided by fame," Sally told me. She filmed interviews with Mick Fleetwood, Albert Lee, Gary Busey and Slim Jim Phantom of the Stray Cats for her movie. Sally added: "It is one thing to talk about known bands in documentaries but the great thing here is educating the world about influential people in rock history when most people don't even know who they are."
CONTROVERSIAL! Renowned activist, CNN commentator and bestselling author Van Jones will bring the We Rise Tour to the Pearl Concert Theater at the Palms on Aug. 19. The two-time New York Times best-selling author headlines an array of artists, athletes, thought leaders and local officials. Audiences will have the opportunity to connect, ask questions and participate in various activations during the program. Earlier this week, Van enraged Democrats with his explosive accusation that Hillary Clinton's election campaign wasted $1 billion "setting the donations on fire" for failing to reach out to working-class and minority voters. "They took a billion dollars and spent it on themselves," he claimed.
BROKEN ROMANCE: After 37-years of togetherness Vegas cowboy Vic was left alone on Fremont Street June 13 when cowgirl Vegas Vickie was shipped off to the Neon Museum. Our thanks to contributing photographer Tom Donoghue for the intimate photos of their last few moments together.
Said Tom: "It was a very tearful moment as they were parted after being together for almost four decades."
MOB MOVIES: Think of movies involving the mob and the first that comes to mind has to be Francis Ford Coppola's trilogy of "The Godfather." Close behind would be the HBO TV series "The Sopranos." Now, our local Mob Museum (the national museum of organized crime and law enforcement) has a new exhibit titled "Mob at the Movies" on display to explore how organized crime has been portrayed in popular culture. The exhibit includes artifacts from well-known movie and TV shows and demonstrates the history of America's fascination with the mob in popular culture. On display, is a first-edition copy of "The Godfather" novel, an original Godfather film script and an Italian language Godfather movie poster signed by the film's actors Al Pacino, James Caan, Robert Duval, Diane Keaton, Talika Shire and director Coppola. In addition to the suits worn on screen by The Sopranos cast members, there's a 1952 poster from the "Captive City" film that starred John Forsythe and Joan Camden, and was filmed entirely in Reno.The famous Sen. Carey Estes Kefauver, who held Senate hearings into organized crime in the Museum courtroom:
110 DJ's: Millions of electric music fans around the world will be able to listen to the DJs performing at the upcoming three-day Electric Daisy Carnival at Las Vegas Motor Speedway this weekend. Starting June 16, Red Bull TV is producing a three-day broadcast of the performances at the 21st annual carnival. Here's the teaser video. More than 110 artists will be featured, including Afrojack, Alison Wonderland, Armin Van Buuren, Kygo, Axwell Ingrosso, Maor Lazer, Sander Van Doorn and Tiesto. For those unable to make it to Las Vegas download the Red Bull TV App and watch it online at www.redbull.tv/EDC.