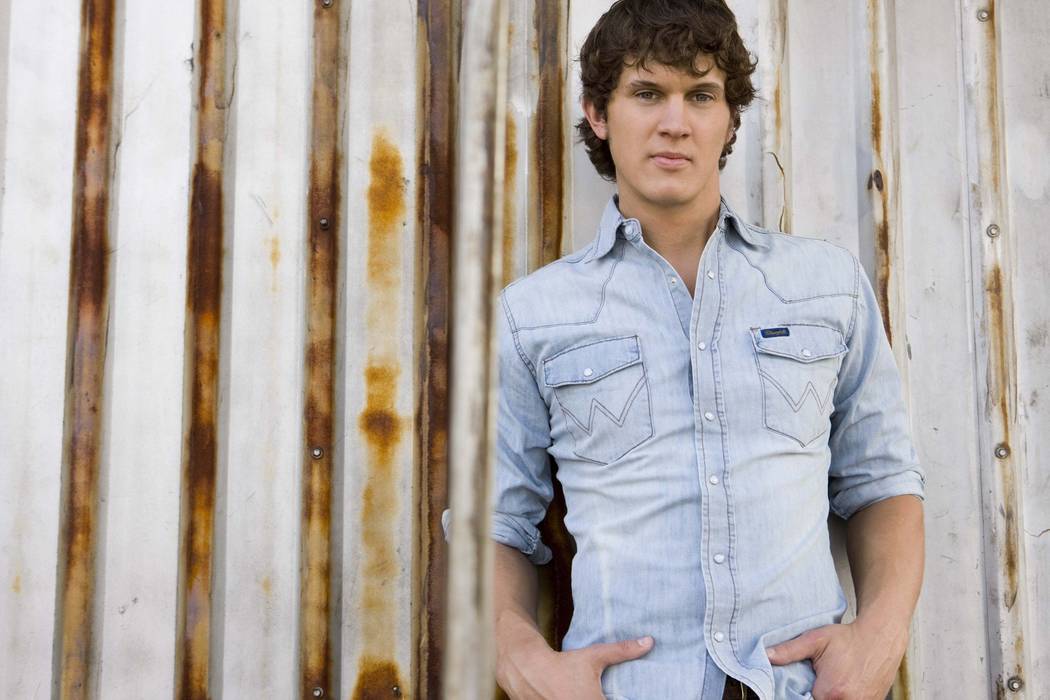 This year has been a stellar one so far for country singer-songwriter Jon Pardi: He just won his first Academy of Country Music Award, for New Male Vocalist of the Year, ahead of the 2017 ACM Awards at T-Mobile Arena on April 2, and his latest single, "Dirt on My Boots," has reached the top of the Billboard Country charts.
Pardi answered questions over the phone March 8 ahead of 95.5 The Bull's 9th Annual All-Star Guitar Pull that he's headlining alongside Chris Stapleton, Billy Currington, Darius Rucker and Lauren Alaina at Red Rock Resort Ballroom and The ACM Awards (the ACM Award and "Dirt on My Boots" hitting No. 1 happened after the Q+A):
What can fans expect at your show at Red Rock Resort on March 30?
It's the Guitar Pull, so some great guitar playing and songs. I want everyone to have a good time.
How has it been touring with Dierks Bentley and Cole Swindell, and how will your solo show be different?
It's been a blast. It's a short set since we're opening, but we go out there and rock out. Since we've done longer sets at 75 to 90 minutes, we have to go back and study them to cut them to 30 minutes. With all these songs, we have a good time and hope that the fans want to hear more.
Congratulations on your first ACM nomination for New Male Vocalist of the Year. How did it feel when you heard about your first ACM nomination?
It felt really good — really amazing. We've been working hard, the band and me, and this will be our fifth or sixth ACMs.
Congratulations also on your album, "California Sunrise," reaching No. 1, as well as your single, "Head Over Boots." How did it feel to reach the top? It looks as if "Dirt on My Boots" is headed toward No. 1, as well — I hear it on the radio all the time.
It's crazy. It's been a crazy time, and there hasn't been time to soak it in. We're in Texas now and working on the third record. The album has had such an impact. It's been amazing to watch it grow with fans downloading and streaming it. Now it's time to write a great third record.
I assume that you'll be in town for The ACM Awards at T-Mobile Arena on April 2?
Yeah, I don't exactly know what our schedule will be; we're still kind of waiting. But it's going to be a good time. With the nomination win or lose, the fans and country radio have been great. They've helped us survive believing in us for six years. It keeps me going, the fans and radio and the label.
You started writing songs at age 12 and formed your own band at 14. Tell me about that.
The songs were that great classic rock in high school, country rock, then a phase to country mixing all those experiences. At 18, I moved to Chico and started a country band, then had my first album and moved to Nashville at 22.
You grew up in a small town, Dixon, in Northern California. How do you think your upbringing affected who you are today?
It's a different feeling. I come from a hard-working background, blue collar and agriculture, where we make things work with an individual spirit.
How often do you get back to Northern California?
Three to four times a year. I'm flying back after the ACMs, then return to Nashville.
How do you like Nashville?
It's awesome. I have 15 acres there, so I do what I want when I'm home. Music Row is amazing, Capitol Records. I've been in Nashville eight years, and it has been really fun. It's not a race; it's a marathon.
You have a big fan in the legendary Alan Jackson. How does that feel?
I've been on tour with him, and it was really cool to get to know him and play songs with him. It was so cool. It reminded me of growing up. He is a great songwriter and a really great guy.
You've toured with nearly a dozen country stars, from Dierks and Alan to Luke Bryan, Zac Brown Band and Eric Church. Whose tour stands out the most?
Oh, Dierks is such a cool, down to Earth guy. He's a great guy with a great crew. Luke, too. They're back hosting the ACMs. Eric is really cool. Everyone is cool in country these days.
Do you get to Las Vegas often, and what is on your to-do list for fun while you're here?
I love the pools. We've booked an extra day for the pools. When we're in Las Vegas, it's always, "Do this, do that today." Can I get a pool day?
Dierks had the same answer. You should hang out.
We talked about it. I'll find him, and we'll hang out!
95.5 The Bull's 9th Annual All-Star Guitar Pull with Jon Pardi, Chris Stapleton, Billy Currington, Darius Rucker and Lauren Alaina is at Red Rock Resort Ballroom next Thursday.