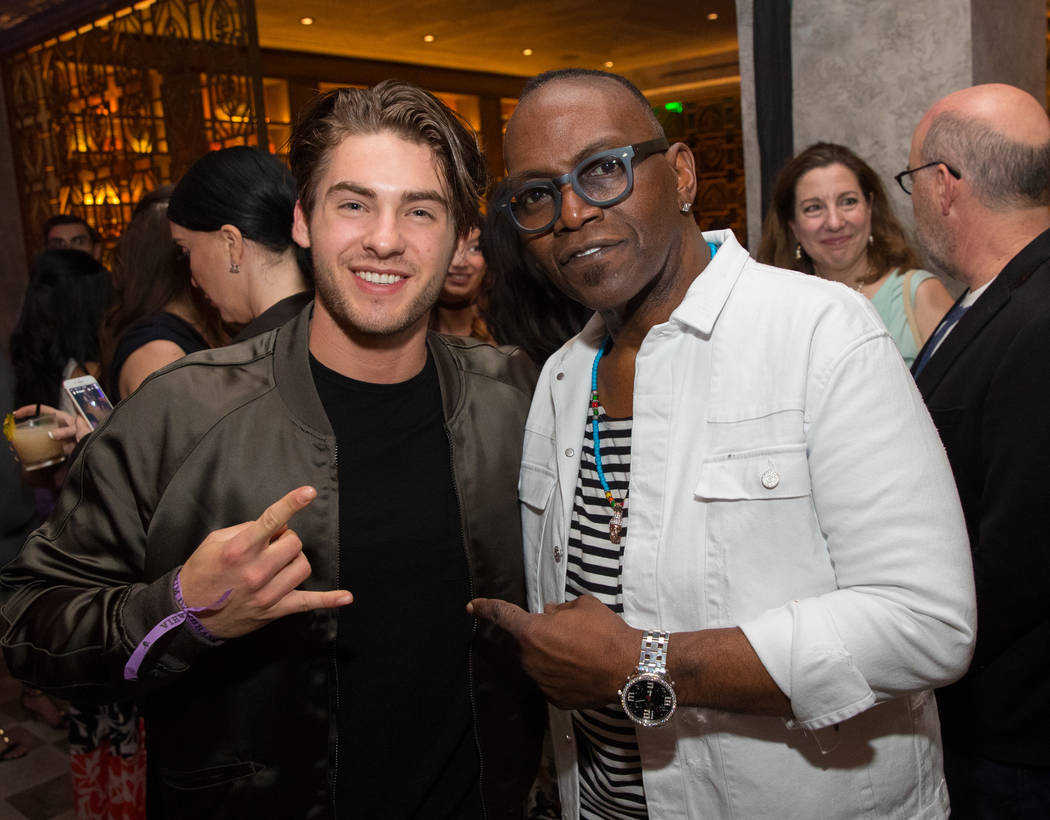 Music producer and longtime "America Idol" judge Randy Jackson was a surprise guest at the grand-opening weekend of Chica at The Venetian, and he told me that he has mixed feelings about signing on for the return of "Idol" on ABC instead of Fox.
"Not so fast," he urged me as I took out my notebook. "Nothing is signed for definite yet. I honestly don't know what to do. It ended its run, then just as suddenly started up again in a different place."
Oprah Winfrey's onetime personal chef Art Rose, who credits former Chippendales at The Rio dancer Noah Sanderson with his 75-pound weight loss, and "Teen Wolf" star Cody Christian also attended the party Friday. John Kunkel of the adjoining Yardbird Southern Table created the Chica concept for Latin American star-chef Lorena Garcia.
Lorena has a built-in rotisserie wall and custom Churrasco grill in the kitchen manned by executive chef Mike Minor to serve vibrant, bold flavors. Lorena has insisted that her wines focus on female winemakers, with sought-after varietals dedicated to regions with cultural ties to Latin America. John is opening Yardbird in Singapore, Beverly Hills and two European capitals.
SIR ELTON IS HEALING
The Colosseum at Caesars Palace headliner Sir Elton John has been released from a hospital after a near-death experience after he became violently ill from a rare bacterial infection on his return flight home to Britain after shows in South America.
Sir Elton was raced from the London Airport immediately to a hospital and had to cancel all of his April and May resident headliner shows at The Colosseum while undergoing medical treatment.
Sir Elton's staff hopes that he can resume performances starting June 3 in England. The 70-year-old entertainment legend is due back here with his show "The Million Dollar Piano" in October.
"After comfortably resting at home under doctor's advice, he is feeling so, so much better," his representative said. "He was released from a hospital on April 22."
BRITNEY'S EVEREST ASSIST
Mountain climber Mollie Hughes credits the songs and music of Axis at Planet Hollywood headliner Britney Spears for her successful, 8,000-foot climb to the top of Mount Everest.
Mollie, 26, put Britney on repeat play the entire trek upward as she scaled Mount Everest in freezing temperatures. She is now the youngest European woman to have climbed the north and south faces of the world's tallest mountain first conquered by Sir Edmund Hillary in 1953.
POKER CHANGES
The World Series of Poker has scrapped the November Nine Final Table in a new, four-year TV contract by Poker Central with ESPN. The final event when nine becomes three before the winner is declared will start July 22 instead of November.
The entire tournament is played in July beginning July 8. The ESPN set will now also have a new home in Brasilia Ballroom at The Rio, and eight events, including a $10,000 tag-team contest, $3,300 High Roller game and $2,620 Marathon challenge, are being added.
ELECTRIC ACT
Planet Hollywood headliner magician Murray Sawchuck has become an Internet sensation over the last year, and he just put one of the oldest Las Vegas working magicians, Marvyn Roy, in his first YouTube video. "Mr. Electric" Marvyn and his beautiful wife, Carol, toured the world over 50 years with an act that lit light bulbs up to a 10,000-watt lighthouse lightbulb in his bare hands.
Marvyn opened "The Lido Show" at The Stardust, played in "Follies Bergere" at Tropicana, performed on "The Ed Sullivan Show," covered for Siegfried & Roy when they played MGM Grand and toured with Liberace for more than five years.
Murray, who credits Marvyn for being his mentor, has featured him on the more than 1 million viewed YouTube series. A little bird whispered to me that it won't be long before Marvyn teaches Murray a trick to incorporate into his own show so that the legendary illusion lives on.
TEENAGE STAR
Young Centennial Hills actress Arianna Mercy is being heralded as a "star of tomorrow" who has helped rescue "Carrie: The Musical" now playing Downtown at Majestic Repertory Theater.
Although "Carrie" was a bestselling Stephen King novel, the musical hasn't been seen since its collapse on Broadway in 1988. "Carrie" concludes the inaugural season of The Majestic and runs now through May 28.