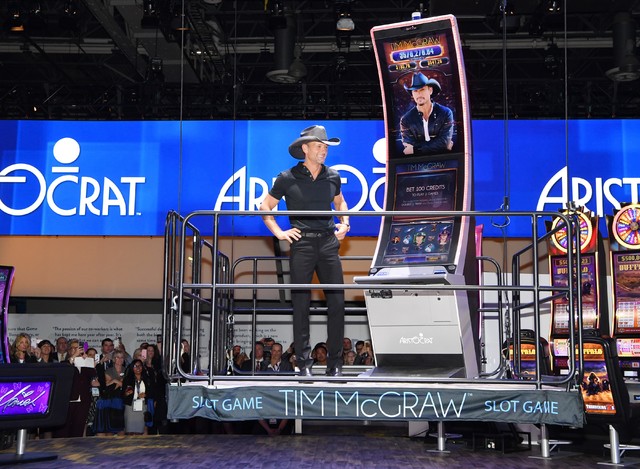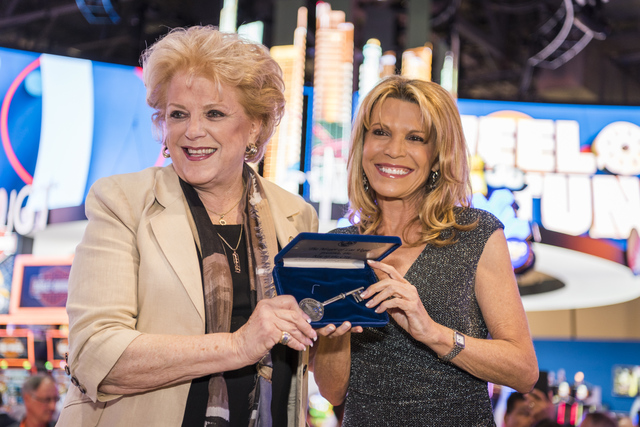 Celebrities are mingling with casino execs from around the world at the Global Gaming Expo with 450-plus exhibitors at Sands Expo Center. Tim McGraw kicked off the star stream this morning at the Aristocrat display featuring his new video slots machine.
Las Vegas Mayor Carolyn Goodman presented a Key to the City to Vanna White marking the 20th anniversary of Wheel of Fortune slots. It's the most successful slot theme of all time with 230 versions since its debut. In June, IGT released its first 3D Wheel of Fortune slots game.
Incredibly, more than $3 billion has been paid out in jackpots making more than 1,000 players instant millionaires. More slot players have won $1 million-plus jackpots in Nevada than in any other state.
Penn & Teller leads an all-star cast of 24 players in today's third-annual TournEvent for Charities Slot Tournament, and I'll be playing alongside Terry Fator, Carrot Top, George Wallace, Rick Moonen and 17 other celebrities to earn the highest score to donate at least $1,000 to our beloved charity Keep Memory Alive, or as much as $10,000 if I win.
On Wednesday, Jerry Seinfeld's gaming machine will be unveiled with Soup Nazi actor Larry Thomas pulling the first handle at the 21,000-square-foot Scientific Games booth. Players on the five-screen cabinet wind up in the virtual reality of SEINFELD's 81st Street apartment building. A mechanical wheel will celebrate Festivus that George Costanza's father created.
Also Wednesday, THE VOICE Season 5 winner Tessanne Chin performs to launch the IGT game The Voice Video Slots with likenesses of judges Adam Levine, Blake Shelton and Ricky Martin, who took part in THE VOICE in Australia.
CAPONE'S GUN
A rare Mob artifact on loan to our Mob Museum, the National Museum of Organized Crime and Law Enforcement, will be previewed tonight in advance of going on public display Wednesday. It's a Smith & Wesson .38-caliber revolver with a pearl grip owned by Mob boss Al Capone.
Chief Richard Weber, IRS Criminal Investigation Division, will join the museum's executive director and CEO, Jonathan Ullman, in unveiling the historic artifact. The revolver is a .38 Hand Ejector, Military & Police Model from 1905 shipped from the factory in 1925.
It was confiscated during Al's arrest while he lived in Miami in 1928. After changing hands several times, the gun was finally seized and forfeited to the IRS in 2004. A Treasury Department exhibit, "Follow the Money," was added to the permanent collection in 2015.
Richard explains how the gun represents a connection between the IRS Criminal Investigation Division's past, as in the days when it brought Al to justice, to its present-day mission to "follow the money" trail in the cyber world through innovative law enforcement techniques.
NEW KMA VIDEO
For 20 years, we've been helping orchestrate our Keep Memory Alive events, and now as we get ready for the milestone 21st gala tentatively set for April 29 at MGM Grand Garden Arena, here's our new highlight video reel from this year's glittering affair May 21.
As "the voice" of KMA, I was honored to help introduce some of the biggest names in the entertainment industry as we celebrated the 90th birthday of the legendary Tony Bennett at our "Power of Love" celebration at the arena.
RENO'S GROWTH
Interesting notes caught my eye in the official news that Eldorado Resorts will spend more than $50 million upgrading three of its properties in Reno with new restaurants, expanded nightlife and luxury spas. Reno? The company will renovate more than 4,100 guest rooms at Silver Legacy, Circus Circus and the flagship Eldorado and link the three properties over eight city blocks of downtown.
Gary Carano, chairman, said Reno is experiencing a strong economic upturn and travel, tourism and cultural renaissance with year-over-year growth. Cultural? He said Reno is re-emerging with a vibrant growing economy with data centers, technology startups, health care and clean energy companies moving into the region.
EVEL PIE
Motorcycle daredevil Evel Knievel's son, Kelly, is one of the operators with Golden Tiki owner Branden Powers of East Fremont Entertainment District restaurant Evel Pie opening next month. Designed as a 1979 pizza parlor inspired by the motto, "Live Hard, Ride Fast, Eat Pizza," the shop will feature a bronze statue of Evel, memorabilia, Stingray bicycles and skateboards.
Branden said he wanted to make sure Evel had a "slice of Las Vegas history." The upcoming 50th anniversary of his failed jump across the Caesars Palace fountains still made him an icon.
ONE YEAR ALREADY
PAWN STARS patriarch Rick Harrison opened Pawn Plaza 12 months ago. He'll be joined by Corey Harrison and Chumlee on Saturday, Oct. 8, to celebrate the first anniversary. Rick plans to play bartender for the night in his Rollin' Smoke BBQ Tavern. He also will break away to be a witness for a couple's wedding or vow renewal at Pawn Plaza Vegas Weddings chapel.
BEER CHEERS
Las Vegas rocker Chris Kael of Five Finger Death Punch will launch his Able Baker Brewing Co.'s beer Oct. 28 at The Hard Rock Hotel when he performs with The Saints of Las Vegas.