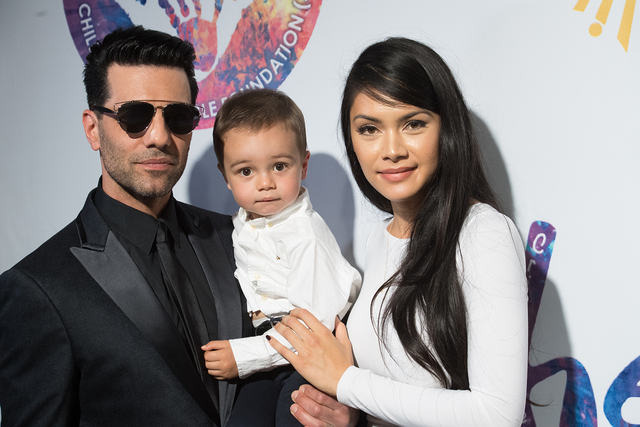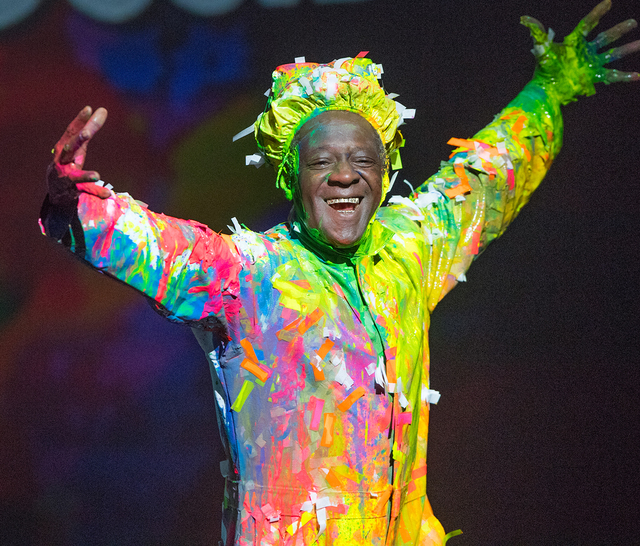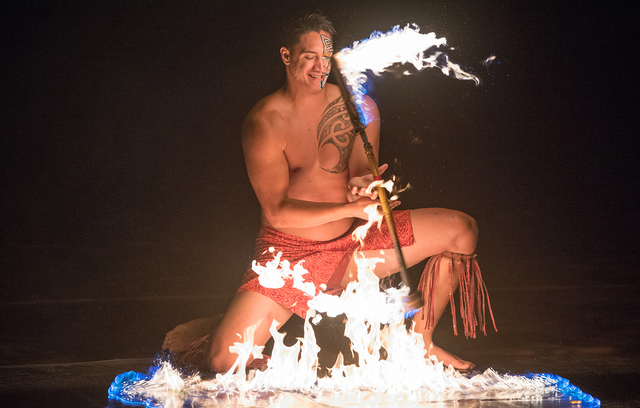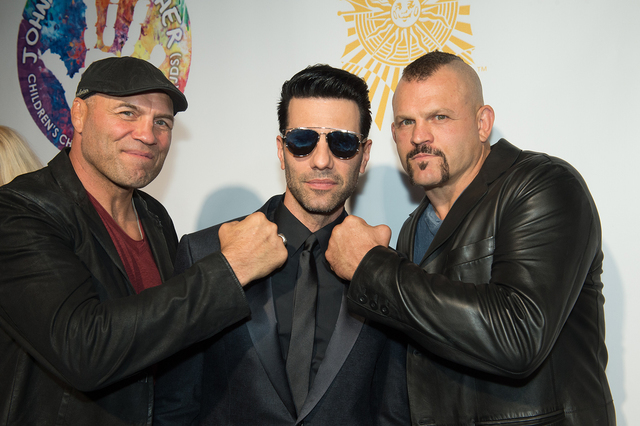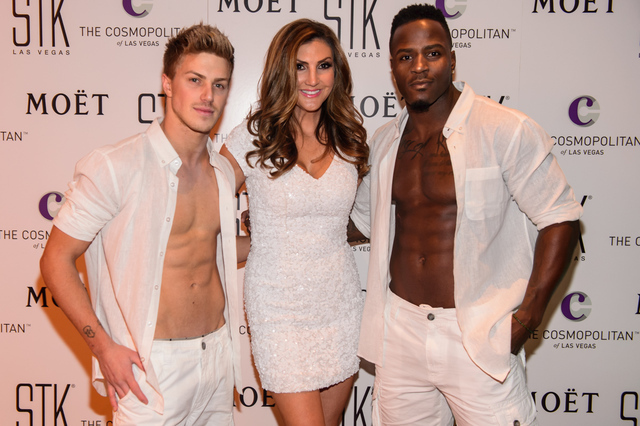 Showbiz stars rallied for Criss Angel's fight against childhood cancer in the epic, one-night-only spectacular HEAL EVERY LIFE POSSIBLE as veteran telethon fundraiser Jerry Lewis anointed the MINDFREAK LIVE! illusionist to keep the comedy actor's legacy of charity alive by stepping into his footsteps and raising millions for children.
"Tonight is a very meaningful night, and you don't even realize it yet," Las Vegas resident Jerry told a clean-cut and dapper Criss with host Tony Orlando onstage. "You're going to walk down the street one day, and people will applaud you not just for being a wonderful entertainer but as a man who cares deeply about children."
Tony said: "I've never seen Jerry give that to a young man to carry on to help cure pediatric cancer just like Jerry did for Muscular Dystrophy. There is no greater American than Jerry Lewis. Wear his shoes well."
It was an emotional night at The Luxor as Criss and Shaunyl Benson, the Australian mother of their 2-year-old son, Johnny Crisstopher, who is battling cancer, walked the gold carpet together, then sat in his theater to watch HELP.
Criss and Shaunyl, who dated for two years after meeting here, haven't reconciled, but he says that their relationship is the best it could ever be. "Honestly, we are really good friends," she told me. "Everything is beautiful. Whenever I need anything, I know that Criss will be there.
"We love spending time together with little Johnny because it makes him so happy. We are both very lucky because he is a wonderful little child, and, despite all of his illness, hair loss and mood swings from the medication, is very easy to look after."
There were tears when Twisted Sister frontman Dee Snider was joined by former Skid Row frontman Sebastian Bach, Bon Jovi's Richie Sambora and Cirque du Soleil musician Orianthi for a powerful rendition of Twister Sister's anthem "We're Not Gonna Take It." The Choir Fighters of Las Vegas, children with cancer, their families and nurses, also were onstage.
During the song, "Warrior Mama" Randi Heisler was shaved bald to honor and support her son Aspen, who is fighting cancer. Former Motley Crue frontman Vince Neil told how he had lost his daughter, Skyler, at age 4 to cancer.
Actor Gary Oldman drilled home the fact that of $4 billion in government funding for cancer research, less than 3 percent is earmarked for children. Legendary magicians Siegfried & Roy, boxer Mike Tyson, singer Debbie Gibson and Las Vegas rockers Imagine Dragons all had powerful messages encouraging people to donate to The Johnny Crisstopher Foundation.
Vince bid $40,000 to buy a Criss Angel chopper in the live auction. Three nights in Criss's Serenity estate went for $25,000, and another bidder paid $28,000 to stand backstage during MINDFREAK LIVE! to learn all of Criss secrets, including his incredible levitation.
Two light moments came when Imagine Dragons frontman Dan Reynolds revealed that his wife had recently told him that they will be having twins to join their daughter. "It's when you look at your own child and realize how devastated you would be to learn if they had cancer. Please help find a cure," he encouraged. Flavor Flav was a willing volunteer to be painted as a human piece of art by Blue Man Group, who colored him in an avalanche of spray paint.
Howie Mandel opened the show via video introducing Tony, who promptly renamed HELP as Heal Every Living Person. He turned it into a running gag during the spectacular, repeating the correct Heal Every Life Possible.
Comedian Tom Green told the audience that 100 percent of money raised and donations to The Johnny Crisstopher Foundation would be used for research, treatment and cure as Criss was paying all the overhead costs and expenses.
Our thanks to Tom Donoghue and Jerry Metellus for their gold carpet photo gallery and to Richard Corey for his video posted on YouTube. Attendees also included Lance Burton, Randy Couture, Terry Fator, Billy and Emily England, Chloe Crawford, FANTASY, Carrot Top, Penny Wiggins, Tommy Lasorda, Lydia Ansel, Jeff Timmons, Andrew Dice Clay and Kris Kremo.
The new look that Criss sported included slicked-back hair and no macabre eye shadow or Goth clothing. I told him that he looked as if he'd stepped out of the pages of GQ. VIPs didn't even recognize him behind his shades.
"Last night's #HELP event at The Luxor was beyond words. The raw emotion and pure love emanating from legends, superstars and the public was like nothing I've ever experienced in my life," Criss summed up for me.
"It was beautiful, heartwarming and a night many, including myself, will never forget. Thank you all for a life-changing evening and making our first event unforgettable. We still need your #HELP. Save a child's life. Please donate at CrissAngelHELP.com. Thank you."
MORE GENEROSITY
Reality-TV show twins brothers Jonathan Scott and Drew Scott of HGTV's BROTHER VS. BROTHER teamed up for instead of their normal competitive battles with a donation of more than $106,000 from the show's Season 4 to revitalize the Boys & Girls Club Downtown clubhouse, including a new technology center sponsored by Cox Communications.
Rebuilding Together has been a longtime charitable partner of HGTV and DIY network to transform the lives of low-income homeowners by providing home repairs to improve the safety and health of their homes and revitalize their communities. BROTHER VS. BROTHER host J.D. Scott will turn over the keys to the new-look clubhouse Thursday.
EVEN MORE GENEROSITY
The Linq Hotel headliner magician and AMERICA'S GOT TALENT champion Mat Franco donated more than $5,000 in animal care supplies and another $1,600 in monetary gifts to benefit the more than 30,000 animals cared for annually at The Animal Foundation. Mat made the donation after touring the 8-acre property in celebration of his first year of MAT FRANCO: MAGIC REINVENTED NIGHTLY at The Linq.
STK'S WHITE PARTY
Summer was sent off in style Monday night when Heather McDonald (CHELSEA LATELY) hosted the 4th Annual White Party at STK in The Cosmopolitan of Las Vegas. Wearing a white sequined sleeve dress and matching shoes, Heather said: "I couldn't think of a better way to celebrate the end of summer than in Las Vegas at STK. I'm a huge fan from the food to the music to the general good vibes, so this was a night I did not want to miss."
Guests included Frankie Moreno and Lacey Schwimmer, Carla Pellegrino, Paul Johnson (ROCK OF AGES), BAZ: STAR CROSSED LOVE, AUSSIE HEAT and FANTASY.
When I was introduced to Heather in the darkened lighting of STK, I told her that she could be a double for Celine Dion. She said: "I get that all the time. I have to figure out a way to sing, then I could make money impersonating her."
Executive chef Stephen Hopcraft cooked up white-themed dishes served by white jockey-themed servers and ice sculptures as DJ M!ke Attack provided the soundtrack. Pastry chef Brigette Contreras created all-white desserts.
NASH VEGAS HOME
Rocker Vince has purchased a "humble horse farm" while he's recording a new CD of country songs in Nashville, but he will still call Las Vegas home. He told me that he'll be calling on his new neighbors to duet on the album.