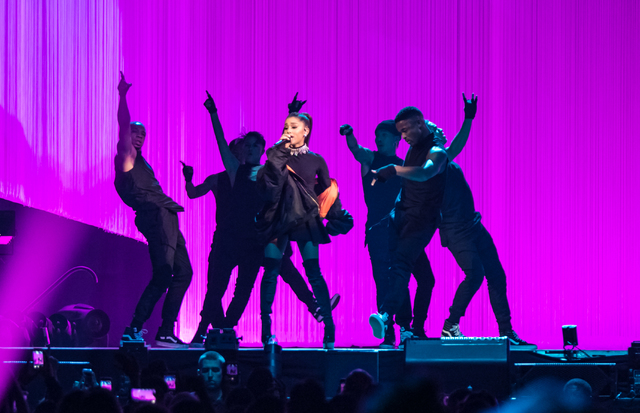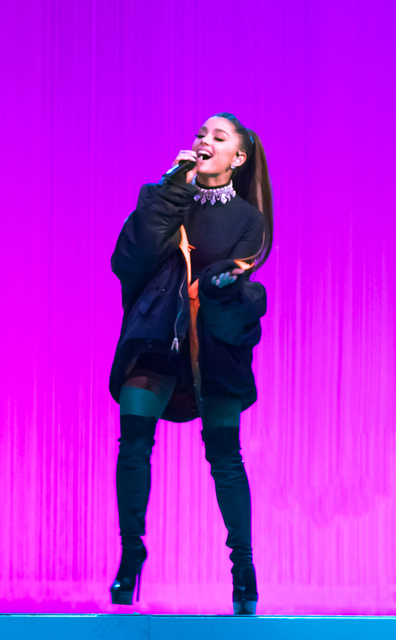 Ariana Grande, at 5'0" and 23, is one of the top singers in the country right now, and the voice of an angel brought the second stop of her new "Dangerous Woman Tour" to MGM Grand Garden Arena on Saturday night. Let's start with …
The good
Grande is adored, as the jam-packed crowd chanted "Ari! Ari! Ari!" in anticipation of her arrival and even did a surprisingly long wave in the arena pre-concert. Grande started her evening in an Audrey Hepburn-esque LBD complete with pearls.
Saturday evening's other dance-friendly ensembles that showed off her signature ponytail and body, both in fine form: a white coat and matching hot pants, a silver skirt and matching top and denim palazzo pants.
The evening kicked into high gear by song No. 8, "Touch It," but her range was really showcased in the ballads "Leave Me Lonely," "I Don't Care" and "Moonlight," where she sat at the foot of the catwalk into the arena floor. (Is it only a coincidence that ex-boyfriend Big Sean was headlining at Drai's atop The Cromwell on Saturday night, as well?)
The high(-energy)-point of Saturday night was "Love Me Harder," where EDM beats and lights were used to full effect. There is no issue with Grande using back tracking to enhance her performances because Ari is clearing belting during her uptempo tracks and ballads.
The bad
There were mic and sound issues, but, as it was only the second stop on the new tour, these minor technical issues will certainly be fixed. And while there is no denying that Grande is talented and adored, the staging was surprisingly perfunctory, large LED screen aside.
On a positive note, it was an empowering weekend for the LGBT community, as opening act Little Mix, Grande and Lady Gaga, during the Super Bowl 51 Halftime Show, sang their support for the lesbian, gay, bisexual and transgender community. You go, girls!
During "Thinking Bout You," Grande talked about positive energy and her love for her fans, and, during the song, outline images of male-female, male-male and female-female couples graced the stage-wide LED screens and ended in a rainbow of colors to loud applause.
Setlist
Introduction, "Be Alright," "Everyday," "Bad Decisions," "Let Me Love You," interlude, "Knew Better," "Forever Boy," "One Last Time," "Touch It," "Leave Me Lonely," "Side to Side," "Bang, Bang," "Greedy," "I Don't Care," "Moonlight," "Love Me Harder," "Break Free," "Sometimes," "Thinking Bout You," Frank Ocean's "Paint It Black," "Problem," "Into You" and the short, one-song encore "Dangerous Woman."
Opening acts
Victoria Monet and Britain's Little Mix opened the evening. Little Mix, the first group to win "The X Factor" and this decade's The Spice Girls, had mic issues, too, on the barren stage save for male backup dancers, but they showcased their sassy dance songs ("Salute," "Shout Out to My Ex") and moves, even if some of the lyrics were inappropriate for preteens in the arena.
"The Dangerous Woman Tour" includes U.S., Canadian and European cities through June, and the next stop is Tulsa, Oklahoma, on Thursday.