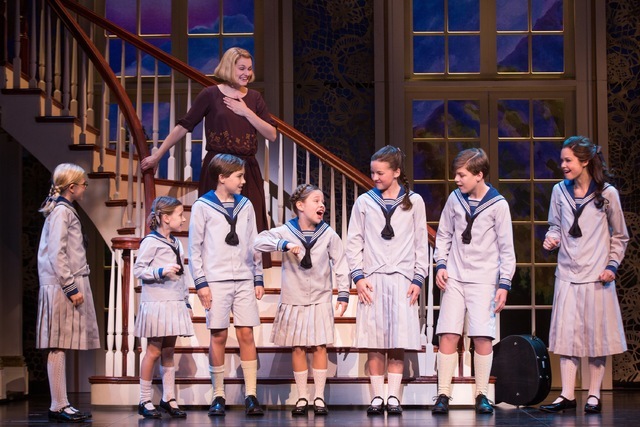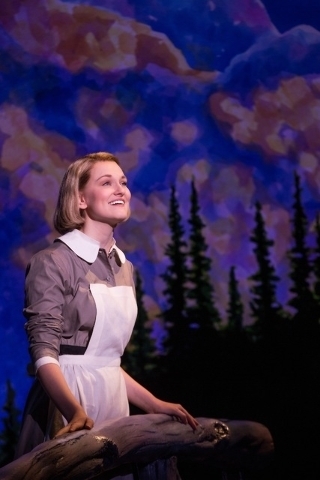 It is an unenviable task to try to live up to the 1965 Academy Award-winning Hollywood classic THE SOUND OF MUSIC starring the practically perfect Julie Andrews and dashing Christopher Plummer, but director Jack O'Brien's THE SOUND OF MUSIC gives it an admirable effort as a musical onstage at Reynolds Hall in The Smith Center for the Performing Arts through Sunday, Aug. 14.
The reimagination of THE SOUND OF MUSIC by the three-time Tony Award-winning director (HAIRSPRAY in 2003, HENRY IV in 2004 and THE COAST OF UTOPIA in 2007) is a rare family-friendly attraction in Las Vegas, and it is certain to delight many fans of the film.
The standouts of the musical on opening night Tuesday were the wonderful scenic designs and staging by Douglas W. Schmidt; the absolutely adorable Audrey Bennett as Gretl Von Trapp (if you aren't charmed by her, then you must be German, er, The Grinch); and the handsome and perfect-pitch singer-and-actor Dan Tracy as Rolf Gruber (who wouldn't want him to take care of you).
Kudos also to the vocals of Kerstin Anderson as Maria Rainer (later Maria Von Trapp) and Melody Betts as The Mother Abbess, whose powerful "Climb Ev'ry Mountain" ushers the musical into intermission, as well as to the live orchestra (it's so nice when productions pay extra for live vs. canned music).
Fans of the film, including yours truly, will be pleased that "The Sound of Music," "Maria," "My Favorite Things," "Do-Re-Mi," "Sixteen Going on Seventeen," "The Lonely Goatherd," "So Long, Farwell," "Climb Ev'ry Mountain" and "Edelweiss" are among the songs performed at The Smith Center.
Now for a few of Tuesday night's eyebrow-raising moments, taking into account the difficulty of taking a nearly three-hour big-screen musical and condensing it into a 2 1/2 hour stage musical with one interlude:
* A few of the songs were out of place in the musical vs. the film, and it just seemed, well, (unnecessarily) out of place.
* There are at least two songs, "How Can Love Survive?" and "No Way to Stop It," in the musical that aren't in the film.
* The characters of Rolf Gruber and Baroness Elsa Schraeder are significantly different in the musical vs. the 1965 movie.
* And one can't help but feel uncomfortable at the sight of five oversized Nazi flags as the entire backdrop toward the end of the musical.
Regardless of the film vs. musical comparisons, O'Brien's THE SOUND OF MUSIC will please Las Vegas audiences. Attendees ranging in age from grandparents to grandchildren on opening night gave the cast a deserved standing ovation. Bless THE SOUND OF MUSIC forever, indeed.
THE SOUND OF MUSIC is at Reynolds Hall in The Smith Center for the Performing Arts through Sunday, Aug. 14.