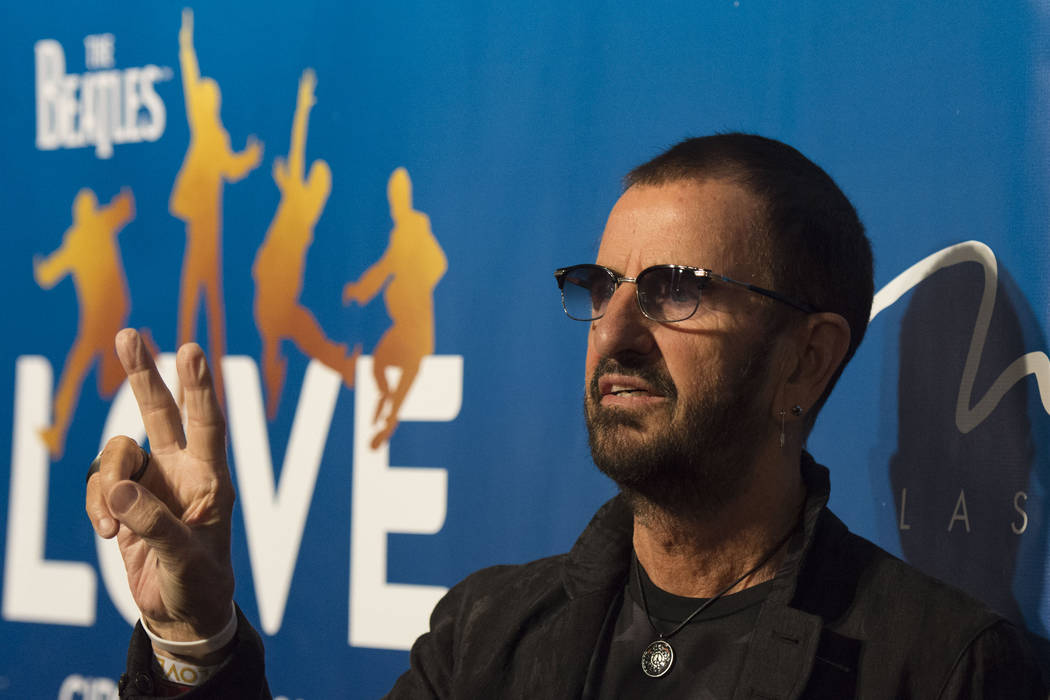 In a sense, former Beatles drummer Ringo Starr is competing with himself on the Strip, starting tonight (Oct. 13). He's one of the Fab Four in the Beatles show "Love" by Cirque du Soleil at The Mirage and simultaneously starts an eight-performance run with his All Starr Band at Planet Hollywood.
I talked with the Liverpool-born musician after yesterday's first onstage rehearsal. He said he put together a 20-city tour, starting here this weekend through the end of the month once the first Vegas dates were locked down:
"We put the tour together after we got the eight dates. We got a start-up point. You know, last year I did three tours with the same band, and then I was thinking about how do you do Vegas, you know? And then we got this offer, and then. … So, rather than put it all together just for these eight gigs, I thought, well, let's do 20. So we're doing 20 gigs. We end up in Texas, we end up in Florida, like every other tour. We end up working up the East Coast to New York, and then we'll do Jersey. So it's a .proper tour now. … But Vegas is a like you're at home, hanging out, and then you just go and play."
Q: Vegas means so much to you ever since you were first here you were here in 1964.
A: Yeah. We were on tour here — the Beatles — and we came to this very strange place in the middle of the desert, then. It was a lot smaller — it was all lights and Frank Sinatra and all that stuff was going on. And we played, we had a great night. But when you woke up in the morning, you realized, "We're in the middle of the desert." But it was good.
Q: In a sense, you're competing with yourself. You're playing here at Planet Hollywood and "Love" is almost directly across the Strip.
A: I would have to dress up a bit for that — "Love's" a great show. This is the Ringo and the all Starr's show. So there are different musicians playing the music. Each is an incredible act in their own right.
Q: Are you gonna be able to pop in over there at The Mirage?
A: I might, but I won't tell you. All I'll say is that "Love" is an incredible experience and I always see it when I come here.
Q: All right, so let's talk about your new album, "Give More Love." Is it the same as the band here? Greg Rolie from Santana, singer Todd Rungren, Steve Lukather from Toto, Gregg Bissonette and Warren Ham.
A: No. All different people. All different writers and musicians on it. Steve Lukather, the guitarist here. He plays guitar on a couple of tracks and we wrote two tracks together. And, then I've got — Dave Stewart and I wrote a track. He's on it. Joe Walsh is on it — and everybody was interested because Paul McCartney is on it. He came to play two tracks with me. And it's not like we haven't played before, but suddenly everyone got wild. "Ooh, Paul and Ringo."
Q: So it's an all-star record?
A: It is, yeah. Mainly, 'cause I know a lot of them. You know, we're old friends and you come over, we write a song. And, then, you know, everyone plays. Like, Frampton was just passing through L.A. And he came over, we wrote this song together. He played great guitar. But the new age — which I'm getting into. He lives in Nashville, so in the end, we sent the files electronically to Nashville and he put his solo on and they just sent it back. You know? It's so far out.
Q: None of this you could do back in the old days.
A: No. No. It's far out. But, you know, it does take me awhile to join in this modern electronic age. And, now, I play on several albums this year, other people's albums. They've sent the files to the guesthouse, where I have my studio. I've got the kit already, of course, and great mics. And I play to the track and then we send it back to the people, and I always say, "Use me or lose me." We finally left our home in Monaco, in 2014. we closed down our main house in England and we've brought it all in a bit. And we live in L.A. My dream.
Q: But you are still traveling, going on tour at this stage of life.
A: We do it in luxury. We have planes that take us from station to station. It's still a haul. Look, nobody wants to tour. Everybody wants to play. It's still like that, you know. From when we were in the van as the Beatles, you know, four of us and the driver in a van. But we were getting to play. You have to put up with it. And we're still doing it.
Q: Now you're here in Vegas for a limited engagement. What does Vegas really mean to you?
A: Vegas is becoming, I was saying this the other day, like music city. Everybody's coming to Vegas. I'd always wanted to do this here. I was offered a lot of opportunities but this was the first I agreed to. You know, besides the big show acts that are here, the bands are coming in. It's another opportunity to play. I come here at least once a year to see the shows and my wife, Barbara, loves the shopping. You have lots of bands here. Yesterday we spent over an hour in the Miracle Mile.
Vegas is blessed because people come in for a weekend, they come in for three days, they go back. You know, the constant changeover of your audience is great here. So, you know, we're doing like Tuesday and Friday and Saturday, until Oct. 28. Vegas is a big music city now. It's great."
……
With pop diva Janet Jackson starring at the Mandalay Bay Events Center this weekend let's get behind the chefs, restaurants and entertainers at the hotel, which is suffering from the aftermath of the recent gun massacre tragedy. Let's support them all. I'm hearing early reports of the hospitality industry organizing a series of "dine-around events" to boost business there, which has dramatically slowed since the tragic Oct. 1 shootings.
……
Just as unique is a rare appearance by Bob Dylan with his band at The Cosmopolitan of Las Vegas.
……
Every moviegoer remembers the erotic Tom Cruise "Eyes Wide Shut" sexually charged film — and its now coming to real life with the inaugural Las Vegas Masquerade on Saturday by the Sanctum organization of Los Angeles. The Dominus chamber will be set up in a clandestine five-star presidential suite of a very well-kept secret hotel The ultra-exclusive Sanctum sex club swings in with its $10,000 membership fee and tuxedo-clad celebrities. Founder Damon Lawner says it's not a sex party. "It is erotic theater and the first few hours are about mystique and intrigue.f" But he does admit that "after midnight masks and elegant lingerie fall off."
……
A special mention this week for my Spanish Trail neighbor, Linda Suzanne, who is the wife of Terry Fator's musical director. She began her career as a teenager opening for such musical legends as Rosemary Clooney and Joni Mitchell. She sings Sunday night at the South Point to honor some of the greatest legendary female divas of pop including, Whitney Houston, Donna Summer, Linda Ronstadt and Connie Francis.
"It's a struggle — tough for a woman in today's music world. It's kind of a men's world with male singers and bands. But this is a tribute to all the women who have kept people entertained over the years," she told me. "So many great women paved the way for us. This is far more than a showcase because I'm busy working and this came out of a show I was doing for casinos across the country."
So let's meet with all the superstars and entertainers this busy weekend and sing out loud with this week's Royal Robin Rundown:
OCT. 13
• Ringo Starr and his All Starr Band at Planet Hollywood for the first two nights of his eight-show residency,
• Britney Spears returns to the Axis Theater in Planet Hollywood for the first weekend of her final residency run here ending Dec. 31
• Sir Elton John and his "Million Dollar Piano" are at The Colosseum at Caesars Palace all weekend. And don't forget his residency there ends next May.
• Former Supreme Diana Ross at Wynn Las Vegas for two nights
• Gary Lewis & The Playboys at Golden Nugget
• Omar Sosa and Quarteto AfroCubano at The Smith Center
• Wilson Phillips at Henderson Pavillion
• Ekoh at Vinyl at Hard Roc Hotel
• The Church with The Helio Sequence at Brooklyn Bowl
• Empire Records at Topgolf Las Vegas
COMEDY
• Jay Mohr at South Point Casino for two nights
SPECIAL NOTE
• Our heroic Golden Knights ice hockey team, now with an unheard of opening 3-0 victory run play the Detroit Red Wings at the T-Mobile Arena.
Tickets on sale:
• Masters of Illusion at Bally's starting Dec. 6
• Chicago at The Venetian Feb. 7-24
• Black Label Society at House of Blues in Mandalay Bay Feb. 23
• Power Rangers Live at UNLV's Cox Pavilion April 22.
• Age of Chivalry Renaissance Festival at Sunset Park all weekend
• "Cat on a Hot Tin Roof" at Super Summer Theatre all weekend
• The Mentoring and Educating Nevada's Upcoming Students Charity Event features top chef Hubert Keller and music masters Everclear at Hard Rock Hotel. Shelby Johnson, Miss Nevada United States 2017 and former Miss Nevada U.S. Lisa Long Sutton will be joined by the cast of "Fantasy" and "Magic Mike".
• Freakling Brothers Trilogy of Terror at Grand Canyon Shopping Center all weekend
• Oktoberfest Celebrity Keg Tappers with hyponotist Anthony Cools at Hofbrauhaus
• PCCHA Performance Horse Futurity & Western Gift Show at South Point for two days
PARTY PATROL
• Awesome 1980s Throwback Party at Chateau Nightclub & Rooftop in Paris Las Vegas
OCT. 14
• Janet Jackson at Mandalay Bay Events Center at Mandalay Bay
• Bob Dylan and his band at The Cosmopolitan of Las Vegas
• Little River Band at Aliante Casino
• The Weeknd and Gucci Mane at T-Mobile Arena
• The Marshall Tucker Band at The Orleans for two days
• Evanescence at Palms Resort
• Crooner Frankie Moreno at Suncoast
• Tim Reynolds and TR3 at Topgolf
• Everlast at Cannery
• Crown Avenue at Brooklyn Bowl
COMEDY
• Dean Napolitano at Hard Rock Hotel for two days
• Jim Norton at Tropicana
SPECIAL NOTE
• The Review-Journal's Age Well Expo at Cashman Center
• A Choreographers Showcase at Mystere Theater at Treasure Island for two days: with the Nevada Ballet Theatre and Cirque du Soleil's 10th Anniversary celebration by over 50 local artists from both companies.
• Absolute Balance with Mystere Cirque performers, Marco and Paulo Lorador, is hosting a free workshop with Pilates and yoga instructor, Carmita Lorador, teaching and demonstration. Many surprise guest Strip Cirque performers will be taking part.
• Las Vegas Philharmonic: Oktoberfest at The Smith Center
• Theresa Caputo, the Long Island medium from TLC Cable TV, is at the Park Theater in the Monte Carlo
• Latin Music Festival: Café Tacvba, Mariachi Sol de
• Mexico at Primm Valley Resort
• Monster Energy Cup at Sam Boyd Stadium
• Rock-A-Tutu at Danny Gans Memorial Champions Run for Life at Town Square benefiting NV Childhood Cancer Foundation
• Oktoberfest Celebrity Keg Tappers with magician Nathan Burton at Hofbrauhaus
• 10th Annual Cruise-In Car Show at SpeedVegas
PARTY PATROL
• Chris Jericho Fozzy album Release Party at Hard Rock Hotel
OCT. 15
• The Script at The Cosmopolitan of Las Vegas
• Linda Suzanne Sings "Legends of Pop Divas" at South Point Casino
SPECIAL NOTE
• The Las Vegas Golden Knights continue their streak of home games on the ice at T-Mobile in a 4 p.m. skate-off against the Boston Bruins.
• Freakling LGBTQ night special 2-for-1 tickets at Grand Canyon Shopping Center
• LVMPD K-9 Trails at Orleans Arena at The Orleans
PARTY PATROL
• Black Bear at poolside concerts at Hard Rock Hotel