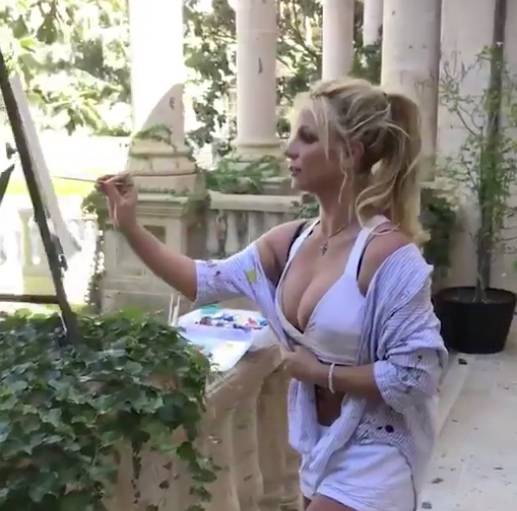 With pop princess Britney Spears donating artistic work she has just painted and "Mindfreak" magician Criss Angel having his Luxor audience light up their cellphones, VegasCares is turning into what could be called "Night of 100 Stars."
It's the collaborative effort of many Las Vegas headliners, producers and business professionals, creating an afternoon of entertainment to honor the innocent human beings who tragically lost their lives or were injured, as well as the brave first responders whose heroic acts saved thousands during the Oct. 1 shooting.
Producer Ken Henderson said the proceeds of this event will be used to defray the medical costs of the 500-plus injured and to build a medical memorial that will permanently live in Las Vegas.
"We have assembled a great team of production personnel. We already have a top-notch crew of tech, audio and lighting personnel led by musical director Keith Thompson, who was the orchestra conductor of the 'Jersey Boys' show at the Paris for six years."
The lineup to date, is amazing with such stars as Amazing Johnathan, Gordy Brown, Carrot Top, David Copperfield, Terry Fator, Brad Garrett, Clint Holmes, Lance Burton, Mike Tyson, Rich Little, Human Nature, Kendra Wilkinson and Jai Rodriguez. Former dancers of the "Jubilee" show that closed at Bally's in February 2016, ending a 34-year-era have also agreed to a reunion dance segment. In addition, the casts of "Absinthe," "Australian BeeGees," "Baz," the "Blue Man Group," Cirque du Soleil, the "Chippendales," "Sexxy" with Jennifer Romas, "Thunder From Down Under" with the "Fantasy" girls and new resident comedian Tom Greene. The current reigning Miss Universe and Miss USA, who will be here for the next pageant on Nov. 25, are taping video messages; and several members of the Golden Knights will be on stage at the Palazzo.
Clint has composed a special song for the event and the audience will be encouraged to sing along with a women's chorale led by Bill Fayne, Melody and Lyssa Baker, and the men's chorale led by Keith with Frankie Scinta, Murray Sawchuck, Frankie Perez, Adrian Zme, Travis Cloer and Earl Turner.
In addition to Britney's painting that she created on the deck of her home to the music of Mozart, two "Red White & Blue" guitars autographed by all the celebrities will be auctioned.
Ken continued: "Sadly, Vegas Cares started with wanting to help the hurricane victims. We were working on it and trying to see if we could put something together to do our part. Between that time and getting something to come together, this tragedy of Oct. 1 happened. I already had the space at The Venetian, and we had a lot of stuff that we had gone through already and then when it happened, back that terrible night.
"We quickly shifted our focus and at the same time is when Frankie Scinta and Murray Sawchuck called Clint Holmes and said, the city has to do something cool for the victims and the first responders and doctors. I didn't want to see lots of efforts dilute something, so I said we can all do something together. And, that's how this all started. The thought from the get-go was to make it a fundraiser.
"The Venetian had donated the space and they made such a huge $4 million contribution. We won't get near those kind of numbers but we can promote it, put a stamp on it and make it something specific that benefits the injured, and maybe medically — with Sunrise Hospital and UMC's trauma center — have a living monument in memory of the fallen..
"That's the driving force behind all of this with the local entertainers doing their performances or a video, just taking a part to honor the victims and first responders. It's something special to say thank you from the local headliners on the Strip. It's a giveback to the community from the entertainers. We're coming from the people who live here and the people who were born here, which I think is more of a grass roots thing, but I think it has a lot of meaning.
"Regarding the ticket prices, I wanted it to net out at a very affordable $30. People will be able to buy them through The Venetian box office and from Ticketmaster.
Clint is writing the special song, now. He's understanding the temperature of what we're looking for. He's a brilliant songwriter, so hopefully it will come out to be what we want it to be — a signature piece like "We Are The World."
"Keith Thompson is our musical director and because of the 1-4 p.m. time slot, there's a lot of people who run different levels, want to sing in this. We want to group them together in different arenas. So, he's gonna take the guys and work on something more. … We have our group of guys that might be twice at a show somewhere where they'll do a song that is. … Could be with four to six to eight different singers, male singers. Then, Bill Fayne will work with the females. The local musicians all want to be a part of this so we'll build a solid band that'll be used for everybody. We want to have a kind of a house band and they're working on that now.
"We'll go on adding stars and musicians until the last minute to make it the best star-studded production as possible. Vince Neil is trying to get his pilots to fly back from Florida in time from the previous night's concert so he can perform "Girls Girls Girls" with the hospital nurses in their operating room scrubs.
"I'ts going to be a fun afternoon but a very memorable and emotional one that shows our hometown of Vegas in the best light possible of neighbor helping neighbor."