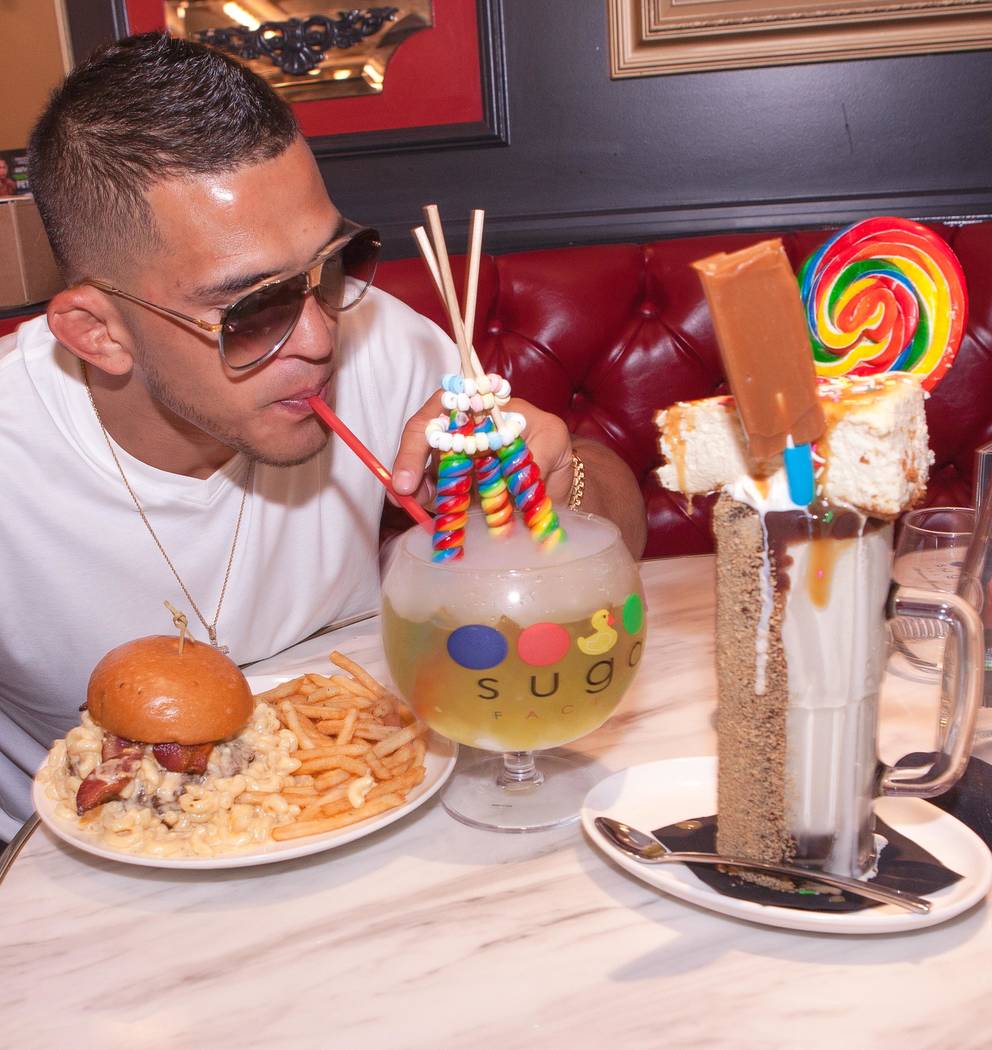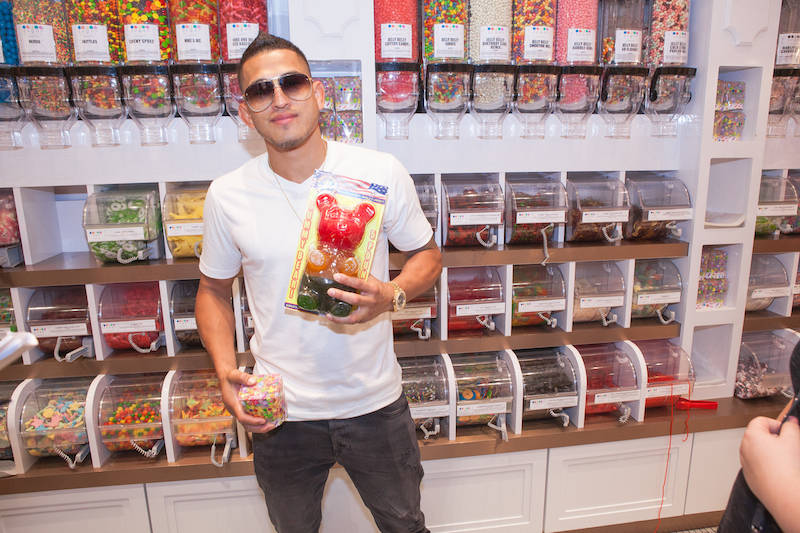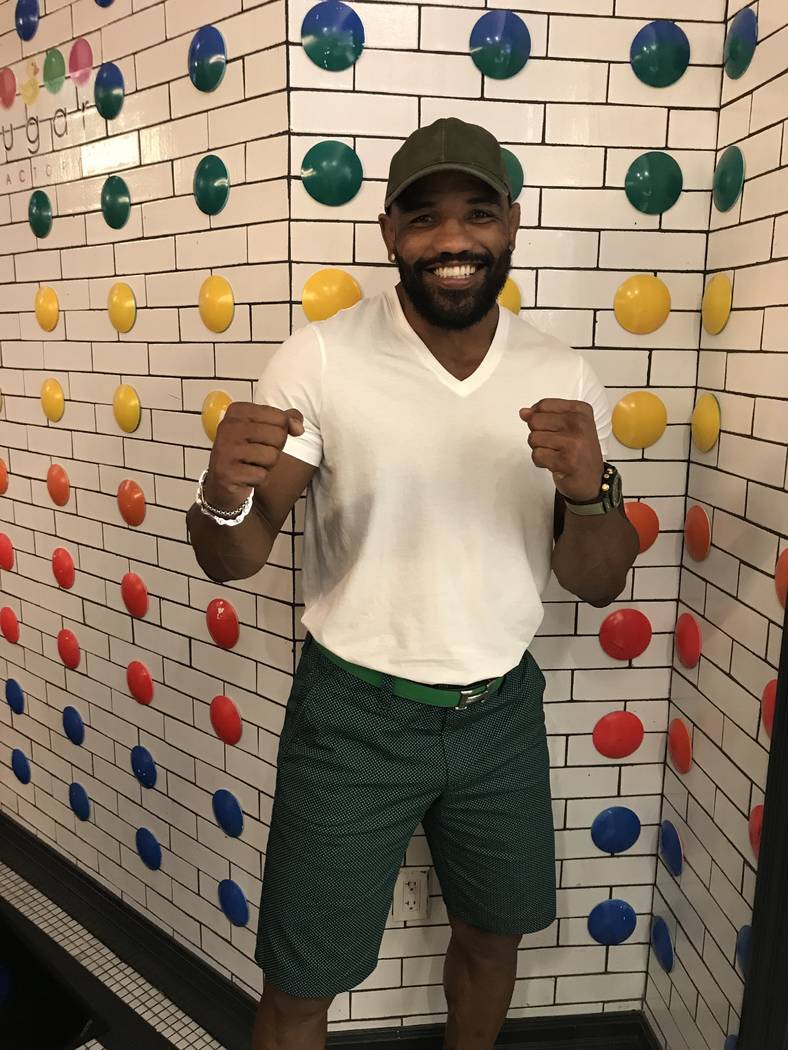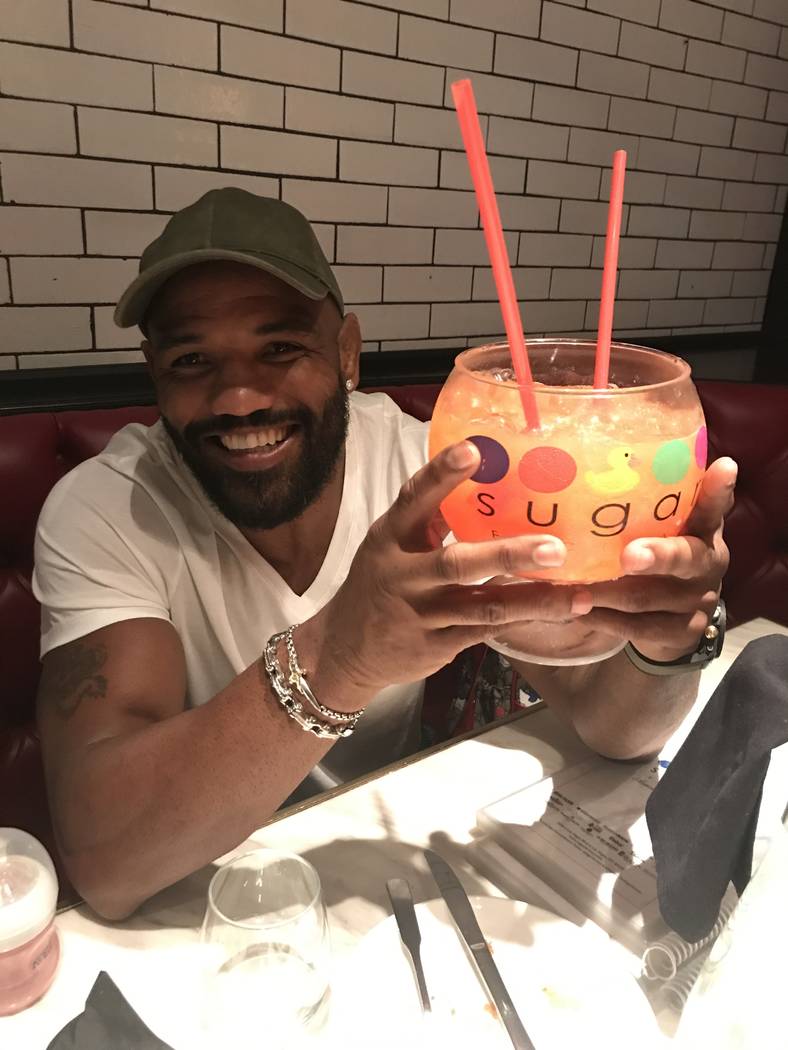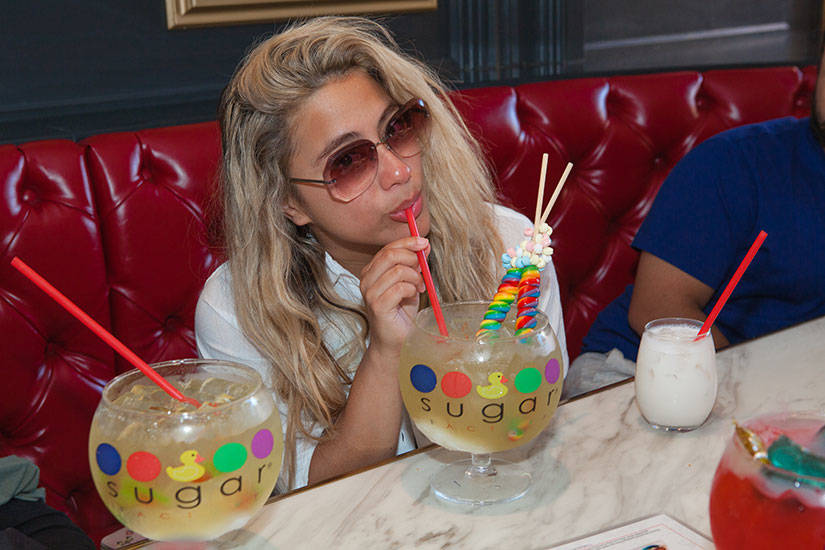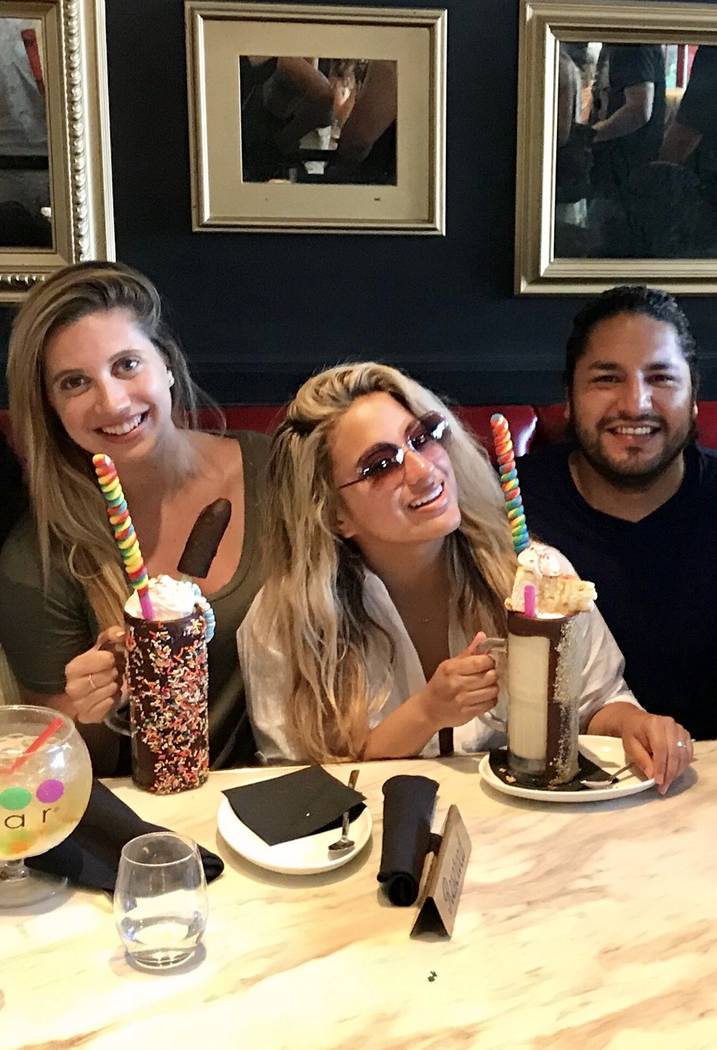 Ultimate Fighting Championship fighter Anthony Pettis hosted a meet and greet for devoted fans at Sugar Factory American Brasserie at the Fashion Show Mall yesterday (July 9). He surprised everyone by bringing his brother and fellow fighter, Sergio Pettis!
Tony and his family stopped by the candy shop as soon as they entered the restaurant. Since he was not in training, Pettis was looking forward to tasting the various candies and was in awe of all of the candy options — over 500 different types to choose from! While in the confectionary shop, Pettis posed for photos with Sugar Factory's signature Couture Pop and a 5-pound multi-color gummy bear. As his daughter was celebrating her sixth birthday he couldn't resist picking up a few extra sweet treats to bring home for her as well.
The group then entered the fan-filled restaurant where Tony and his brother greeted everyone and posed for more pictures and hugs with adoring fans bringing a variety of items for him to sign from gloves to championship belts.
The UFC fighter enjoyed a Lollipop Passion Goblet, Big Cheesy Burger and Caramel Sugar Daddy Insane Milkshake for dessert while the rest of his group enjoyed lunch in the luxurious Chocolate Lounge upstairs.
He left with Lemon Heads, gummy cherries, gummy teeth, peanut butter crunch poppers and malt balls along with a large unicorn stuffed animal and other souvenirs for his daughter.
….
It was a UFC fighter weekend at the Sugar Factory restaurant and confectionery venue at Fashion Show Mall.
MMA, former World Champion, Olympic silver medalist in freestyle wrestling and UFC fighter Yoel Romero, "Soldier of God" stopped by Sugar Factory American Brasserie at Fashion Show Mall last night (July 9) to dine with his family. He also picked up some candy including champagne gummy bears, strawberry sour belts, M&M's and Jawbreakers at the confectionery shop while taking photos with fans. Yoel's group enjoyed filet & lobster tail, ribeye bone-in steaks, spaghetti and meatballs, Pacific salmon, Sugar Factory club sandwich and virgin Mai Tai signature goblets while watching the Ultimate Fighter Finale at the restaurant.
Yoel was in Las Vegas for an interim middleweight title fight in the co-main event against Robert Whittaker.
…..
Ally Brooke from the popular all girl group Fifth Harmony, celebrated her birthday with friends at Sugar Factory American Brasserie at Fashion Show iMall. She wrote a white shirt, mini dress, dusty rose heels and her shades.
The group noshed on rainbow sliders, spinach artichoke dip and appetizer samplers. Ally ordered her favorite Sugar Factory signature goblets: the Lollipop Passion and the Night Owl to share with her friends and for dessert they enjoyed Nutella Banana and Caramel Sugar Daddy Insane Milkshakes.
Later the same night, UFC fighters Nick and Nate Diaz and UFC ring girl and model Arianny Celeste hosted their meet-and-greet for fans. Ally admitted she was a huge fan, too, and headed over to their table to meet the group and take photos with them.
Before leaving Ally stopped by the candy store to pick up her favorite candies to take home including Couture Pops, Sour Patch Kids, salted caramel chocolate bites and Skittles.