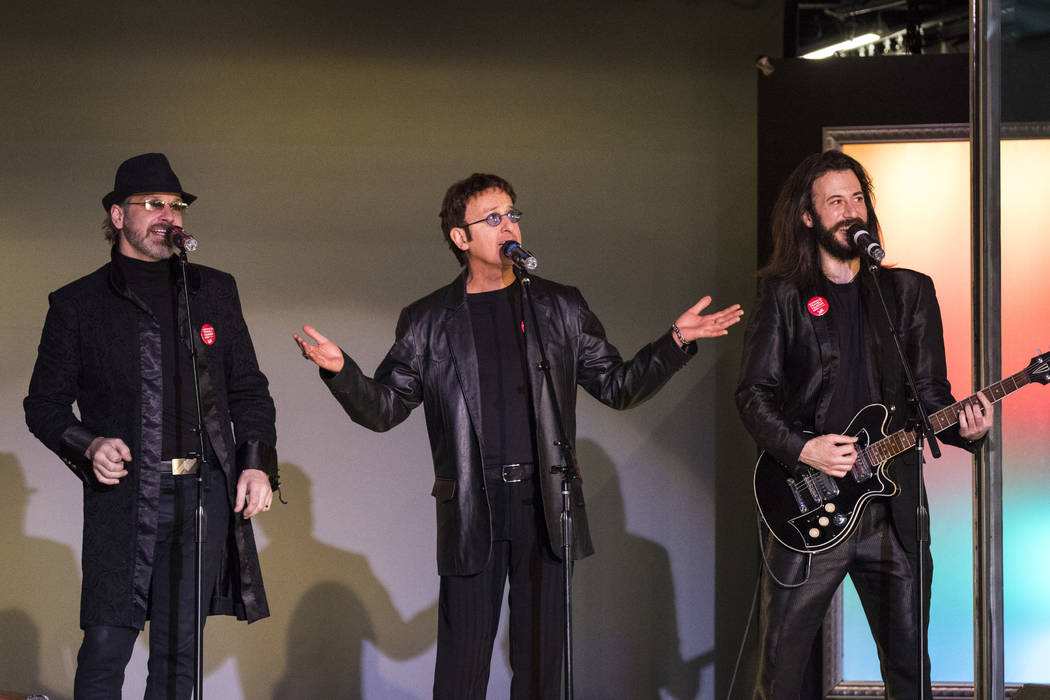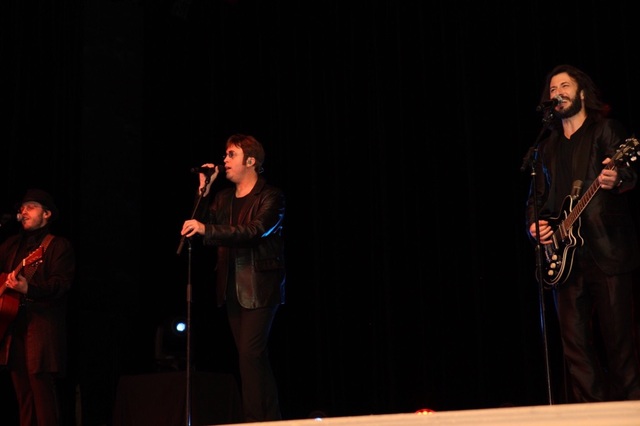 Talk with superstars Celine Dion ("Immortality") and Barbra Streisand ("Woman in Love"), and they will be the first to tell you that there's never been a group like The Bee Gees — and there probably never will be again. They were not only phenomenal performers, but also wonderful writers who penned nearly 1,000 songs.
Little wonder then that the tasteful tribute "The Australian Bee Gees Show" at Excalibur has been running since February 2011 and was just extended to a seven-day-a-week schedule through summer.
The statistics are beyond amazing, from the group's first Grammy Award in 1972 with "How Do You Mend a Broken Heart" to their seven No. 1 Billboard hits that include the 33 weeks that "How Deep Is Your Love" remained on the charts.
"Stayin' Alive" was on Billboard for 27 weeks in 1978. The Bee Gees amassed a total of 12 Grammy Awards, and that doesn't include the awards for the numerous songs they wrote but did not record.
Frankie Valli sang their "Grease" in 1978; Dionne Warwick performed their "Heartbreaker" in 1982; Dolly Parton and Kenny Rogers had a hit duet with their "Islands in the Stream" in 1983; and Diana Ross scored with "Chain Reaction" in 1985.
The trio of tribute artists Wayne Hosking as Maurice on vocals and keyboard; Michael Clift as Barry on vocals and guitar; and David Scott as Robin are the three founders who have performed together continuously since 1996.
That's a total of 20-plus years with more than 6,000 shows in more than 50 countries. Since February 2011, their home has been at Excalibur, where they recently passed their 2,000th show. One fan had attended more than 150 times.
They've performed for more than 2 million people, and audiences continue to grow. In the past 10 years, they have driven, flown and sailed more than 1,242,742 miles. Wayne, who hails from Melbourne, now lives here with his wife and their two children. He reflected on the extraordinary 20-plus-year run:
Forgive the awkward first question, but in a group like The Bee Gees, is it difficult to perform because of the deaths of members?
It certainly was back when we started the show. We, obviously, had this show up and running long before any of them had passed away. While we were touring and playing the music, we first lost Maurice, and we reflected on that and thought to ourselves, "Is it distasteful to be playing and continuing this?" We really had to reflect on all of that.
We did take a short break for a little while. Then, what we stick to now, what is cathartic about it all, is that we feel like we're keeping the music alive. With the show that we're doing at Excalibur, people always say afterward, "Thank you, thank you for keeping this alive. We had no idea that they wrote all these extra songs."
The Bee Gees can't tour anymore, so it feels as important to do it as it does to remember their legacy and celebrate it.
Did you ever meet the boys?
No. We were close friends with Teri Bridge, the president of the official fan club in Miami, who was a close friend of theirs who sadly passed quite some years ago. When we had our first engagement in America, we played at The Cleveland Hotel in Miami in South Beach. She had told them and let them know that we were playing there.
There was a plan to get us all together and for us to meet them. They were stuck in a studio and didn't make it, so that was our one chance. Soon after that, Maurice passed, and we feel, now, like it's gonna be a little bit inappropriate to be trying to approach them once Maurice had passed and once Robin had passed.
Two thousand shows is an incredible achievement in Las Vegas. What do you put the magic of The Bee Gees down to?
Timelessness. Timeless songwriting. It doesn't happen anymore, or it happens very rarely. Songs just aren't written that way anymore, the prolific way that they wrote so many amazing songs. They wrote almost a thousand songs over the years. It was just hit after hit. They had this amazing formula.
Barry Gibb, in particular, just recognized this formula that he has as a prolific songwriter, and he just knows how to write a good catch. These days, music is all about production and contracts with record companies when it used to be the case that a good song sold itself. They're testimony to that, and I think that that's what's carried it on.
We can't fit all of the hits that they had into one show. We could do two full shows and fit all of their hit songs into two full shows. That's how much material they had. Just performing the hits, without all the songs that didn't hit No. 1, would take almost three straight hours of performing.
Barbra Streisand and Celine Dion, not to mention Diana Ross and Dionne Warwick, had monster hits from Bee Gees material. Have any of them been to your tribute show?
No, they haven't. That's a good question. I wish they had, but I can't say that they have. We actually have done a few special evenings where we bring in a Dolly Parton and Kenny Rogers impersonator from Las Vegas.
We've had a Celine Dion. We actually had a girl who does multiple impersonations. She came and performed with us onstage and did "Immortality" with us, which was a pretty special moment, but, no, the original acts haven't popped by yet.
So 2,000 shows in Las Vegas and even more before that?
Yes. I'm one of the founding members of the show. I've been with the company since we began it in 1996. That's about 6,000 shows — probably more. We used to tour all the time. We're based in Australia, and we travel all over the world to keep the work flowing.
The great thing about Las Vegas is the audience comes to us. We've got a home base and can be regular guys and family men and still have the audience come to us. It's a great thing.
I'm not being rude or cheeky, but if you've been doing this for 20 years, you're an old Maurice by now?
I'm still younger compared to how old he would be, but yes. Starting out, I was in my early 20s, so I had to don a lot of makeup to make myself look older. Now I'm definitely coming a little closer and a little more haggard-looking in my older years, that's for sure.
What's the joy for you playing Maurice and also playing in this tribute group?
As far as Maurice is concerned, I love the fact that he was the entertainer. He was the comedian of the show. He played up on the crowd, and that's where my experience was when I joined. I come from a theatrical background, and I love entertaining people. I love holding the audience in the palm of my hand and working scripts around and improvising.
That's what I loved about Maurice — he would do the same thing. He was the character. He was the comic relief, and I love that. As far as the whole show is concerned, every night for me, the privilege of getting to celebrate this timeless music, such prolific music, and watch the faces of these people every single night, and see how shocked they are at how many songs that they didn't know that they knew.
A lot of husbands are dragged along. You can see at the start of the show they've got their arms crossed. Their wives have dragged them in. It's like, "The Bee Gees?" I think "Stayin' Alive," maybe, is all they remember. By the end of the show, they're on their feet, and they're screaming and dancing and smiling and enjoying themselves. That's a treat for us, the ultimate applause.
They were a unique group at a unique time. Where were you, and how old were you when John Travolta did "Saturday Night Fever," which is really when they burst onto the American pop music scene?
I was in kindergarten. The '70s, I was born in '72, so I missed the whole '70s era, really. I was a little boy. I had some catching up to do on the scene, but I wish that I was around in those days. I wish that I was a teenager in those days after the stories I hear from punters who come through.
Is it impossible to name a favorite Bee Gees song?
No. I have some favorites for different reasons. "How Deep Is Your Love" is one of the most amazingly crafted, well-written, most beautiful songs I've ever heard. The use of the orchestra and strings through it, and just the way that it's crafted, lyrically, and melodically blows my mind. That's a particularly special one for me.
The other one would probably from the more modern stuff that they did, like a song called "Alone" that they released in the late '90s. Again, it's just a really well-crafted song. Then I have favorites like "Words." "Words" is a big favorite of mine because when the show goes away on tour, and we tour countries in Asia or The Middle East, everyone sings the words in English at the top of their voice in non-English-speaking countries.
Does it ever get so emotional that you tear up?
It actually does. We do a song called "How Can You Mend a Broken Heart." Our bass player's mother just passed recently, and also one of our super fans who'd seen the show over 150 times just passed recently. We mention a little tribute to close friends when we get to that song, and it is emotional.
I mean, the songs, they're heart-wrenching. The ballads really grab you deep inside. Depending on what's going through my life at the time, when I'm onstage, the songs can certainly pull at the heartstrings, there's no question about that.
How long can this tribute show continue?
We keep asking ourselves the same question. As long as Excalibur will have us. As long as we can continue to do what we love here in Las Vegas. This city is the one place where we can do this and have some longevity in it. We've been here for six years, almost seven now. We intend to stay as long as they'll have us and as long as we're getting ticket sales and people watch us.
We have a touring show, as well, that goes out on the road, so that keeps things flowing and keeps our markets around the world covered. We like to focus most of our attention on our work here at Excalibur in Las Vegas. We're constantly upgrading the show.
I try to stay home in Las Vegas with my wife and kids as much as possible. My touring days are over. We've moved to seven days a week now for the rest of the summer. We're on every single night for the rest of the summer, so we're definitely stayin' alive.